RO-160mm – If You Love Me Vibrator from Rocks-Off
Pros:
- Gorgeous design
- Waterproof
- Easy to use
- Variety in functions
- Comes with batteries/storage pouch
Cons:
- Loud
- Could be stronger/more rumbly
- Lacks instructions
- Shape might be too basic for some
Overall:


-Overview-
The If You Love Me vibrator has a common shape, but is far from being ordinary.  This tradition style vibrator is covered in vibrant and detailed tattoo designs that really pop against the gold background.  For looks alone it's amazing, but the shape and vibrations might not be right for everyone.  Without a curved tip it's more challenging to stimulate the G-spot, and though there are 10 different settings, many of them are on the buzzy side.  For the right person this could be an amazing vibe, but for those that need a lot of power and/or a decent curve, this would probably end up as a display piece.
-Intro/Use-
The If You Love Me vibrator from the Erotic Ink line by Rocks-Off is a traditional vibrator that's far from being common.  This bullet style vibe is covered in a gorgeous tattoo inspired design that's sure to appeal to those who appreciate a little artistic flair to their sex toys.
The shape of this vibe works best on the female anatomy.  The tip comes to a rounded point which helps provide targeted stimulation to external areas of the body, and also allows it to slip easily into the vagina.  Because the shaft is totally straight, it slides in smoothly and works well for those who are newer to sex toys and those that prefer simplicity.  Firm G-spot pressure is a little harder to achieve since there's no curve to the shaft, but your individual experience may vary.
Apart from solo use, the vibrator can also be used with a partner.  It's easy to use and isn't likely feel overwhelming or threatening to a new partner.  The vibe can be used on the male anatomy as well, but only externally.  The base of the toy isn't flared, which means there's nothing to prevent it from slipping inside the body should you try inserting it anally.
Thanks to the battery cap design, the If You Love Me vibrator is safe to use in the tub or shower, and makes cleaning a breeze.  Around the base of the battery cap is a rubber o-ring that prevents any water from leaking inside the toy, so you can feel confident when using in and around water.
-Material/Texture-
The If You Love Me vibrator is made from ABS plastic that's metal plated and printed.  This material is body safe, non-porous, latex free, and phthalate free.  This vibe can be safely cleaned using soap and water or your favorite sex toy cleaner, and can be sterilized using a 10% bleach solution.  Using a water-based lubricant is best and a little goes a long way.
Since this product is made from plastic, it's naturally a very firm toy.  The only area that has give to it is the button on the end of the battery cap.  For that reason, you (or your partner) need to use caution when thrusting since you could accidentally cause discomfort.  The fact that it's so firm is great if you enjoy applying pressure to external pleasure zones, and the power doesn't diminish when you press down either.
In general, the vibe is very smooth, but does have 'RO-160mm' and the Rocks-Off logo inside an oval stamped into the side.  You can feel it easily with your hands, but isn't easily picked up on during use.  You will need to pay extra attention when cleaning this area since lube and bodily fluids could build up in it.  The printed design also can be felt, but very lightly.  The texture is very light, wasn't designed to be stimulating, and shouldn't effect use.

-Design/Size-
The shape of the If You Love Me vibrator is a familiar one if you've seen the products available from Rocks-Off.  It literally looks like they took their best selling RO-80mm bullet vibe and blew it up, keeping the standard shape but increasing the size.
Rocks-Off paired up with Lal Hardy, a popular UK based tattooist, to create this gorgeous line.  Each piece in the Erotic Ink line features popular tattoo designs that really make these vibes stand out.  The If You Love Me vibrator features two sparrows, a heart with a banner, red and pink roses, and beautiful swirls that bring the piece together.  The art looks like a modern take on old school designs, and the use of vibrant colors attracts attention.  Both the artist's and company's name are included in the design.

In my opinion, this is one beautiful design!  Others in the line are just as attractive, and some feature slightly more masculine designs if flowers and birds aren't your thing.
The size of the vibrator was a little surprising at first.  Many traditional style vibrators are designed to be used primarily by beginners and are very thin.  The If You Love Me vibrator actually has a little girth to it.  It might not be the best option for someone totally new to penetration, but it's no larger than an average sized penis and should be suitable for most.  The full length is just under 7″ (including the power button) with about 5″ being insertable.  The girth of the shaft is all the same, being 1 1/4″ in diameter, but the tip narrows in size to create the rounded point.

-Functions/Controls-
The If You Love Me vibrator is powered by 2 AA batteries which are included with your toy.  When it arrives, you'll need to unscrew the battery cap and remove the small white paper that prevents the battery from connecting properly.  Replace the cap, making sure to screw it on tightly, and it's ready for use!  When it's time to replace the batteries, a small plastic sleeve inside the compartment will show you exactly how they should be inserted.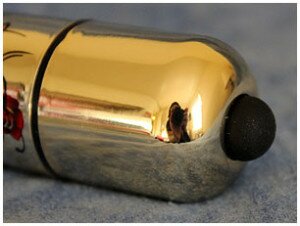 There's one button on the end of the battery cap that controls turning the toy on, cycling through the vibration patterns, and turning the toy off.  The rubbery button is easy to press when you're trying to change vibrations, but it's not easy to accidentally change during use.
The first press of the button will bring you to the first setting.  Each press after that will bring you to the next and will continuously cycle through them.  If you've passed the setting you want to be on, you have to go through them all until you reach that setting again.  When you're ready to turn the vibrator off, you have to press and hold down the button for a few seconds until the vibrations turn stop.
The 10 settings are:
1) Steady Low
2) Steady Medium
3) Steady High
4) Pulse
5) Medium Fast Pulse
6) Fast Pulse
7-10) Various Pulse Patterns
The vibrations are more focused in the tip of the toy, but travel easily throughout it.  Your hand will probably feel a little tingly from holding the base, but not terribly so.
The lower settings on the toy are quite buzzy, but the more powerful settings are a little deeper.  I wouldn't call them rumbly exactly, but they should be suitable enough for the average user.  It's not going to numb your clit (when used externally), but might take you a little longer to climax than normal.
When the situation you're in requires you to reach for a quiet vibe, this isn't the one to choose.  On the highest setting the vibe can easily be heard through a closed door, and the lower settings aren't much quieter.  Adding some white noise to the room you're in helps, but there's still that chance of being heard.
-Packaging-
My If You Love Me vibrator arrived inside a black storage pouch that features the company's logo in the center and has purple draw strings.  Along with the vibrator is a product booklet.  It features a larger variety of other Rocks-Off products, but doesn't feature a section on the Erotic Ink line.  There also isn't information specific to the vibrator contained, it's all very generic.  It would have been nice to see this line highlighted in its own booklet, with specific information on each.

-Experience-
 I love tattoos.  A lot.  Which is probably a good thing since I have many of them.  When I saw that Rocks-Off had released a line of toys that featured these vibrant designs, I knew I had to check them out!
When the If You Love Me vibrator arrived, I was immediately surprised by the size.  For some reason I was expecting it to be much thinner, so it turned out to be a surprise in my favor.  I looked over the vibe and was impressed by the details in the design, and even my husband said he thought it was cool.  Lal Hardy did a wonderful job on the design, and I think it was a smart move for Rocks-Off to create this line.
The first time I turned the toy on and experienced the first setting, I was concerned.  The steady low vibrations were very buzzy and I knew would only numb me if I tried using it.  Pressing the button again started restoring my hope that this toy would have enough power for me, and the third setting proved it, but just barely.  While this vibe did nothing for me through vaginal penetration, the tip worked okay for pin-point clitoral stimulation.  It's not quite as deep and powerful as I like, but it was enough to take me over the edge.
I can honestly say this isn't one I'll reach for often since the simple shape doesn't do much for me (vaginally), but the design alone makes it something I'll proudly display.  If you don't require deep, rumbly vibrations and don't require a toy that's sound discreet, this might work for you.
The If You Love Me vibrator, other pieces from the Erotic Ink line, and many more products can be found by clicking the link below.

RO-160mm If You Love Me vibrator was provided to me free of charge in exchange for an unbiased review.  This is in compliance with FTC guidelines.