Wanachi Rechargeable Massager from Pipedream
Pros:
- Rechargeable
- Easy to use
- Can be used for full body massage
Cons:
- Only two settings
- A little buzzy
- Vague product information
- Material type?
- Large
Overall:


-Overview-
This massager is a nice option if you've avoided others like it because of the power cord.  The fact that it's rechargeable makes it easy to use on any area of the body without having to worry about the cord being long enough, and there's no need to worry about a battery pack.  There are only two settings on the massager, which is pretty common, and the vibrations are on the lighter side.  If the Magic Wand was too powerful for you, this might be a more suitable option.  However, if you need something more powerful (for sexual uses), this might not be rumbly enough for you.
-Intro/Use-
The Wanachi from Pipedream is a rechargeable massager that's designed for full body usage.  Whether you're experiencing sore back muscles or could use a little arousal relief, this massager was designed for both.
The length of the massager makes it easy to use on your own body, but it's great to use with a partner for some assistance as well.  Since there's no cord to get in the way or stop you from getting comfortable, you can lounge however you need during use.  The massager isn't waterproof, so as long as you keep it away from liquids you have nothing to worry about.
There are some warnings included with the product that are important to pay attention to during use.  It says:
"Note to User:
Do not use the massager on the following body areas in these instances:

Any area of the body that is swollen, burned, or inflamed or when skin eruptions or ulcerated sores are present.
Any area of the body that is anesthetized or lacks the ability to sense heat unless approved by your physician.
The abdomen when pain is present.
Legs with varicose veins.
Calves of legs with unexplained pain.
On or near the carotid artery on the left or right side of the neck
Massage should be pleasant and comfortable.  Should pain or discomfort result, discontinue use and consult your physician."
As long as it's external, feels good, and you follow what the warnings state, you can use it on any area of your body.  Naturally, the large massaging head provides very broad stimulation, so if you need a more targeted sensation, this won't be the right product to use for sexual stimulation.  The good thing is that even if it doesn't work out for you that way, you still have a rechargeable body massager.
-Material/Texture-
According to the Pipedream website, the Wanachi Rechargeable Massager is made from "ABS Plastic/Silicone Thermoplastic Rubber (TPR) Silicone".  Based on that information, I'm not really sure if the end of the toy is made from TPR or silicone.  To be on the safe side, I would treat it like it's a porous material and always have a barrier between your genitals and the head of the massager.  Since the material type isn't clear, stick with a water-based lubricant to be on the safe side.  You should use a wipe to clean the toy, a damp cloth with soap, or your favorite sex toy cleaner.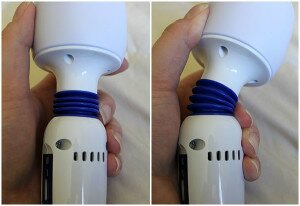 The head of the massager is very smooth, doesn't attract dust or lint, and glides really easily across the skin.  It has a small amount of give, but you have to press pretty hard on it to even notice.  The only area that has movement to it is the neck of the massager.  Between the plastic handle and the firm head is a blue neck that looks like it's folded like an accordion.  It doesn't move like one, but allows the head to slightly bend from side to side.  You don't want it to bend too far, but you can apply a fair amount of pressure without having to worry about it.
The plastic handle is shiny and can be a little difficult to hold if you have lube on your hands.  The button itself has some texture to it which makes it easy to change settings (which isn't the biggest deal since there are only two).
-Design/Size-
The Wanachi is designed like many other wand style massagers.  It features a long handle where the power button is located, a flexible neck, and a broad head.  There's really nothing about the design of this one that sets it apart from another.  The majority of the toy is white, but has a couple small areas that are blue.  The overall look is discreet in general since many people would assume it was a simple body massager rather than something you (might) use for masturbation.

The full length of the massager is 11 1/4″, with the head making up approximately 2 1/2″ of it.  The top is 8″ around, which is large, but good for it's intended purpose.  As you can tell, this really isn't a travel friendly product as far as size, but wouldn't be overly embarrassing if someone were to see it in your luggage.
-Functions/Controls-
The Wanachi massager is rechargeable and comes with a wall adaptor that plugs into the bottom of the handle.  When plugged into the wall, a red light glows indicating that the massager is charging.  It will only charge if the power button is in the 'off' position.  That being said, it can still be used while it's plugged in.  So if you simply can't wait for it to charge, you can still use it.  The product information included doesn't say anything about how long the initial charge should take, but mine was still glowing red after two hours so I unplugged it.  The paperwork says you should get between 30 and 45 minutes on a full charge, but that will depend on which power level you're using.


There's only one button on the massager that controls the two power levels and turning the toy off.  The button was designed to work in a sliding motion, sliding the button up a little will bring you to the low intensity level, and sliding it up the rest of the way will bring you to the high setting.  Sliding the button back down to the bottom will turn off the massager.  Very basic and easy to understand.
The vibrations are nicely focused in the head of the toy, which is one of the benefits to wand style massagers.  You don't have to deal with your fingers/hand getting numb during use unless you're holding directly onto the end of the massager.
The high setting produces decent power, but isn't deep and rumbly.  The buzzy sensations can cause areas of your body to feel more numb and tingly than stimulated which becomes a problem if you're using it for sexual pleasure.  The low setting is even worse when it comes to that numbing sensation.  It's not terrible if you're using it for body massage, but when it comes to sexual stimulation it's a real problem.
For a massager this size, the sound level is reasonable.  While it could probably be heard through a closed door, it's not obvious unless someone is trying to listen, especially when you're using it on the lower setting and have some other noise in your room.
-Packaging-
The Wanachi arrives in a cardboard box that has an image of the product on five of the six sides.  It's extremely obvious what the package contains, but nothing on the box makes it seem like an adult product.  The company name is present, so if you're familiar with Pipedream you'll know, but your grandmother probably won't be able to guess what you'll be using it later on.

Inside the package, the massager and charger are packed separately in plastic bags with the charger also surrounded by bubble wrap.  The instructions/directions consist of a single folded up paper that only contains English.
-Wanachi vs Magic Wand-

As you can immediately see from the image above, there are some differences in size and how they function, but the basic design is very similar.  The Magic Wand (known to many as the Hitachi) has a smaller head, but longer handle and must be plugged in in order to function.  Those are the immediate differences when you're looking at them side by side, but it's really the power that sets them apart.
The Magic Wand is very powerful and makes the Wanachi feel like it's barely functioning in comparison.  But along with that power, comes a lot of noise.  I have neighbors on either side of my apartment, and I'm pretty sure they heard me running the Magic Wand, I don't see how they couldn't have.
When choosing between these two you really have to sacrifice certain qualities in order to have what you want.  Do you mind a power cord or do you want rechargeable?  Do you need something sound discreet or is power more important?  These are important things to consider.
The Magic Wand also has many different attachments available to take your wand use to a whole new level.  I only have one (the Gee Wizard from Vixen Creations) and tried it on the Wanachi.  It fit over the top and stayed in place, but didn't cover the whole head like it does on the Magic Wand.  Just another thing to consider.
-Experience-
I know SO many women who are wand lovers, but that has never been me.  I enjoy pin-point stimulation and these big headed beasts have never really done it for me.  I wanted to like the Magic Wand, but hate the fact I have to be close to an outlet or need an extension cord in order to use it.  When I saw the Wanachi, I thought it would be exactly the same other than being rechargeable, so I had to test it out.
After charging it up, I turned it on and knew this wasn't going to work well for me.  After holding the buzzing head in my hands for only seconds my fingers felt numb.  Regardless, I tested it out like the good little reviewer I am.
I tried using it over my undies, which is something I never do.  Not knowing what the material is, I wasn't comfortable having it in direct contact with my lady parts.  I laid there, trying to enjoy what I was feeling, but I simply couldn't.  After a few minutes, I turned it off and panicked for a moment.  My whole vulva was numb.  It was the strangest sensation and really bothered me.  Sexual use, not for me.
When it comes to body massage, it's not bad.  I've used better massagers, but it's better than nothing.  It was easy to reach my back without becoming uncomfortable, and wasn't too heavy to use on my husband for a while either.  I think you could get something similar in your local drug store for much less and have it work just as good or better than this.
If you enjoy broad stimulation and can get off with lighter vibrations, this might be just the toy you're looking for.  It has good things going for it, like being rechargeable and easy to use, but I think it's only going to work well for certain people.  Think about your personal needs, that's the best way you can decide whether something like this is right for you or not.
If you're interested in purchasing your own Wanachi, you can do so by clicking the banner below.

Wanachi was provide to me free of charge by Pipedream in exchange for an unbiased review.  This is in compliance with FTC guidelines.