Semilino from Fun Factory
Pros:
- Rechargeable
- Made from silicone
- High quality
- Waterproof
- Great texture
Cons:
- Major lint collector
- Could be more powerful
- Buzzy vibrations
Overall:



-Overview-
Fun Factory has been putting out some amazing products which include the world's first pulsators.  I can only imagine the testing and dedication that comes with creating something as unique as their Stronic line, and it shows with how innovative they truly are.  Sitting in the shadows are the recently released rechargeable mini vibes, which include the Flora, Dolly Bi, Pearly, and Semilino.  The Semilino has an awesome ribbed texture that looks similar to the Tiger G4, but lacks one important thing, rumbly vibrations.  The texture alone is very stimulating and might be enough for some. but the buzzy vibrations won't suit everyone's tastes.
-Intro/Use-
The Semilino from Fun Factory is a rechargeable vibrator that's made from silicone and easy to operate.  The reasonable size makes it suitable for a wider range of users (especially when you consider the exaggerated texture) and is a great travel companion.
Designed with the female anatomy in mind, the Semilino has a slightly curved tip that helps target the G-spot, and a bumpy shaft which seems to awaken your senses.  At the bottom of the shaft is an obvious bulge that isn't large enough to be considered anal safe, but was designed to connect with your external pleasure zones.  While it doesn't naturally come in contact with the clitoris when thrust, you can use it in a sort of curved thrusting motion which allows the vibrator to glide over you clitoris, enter your vagina, and slide over it again.  How well it connects with your hot spots will depend on your specific anatomy but the texture alone should provide decent stimulation regardless.
Apart from vaginal use, the Semilino can be used externally to stimulate sensitive areas of the body such as the nipples, clitoris, and perineum, and can be used for external anal play.  It's not the best product for teasing, but it can be used in a pinch.  The modest size makes it less intimidating to use with a partner, but the texture might look a little scary to a new(er) toy user.  Make sure you're nicely warmed up, apply plenty of lube, and take your time.
You can add this one to your list of bath time companions, because the Semilino is totally waterproof.  Whether it's joining you in the shower, soaking in the tub, or simply being cleaned in your sink, you can feel confident knowing there's no way for water to leak inside the vibe.
-Material/Texture-
The Semilino has an ABS plastic handle and a silicone shaft.  Both materials are body safe, non-porous, latex free, and phthalate free.  They can easily be cleaned with soap and water or your favorite sex toy cleaner, and can be sterilized using a 10% bleach solution.  When it comes to lube, water-based is the best option since other types could cause the surface of the silicone to degrade.
The silicone this toy is made from is a total lint magnet.  It picks up small particles from everything so it's important to rinse/wipe it off directly before use.  Though it has a matte surface, the silicone has a lot of drag to it, and requires lube in order to glide smoothly across the skin.  The plastic handle is totally smooth and can get pretty slippery if you have lube on your hands.
Fun Factory says the shaft is made out of "100 % medical grade silicone with GENTLE TOUCH surface".  Though the internal parts are firm, there seems to be a thicker layer of silicone that covers them.  This allows the material to lightly squish when you press on it, and is more obvious in the head and base than the center of the shaft.  It's not soft and squishy to the touch, and won't bend and flex, but it's a little cushion to help provide comfort during use.

Though the back of the vibrator is smooth, the top of the shaft is covered with rows of texture.  These ripples create a ribbed like sensation when thrust and are very stimulating.  Because the silicone has some give, the texture isn't as extreme and should be suitable for those that enjoy texture or are looking to experiment with some.  If you prefer smooth toys in general or haven't tried anything with such obvious texture, this might be too much for you.
-Design/Size-
The Semilino is available in vitamin (a red/orange color) and black; none of the super girly colors many women try to avoid.  Both options feature a light bronze colored base with a metallic sheen.
The overall design of the vibrator isn't very discreet.  The texture and color help prevent it from looking too realistic, but the tip of the toy certainly resembles the head of a penis  Add the fact that there's a base that has three buttons, one of which says 'FUN' in the center, and there's no way you could pass this off as anything other than a sex toy.

The Semilino is called a mini vibe for a reason.  It comes in at a very reasonable 6 3/4″ in length, with approximately 3 3/4″ being insertable.  It should be long enough to stimulate the G-spot, but not so long that it easily rams against your cervix.  The girth is also very manageable, starting off at 3 3/4″ in circumference, and increasing to approximately 4 1/4″ at the widest point.  While that seems really small, the texture makes it feel larger because of the stimulation it provides.

-Functions/Controls-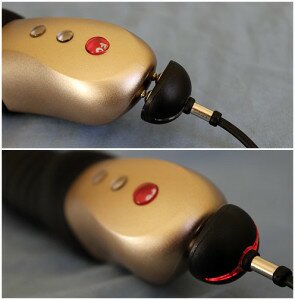 The Semilino is charged using Fun Factory's Click 'N' Charge system.  Rather than dealing with a charging port that could allow water to leak inside, the end of the toy has two metal pieces that magnetically connect to the charger.  The connection is quite strong compared to some of the other magnetic charging systems out there, making it less likely for your toy to accidentally become disconnected while charging.
When plugged in, a small light on the wall charger and the magnetic piece will both glow red.  The buttons on the vibrator will light up one at a time while charging.  After approximately 6-8 hours, the buttons will glow steady, showing that the charge is complete.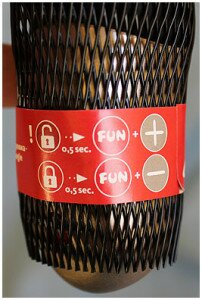 After your first charge you might notice that you can't simply turn the toy on.  This is because the buttons arrive locked.  In order to unlock the buttons, you have to press and hold down the 'FUN' and plus button for a few seconds.  They'll rapidly flash and you'll feel a little 'vroom' from the toy.  Your toy is now unlocked and ready to use.  If you want to lock the buttons again for travel or storage purposes, you hold down the 'FUN' button and the minus at the same time.  If you take it out of storage and have forgotten how to unlock it, it's really easy to remember.  When you press the 'FUN' button when it's locked, the two buttons you need to press will flash, reminding you what to do.
The three buttons on the toy are in a convenient location and are easy to press.  Fun Factory's motto is, "Press FUN to play" and that's exactly what you'll need to do.  When you press the red 'FUN' button, the vibrations will start and the buttons will illuminate.  Below that you'll see the plus and minus buttons which control changing the vibrator's settings.
The functions are set up in a way that's a little tricky to understand at first.  There are a total of 6 steady vibrations intensities and 6 pattern settings.  When the toy is first turned on, you're actually feeling the third intensity level.  From there, you can decrease the power twice, or increase the power another three times before reaching the patterns.  Once you've gone through the patterns and have reached the end of them, the next press will bring you to the first pattern again; the intensity levels aren't included in the cycle.  If you want to get back to the steady vibrations, you simply press the minus button, no matter which pattern you're on.  It's odd at first, but once you've used it a few times it becomes easier to understand.  When you're ready to turn the toy off, you simply press the 'FUN' button (you don't have to hold it down) and the toy will turn off.  The next time you turn it on, it will start on the third intensity level, it doesn't hold your place.
After turning the toy on (and not including the first two intensity levels) this is where each press of the plus button will take you:
Steady Vibration (lower medium)
Steady Vibration (higher medium)
Steady Vibration (lower high)
Steady Vibration (higher high)
Roller Coaster
Surging
Pulse
Rapid Pulse
Steady/Rapid Pulse (repeats)
Escalating Pulse (starts slow, gets faster)
The vibrations have a fair amount of power, but are on the buzzy side.  No deep and resonating rumbles here.  They're strongest in the center of the shaft, but do travel into the handle as well.  It's not so bad that it gives you tingling fingers, but you can definitely feel it.  The power behind it is reasonable, but might not be enough for some.  If this were a straight, smooth vibrator, I would say it's not worth it because the vibrations aren't strong enough.  However, the texture really helps make up for that.  Don't rule this toy out solely because it's buzzy, it has so much more going for it.
The sound level is acceptable for a vibrator of this size.  You can't hear it through a closed door, but someone in the same room would be able to.  Adding some white noise always helps, but you would likely still be heard.
-Packaging-
The Semilino arrives in a cardboard box that's covered in a thin sleeve.  The sleeve features an image of the toy on two sides, a classy photo of a woman in lingerie, and key points about the product.  Because of this, it's not very discreet.  When you remove the sleeve you're met with a box that's similar in color to Semilino's handle.  The top says, 'Your Perfect Moment' and features the Fun Factory logo on it.  It doesn't exactly give away what it contains, but could be more discreet.  When you open it up you'll find a thin piece of cardboard with the user manual tucked into it, resting over the rest of the contents.  The vibe, charger, and another booklet are underneath.  There isn't a lot of room in this package, and it's challenging to tuck everything back into place once you've removed it.  For that reason, it's not great for storage.  It would have been nice to see a storage pouch included or a more user-friendly box to store the toy in.

The user manual is mostly in German and is a little difficult to understand.  There are some areas that contain English, but for the most part it's pretty confusing.  It would have been nice to see everything broken down better and all the information written in several languages.
-Experience-
When I first saw Semilino, I was immediately drawn to it.  Everyone was raving about the pulsators, but I was more interested in the underdog.  The texture looked really interesting to me and since I trust Fun Factory to produce high quality products, I had to try it out!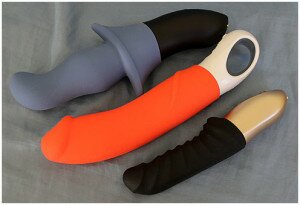 When I received my package I was immediately surprised by how small it was.  I knew it was a mini vibe, but I didn't realize just how small it would be.  I took out some of my other Fun Factory toys (Stronic Zwei Pulsator, and Big Boss G4 Vibrator) and compared.  The difference was pretty shocking.  It looks like it could almost fit inside the Big Boss!
After getting over my initial surprise, I charged it up and got ready to test it out.  As I held it in my hands and turned it on, I nearly wrote it off as nothing impressive.  The vibrations were buzzy and I require deep and rumbly.  I thought for sure this toy was in the shadows for a reason.
Well, I was proven wrong.
The texture of the vibrator was unlike anything I'd experienced before.  The end immediately connected with and caressed my G-spot and it wasn't long before my eyes were rolling into the back of my head.  But, but…I'm a power queen, how could this be enough for me?  I was truly in shock.  By the end of my session I felt exhausted and thoroughly pleased.  It's been a long time since a toy has brought me that much satisfaction, especially one that isn't as powerful as I typically need.
Yes, it's small.
Yes, it's buzzy.
Yes, it's not as powerful as I'd like it to be.
But damn, is it good!
So while you're shopping around for an awesome toy, consider checking out some of the shadow dwellers.  You'll be glad you did!
You can purchase the Semilino, other mini vibes, pulsators, and other Fun Factory products by clicking the banner below.
Semilino was provided to me free of charge in exchange for an unbiased review.  This is in compliance with FTC guidelines.