Paul and Paulina G4 from Fun Factory
Pros:
- Made from silicone
- Rechargeable
- Dual stimulating
- Flexible
- Multiple settings
- Decent power
Cons:
- 'Animal' like features
- Lint magnet
- Might not fit everyone's anatomy
Overall:



-Overview-
Fun Factory is known for their quality products that are both fun and functional.  They feature bold colors, easy to understand controls, and unique designs.  Paul and Paulina is the perfect example!  This dual stimulating vibrator might look a little silly, but it was designed with pleasure in mind.  The flexible silicone provides comfort, while the fantastic shape stimulates both internal and external pleasure zones.  It features all the wonderful qualities many of us look for in a vibrator; it's waterproof, made from safe materials, rechargeable, and has a variety of settings.  If you can overlook the wormy appearance, Paul and Paulina might just be the perfect dual stimulating vibrator for you!
-Intro/Use-
Paul and Paulina from Fun Factory is a dual stimulating toy which is often referred to as a rabbit.  Rabbit style vibrators like this one are most commonly used to connect with the G-spot while also pleasuring the clitoris; without having to use separate toys or two hands.
Many dual stimulating vibes are really hit or miss when it comes to anatomy.  This particular one works better than most, having a flexible shaft and arm which connects more easily with your pleasure zones.  The handle on the base makes it easy to hold onto, and the buttons are readily available should you decide to change the settings.  The flexibility and ease of use is also great when you're playing with a partner.  There are little to no concerns about causing discomfort when thrust, and it's simple to understand.
Since this vibrator is more anatomy specific than some, you might not experience the dual pleasure you're seeking.  As with any product, your experience will vary.
Pairing G-spot and clitoral play isn't the only way you can use this vibe.  You can also flip it around and enjoy using the arm on your perineum or anus while the shaft is inserted.  The overall design makes it safe to use anally as well, and because it's flexible, should provide comfortable stimulation during use.  Just make sure to use a condom or sterilize when switching orifices to reduce the spread of bacteria.
There's absolutely no concern about water leaking inside your toy since there are no charging ports or caps to worry about.  The vibrator charges using a magnetic connection, making it safe to use in the tub or shower, and much easier to clean.
-Material/Texture-
Paul and Paulina has an ABS plastic handle, and a silicone shaft and arm.  These materials are both body safe, non-porous, latex free, and phthalate free.  They're great materials for a sex toy because they're safe for your body and are easy to care for.  To clean, you can use soap and warm water, your favorite sex toy cleaner, or a 10% bleach solution to sterilize.  Since there are internal parts you can't boil it or put it in your dishwasher like you can silicone dildos.  It's also important to stick with a water-based lubricant since other types could cause the surface to degrade.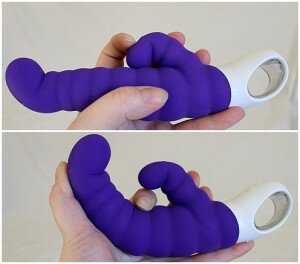 The surface of the silicone has a lot of drag and requires lubricant in order to glide easily across the skin.  Lint is also an issue since it attracts tiny particles and needs to be wiped/washed off prior to use.  It's annoying, but manageable.  The plastic handle is totally smooth.
Both the clitoral arm and half the shaft are very flexible since they have no firm internal parts.  The other half of the shaft and handle can't flex or bend since it's where the motor and controls are located.  Being flexible will either work for or against you.  If you need a lot of G-spot pressure this might not work well for you.  However, I found it worked in my favor since it was easier to manipulate without causing discomfort.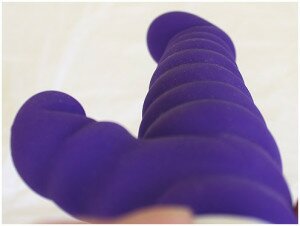 The end of both the shaft and arm have an obvious curve and are followed up with rows of bulges.  The bulges are light and create a soft ribbed sensation when thrust.  The amount of texture is wonderful for someone who's branching out from smooth toys, and shouldn't annoy someone who's easily distracted by texture.  It's sort of right in the middle and should work for most.  If you need extreme texture to feel satisfied, this won't quite be right, but should work for most users.  You'll need to pay attention when cleaning because some of the grooves need a little extra attention.  As long as you clean your vibe right away it's quite simple.
-Design/Size-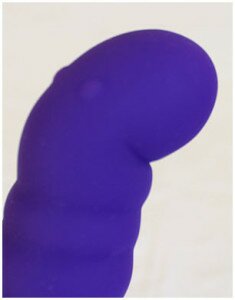 Paul and Paulina has a very common design, having an insertable shaft and a clitoral arm.  However, the look of this vibe is very different!  It's not uncommon to see animal like features on the external portion of the toy (especially rabbits, butterflies, dolphins, etc.) but it's not often you see it on the internal part of the toy.  This vibe has both!  The top of the shaft and the clitoral arm both resemble little caterpillars or worms.  They have obvious heads, little eyes, and smiling faces; the Fun in Fun Factory obviously coming through.  It certainly prevents it from looking realistic, but the animal like parts might bother some.  Though it doesn't look like a penis, it's still not discreet and would be obvious to most that it's a vibrator.
The base of the toy is where you'll find the handle and controls.  It's ergonomically designed to fit comfortably in your hand while keeping the controls easily within reach.  The external stimulator is just above that and seems to extend from the belly of the shaft.  The worms are facing the same direction, and it's almost like Paulina is looking up at Paul.
The size of Paul and Paulina might seem a little intimidating at first.  The full length is 8 7/8″ long, but only 4 3/4″ of that is insertable.  The clitoral arm is 1 3/4″ (measuring along the angle) from the shaft to the end.  If you have a high clit, it might not reach your clit and G-spot at the same time, but the flexibility will help a little.  The girth prevents it from being beginner friendly, but should work for most regular users.  It starts off at 3 3/4″ in circumference, and slowly increases in size until it's 5 1/8″ around (where it meets the clitoral arm).

-Functions/Controls-
Paul and Paulina is USB rechargeable and arrives with a partial charge.  Though it already has some juice in it, you'll want to fully charge it before your first use.  The charging system is called Click 'N' Charge and magnetically connects to the surface of the toy.  When you turn the toy over (with the back facing you) you'll see the word FUN in silver.  The charger connects to this area and can be plugged into your computer or adapter to charge.  When the charger is plugged in, a red light glows across it and the buttons on the toy slowly light up one by one, showing you that it's properly connected and charging.  The magnet holds okay, but can easily become disconnected, so make sure you set it up carefully to avoid that.  The initial charge takes about 6-8 hours, and hold its charge very well.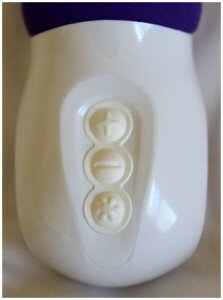 There are a total of three buttons on the toy that control all the functions; a plus, a minus, and a star.  The plus button turns the toy on and increases the intensity (six levels), the minus decreases the intensity and turns the toy off, and the star button is what allows you to cycle through the four patterns.  If you don't want to worry about steady vibrations, you can also turn the toy on by holding down the star button.  The intensity level of the patterns can't be changed.  If you press the plus or minus button while using one of the pattern settings, you'll go back to steady vibrations.
Every time you press the plus or minus button it will light up, but stop as soon as you've removed your finger.  When you get to the highest intensity level, the lights will flash, indicating it's at the highest level.  When using the pattern button, the light flashes the whole time the vibrator is on.  There's also this really neat feature where the buttons will illuminate when you pick up the handle while the toy is off.  I must be a heat sensor because other objects that come in contact with it don't create the same reaction.
The patterns are:
Throbbing Pulse
Fast Pulse
Surging Pulse
Escalating Pulse
The top half of the shaft and the clitoral arm don't have motors in them, but the vibrations carry through the silicone extremely well.  The handle gets the least amount of rumble and shouldn't cause your fingers to feel numb.  The power behind the vibrations is really nice.  It's not the most powerful toy I've ever used and the vibrations aren't the most rumbly either, but I still found it to be satisfying.  If you're more sensitive to vibrations, you'll still be able to use the lower steady settings, but might find the patterns to be too intense.
It's always pleasing when a powerful toy is also fairly quiet.  No one would be able to hear the vibrator through a closed door, but would probably hear it if they were in the same room with you.  The lowest settings are so quiet that it might not be heard from under the covers, but you would be compromising power for sound.
-Packaging-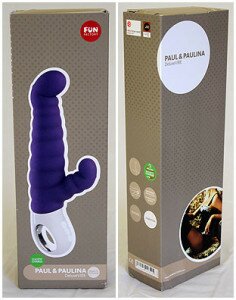 Paul and Paulina arrive in a cardboard box with a thin sleeve over it.  The sleeve features an image of the toy on one side, and a lady dressed in lingerie on the other.  It's not discreet, but is tasteful and doesn't have nudity on it.  There's a little information on the outside, but not a lot.  Once the sleeve is removed, the box looks a little more discreet.  It's still not the best option for storage, because it's not durable enough to last a long time (unfortunately a storage pouch isn't included).  When you open the package, a thin layer of cardboard holding the user manual is covering your Paul and Paulina.  It's easy to remove and access your toy.  On one side of the box you'll see a small cardboard piece that says your Click 'N' Charge charger is contained within the box.  You have to take this piece out in order to remove the charger underneath it.  The user manual is mostly in German and is difficult to follow and understand.  Fortunately, the toy is pretty easy to understand and figure out, but it would be nice to see an easier to understand manual included with Fun Factory toys.

-Experience-
Fun Factory is a company that's stood out to me for a while now.  Their products are in bold colors and feature non-threatening designs that make masturbation fun.  The design of Paul and Paulina stood out to me, not because it looks like two adorable little critters, but because of the shape.
I have a high sitting clit and it's not always easy to find a dual stimulating product that works for me.  When I saw the shape of Paulina, I became really interested in the toy.  I wasn't sure if it would work with my anatomy, but I knew it was worth the chance.
The fact that the silicone is so flexible was a huge plus to me.  My G-spot is stubborn and while I enjoy internal stimulation, I can't climax from it alone.  I was easily able to bring the external piece high enough to stimulate my clitoris, but not while the insertable portion was against my G-spot.  This wasn't a big deal to me at all, and I really enjoyed the toy because I was able to feel the internal rumble, while getting that direct clitoral stimulation I need in order to climax.
It's not often at all that I can say I really enjoyed a dual stimulating toy, but I can today.  Paul and Paulina might not have lined up properly to stimulate perfectly, but it was just what I needed.  The rumbles could have been a little deeper, but rubbing the external piece against my clit was enough to make up for it.
I think this is a really fantastic dual stimulator that's comfortable and easy to use.  Your specific anatomy will determine how well it works for you, but I'll be keeping this one handy.
Paul and Paulina, and other body safe products, are available from Burlesque Toy Shop.  Click the banner below to see more!

Paul and Paulina was provided to me free of charge in exchange for an unbiased review.  This is in compliance with FTC guidelines.