Afterglow
Pros:
- Made from silicone
- Rechargeable
- Multiple settings
- Gorgeous packaging
Cons:
- Buzzy vibrations
- Expensive
- Won't fit everyone's anatomy
- Not waterproof/hard to clean
Overall: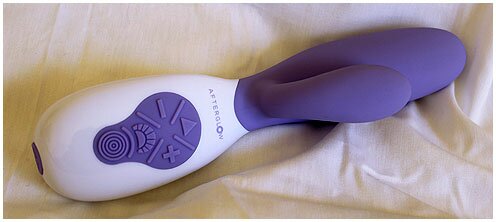 -Overview-
The Afterglow is an interesting new product that features PulseWave technology; combining pulsing light and vibrations to help you achieve stronger and more frequent orgasms.  Being a dual stimulating toy, this allows you to experience everything Afterglow has to offer both internally and externally.  However, that also means this product won't work for everyone because of anatomy differences.  It has a lot of good things going for it, but it's lacking in many ways as well.  It's made from body safe materials, is rechargeable, and has a wide range of settings to choose from.  Though the power is reasonable and the toy is quiet, the vibrations are buzzy and don't reflect the power behind it them as a result.  I'm not sold on the technology as of now, but maybe I'll experience improvements overtime.
I had the pleasure of asking the creator, Dr. Ralph Zipper,  a few questions about the product and the technology behind it.  You'll find the questions and answers scattered through this review.
-Intro/Use-
The Afterglow is a dual stimulating product that's often referred to as a rabbit vibrator.  The shaft is inserted into the vagina while the external arm rests against your clitoris.  It's a way to provide both internal and external stimulation without requiring the use of both hands or two separate vibrators.
This particular product was designed to work best with the female anatomy, connecting with two of the more obvious pleasure zones; the G-spot and clitoris.  It can be used for solo play, but can also be used with a partner as a part of foreplay or mutual masturbation.  The special PulseWave O setting (that I'll explain later on in the review) is especially great when you're laying in bed, spending a little extra time on your own or relaxing with your partner.
The design of the Afterglow allows it to be safe for anal insertion because the arm prevents it from accidentally slipping inside your body.  If you decide you want to use it for both anal and vaginal use, you'll need to sterilize between uses to prevent the spread of bacteria.
The booklet calls this a Tantric Massager and says if you follow the guidance of the Guru Afterglow you may be able to achieve what's called the Kundalini; an energy that allows you to experience a more full body orgasm.  You'll need to use the PulseWave O setting and be prepared to take some time for yourself.  This setting requires more than eight minutes, so make sure you're able to dedicate that time to relaxing and using the vibrator.
Since the vibrator isn't waterproof, you can't take it with you in the bath or shower and have to be careful when you're cleaning it.  This really limits where and how this product can be used.  So I asked Dr. Zipper:
Apart from vaginal use, can the Afterglow™ be used in other ways?
Afterglow™ is water resistant. Other than using it under water, your imagination is the only limiting factor. We are presently encouraging male users to send us feedback.  There are male users that have place their glans (head of the penis) between the two fingers and described "crazy" orgasms. We expect to learn much more about alternative uses as our customer explore Afterglow™.
-Material/Texture-
The Afterglow has an ABS plastic handle and a silicone shaft, arm, and controls.  Both materials are body safe, non-porous, latex free, and phthalate free.  These are great materials for sex toys because they're easy to care for and totally safe to use.  For regular use, you can clean the toy with a damp cloth and soap or a toy wipe or spray.  Never submerge the toy and be careful when cleaning around the charging port.  If you're sharing with someone else or switching orifices, you can clean with a 10% bleach solution (again, avoiding the port).  Being silicone, this vibrator is compatible with water-based lubricant since other types could cause the surface to degrade.  Afterglow actually has their own specially formulated lubricant called Afterdark that was designed to work with the technology of the vibrator.  You can purchase it through their website, but any water-based lube you have at home works fine.
The silicone surface of the vibrator is nice and smooth.  It doesn't drag across the skin and requires only a small amount of lube to get it nice and slick.  It does pick up small particles of lint, but it's easily wiped clean.  The silicone doesn't have any intentional texture to it, but does have a seam that runs over the center of the shaft.  You can lightly feel it with your fingers, but can't feel it during use.  On the shaft and clitoral arm there are two soft spots.  There's nothing wrong with the vibrator, this is where the light shines through.  Though I'm not positive about damage, I wouldn't recommend pressing on them since that would be considered misuse of your vibrator.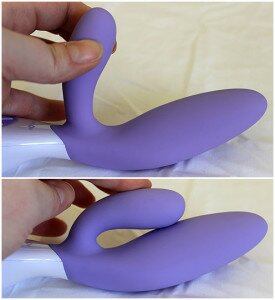 There's an obvious seam where the silicone meets the plastic, which isn't unexpected, but you need to pay extra attention to cleaning the area since bacteria could form if not properly cared for.  On either side of the handle are seams as well.  This doesn't effect use, but you might need to pay closer attention when cleaning as well.  The only other texture on the vibrator are the controls.  The silicone has raised areas that help you locate the different buttons even when it's dark.
The material doesn't have any give to it.  The silicone acts like a skin over the firm internal parts.  This is great for those that like firm pressure because it won't flex under pressure.  The external stimulator is nice and flexible, which I really appreciate.  It doesn't clamp down on your clitoris like some dual stimulators do, so that was an added plus in my opinion.  This also allows it to work for a wider range of users since the size of your vulva shouldn't matter (though your clit location does, just like with all dual stimulators).
-Design/Size-
The Afterglow is only available in one color, a soft lavender.  It would have been nice to see another option available that was a little less feminine, but I really like it.
The design of this vibe is really familiar.  The shaft has a rounded top, the external stimulator extends from the base of it, and at the bottom is your handle.  The thinnest area of the shaft is where it meets the arm.  The design of this area allows it to comfortably rest in place.  The handle has a wonderful shape that I really appreciate since it compliments the natural shape of your hand, making it comfortable to use and the buttons easy to access.  I was a little surprised that Afterglow decided to make this a dual stimulating toy since they're so limiting, so I asked:
What made you chose to create a dual stimulating product?  
We had to pick a shape to start with and the rabbit is the most versatile shape. The rabbit is the only shape that allows dual stimulation of the clitoris and G-Spot. A single stimulating device can only stimulate a single spot, whereas a dual stimulating device can stimulate two spots or one. The user may choose.  Furthermore, we wanted to help those who have never achieved a G-Spot enhanced orgasm. Stimulating the G-Spot is not like stimulating the clitoris. You can't see it or point to  it.  Furthermore, in many woman this spot may be only a few millimeters in size. The use of the rabbit style allowed us to target the G-Spot with PulseWave™. If the user rests the smaller finger on the hood of the clitoris (the prepuce), the diodes of the large finger (placed in the vagina) will be focused on the area where the G-Spot is found. No guessing involved. The beam of the larger finger is wide enough to effect the G-Spot region of all users as long as the smaller finger is resting on the clitoral hood.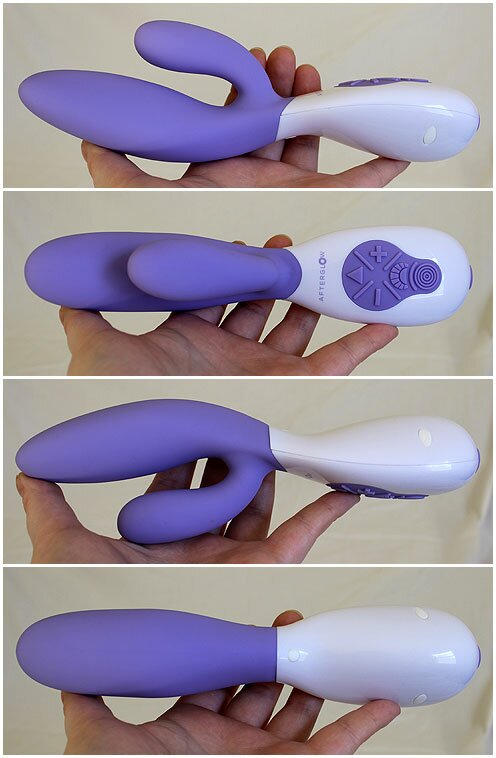 The size of the Afterglow is very reasonable with the handle itself being the thickest area of the toy.  If you're not used to any type of penetration this vibrator might seem a little large, but it should work for the majority of users.  The full length of the vibe is 9″, with 4″ of insertable length.  The clitoral arm extends 2 1/2″ from the base when you measure along the shape, but might not quite reach those who have high clits.  The shaft is 4 7/8″ in circumference at the thickest point, and is 3 3/4″ at the thinnest area.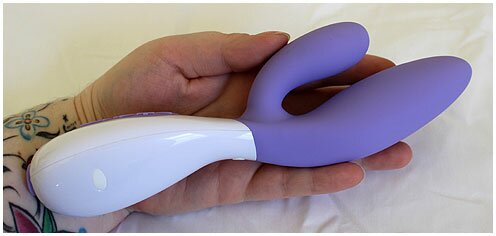 -Functions/Controls-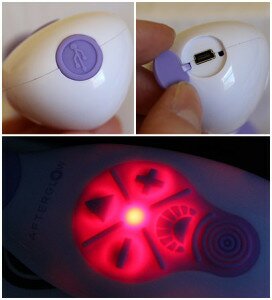 The Afterglow comes with a USB charger and an adapter that plugs into a regular outlet.  It doesn't arrive with a partial charge, and it's important to allow the vibrator to fully juice up prior to your first use (mine took about 6 hours).  At the bottom of the vibrator is a small silicone cover that protects the charging port.  When you're ready to charge, you lift it up and plug the cord into the vibe.  Once it's plugged into, a red light glows behind the controls.  When your vibe is fully charged, the light will turn off, showing you that it's ready for use.  Unplug the vibe, press the silicone cap over the port, and you're ready to use.  On a full charge the vibrator should get around 3 hours of use, according to the user manual.  I've used it for at least an hour and the charge is holding just fine, with no decrease in power.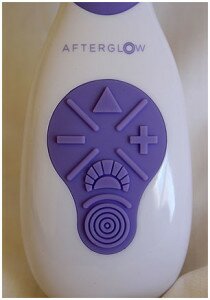 The control pad has a total of five buttons that control the functions of the toy.  Their website has a really awesome interactive example of what each button does.  The controls might look intimidating at first, but they're very easy to understand once you read the manual.  To turn the toy on, you have to press and hold both the plus and minus buttons at the same time (it takes a few seconds for the vibe to turn on).  Rather than having a travel lock, this was designed to help prevent it from accidentally turning on when not in use.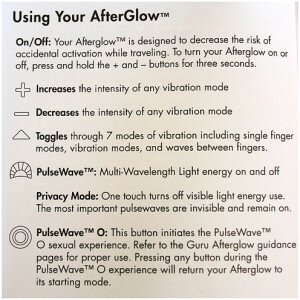 Once the toy is turned on, you can do a number of different things.  You can increase the steady vibrations by pressing the plus button, cycle through the seven different patterns, or begin the eight minute PulseWave O experience.  Each of the patterns can have the power increased or decreased, but pressing any buttons during the PulseWave O cycle will bring you back to the regular settings.  The booklet says: "With 15 different modes and 85 combinations, the Afterglow is one of the world's most versatile vibrators." – sounds like a lot, but it's really easy to figure out.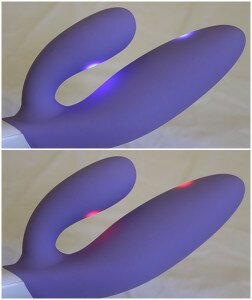 One thing you'll notice when the toy is turned on, is that there are red and blue lights that flash; one on the shaft and one on the clitoral arm.    The way they flash varies based on the setting you're on, but it's hard to detect a specific pattern to it.  They are fairly bright, but are obviously more discreet once the vibrator is inserted.  Still, at any point you can turn these lights off by pressing the button that resembles a setting sun.  Though the lights will no longer be flashing, you'll still experience the benefits of the technology.
To begin the PluseWave O experience, you have to first turn the toy on, and then press the button on the control pad that resembles a target.  The manual gives you all kinds of instructions about breathing, relaxing, and making sure you're not going to be disturbed during this time.  The cycle lasts eight minutes, but you're encouraged to try not to climax until at least five minutes of the cycle has completed.  It's difficult to tell when the five minute mark is, or even the eight minute.  When you're supposed to be relaxed it's hard to pay attention to when the vibrations change.  It would have been nice to have some sort of indicator that let you know how many minutes have passed.
I was curious why they chose this amount of time, so I asked:
Why does the PulseWave™O last eight minutes?  How did you select that length of time?
Initial test users were asked to report their favorite combinations of vibration with PulseWave™ and time to climax. These results were electronically recorded.   We then created as series of programs based on the most common vibration patterns and times.  We had our test users go back and use these newly programmed Afterglow™s and report results.  The best program and duration was named PulseWave™ O. This program can now be activated by pushing the O button on Afterglow™.  Some women will not reach climax w/in the O program. However, we have found that Climax reached after the completion of the O program is equally exquisite. The bottom line is that most woman will achieve great engorgement from PulseWave™, with or without the O program, in 5-8 minutes. Orgasms after this time seem to be associated with the euphoria found during the final 3 minutes of the program. By the way, PulseWave™ is always being emitted by Afterglow™ and is not limited to the O program.
And here's a little more information taken from the manual:
"Your Afterglow vibrator is the world's first vibrator to have PulseWave light technology.  This unique combination of pulsed Multi-Wavelength light energy and vibrations, discovered by collaboration of a world-leading gynecologist and laser physicist, is capable of enhancing arousal.  After discovering PulseWave, our team of doctors spent two years developing and testing unique PulseWave patterns to establish the optimal settings for enhanced arousal and orgasm.  These settings will have been programmed into your Afterglow pleasure device.  We call this the PulseWave O program."
"PulseWave O is a unique sexual experience initiated by the press of a single button.  Pressing the O button begins an eight-minute PulseWave journey designed to enhance arousal and help you achieve better and more frequent orgasms.  If you do not reach climax within the eight-minute program, fear not.  PulseWave O has readied your body for a great orgasm.  Just use your favorite mode to finish the journey.  Following the Guru Afterglow Guidance will help you achieve the most neo-tantric sexual experience."
The website has a lot of information on the science behind this technology, and you'd benefit best from reading it directly from their website than having me try to explain it.  This video will also help:
Science aside, the vibrations travel well through the shaft and the clitoral arm, but aren't deep and rumbly.  On the highest setting the vibrations are reasonable, but being buzzy takes away from the power.  If you're a power queen, the vibrations might not be enough, but hopefully responding to the PulseWave technology will help increase your chances of having an orgasm.
The sound level is very reasonable, even on the highest setting you wouldn't be able to hear it through a closed door.  If someone were to be in the same room with you they would likely hear it on the higher settings, but not on the lower ones.  Higher power or quieter vibrations?  You'd have to decide.  The PulseWave O setting has a mixture of both, so keep that in mind as well.
-Packaging-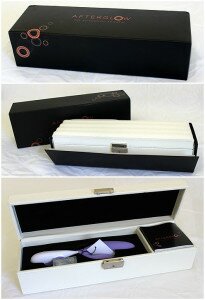 The Afterglow arrives in a long black box that has the product name and THE SCIENCE OF AROUSAL on the top, and product information on the bottom.  It's very classy looking, but isn't entirely discreet because of the information it displays.  When you remove the cover you'll see that the front of the box isn't attached (see image).  It's supposed to be that way, so don't be alarmed.  A thin blanket of foam covers the cream colored storage box that's holding your Afterglow.  The storage box has the product name on the top, but doesn't have any other information on it.  It opens by squeezing the two sides of the latch together and lifting the lid.  Inside you'll see the vibrator to the left and a little storage compartment to the right.  The Afterglow is securely in place since this area is shaped exactly like the toy other than two small notches near the handle that help you remove the vibe.  The right compartment holds the user manual, the storage pouch, and the charger.  Once you've removed your Afterglow, you'll find a little key underneath it.  The front of the case locks which is a really cool feature, but only one key is included.  It's not like a typical key and lock system, so it wouldn't be difficult to pick if you happened to lose it.  The only other information is found on a tag that's attached to the vibrator when it arrives.  It's not important to hold onto since the same information can be found in the manual.  The packaging is much larger than necessary for the vibrator, but it's really fancy and nice.  I appreciate the fact that a pouch was also included since the box would be a challenge to take with you when you're traveling.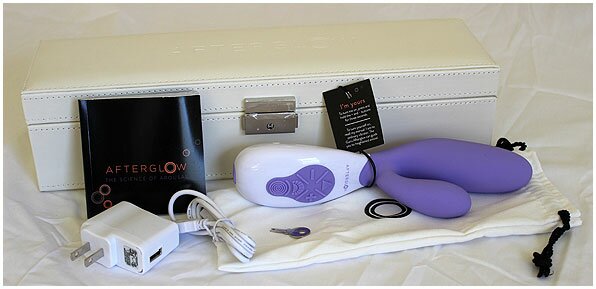 -Experience-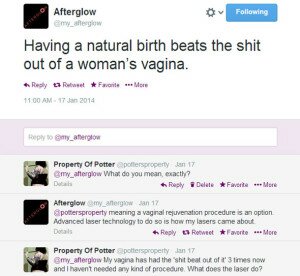 The Afterglow is something I only recently heard about.  I found them on twitter and decided to follow them.  I checked out their product, but didn't invest a lot of time researching it.  When they tweeted something that kind of got under my skin, I decided to ask more about it.  I felt like their wording was unfair and made me feel like they immediately see something wrong with my vagina because I've naturally birthed three children.  After hearing more about what this vibrator was supposed to do, I decided I was the perfect candidate to test it out.  My vagina's been through hell and back, surely this product will help me bring my vagina back to its youthful state.
Annoyance aside, I always give every product I test a fair chance.  While I don't agree with the way they're promoting this product, it shouldn't (and doesn't) reflect the way I feel about it.
After charging the toy and reading through the manual, I set aside a little time for myself to really check it out.  I immediately went to the highest level of intensity to see how powerful the toy was, and was immediately unimpressed.  I require deep, rumbly vibrations and while these had some power behind them, they weren't rumbly at all.  I set off to testing it out and felt like it was okay.  It didn't reach as high on my clit as I had hoped, but I didn't expect it would.  It's not always easy to find a dual stimulating product that works with my anatomy.  I tried a few of the patterns first, but decided I was most interested in the PulseWave O setting.  I read the booklet, made sure my breathing was relaxed, and pressed the button.  I closed my eyes and allowed myself to just feel, to try and experience everything this product was.  After a minute or so, I started to feel a warming sensation, both internally and externally.  This was a pleasant surprise, but I didn't experience additional stimulation from it.  The minutes went on and while I was aroused (naturally having a vibrator against your pleasure zones for minutes at a time will do that), I wasn't even close to having an orgasm.  After more than eight minutes, I changed it to the highest steady setting and did my best to get off.
My perfectly prepped orgasm wasn't anything to write home about.  I did everything just like I was supposed to, but didn't experience this amazing climax like the information says.
I tried going through the PulseWave O setting again, only finishing myself off with my go-to clitoral vibe.  Again, my orgasm wasn't any more intense than normal.
I asked Dr. Zipper:
With regular use, how long does it take for someone to start seeing a noticeable change?
Afterglow™ is first and foremost an adult toy designed to bring the user a new, improved, climax. A user that is very in touch with their anatomy and sexual response can expect to experience a unique and improved orgasm within the first few uses. The proprietary pulsed light algorithm was designed to improve genital blood flow during masturbation (or when playing with a partner).  Viagra increases blood flow to the genitals by inhibiting the breakdown of a chemical known as cGMP. cGMP relaxes smooth muscle leading to increased blood flow and genital swelling. Pulsed near infrared light, when applied correctly, increases the production of cGMP. Some of our docs have called this the "female Viagra" device. The manufacturer of Viagra is quick to point out that the pill does not work on its own, but requires mechanical stimulation. The same is true of PulseWave™ light technology. It works best when coupled with mechanical stimulation. The good news is that Afterglow™ is also a great Vibrator. It provides great mechanical stimulation with PulseWave™. Most users report noticing an improved sexual stimulation the first time that they used Afterglow™ for more than 5 minutes.

It is not yet known how long it required to see changes in body tissue such as improved health of tissue and decreased yeast and bacteria. Many users who were prone to yeast infections have reported a decrease in such after several weeks of use (averaging several uses per week). Afterglow™ is not a medical device, however, clinical studies are underway in order to determine long term benefits of Afterglow™.
I'm very in tune with my body.  I know how it works, what works, and what doesn't work.  My experiences with the Afterglow are based on knowing my body well.  I'm not sure if time will chance the way I respond to it, but as it stands, I wasn't overly impressed with the results.  I'm going to keep using it and will change my rating and update if I notice a positive change in my response.
Your personal experience with the Afterglow will vary.  If you're more sensitive to vibrations this might work better for you, but I haven't noticed a difference for me.  I think if they made the vibrations deeper (more rumbly), and made the vibrator waterproof, I would be telling a very different story.  They're on to something, this one just misses the mark, in my opinion.
The technology is really interesting and if it's something you'd like to try out for yourself, you can purchase it through their website by clicking the banner below.  Now is the time, take advantage of their special Valentine's Day offer and save $50!

Afterglow was provided to me free of charge in exchange for an unbiased review.  This is in compliance with FTC guidelines.