Plus Size Sweetheart Victorian Brocade Corset from iCollection
Pros:
- High quality
- Beautiful design
- Affordable
- Slimming
- Comes with matching thong
Cons:
- Plastic boning
- No breast support
- Difficult to put on.
Overall:


-Overview-
When I first saw an image of this corset, I was blown away.  The  pattern and contrasting colors go perfectly together.  On top of looking absolutely gorgeous, it has a lot of good things going for it.  The material is comfortable against your skin and the stitching is very well done.  This is a quality corset for your dress up fun.  Keep in mind, this isn't designed to train your waist (plastic boning), but will give you a slimming look while you're wearing it.  The biggest downside for me is that there's no breast support.  If you're lucky enough to have perky breasts this shouldn't be an issue.  However, the bust area isn't very flattering for those of us who have flat or saggy breasts.
-About the Corset-
The Sweetheart Victorian Brocade Corset from iCollection is designed like most, featuring adjustable laces in the back with the closure in the front.  You need to place it around your back, hook it in the front and then adjust the laces in order to get a proper fit.  This is much easier with someone to help you, but can be accomplished on your own.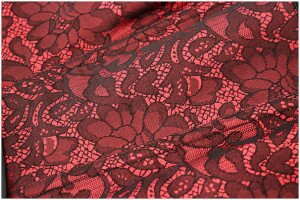 The look of this corset is simply gorgeous and is where it truly shines.  The floral fabric features a lighter shade of red in the background, and a darker shade in the foreground.  It adds depth to the pattern and gives it a moody, seductive feel to it.  Not at all what you would commonly expect from something that's floral.  The trim, laces, and waist band are all black and really compliment the red pattern.  The inside of the corset is also black, but it doesn't need a fancy pattern since it can't really be seen while you're wearing it.  The corset isn't reversible, so the fabric on the outside is what everyone will see.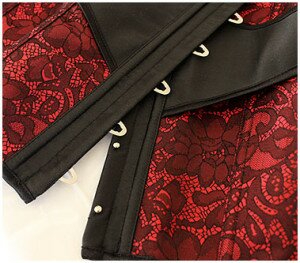 The front features seven shiny silver hook and eye closures.  These aren't like your bra closures, but are quite common in corsets.  The left side features little nubs that slightly extend from the material, and the right side has flat pieces that lock them in place.  When you put the corset on, you'll need to line up the sides so that they all hook into place at almost the same time.  This isn't like buttoning up a shirt, you can't do one hook at a time.  Because you have to line them up just so, it can be a challenge to hook if your laces aren't wide enough when you first put the corset on.  Make sure they're nice and loose and worry about adjusting them once you have it in place.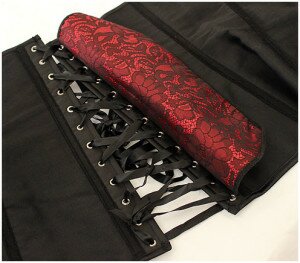 The laces in the back are silky and feel more like ribbons than lacing.  They hold up well to being tugged on and should last a long time.  There are a total of 24 eyelets (12 on each side) that go along either side of the corset that hold the ribbon in place.  It's rimmed with metal which makes the lace slide easily through them.    The corset is pre-laced when you receive it and there's a lot of wiggle room when it comes to adjusting the piece to fit your body shape.  Behind the lace is an optional modesty panel.  This panel prevents anyone from seeing your skin through the laces.  You can fold it over when you first put the corset on if you'd rather have your skin exposed, and larger corset wearers might not be able to use it at all.
The corset has 12 rows of plastic boning that's evenly spaced over the length of the piece.  Being plastic allows it to flex more easily than steel boning, which makes it more comfortable to wear, but prevents it from being good for waist training.  The flexibility makes it much more suitable for bedroom play or dressing up to go out, but less suitable for regular wear.  It holds shape fairly well, but does bend a little funny if you're being active.  There are no issues when you're standing around, but once you start doing something it seems a little too flexible.
When you look at the inside of the corset, you'll also see two little ribbon loops near the top.  These are in place so you can easily hang it in your closet when you're not wearing it.  They're handy for storing the piece, but you'll want to remember to tuck them in when you're wearing it.

Rather than being totally straight on top and bottom, the corset has a great shape that compliments a feminine figure.  The front is taller than the back, and has a curved top that's shaped well for the bust area.  This is referred to as a sweetheart neckline (which is why it's in the name of the corset) and is a really beautiful touch that helps the shape feel more feminine.

The waistband on this piece is a really beautiful touch.  The shape of the piece fools the eye and actually makes your waist look slimmer even without the corset being pulled tight against your body.  It's wider in the center of the front and back, but narrows greatly where it sits on your hips.  I really love this element because it's such a simple piece that makes this corset that much more appealing and look much better when you're wearing it.
-About the Thong-
Unlike a lot of sets, the thong it comes with isn't strictly black.  The front panel has the same pattern the rest of the corset has, and the trim is black to match as well.  The waistband and center band are both simply elastic and are very stretchy, but the center piece isn't sewn to the top band.  Instead, it loops around and can move freely along the waistband.  I've seen this in thongs before, but I've never understood the point.  For me, it's just another thing I need to try to get situated before I put it on.  The inside of the thong is basic black.  There's no crotch panel, but the material that goes against your skin is soft and comfortable.  It's an okay addition to the corset because it matches and is good quality, but the design is off.  The width of the front is too narrow for a plus size piece and doesn't fully cover my public mound.  This is a big issue for me as I think it looks very unattractive and makes it appear as though the thong is too small for me, even though it fits perfectly.
-Sizing-
The Sweetheart Victorian Brocade Corset is available in both regular and plus sizes, which is always nice to see.  I really appreciate companies that try to make products that fit a wide range of body types.  The corset I chose is a size 3x/4x (or a size 44 as the tag shows) because it sounded correct according to my measurements.  Since it's adjustable, it will also fit someone a few sizes larger than I am, though they wouldn't be able to use the modesty panel at that point.  The measurements according to the iCollection website are:

My measurements are:
Size: 22
Bust: 48″
Waist: 40″
Hip: 52″
Corset measurements are:
Tallest Part (bust to bottom): 16 1/5″
Shortest Part (back of the corset): 13 1/2″
Modest Panel: 5 1/4″ wide
Length of Each Side: 20 1/4″
Thong measurements are:
Top of Front Panel: 6 1/2″
Waistband (measured flat): 18″
Additional measurements can be taken upon request.
-Material/Care-

The corset and thong are both made from 90% Polyester and 10% Spandex.  The material doesn't seem to breathe as well as cotton or lighter materials do, and may cause you to sweat.  It's not rough or scratchy against your skin, in fact, it's quite soft and smooth.
Inside both the corset and the thong is a tag that tells you the size, material and the care instructions.  They're pretty easy to follow; hand wash in cold water, hang to dry.  You don't want to toss this in with your regular wash and I'm not sure what would happen to it in the dryer.  As long as you care for it like you're supposed to, I can see this corset lasting quite a while.
As stated before, there are two ribbons which would allow you to hang it up when you're not wearing it, or you could fold and place it in your lingerie or underwear drawer.  Just make sure there's nothing that will snag the material or over flex the boning.
-Packaging-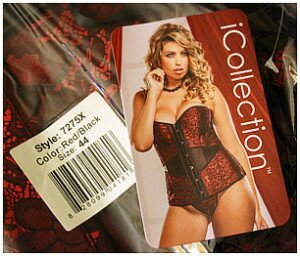 The corset arrives at your house in a clear plastic bag that has a sticker on the outside.  It only tells you the style, color, and size and doesn't have the company or product name on it.  Once you open the bag and pull out your lingerie, you'll see a tag attached that has a model on one side and the website (and information that was on the sticker) on the other.  There's really not much information there, but it's not really necessary for something like this.  You can dispose of the plastic bag and the tag since they're not necessary to keep.  The corset is already laced and ready for you once it arrives.
-Experience-
Trying on lingerie is something that's always been a struggle for me.  I haven't had the best experiences while wearing it, and I'm always more self conscious in it than if I had nothing on at all.  To me, lingerie makes a statement.  It means you know you're sexy and you're not afraid to show it off.  That's not me.  I have a very difficult time wearing lingerie in front of my husband, even though I'm naked around him every day.
When I saw the iCollection Sweetheart Victorian Brocade Corset, I was immediately drawn to it.  I'm one of those women who window shops for lingerie, but I'm often too afraid to ever purchase it.  Every once in a while you can't help but snag something, even if you doubt you'll look attractive in it.
When the corset arrived, I was immediately impressed with the quality of it, especially considering the price point.  I looked it over, felt the material, and had to try it on.  Once I finally got everything adjusted and in place, I felt good.  I hadn't seen myself in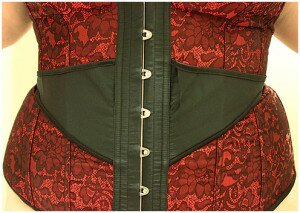 the mirror yet, but when I looked down at myself I thought for sure I was going to actually look nice in something.
When I stood in front of the mirror, I was hit with disappointment.  Though it mostly covered my belly and made my natural waistline look slimmer, my breasts looked terrible.  If this corset had cups that would help push my breasts up, it would have looked much better on me.  The breast thing was the largest issues for me, but it also bothered me that you could see my belly through the closure on the front.  It would have been nice to see a small modesty panel in place there as well.

Overall, I like the corset, but there are certain things I would change about it if I could.  It fits well, feels comfortable, and is attractive itself, it just wasn't the perfect fit for my shape, especially for my breasts.  If you have perky breasts, I would strongly recommend looking into this corset!
The iCollection Sweetheart Victorian Brocade Corset, other corsets, and other lingerie pieces are available at Lovehoney.  Click the banner below to explore!

The iCollection Sweetheart Victorian Brocade Corset was went to me in exchange for an unbiased review.  This is in compliance with FTC guidelines.