G-Buzz
Pros:
- High quality
- Gorgeous, unique design
- Stimulating
- Hand crafted
- Dual ended
Cons:
- Harder to clean
- Expense (though worth it)
Overall:


-Use-
G-Buzz from from the Crystal Collection by Oro Vidri is an elegant glass dildo that's both beautiful to look at and stimulating in use.  Designed with the female anatomy in mind, G-buzz is dual ended, providing two different ends to suit your changing tastes.  The curved end is a bit thicker and works well for G-spot stimulation, while the thinner end is straight and keeps the focus on the amazing texture of the toy.
Oro Vidri has several toys that are great for anal play, but G-Buzz is best suited for vaginal use.  While it could be used anally, you would have to be very careful since there's nothing to prevent the toy from slipping inside of you.  Additionally, the texture might be too much for most anal players, so it's best to select a more appropriate toy if you're interested in purchasing something for backdoor stimulation.
Though G-Buzz is great for solo play, it's also a great tool to use with your partner.  The texture of the dildo makes it easy to hold onto, even with lubed hands, and doesn't take a lot of effort to create a satisfying experience for your lover.  Be careful not to thrust too hard, the material is rigid and could cause some discomfort if you get too aggressive with it.  Always follow your partner's cues to make sure they're enjoying the stimulation you're providing.
Temperature play is always a great way to add another sensation to your playtime.  The G-Buzz can be heated up or cooled down for another added sensation, but it's important to follow the instructions Oro Vidri provides to ensure nothing bad happens to your glass toy.  The information is available on their website, but your package will include a sheet explaining the same thing.
-Material/Texture-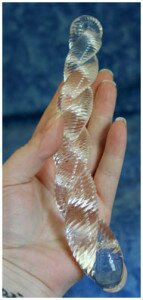 G-Buzz is a true work of art and is one of the most attractive glass dildos I've ever seen.  This particular glass is "hand made from refined glass that is comprised of 25-50% recycled glass.  The glass is melted down at 2200 degrees Fahrenheit before it's gathered up by the artisan and rolled though gold or silver and then shaped to perfection." according to Oro Vidri.  It's hypoallergenic, non-porous, latex free, phthalate free, and every bit as body safe as other glass toys.  It's very clear and though there are some small bubbles inside of it, has an amazingly pure look and feel to it.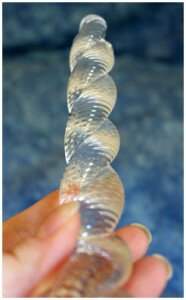 The texture of this toy is where it truly shines. If you don't like textured toys than this won't be the right choice for you.  However, Oro Vidri is sure to have something that will better suit your needs.
The entire piece looks like it was once double the length before being folded in half and twisted; creating a shallow bumpy sensation when thrust.  If that wasn't enough, there's a soft vertical ribbed texture that is perfectly formed within the twisted glass.  The ribs aren't felt as much as the twists, but are still quite stimulating.  Both ends are slightly smooth at the tips, but apart from that, this beautiful piece is completely covered in amazing texture!
-Design/Size-
When you purchase a product from Oro Vidri, expect to receive the highest quality piece of glass you've ever touched.  I don't know what it is about their products, but they feel so luxurious and the attention to detail is truly impressive.  Every piece of glass is hand crafted and though that makes each one slightly different, it also shows the dedication and pride they take in their work.  This isn't just some company mass producing products, they are artisans creating beautiful pieces of functional art.

G-Buzz starts out straight, but curves up nicely into a larger bulbous area that hugs perfectly against the G-spot.  The opposite end is straight and is thin enough that users of almost any experience level should be able to handle it.  If you're not used to any type of penetration at all it might be a bit much, but only because it's also very textured.  The curved end is very comfortable and easy to hold while you're thrusting, but the other end is easy to grip as well thanks to the textured surface.
The Crystal Collection features dildos that don't contain any gold or silver flake inside of them, like the Maseo I previously reviewed.  While you might assume the dildo doesn't seem as beautiful because of that, it's the design that makes it shine.  This line is supposed to resemble cut crystal, and truly doesn't need the shimmer because of it (though the Lush line is equally beautiful!).
The full length of my G-Buzz is 8″ (not measuring along the curve) and can be inserted about 7″ while still being able to hold onto the toy.  The smaller end starts out at 3″ in circumference and only gets slightly larger the closer you get to the curved end, getting only about 1/4″ wider.  The larger end, though appearing much larger than the opposite side, is only 3 7/8″ around.  Keep in mind that the twists in the dildo make the sizing look and feel a little different than a dildo that's totally smooth.

-Care-
Cleaning and caring for the G-Buzz does take a little more work than some toys, but it's totally worth it!  For regular use, make sure to clean the toy before and after with an antibacterial soap and warm water.  Because there are so many little areas for stuff to get trapped, using a soft bristled toothbrush to clean between the ribs and twists in a good idea.
If you're planning on sharing or wish to sanitize your toy for another reason you can also clean it using a 10% bleach solution.  You shouldn't boil or place your toy in the dishwasher since that could cause damage to to it.  Oro Vidri lays it all out on their website, and also includes this information with your purchase.
Being made from glass is great when it comes to choosing a lubricant.  It's compatible with all types and a little goes a long way.  Though any type is safe to use with the toy, avoid oil-based lube when using anything vaginally, water-based and silicone-based are the smartest choices.
The G-Buzz, and all products from Oro Vidri, come with their own leather wrap.  The wrap is cut to fit your toy perfectly and stays secure using two gold plated closures.  It's nice and snug around the dildo, but being a wrap it doesn't have sides to prevent the toy from slipping through.  The wrap does a great job at preventing the surface of your dildo from getting scratched or damaged, but it's not padded in any way, so be very careful that it doesn't fall, even while inside the wrap.  If it ever does drop, while it's in or out of the wrap, make sure you carefully inspect it, and don't use if there are signs of damage.

-Packaging-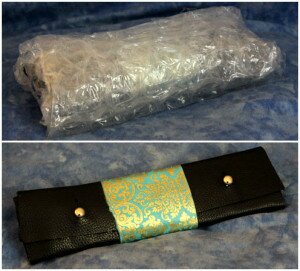 After carefully inspecting each product, they place it inside the leather wrap, and make sure it's completely protected by bubble wrap.  On top of the bubble wrap taped around your toy, there is some also lining the inside of the plain box it's shipped to you in.  The padding for your dildo is amazing and the likelihood of your toy arriving damaged is nearly impossible thanks to how protected it is.  The box itself is clearly labeled as 'Fragile' on the outside, but nothing gives away what the box contains.
There's also a beautiful piece of paper surrounding the wrap.  It's a simple added touch that shows how detail oriented this company is, all the way around!
-Experience-
While I was browsing the Oro Vidri website, the G-Buzz really jumped out to me.  There are lots of products that contain gold and silver flakes, but there was just something about this one that stood out to me.  The shape was so different and interesting to me, and with the texture on top of that, I knew I had to add this beautiful piece to my collection!
Holding the toy in my hands, I knew I was already in love with this piece!  I wish I could just hold it all day!  I know that sounds strange, but there's just something about this glass that makes me want it around me all the time.  When it came time to use it for the first time, I was super impressed.  I'm someone that usually prefers some girth to my toys, but the texture on this one really made up for the size difference.  Both thrusting and twisting the dildo felt amazing and I was impressed with how easily it rubbed against my G-spot.  If you've read any of my other reviews you already know I can't orgasm from internal stimulation alone, but when I used the G-Buzz along with my go-to clitoral vibe, I was blown away!  Using them together created one of the most powerful solo sessions I've ever had!
If you haven't checked out the beautiful products created by the amazing artisans at Oro Vidri, you don't know what you're missing!  I highly recommend looking at their current collections (Lush and Crystal) and keep checking back this Winter for the release of their Venetian Dreams collection which will feature limited edition colored pieces as well!
If you like what you see but the perfect toy isn't jumping out at you, you can fill out the contact form to see if they can make your perfect toy come to life!  How many companies are willing to provide you with a completely one of a kind piece?
As with any company that produces hand crafted products, there will be a slight wait time.  Expect your product to take between 7-10 days to make, though it might be longer if they're working on a custom piece for you.
Interested in purchasing your own G-Buzz?  Click the banner below and see what all the buzz is about!

G-Buzz was provided to me free of charge in exchange for an unbiased review.  This is in compliance with FTC guidelines.