Maseo
Pros:
- Elegant
- Unique
- High Quality
- Hand crafted
- Gorgeous Design
Cons:
- Expense (though worth it)
Overall:


-Use-
Maseo from the Lush collection by Oro Vidri is a high quality glass dildo that creates a truly luxurious pleasure experience!  This hand crafted piece of functional art is ergonomically shaped to stimulate some of the most sensitive areas of the body.  Maseo was made with the male anatomy in mind, the slim design and great curve have the ability to target the P-spot, taking your pleasure to a whole new level!  The length is very manageable and shouldn't be too intimidating for a new user or for a partner to use along with you, and stays out of the way during oral play and other sexual activities.  The loop at the base makes the toy anal safe and also helps with moving the dildo during use.
Being compact is actually a major plus since it keeps the focus on the areas that matter most.  Don't have a prostate?  The smooth surface paired with the soft curve also do wonders for the female anatomy!  While it won't provide you will a full feeling, it certainly will help you locate (if you haven't already) and pleasure the G-spot.
All Oro Vidri toys can be used for temperature play, but it's important to follow directions so that you don't cause any damage to your beautiful dildo.  Included with your toy is a paper that gives you the dos and don'ts of heating and cooling your toy.  This information is also available on their website.
While Oro Vidri sex toys can be heated and cooled, depending on your preference for sensual play, always do so in a safe manner by following the directions below.
 For a warmed toy:
1. Place a plastic bowl in your sink large enough to submerge your toy in temped water but small enough to allow for water to overflow into the sink and down the drain.
2. Fill the bowl with temped water still running and place the toy in it.
3. Once the bowl is filled, turn back the amount of cold water until your desired temperature is achieved and allow the water in the bowl to overflow down the drain.
4. Once the bowl is filled, and the toy is covered by water of the desired temperature, turn the faucet off and allow your sensual sculpture to sit for two minutes.
5. Dry your toy with a lint free towel.
Your artisan sex toy should now be sufficiently warm and ready for a fluid introduction into duty.
For a chilled toy:
1. Insert your room temperature toy into a bowl of cold water and allow it to sit for a few minutes.
2. Dry with a lint free towel and expect an invigorating experience.​
Never put your Oro Vidri artisan sex toy in the freezer. Your glass toy can get so cold you can give yourself frost bite or even worse… stick!
Your Oro Vidri glass toy should ever be boiled or heat disinfected. Do not attempt this as it could cause serious injuries and or weaken your artisan sex toy.
Never introduce a cold toy into a hot environment or vice versa. Thermal shock and breakage is a real concern for any solid glass toy and should never be done.
Never place your glass toy in the dishwasher. Doing so can cause damage to your artisan sex toy and does not ensure its cleanliness.
-Material/Texture-
Maseo is truly an incredibly beautiful piece of art!  This dildo is made from glass that is 100% hypoallergenic, but is unlike any glass toy I've used in the past.  I've never felt something so incredibly high quality and their skill is easily seen through their work.  The glass is "hand made from refined glass that is comprised of 25-50% recycled glass.  The glass is melted down at 2200 degrees Fahrenheit before it's gathered up by the artisan and rolled though gold or silver and then shaped to perfection."  according to the company.

There is a good weight to the piece, feeling solid in your hand while remaining light during use.  The surface is incredibly smooth to the touch, having no texture at all.  The lack of texture keeps your focus on the pressure being applied and prevents stimulation from being too overwhelming for some users.
-Design/Size-

The overall look of Maseo is what made me gravitate toward it.  It's challenging for me to call it a dildo or toy throughout this review because it just doesn't seem like one.  The inside of the toy is beautifully coated in eye catching gold flakes.  They almost seem patterned, but unique at the same time.  The center of the piece is clear and almost has a hollow look to it thanks to the way the flakes lay.  The beautiful gold stands out that much more because it's fully encased in layer of glass.  It's difficult to explain, but incredibly beautiful to look at.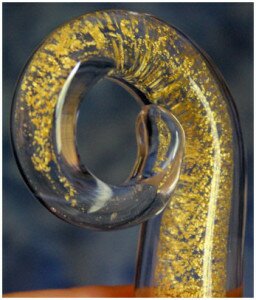 The shape of this dildo is really interesting, and is much different than most anal friendly toys.  Rather than having a flared base that's flat on the bottom, it has a really interesting curve that curls up around the base of the toy, creating a little loop.  The beautifully rounded tip, gentle curves, and glamorous gold flakes make this toy a truly sexy work of art.
Since these are all hand crafted, they are completely unique, no two are exactly alike.  For that reason, Oro Vidri considers these to be limited edition or one of a kind.  Your Maseo may look slightly different than the one I received, and mine doesn't look exactly like the website image either.  It sort of adds an element of surprise since they're all unique and beautiful in their own way.  While there are some differences in size and appearance, they all function just as well.

(the coloring is slightly different because of a change in natural lighting)
What surprised me when this toy arrived was the size.  The website has the size of the item, but having it in your hands is a totally different experience.  Though listed as 6″ long, mine is actually 5 1/4″ in total length; 3 1/2″ of that being insertable.  Though it differs from the website, it works just as well and is every bit as beautiful.  The end of the toy starts off very reasonable at 3/4″ in diameter an increases to 1 1/8″; the widest point.  It thins slightly right before the curved area, decreasing to 7/8″.  The size is wonderful for anal beginners or those looking to specifically target the prostate or G-spot since the width is so manageable.  Size kings and queens may feel it's a little small, but for targeted stimulation it's truly amazing.

-Care-
Included with your dildo is a sheet that gives you the run down on how to properly care for your toy.  The same instruction can be found on their website:
Totally hypoallergenic, Oro Vidri artisan sex toys are non-porous and easily cleanable with a mild soap or 10% bleach and water solution.
Always clean your toy with soap and water or a sex toy cleaning solution before use and rinse well with clean water prior to drying.
Avoid any abrasive cleaners, scratches can harbor bacteria and can lead to infection.
Always use a clean lint free towel to dry your toy after washing.
Always inspect your toy for defects, chips, cracks, scratches and foreign material on the surface of the glass prior to use.
If dropped, inspect your toy for damage and if any exists, DO NOT USE.
Never put your Oro Vidri artisan sex toy in the freezer. Your glass toy can get so cold you can give yourself frost bite or even worse… stick!
Your Oro Vidri glass toy should ever be boiled or heat disinfected. Do not attempt this as it could cause serious injuries and or weaken your artisan sex toy.
Never introduce a cold toy into a hot environment or vice versa. Thermal shock and breakage is a real concern for any solid glass toy and should never be done.
Never place your glass toy in the dishwasher. Doing so can cause damage to your artisan sex toy and does not ensure its cleanliness.
It's a little different than some glass toys, but not terribly so.  Always make sure you use the 10% bleach solution if you share with someone else or switch orifices; especially using it anally and then vaginally.  You don't want to introduce bacterial that could potentially lead to an infection.
Being made from glass, Maseo is compatible will all lubricant types, so feel free to use whatever works best for you.  Since the surface is so smooth a little goes a long way and you're ready for action.  Just keep in mind that oil-based lubricants aren't great for vaginal use, stick with a good water-based or silicone.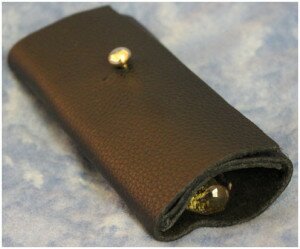 Storing the toy is quite easy because it comes in a leather wrap that protects your toy.  It's not padded in any way, but it does protect against surface damage.  If you decide to use something else for storage, using a small padded pouch should work well.  Each leather wrap is made to fit your toy perfectly and is snug around your toy.  It has a gold plated closure that easily fits through a small slit in the pouch, preventing it from accidentally opening up.  The only thing you have to be careful with is making sure the toy doesn't slip through the sides since there's nothing there to prevent it from coming out.

-Packaging-
Along with carefully creating and inspecting your toy before sending it out, they also do a great job of making sure your dildo arrives in perfect condition!  It arrives in a plain brown box that doesn't contain any information that would make someone think you were receiving an adult product.  It is appropriately stamped as a fragile item, so it should have been handled with extra care prior to arriving.
Inside, the package contains lots of bubble wrap and the toy itself is inside the leather case and has more bubble wrap surrounding it.  A beautiful paper surrounds the wrap, adding a small touch that makes it look even more elegant!  The attention to detail goes full circle with Oro Vidri!
Also included in your box will be the temperature and cleaning papers mentioned above, and a little pamphlet that tells you about the company.  It provides great information and includes their website and facebook information.
-Experience-
Handling my Maseo for the first time, I was truly impressed.  Often times companies call their products luxury, but I've never felt anything like the quality you can expect from Oro Vidri.  I've used many glass dildos over the past few years, but they all feel cheap compared to this.
In use, this dildo is amazing!  Being the primary toy user in the house, and female, I enjoy using this toy to stimulate my G-spot.  I'm not someone that's super sensitive inside and I usually prefer larger toys (which you call tell from the other reviews I've written) so I was quite surprised with how well the Maseo worked for me.  The thin design really kept my focus on the G-spot and it was easy to get lost in that feeling.  The rounded tip prevented it from poking at me, while providing pin-point stimulation.
Prostate stimulation was really my goal when I chose the Maseo.  The subtle curve and thin designed looked perfect for helping me stimulate my husband's P-spot.  It had all the great features I look for in a prostate massager and I knew it would be really stimulating for him.  I've been selfish so far and we haven't used it that way, but I love having a toy that can be used on both of us.  It really makes the price point that much more reasonable when you consider the pleasure we'll both receive from it.
If you can't tell from my review, this is a dildo I would highly recommend adding to your collection!  It's a gender neutral toy that's amazingly high quality and simply beautiful to look at!
A little more about Oro Vidri
This company is an artisan-based and owned company, working hard at proving people with elegant pieces of functional art.  They currently have two lines of sensual sculptures; Crystal and Lush.  The Crystal line is all glass with the focus being on the overall look of the pieces, being reminiscent of cut crystal.  The glass is totally transparent but is covered in amazing textures that are simply gorgeous!  The Lush line is where the Maseo is from and features both smooth and textured glass that has 22 karat gold or pure silver encased in it.  Both lines are stunning in their own ways and feature products that should appeal to just about anyone.
If that's not enough, this winter they will be featuring a third line of these luxury toys; Venetian Dreams.  This line will "incorporate the ornate color options of Venetian glass from the renaissance as well as encased precious metals like gold, silver, and platinum.  Each will be one of a kind for a limited edition of five or under" according to Oro Vidri.  So keep checking back as the weather gets colder to see these amazing creations!
On top of having these beautiful toys to choose from, they also work hard at creating products as unique as you and your sexual needs; offering custom pieces that make unique gifts (even if it's just for yourself!).  Be sure to fill out their contact form to see if your fantasy toy can come to life.
As with any company that creates hand crafted products, there is a short wait time.  It's normal to expect your toy to take 7-10 days to produce, and maybe longer depending on what you've discussed as far as your custom piece.
Interesting in purchasing a Maseo or other unique piece of functional art?  Click the banner below to see what luxury is really all about.

Maseo was kindly provided to me free of charge in exchange for an unbiased review.  This is in compliance with FTC guidelines.