Icicles No.14
Pros:
- Made from glass
- Long neck
- Easy to clean
- Can be used for temperature play
Cons:
- Increases in size quickly
Overall:


-Use-
Icicles No.14 from Pipedream is a hand blown glass butt plug.  This simple but elegant plug can be used in a few different ways and for a few different reasons.  Some people love the full and stretched feeling a plug can provide, and others use them as a tool to help prepare for anal sex or another types of anal play.  Whether you're playing or prepping, Icicles No.14 is a great toy to have.
The base of the toy is small enough that it won't get in the way during intercourse, whether you're on the giving or receiving end, and stays in place well thanks to the size difference between the bulge and neck of the toy.  The slim neck also makes long term wear really comfortable and easier to manage.  If you're playing with a partner, they won't be able to thrust the toy, but they'll be able to move the base side to side which could provide a great sensation to the prostate.
This plug is great for more than just anal play, it can also be used inside the vagina.  The curve to the toy and bulbous head are great for stimulating the G-spot.  Always keep in mind that the toy will need to be sterilized before switching orifices and your own experience will vary depending on your anatomy.  Not everyone will experience great G-spot or P-spot pleasure during use, so keep that in mind.
Being glass, this toy is also great for temperature play.  You can easily heat the toy up by placing it in a bowl or sink of warm water or cool it off by putting it in the refrigerator for a few hours or placing it in some ice water.  The package states that you can put it in the microwave to heat it up or in the freezer to cool it off, but neither of those options are ideal.  It wouldn't be difficult for the toy to heat unevenly and burn your delicate skin, or have your moist skin stick to the glass directly from the freezer.
-Material/Texture-
Icicles No.14 is made from Pyrex glass which is a material you may already have in your kitchen in the form of bakeware.  This glass is very strong and is much more resistant to breaking than some other glass types.  Pyrex is a hypoallergenic, non-porous, and body safe material that's truly a great option in a sex toy because of how safe it is.
There's no give to this plug, no moving parts, and no texture.  The smooth surface is great since less lubricant is required and it slides into your body with ease.
-Design/Size-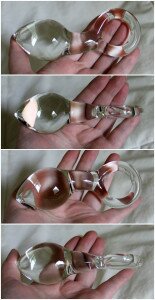 The shape of Icicles No.14 isn't a new design in the slightest, but sometimes going with what already works is best.  The tip of the toy comes to a rounded point and increases in girth; creating a large bulb.  Below the bulb is the neck of the toy (where your anus will rest) and the base is just below that.  Many plugs feature a flat base, but this one is shaped like a ring.  It makes the plug really easy to manipulate while it's in place and is super easy to remove.
The bulge has a little curve to it which should help connect with the areas that matter most.  The size truly prevents this toy from being beginner friendly.  It's an intermediate to advanced size and may require some working up to.  The shape of the bulb doesn't take long to get to the thickest area and it's a good idea to use a smaller plug before inserting this one to avoid discomfort.
The total length of the toy is 5 1/2″ long, and can be inserted up to 3 1/2″.  The length isn't an issue as far as your experience level, it's the girth of the bulb.  The thickest area of the bulb is 5 3/4″ in circumference; my fingers don't even touch when I put my hand around it!  It can be a challenge to insert this area, but once you're over that hump, the neck is much more reasonable coming in at 2 3/4″.  The neck is also a nice length.  The 1″ gives you plenty of room to feel comfortable without the base sticking out too far from your bottom.

-Care-
Cleaning the toy is a total breeze!  You can wash it with warm water and antibacterial soap or sex toy cleaner, but can sterilize it a few different ways.  The easiest (in my opinion) is to clean it using a 10% bleach solution, but you can also put it on the top rack of your dishwasher, or boil it.  While I know it's safe, boiling the glass makes me uncomfortable so I normally use another method.
Have a favorite lube?  It's compatible with this toy!  No matter what lubricant you reach for, there's no chance of it damaging the toy in any way.  Just make sure you avoid using an oil-based if you're playing vaginally.
The packaging for this toy doubles as storage and is the only option available.  It doesn't come with a pouch or anything like that.  The box does take up more space than necessary for the toy and investing in a small padded pouch would be a good idea.
-Packaging-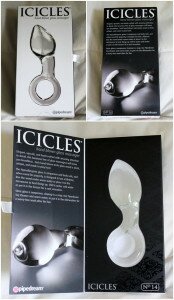 Though not great for long term storage, the packaging for the Icicle No.14 is very attractive looking.  They really care about presentation when it comes to these toys.  The front of the package shows an image of the toy and boldly has the word 'Icicles' on the top.  The sides both have the same image on them, and the back has some information on it about the toy.  There's a small white ribbon in the center of the front which opens the front flap.  It stays closed because of a magnet, but when you open it you see the toy through a plastic window.  Inside the flap also includes the same information that's on the back of the packaging.
The box is opened from the top and the toy is carefully placed inside a foam tray.  The tray is cut perfectly to hold the toy in place and prevent it from moving around inside the box.
-Experience-
I guess when I looked at the measurements of this toy I wasn't realizing just how large it is.  I'm not a beginner when it comes to anal play, but my booty is a little shy in general and has never been exposed to something this large before.  Before using it, I made sure I was really relaxed and prepared for it.  The toy and I were both well lubricated and I went to insert it.  I hardly pressed on it and I could feel discomfort.  I know better than to push myself, so I got into a different position and tried again and had the same results.  I'm not one that does a whole lot of warm up for things, but knew it would be smart for me to in this case.  So, I put in a smaller plug and left that in for about 20 minutes before trying again.  It was much better this time, though the thickest part of the toy still felt a little unpleasant.  Once it was in place I was really impressed by how comfortable it was.  I didn't feel like it was going to fall out (even with it being fairly heavy) and I didn't feel like I was stretched in an uncomfortable way.
I was able to wear it for quite a while before deciding to remove it.  I was up and moving around and took some time to sit down while it was in place and it felt really nice.  When it was time to remove it I did feel the same slight discomfort at the thickest point, but it came out pretty easily.
Considering this size is something I'm not used to, I'm really impressed with the experiences I've had with it.  It would have been nice if the increase in size was a little more gradual because I think insertion would be more comfortable that way, but it wasn't horrible once I had been properly warmed up and ready for it.  Icicles No.14 is great quality, is attractive looking, and provides great sensations.
Interested in purchasing your own Icicles No.14?  You can find it at Erotic Toy Town by clicking the banner below.

Erotic Toy Town was kind enough to provide this toy to me free of charge in exchange for an unbiased review.  This is in compliance with FTC guidelines.