Wham Bam Paddle
Pros:
- Made from silicone
- High quality
- Suitable for advanced players
- Gender friendly
- Leaves marks (could be a con)
Cons:
- A little floppy
- No wrist strap
- A little too long
- Might be too intense for beginners
Overall:


-Use-
The Wham Bam paddle from Tantus is an impact toy made entirely out of silicone.  Best for those who have some experience, this paddle isn't nearly as innocent as it looks.  Though simple in design, it packs a powerful punch; creating an amazing stinging sensation and leaves behind rosy evidence of your play.
The paddle can be used on any area of the body, but you'll want to keep it in an area that can be easily concealed if you don't want anyone knowing about your play.  Depending on the force behind it, the marks can last for a few hours, but they don't cause discomfort for the same length of time.
Beginners to impact play can use this paddle, but keep in mind that the sting is quite intense depending on how hard you're hit.  Start off with lighter taps and working your way up if you're able to handle it.  If you're the one controlling the force behind the blows, pay close attention to your partner and check with them often.  Some people find that using a safeword is the best way know how your partner is handling the situation.
-Material/Texture-
Made from 100% Ultra-Premium Silicone, the Wham Bam paddle is hypoallergenic, non-porous, and phthalate free.  It's a completely body safe material that's super easy to care for and clean.  Not many other paddles boast the same qualities, especially since it can be boiled or put in the dishwasher to fully sanitize.
The surface of the toy is completely smooth apart from the company name being raised near the top of the handle.  The surface is a matte black and feels nice and smooth.  There's isn't an issue with drag but it does pick up some lint, though it's not unreasonable.  Along the perimeter of the paddle is an obvious seam, but its not on an area that connects with your body so it shouldn't be concerning.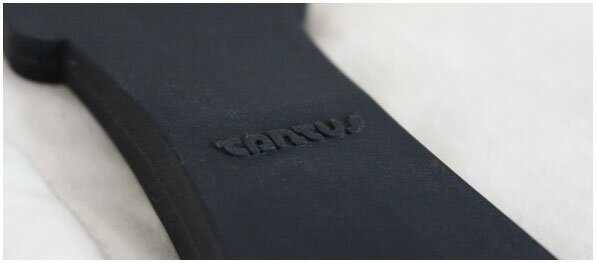 The material is very flexible, which is awesome in one sense, and not so great in another.  The length of the Wham Bam paddle is reasonable, but it does get a little limp when you're holding it up.  It's not stretchy and there's almost no give when you press on the material itself, but the flexibility makes it great for slapping.  It's sometimes a little difficult to control, especially when you're really close to your partner, but works well in general.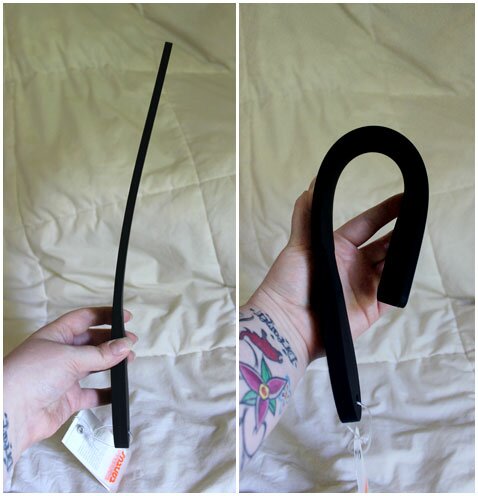 -Design/Size-
The Wham Bam paddle has a really wonderful shape to it that's comfortable to hold and easy to use.  The area that comes in contact with your body is shaped like a rounded rectangle that narrows at the bottom for the handle.  The handle isn't as wide, but is thicker, making it much harder to bend than the rest of the piece.  The bottom of the handle has sexy curves and has a hole going through it.  There's no wrist cord for this toy, but since the hole is there it wouldn't be difficult to add one of your own.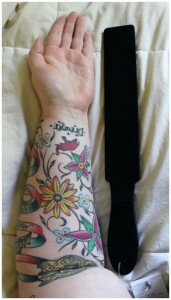 The paddle is fairly thin, being only 1/4″ on the business end, and 1/2″ for the handle.  Though it's fairly thin, it's super high quality and really does pack a punch!  The length of the paddle is a little bit long if you're using it when you're super close to your partner (like during intercourse) but isn't difficult to control in general.  It's a total of 15″ long and is 2″ wide.
The size is suitable if you're traveling with a suitcase since it would easily slip between some of your folded clothes.  However, it wouldn't work very well in something smaller like a purse.  Similarly, it stores pretty well in a dresser drawer or another long, flat container.
-Care-
Since this paddle is made completely from silicone, you can treat it as you would any of your silicone dildos.  There's no concern about getting bodily fluids on the toy, and cleaning with antibacterial soap before and after use does the job well.  If you're sharing with someone else you can boil the toy or put it in the dishwasher to sanitize it.
There's no need for lubricant with this product, but accidentally getting some on it shouldn't be a big issue.  Try to avoid silicone lube when you can since sometimes they have a poor reaction to each other, but you're good other than that.
-Packaging-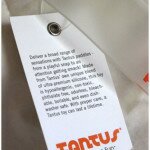 The Wham Bam paddle doesn't actually come inside of a package.  It arrives loose in a plain brown box.  The only paperwork with the toy are the tags attached to the base of the paddle.  They give you the basic information about what it is and what it's made from.  The rubbery cord holding the tag can be easily untied and the tags removed.  There's really no need to hang onto them, so you can dispose of them as you wish.
-Experience-
My husband and I don't normally participate in much impact play apart from the casual slap on the ass, but it's something I've always wanted to test out a little more.  Not understanding how being whacked by something could be pleasurable, my man has always held back, fearing that he would hurt me.  He's a softie deep down.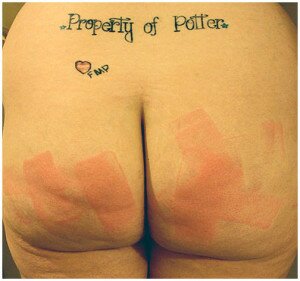 The Wham Bam paddle kind of fell into our laps, and I took it as a sign.  I again expressed my interest to him in testing out impact play with me, and he agreed, obviously a little uncomfortable by the idea.  We spent lots of time on foreplay, and were both in that state of extreme arousal before trying it out.  I was on my knees when he entered me from behind, and while he was thrusting, he was also slapping my ass with it.  I could tell he was starting off easier than necessary, feeling the slaps, but not much sting behind them.  He pulled away from me and gave me a few good whacks, now that I felt.  This was the first time I'd ever been hit that hard and the sensation was totally new to me.   When the sex was over, I asked him to hit me as hard as he could.  I know that a part of him held back because I'm his wife and he'd never want to truly hurt me, but it was quite intense.  After the hit it took a few seconds and then the stinging sensation quickly built up.  It started off with "Owe" and ended in "Holy fuck that hurts!".  I'm not someone that swears much, but it fell out of my mouth with ease at the feeling.
Now, while that might sound like I didn't enjoy myself, it's quite the opposite.  I LOVED the build up type of intensity the whacks provided!  They hurt for a few moments after he stopped, but I was able to move around and sit down without experiencing any extra discomfort.  The paddle leaves great read marks that can last for a few hours.  We stayed up about two hours after we played and they were still there (though a lot lighter) when we went to bed.
I have found a new favorite love in the bedroom, and after telling him how much I enjoyed it, he told me that he did as well.  This is something we'll be leaving in the nightstand for easy access and I see us using it frequently in the future!
Interested in purchasing your own Wham Bam Paddle?  Through the month of September all 'Sensation' items are 25% off when you use code 'OHYEAH25' at checkout!  The banner below will take you there!

A great big thank you to Tantus for providing Wham Bam to me free of charge in exchange for an unbiased review.  This is in compliance with FTC guidelines.