Please Lubricant Sampler Pack from Pleasure Works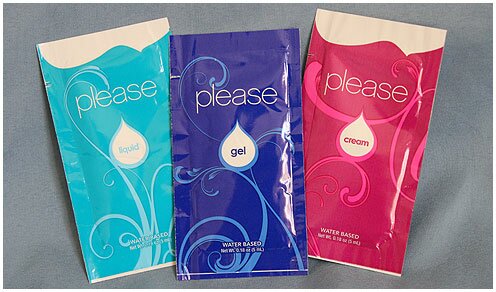 Trying a new lubricant can be really hit or miss, especially when you already have a go-to. It's even worse when the new lube you purchased ends up falling short. Not to mention if you're purchasing a good lube, it can be pretty expensive, and end up being money wasted if it doesn't work out for you. The best way to eliminate this potential problem? Sample packs!
A lot of companies put together little sample packs so you can use it for a session or two and see if it's what you're looking for. It's a fraction of the cost, and doesn't feel like you're just throwing away money if it doesn't satisfy your needs. Not only that, but it's much easier to travel with a lube sample than a whole big bottle of it, so it's always a good idea to purchase sample sizes of your favorite lube for traveling too.
The awesome people over at Good Vibrations were kind enough to send me a sample pack along with another review item and asked if I'd be willing to give it a try. I'm always up for something new, so why not!
Please Lubricant is available in three different types, and the sample set comes with a 5 mL pouch of each. I'll be touching on each to give you a little idea of what you can expect.
From Each
Each lubricant sample is water-based which makes them safe to use with any of your toys without having to worry about a reaction of any sort. They're also each glycerin and paraben free which is a huge plus for those that try to avoid them. None of the lubes are great option for anal play because they simply aren't thick enough or last long enough, but they work fine for other uses. The pouches all have easy tear tabs on the top, making them convenient and easy to open and apply. Just be aware that the lube comes out pretty fast once it's open.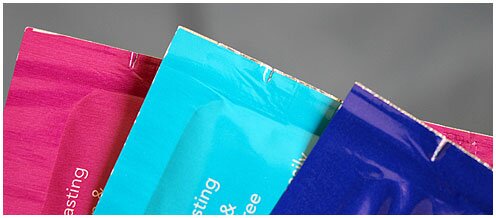 Another thing I noticed about all three of them as the scent. Each lubricant reminded me of the way scented baby wipes smell. It's not strong and is only noticeable when you're really close to it, but isn't unpleasant at all. It doesn't linger on the skin once it's been wiped away either.
Please Liquid Lubricant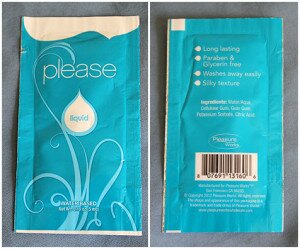 Ingredients
Water/Aqua, Cellulose Gum, Guar Gum, Potassium Sorbate, Citric Acid

The Liquid, as you may have already assumed, is the thinnest of the three. It's thicker than water, but doesn't take long for it to run. It has a nice wet and slick feeling to it, but needs to be reapplied more often as a result. This one is best for vaginal use since it needs that added moisture to prevent it from getting dry too quickly.
As it dries, there's a brief period where it gets slightly tacky feeling, but it doesn't last long. It absorbs into the skin well, eliminating the need to wash up, and making your skin feel nice and smooth in the process.
This lube is clear and totally tasteless, making it a fine option to use if you're planning on starting with one activity and advancing to oral play.
Please Cream Lubricant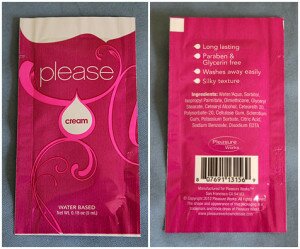 Ingredients
Water/Aqua, Sorbitol, Isopropyl Palmitate, Dimethicone, Glyceryl Stearate, Cetearyl Alcohol, Ceteareth 20, Polysorbate-20, Cellulose Gum, Sclerotium Gum, Potassium Sorbate, Citric Acid, Sodium Benzoate, Disodium
As you can tell from the ingredients list, this does contain a small amount of silicone. That being said, the website states that it's such a small amount it won't have any negative effect on your silicone toys, but you can always spot test first if it makes you feel better.
The Cream is the most unique out of the three. It's about the same thickness as the gel, but has more of a silky texture than a slick one. It feels too wet to resemble lotion, but does have a slight greasy feel to it. It's enough that you may feel the need to wipe it away after use, since it doesn't absorb into the skin as well as the others. Not absorbing as quickly isn't necessarily a bad thing. It lasts longer than the others, making it a better choice for external uses. It doesn't last long enough to be the perfect jack off lube, but it would work in a pinch.
This lube is white in color and has a light taste to it. It doesn't taste bad, but isn't something you'll want to keep intentionally tasting either.
Please Gel Lubricant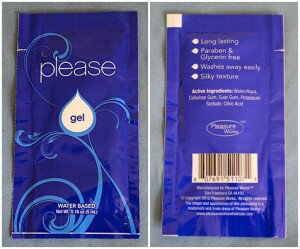 Ingredients
Water/Aqua, Cellulose Gum, Guar Gum, Potassium Sorbate, Citric Acid
Though it's called Gel, it's much thinner than you might assume. It has a nice wet and slick feeling to it, but runs much easier than other gel type lubes I've tried in the past. It's thick enough that you have time to apply it where needed, but will easily drip from your hand/body/toy if you don't rub it in right away.
Apart from being a little thicker, it's essentially the same thing as the liquid version, needing to reapply often, absorbing into the skin well, and best used for toy use or vaginal intercourse.
This lube is totally clear and has no taste, making it a suitable option if you plan on advancing to oral play.
The image below shows you how thick they each are and how quickly they run. The top shows drops of the lube placed on a flat surface, and the image below that shows how far they ran after a few seconds.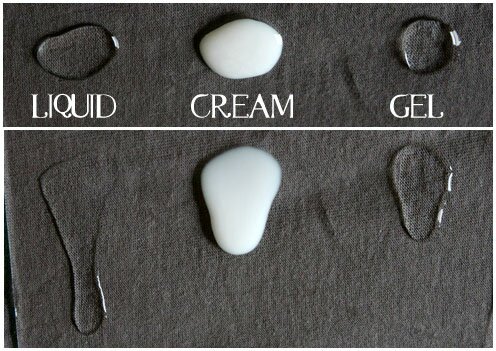 I think lubricant samples are fantastic for traveling and are the perfect way to test out a new lube without purchasing a full bottle. Each of these sample lubricants are also available in 2 oz and 8 oz bottles if you want to purchase something larger, and you can buy the samples individually for $1 each (or you could spend $2 to try all three and save 33%!). Samples like this are always worth picking up, and are a great add-on to help get your totally purchase over the $50 mark to get free shipping!