Max 02 from Tantus
Pros:
- High quality silicone
- Dual density
- Harness compatible
- Great design
- Realistic feeling
Cons:
-Lint magnet
- Not available in fun colors
Overall: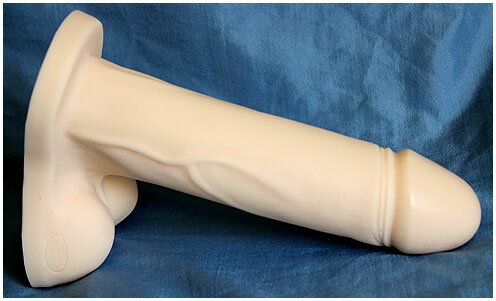 -Intro/Use-
Max 02 from Tantus is a silicone dildo that features a firm inner core and a softer outer layer; often referred to as dual density.  This difference in firmness gives the toy a much more realistic feeling, and can make all the difference to the right person.
This particular dildo can be used in a variety of ways thanks to the great design.  It has a prominent head which is great for G-spot and P-spot stimulation, has an anal safe base, and was obviously designed to rest perfectly in a harness.  Whether you're going at it on your own, are manually using it with a partner, or are using it for some strap on play, Max 02 is a wonderful choice!
The base is flat on the bottom and doesn't contain a bullet hole, so the one thing it doesn't do on its own is vibrate.  It's easy to fix that by placing a vibrating cock ring at the base of the shaft, turning a regular dildo into a vibrator.  Since it doesn't have any internal working parts there's no concern about taking the toy with you into the tub or shower and is super easy to clean.
Max 02 is pretty girthy, so wouldn't be a great choice for a beginner or someone that prefers smaller toys in general.  It's definitely an anally advanced toy that should only be used by those who are used to being penetrated by larger anal toys.
-Material/Texture-
Tantus makes some of the best silicone toys, in my opinion (and the opinion of many others).  They have their own blend of 100% Ultra-Premium Silicone that is totally body safe, latex free, phthalate free, and was made to last a lifetime with proper care.  It doesn't get any better than that!
Max 02 has a shiny head and a matte shaft and base.  They're both major lint collectors and have a lot of drag to the surface, but the shaft slides a little easier than the head.  A little water-based lubricant is all you need to help the dildo glide nice and smoothly, so it's not a big issue.
The whole dildo isn't covered in a lot of texture, but has enough to stimulate a little without being overwhelming.  The head itself is bulbous which creates a light popping sensation during use, there are wrinkles beneath the head, and there are some prominent veins along the shaft.  If you have an aversion to texture, this should still be suitable since it's quite subtle.
Being firm on the inside and having a 'Super Soft' external layer gives it a pretty unique feeling.  If you've never used a dual density toy you need to get one!  The feeling it provides is impressively natural, having the wonderful stiffness without being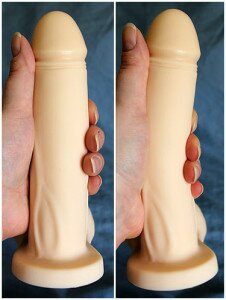 so rigid that it causes discomfort.  There are a few companies that make dual density toys, and Tantus is the most firm out of the ones I've tried.  The Super Soft layer is much thinner than the other company's, giving it the most realistic feeling out of them all.
The core starts about halfway down the head and goes all the way to the base.  Since the core isn't in the tip, that area has the most give to it (the testicles are the same way, but obviously aren't insertable).  The shaft is firm, but does have some give to it.  It's not really obvious when you look at it, but you can easily feel it with your hands.  Having the stiffness it does, it's a little harder to bend than other dildos of the same material.  All these things make it more realistic than the average silicone dick, and is something many should find stimulating as a result.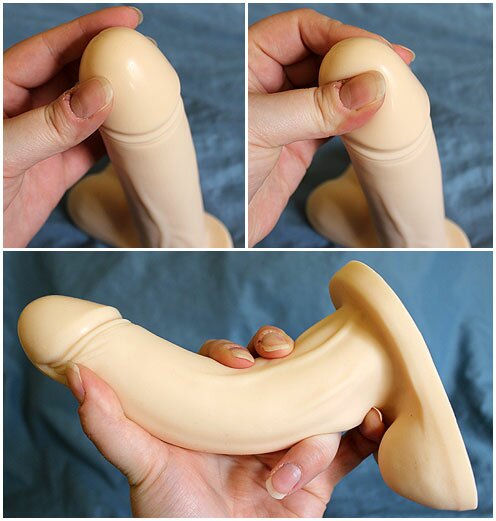 -Design/Size-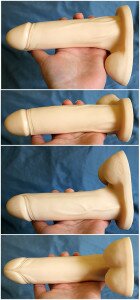 Max 02 was naturally designed to look like an erect penis, and is available in three color choices; Cream (the one pictured), Cocoa (a medium coloring, more like a caramel), and Black (literally black, not a flesh tone).  Unfortunately it doesn't come in any fun and funky colors, but the black is an option for those that don't care for natural coloring.
Though Max 02 has all the obvious parts that make up a penis, it isn't overly realistic.  It's enough that there's no denying it's a dildo, but you wouldn't mistake it for an actual penis by sight.  The shaft itself is totally straight, and while it doesn't have a curve to it, the bulbous head helps to stimulate the important areas just the same.  The veins on the shaft add a nice texture, but don't look realistic at all.  The most unrealistic area is the base, but there's a good reason for it.  Unlike some dildos that are harness compatible, this one was designed to fit perfectly inside one.  So though it isn't the most attractive looking, it functions extremely well as a result.
Tantus has several dildos in the 02 line, providing options to help you select the one (or few) that will work for you.  Max 02 is pretty large, coming in at 2″ in diameter and pairing with Luke 02 (which is an inch shorter than Max) for the largest girth in this line.  The full length is 8″ with 6 1/2″ of insertable length.  It's large for a beginner, but would be suitable for an average user that appreciates some girth to their toys.  The others in the 02 line (Mark 02, Adam 02, and Mikey 02) are thinner and might work better depending on your preferences.  Just make sure you check the sizes of each before deciding which is right for you.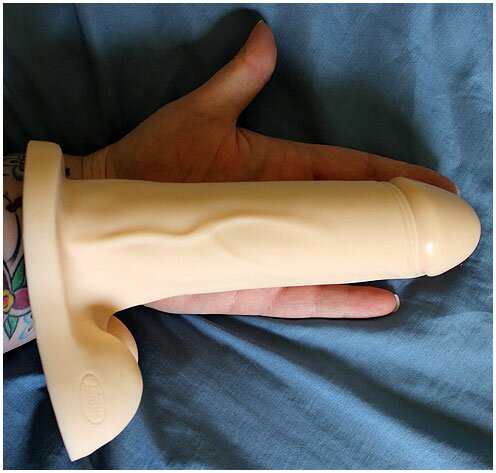 -Care-
Silicone is a very easy material to clean and care for.  Wash before (because of the lint issue) and after use with antibacterial soap and warm water or your favorite sex toy cleaner for regular use, and be sure to sterilize it if you're switching orifices or sharing with someone.  You can do this by boiling it for up to three minutes, cleaning it with a 10% bleach solution, or placing it on the top rack of your dishwasher.
It's best to stick with a water-based lubricant when it comes to silicone toys since some silicone-based lubricants can cause a reaction resulting in surface damage.  If you really want to use a silicone lube, make sure to spot test first to make sure they work okay together.
The packaging Tantus uses isn't great for long term storage, and a pouch isn't included.  To prevent anything from scratching or cutting into the surface of your toy, make sure you store it in a safe area, or place it in a large toy pouch.
-Packaging-
Max 02 arrives in the standard thin plastic packaging Tantus uses for most of their products.  It has a mostly clear window on the front that boldly displays the dildo, and has a small amount of information on it.  When you open the top, you pull out a plastic sleeve that surrounds the dildo, holding it in place.  The sleeve is opened from the top down has has impressions on either side that perfectly fit the toy.  There isn't an instruction booklet or anything, all the information is on the package, but it's pretty straightforward.  You can easily break down the box and dispose of it as you normally would plastic items.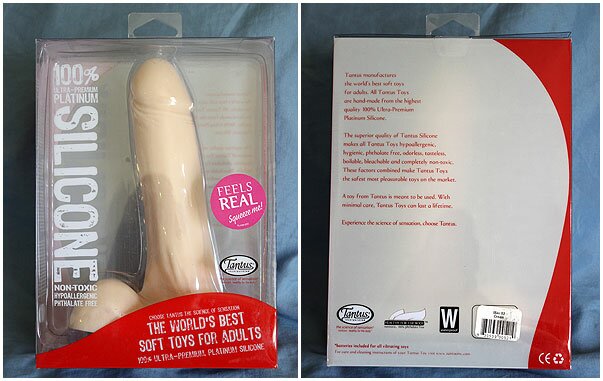 -Experience-
After trying out dual density dildos from other companies I couldn't wait to get my hands on what Tantus has to offer.  Max 02 is my first from their line and I can promise it won't be my last!
What surprised me when I first took it out of the package was how firm it felt.  I recall talking with my husband about a dildo from another company and how the outer layer was so plush it didn't feel realistic enough.  That wasn't the case with this one!  Though I normally prefer softer toys in general (perhaps that's changing?), I couldn't get enough of Max 02!
Being the size queen I am, I didn't need any warm up, but found a little lube was enough to get things moving nicely.  I always appreciate a smooth popping sensation (not the type where it feels like it's getting hooked on your pubic bone) and that's exactly what the head of this dildo provided.  Everything about the dildo appealed to me; the way it rubbed my G-spot, the subtle texture of the shaft, and the large base which was easy to hold onto during use.  Tantus certainly got it right with this one, and I can't wait to try the others in this line as well!
If you're interested in purchasing your own Max 02 (and you should, or at least another from their Dual Density 02 line), now is the perfect time!  Through the month of November, Tantus is having a HUGE sale where EVERYTHING is 30% off and there's free shipping (in the US) on orders over $75.  Umm…why haven't you clicked the banner yet to make your purchase?

Max 02 was provided to me free of charge in exchange for an unbiased review.  This is in compliance with FTC guidelines.