Basic 1 Dildo from BS is Nice
Pros:
- Made from silicone
- Wonderful shape
- Medium firmness
- Great colors
- Harness compatible
Cons:
- Might be too basic for some
Overall: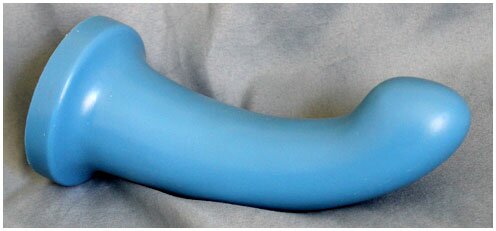 -Intro/Use-
Basic 1 Dildo from BS is Nice is a really simple looking toy with a fairly standard shape. With all the crazy textured dildos available, you might think this one looks boring, but sometimes the most basic designs are the ones that work best.
With a broad head and great curve, the shape of this toy was made with targeted pleasure in mind. Having a shaft without texture makes thrusting nice and smooth and keeps the focus on specific areas, with the overall design being very versatile. The base of the dildo is not only safe for anal use, but also fits solidly in a harness; making it great for any gender, in any type of relationship, or for solo pleasure.
-Material/Texture-
The Basic 1 Dildo is made from high quality silicone which is body safe, non-porous, latex free, and phthalate free. Silicone is one of the best materials for a sex toy because it's so easy to care for and is available in a wide range of firmness levels.
These dildos are each handmade in Spain using 'traditional technologies'. There are some small marks on the surface of the toy which makes it slightly imperfect, but is expected for a smaller company. It doesn't effect use, but does give it a little bit of character.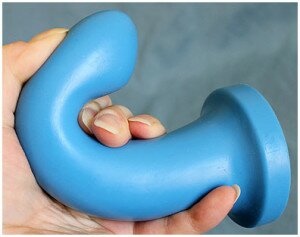 This particular silicone is unlike anything I've ever felt before. The surface doesn't have any texture to it, but has this incredibly interesting smoothness to it. It will drag across your skin if you slide it lightly, but is somehow smooth at the same time. It will pick up small particles, not because the surface is tacky, but because it gets staticky. Without changing form, it reminds me of the way clay feels in your hands as your shaping it. It has a light shine, but feels more matte to the touch.
The firmness of this dildo is one of its best features, in my opinion. It easily compresses in your hands, but provides great G-spot pressure. It also flexes nicely which helps prevent it from causing discomfort while being firm in all the right ways. Pretty much it won't flop around, but is still comfortable and stimulating to use.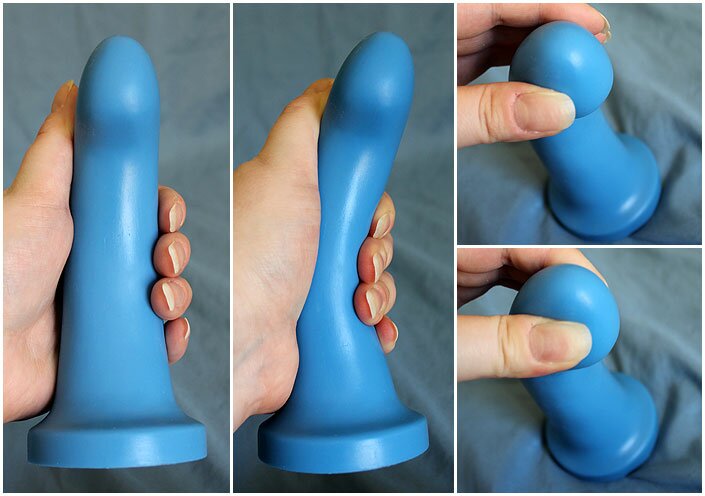 -Design/Size-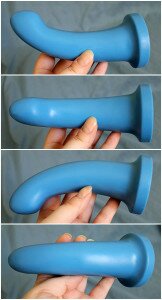 This particular toy is called 'Basic 1 Dildo' for a reason; it's very basic. It doesn't have a bizarre new shape, it isn't covered in a crazy texture, and it doesn't move/bend/flex in some unheard of way. This sort of shape is fairly common in dildos, having a great curve, broad head, and increasing girth of the shaft. While many advanced users might feel this looks like a beginner's toy, they couldn't be more wrong! Yes, a beginner certainly could appreciate the shape (though the size might be an issue to someone who's not used to penetration), it's one that just about anyone can appreciate.
The tip starts off with this wonderful rounded point that makes insertion so easy, and the hooked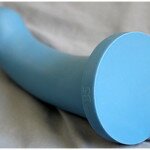 head that follows does an amazing job of rubbing the G-spot. Thanks to the firmness level, it doesn't get caught up on the pubic bone either, so stimulation is always comfortable and enjoyable. The increasing girth is great because it gives you a full sensation, and the flat base on the bottom allows it to stand up on its own and rest comfortably in a harness.
The actual name of this dildo is 'Basic 1 Dildo Large'. There's a smaller version available that's the same great shape, but would be more suited for beginners and those that prefer smaller toys. Though this one is called large, I would say it's only a little on the girthy side of average. It's large enough that it would likely be too much for a beginner, but might not be large enough to satisfy a size queen. The full length is 6 1/2″ (not measuring along the curve), with 5 3/4″ being insertable. The length is wonderful because it should stimulate most G-spots without being so long it's constantly bumping into the cervix in an uncomfortable way. The head and top of the shaft start out at 4 1/2″ in circumference, and gradually get wider until it's 5 3/4″ at the base.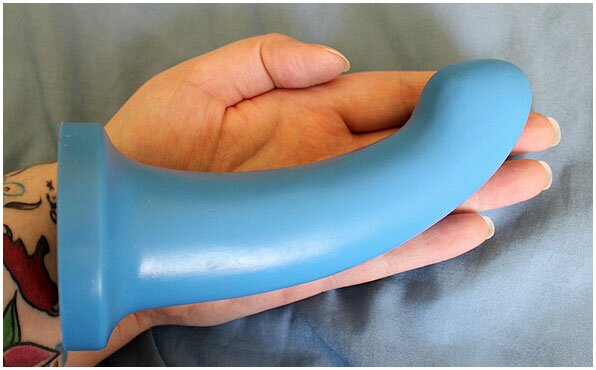 -Care-
With proper care, your Basic 1 Dildo should last a very long time! Before each use you should wipe it down or wash it to remove any particles, and always make sure to clean it after use with antibacterial soap and warm water or your favorite sex toy cleaner. If you're sharing with a partner or switching orifices, it's important to make sure you sterilize it in between use. You can do this by cleaning with a 10% bleach solution, boiling for three minutes, or placing on the top rack of your dishwasher.
Because it's made from silicone, you have to be careful with the lube type you use along with it. It's always recommended you use a water-based lube with your silicone toys to prevent the material from reacting poorly. If you must use another type, make sure you spot test on an area you wouldn't insert prior to slathering it over the whole toy to test it out.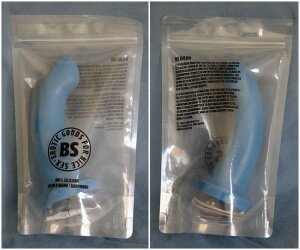 There's no need to search for a storage pouch since the packaging will work just fine. It has a resealable top just like a Ziploc bag but is much more durable and can stand on its own. The package is mostly clear, having only the logo and a few words on the front, and the back having a little more information on it in both Spanish and English. Inside the package you receive another small paper that provides you with instructions and warnings, and you also receive a lubricant sample. Included inside my shipping box was also a paper about the company itself.
-Experience-
Ever since I laid eyes on a BS is Nice dildo, I've lusted over them! They have some really great color choices that are fun and funky, but even their solid colored dildos are beautifully vibrant.
My first impression when I opened the shipping box was how awesome the package was. The fact it's so basic (going with a theme here?) while still be reusable was something I could really appreciate, not to mention having a clear pouch makes it so much easier to view which toy you're grabbing.
When I took it out I was so intrigued by how it felt in my hands. The feeling is so hard to describe; some drag, but somehow silky? It's truly amazing even if I'm not sure which words work with it. The firmness got me excited right away and I could wait to truly test it out.
Being a toy reviewer, I set out a few new toys to test and got started. The first one I used was covered in texture, which is something I normally enjoy, but it was really uncomfortable for some reason. I stopped after only a minute and reached for the Basic 1 Dildo. I applied a small amount of lube (with the smooth surface only a little is needed) and slipped it inside. Not only did it immediately feel amazing, it almost soothed the discomfort the other dildo caused me.
I spent a long time focusing on the sensation this dildo provided, and was so impressed at how well this basic dildo preformed. Sometimes taking a break from the crazy shapes and textures can help you truly appreciate what a simply great design has to offer. I highly recommend checking out this, and all the other products BS is Nice has to offer.
Interested in grabbing your own Basic 1 Dildo? They're available at Vibrator Kingdom. Click the banner below to explore and purchase.

Basic 1 Dildo was provided to me free of charge in exchange for an unbiased review. This is in compliance with FTC guidelines.