G-Spot Labia Spreader from You 2 Toys
Pros:
- Made from silicone
- Fully adjustable
- Stays in place well
- Unassuming design
Cons:
- Might get in the way during some activities
- Harder to clean
Overall: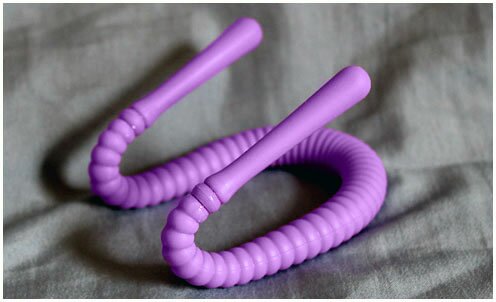 -Intro/Use-
The G-Spot Labia Spreader from You 2 Toys is an interesting little tool that spreads your labia without having to use your hands. The center of the piece is inserted into your body while the two arms remain outside, helping hold your labia back to expose some of your most sensitive areas.
Having your labia spread apart allows easy access to the clitoris, which is excellent for masturbation and oral sex. It frees up both of your hands which allows you to focus on stimulating other areas of the body. Since part of the tool remains inside your body, you might find using insertable toys or having vaginal intercourse causes you discomfort. Try removing the spreader and readjusting to see if that helps.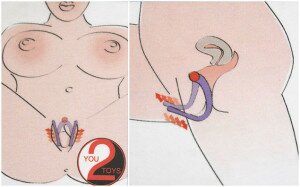 On top of being a useful tool, the spreader is actually pretty stimulating. The curved area that goes inside your body gently moves against your G-spot while you're masturbating or engaging in other sexual activities. Having both your clitoris exposed and the tool rubbing softly inside of you is a great way to increase pleasure and comfort during play time. Always remember, your experience may vary based on anatomy.
Though this is designed to be a labia spreader, you can also bend it for G-spot stimulation alone (with shallow thrusting). Inserting it anally is also possible, but caution is needed. Folding it in half and then bending each arm in the opposite direction would prevent it from accidentally slipping inside of you, and turns it into a fully adjustable prostate massager.
-Material/Texture-
The G-Spot Labia Spreader is made from silicone which is non-porous, latex free, phthalate free, and body-safe. Inside the silicone it feels like there's some sort of thick wire that helps keep the spreader right where you position it. The included information doesn't mention what it is, but it doesn't come in contact with your body.
The surface is matte and collects some lint and dust, but it's not unreasonable. Just make sure you clean it prior to use. You might feel it's important to use some lubricant since it does drag a little, but it's much smoother than a lot of silicone toys.
Being adjustable, this tool requires a certain design to help it bend easily and stay in place. Rather than being totally smooth, it has a ribbed pattern that starts off thin and increases in girth toward the center of the piece. It can be felt when you're inserting it and gently thrusting, but isn't extreme enough to bother those that don't care for texture.

The flexibility is impressive considering how simple this item seems. It's not difficult to adjust it to fit your specific needs, and does an amazing job of saying in place until you manually bend it again.
-Design/Size-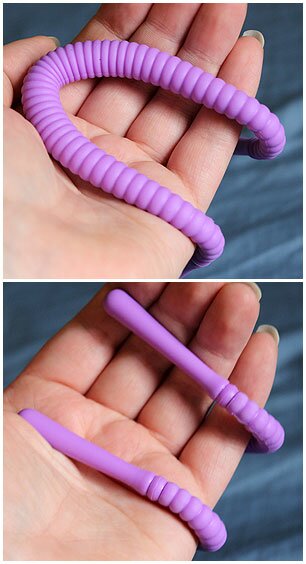 The G-spot Labia Spreader is extremely discreet and unassuming. If someone were to see it in your home, it's very unlikely they would immediately associate it with sexual activities. It's also really easy to store and travel with since you can fold it down to a reasonable size that doesn't take up much space.
The external areas of the spreader are totally smooth. It starts off thicker at the top and thins out slightly before reaching the textured area of the tool. The insertable part of the toy starts off with puffier ribs that get thinner as you go toward the center. All of this helps it bend just the way you need it to.
The size and fact it's so adjustable makes it appeal to users of any experience level. Since you can pinch the two sides close together, it shouldn't be comfortable to use even by those that require smaller products.
One of the biggest worries I had was whether or not it would work for someone who's 'plus sized' and has a thicker vulva. I was more than impressed with the way it held everything back, and feel I can safely say your weight/size/shape shouldn't be a concern.
When the G-Spot Labia Spreader is totally straight (not folded or curved at all) it's 12 1/2″ long. When folded in half and ready for insertion, there's approximately 3″ of length you'll insert. That being said, this will vary depending on how you've bent it to fit your anatomy and needs. The thickest area is 1/2″ in diameter, and the thinnest is 5/16″. Obviously these measurements aren't the important ones. When folded in half (the best you can) the insertable portion at the thinnest is 1 1/4″ wide and can be adjusted from there.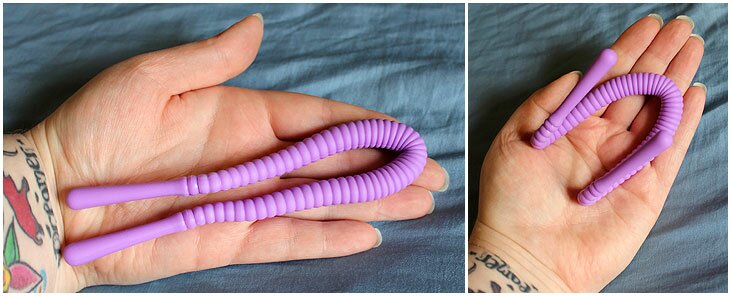 -Care-
Since the G-Spot Labia Spreader is made from silicone, it's very easy to clean and care for. Before and after each use, you can wash with antibacterial soap and warm water or use your favorite toy cleaner. Because of the texture, it's really important to get into all the little crevasses since bodily fluid can get trapped in them. Using a soft bristled tooth brush is the best idea when it comes to cleaning. If you're sharing with someone else or switch orifices, you'll want to disinfect it. You can use a 10% bleach solution, boil it for three minutes, or place it on the top rack of your dishwasher.
Silicone is compatible with water-based lubricants only. Other types could cause the surface to degrade, potentially making it unusable. With the smooth surface and reasonable size, it doesn't require much lube and water-based works just fine.
Apart from the packaging, it doesn't come with any type of pouch or storage. Since it's so compact, you could easily fold it and store in a sandwich bag, small container, or something similar and put with your other adult products.
-Packaging-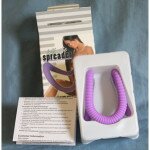 The G-Spot Labia Spreader comes shrink wrapped inside a small cardboard box. The packaging isn't at all discreet and isn't very tasteful either. It features an image of a topless woman on both the front and back, but does include a fair amount of useful information as well. When you open it,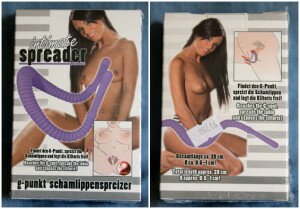 the spreader is inside a flimsy plastic tray and there's a generic manual with it as well. It's in several languages, but seems like the same manual is put inside all the You 2 Toys products. It would have been nice to have more specific information, but it's pretty easy to understand thanks to the illustrations on the box.
-Experience-
Over the past three years I've tried many interesting adult products, but the G-Spot Labia Spreader was a first for me. I've never used a speculum before and this seemed like the right product to try out before diving into the more medical looking devices.
I was immediately impressed with the simplicity of the product but questioned how it would really hold up during use. It seemed to stay in place well as I was holding it, but I wasn't sure how well it would work for me. I'm a larger lady and my biggest concern was whether or not being plus sized would effect use.
My husband and I thought this might work best for oral sex, since he often uses his hand to spread my labia apart. We put it in place and were both surprised by how well it truly did spread everything apart. It easily exposed my clitoris which was exactly what I was hoping for. While he was pleasuring me, I could feel a huge difference. The inserted part of the toy was gently moving against my G-spot, and not having his hands pressing against me kept my focus on his mouth. It was hugely intense and I loved how it felt!
Unfortunately, he didn't like it as much. He told me after that he felt it was 'in the way' and he couldn't move around as much as he normally does. It was different for him to have something that close to his face during oral sex and he said it was a little annoying to him.
He wanted no part in trying to have sex while it was inserted, so I tested it on my own during masturbation. I thought it was awesome paired with clitoral stimulation, but didn't feel like it worked as well when I used a dildo. It kept catching and wasn't staying in place like it should have. I would imagine actual intercourse would work better (especially with ample lubricant) but I didn't think it worked well for use with a dildo.
For specific uses, I thought it was great! It's something I'll be using here and there during masturbation and will have to try talking my husband into using it more during oral sex. It holds the labia back extremely well, is very unassuming, and completely adjustable; it's worth checking out!
If you're interested in trying out the G-spot Labia Spreader or perhaps a more advanced speculum, you can find them at UberKinky.

The G-Spot Labia Spreader was provided to me free of charge in exchange for an unbiased review. This is in compliance with FTC guidelines.