Pulse from Hot Octopuss
Pros:
- Interesting design
- Powerful
- Rechargeable
- Easy to use
Cons:
- Really loud
- Total lint magnet
- Lowest setting is too powerful
- Not waterproof/splash proof
- Charging port plug doesn't work well
Overall: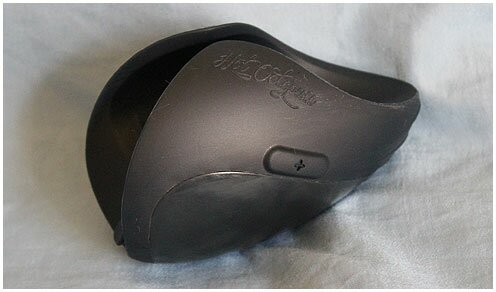 -Intro/Use-
Pulse from Hot Octopuss is an interesting new stimulator designed with male pleasure in mind.  That's right ladies, step away from this one!
Rather than just grabbing the lube for a boring jack off session, you can now reach for the Pulse as well.  It works by placing your flaccid or erect penis through the flexible sides and allowing the strong oscillations to take you over the edge.  You can hold it in place for more targeted pleasure, or stroke it up and down to take advantage of the ribbed texture on the lower part of the toy.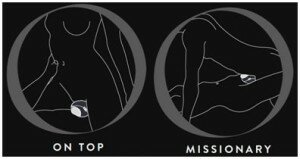 On top of being used as a male solo toy, you can also use it along with a partner.  The company states that the toy can be used to stimulate both you and your partner at the same time.  Pulse is placed around the penis just like it would be for solo use, but the back of the toy can also stimulate their partner's genitals by rubbing against each other (see image).  If positioning it between your bodies doesn't work for you, you can still use it on your partner during a blow job or in place of a regular hand job.
Though it's compact and easy to use, it's important to use caution around water.  It's not waterproof so you can't take it with you into the tub or shower, and it's not splash proof, so you need to be careful when cleaning it.  It's best to simply clean with a toy wipe or damp cloth to prevent any water from accidentally leaking inside of it.
-Material/Texture-
The Pulse is made from both ABS Plastic and Silicone.  Both materials are body safe, latex free, non-porous, and phthalate free.  The entire toy is black, but the plastic has a shine to it and the silicone has a matte surface.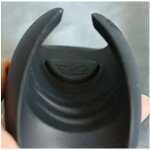 The surface of the silicone is fairly smooth, but picks up an unbelievable amount of lint.  You have to constantly wipe it off in order to keep it clean (my apologizes for the linty images!).  It does require water-based lubricant to help things slide smoothly, but doesn't need much.  Use only water-based because other types could react negatively and cause surface damage to your toy.  The plastic area (which is only present on the back of the toy) is totally smooth apart from the texture that's present.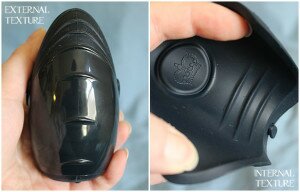 The back of the toy has four raised lines on the plastic and three on the silicone that would help stimulate a female who's using the product along with her partner.  This texture is also helpful when you have lube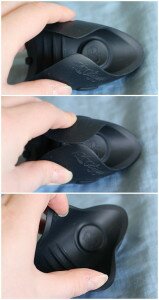 on your hands since it helps you keep a good grip on it.  Inside, there are three rows of ribs toward the bottom of the toy, and the round PulsePlate that extends from the toy.  These are felt only by the penis and are most obvious when you use it in a stroking motion.
The area of the toy that rests in your hand is very firm as it has all the internal parts underneath the surface, but the tip and wings are very flexible.  This flexibility makes it comfortable during use, and will accommodate a wider range of sizes as a result.  During use, you can hold the toy in place, or you can press down on the wings to apply pressure to the top of the shaft.
-Design/Size-
The design of the Pulse is something I can really appreciate.  I've seen some male toys that were shaped similarly, but not anything quite like this one.  My husband said it looks like something Darth Vader probably would have used.  I didn't immediate think that, but once he pointed it out I could see it too.  It's fairly discreet and unassuming.  If someone were to see it they might not know what it was, but powering it on would give away its use.
The shape is ergonomic, making it easy to hold onto and use.  If you have smaller hands you might find you're unable to flex the wings during use, but shouldn't have any issues apart from that.  The overall design, size, and shape should work for the majority of users.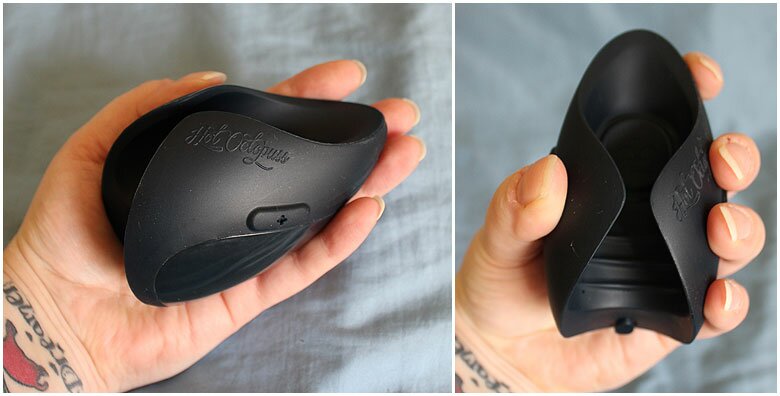 The full length is 4 1/2″ and it's 8 3/8″ around the whole toy.  The dimensions inside the winged area are harder to measure, but should work for just about anyone.  The wings are each 3 1/4″ wide, approximately 1 3/8″ tall, and are 1 1/2″ apart.
-Functions/Controls-
The Pulse is USB rechargeable and comes with a partial charge.  Before using it, you should make sure it's fully charged to prevent it from dying during use.  On the bottom of the toy is a small plug that gets pulled out to reveal the charging port.  It's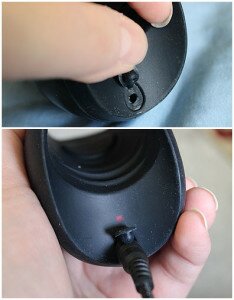 easy to remove, but doesn't go back in place very well (mine won't go back in at all).  When the toy is charging, a small red light glows on the base of the toy.  The paperwork says to charge for 4 hour before use, but it took much less than that when I charged it for the first time.  Once fully juiced up, the little light will turn off.
There are two buttons on this toy, one on each side.  The plus button turns the toy on and raises the intensity, and the minus button decreases the intensity and turns the toy off.  The buttons are raised from the toy and make a clicking sound when pressed.  A blue light glows from the center when turned on, making it easy to use even when it's dark.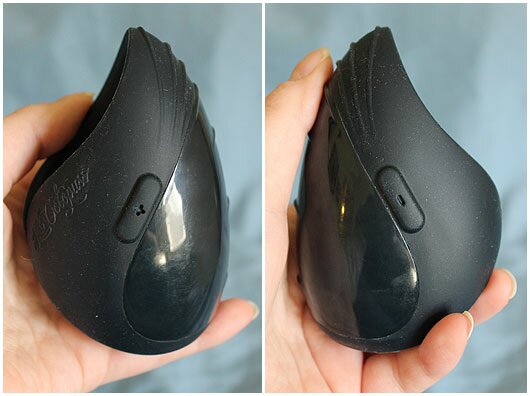 What really makes this toy unique is the Oscillating PulsePlate.  Hot Octopuss states, "PulsePlate technology is the patented system PULSE uses to deliver high-amplitude oscillations rather than low-amplitude vibrations.
Medical research has identified that oscillations applied in a very specific way can create incredibly deep and powerful orgasms for a man. PULSE has harnessed this science through its PulsePlate.
Oscillators are common place in the scientific world; PULSE however is the first to bring this technology to the wider male sex toy market. Unlike vibrators, PUSLE delivers powerful and deep high-amplitude waves direct to the man's most sensitive area, his frenulum."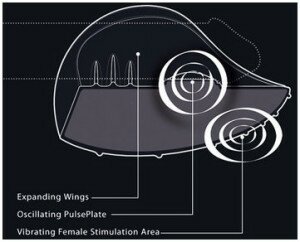 It doesn't just oscillate, it vibrates as well.  The circle in the center of the toy that features the crown is the PulsePlate, but the back of the toy also vibrates to help pleasure your partner.  Though these areas are smaller, the power can be felt throughout the whole toy.  It doesn't numb your hand, but you can feel it during use.
There are a total of nine steady intensity levels (no patterns), giving you some variety when it comes to how powerful you want the toy to be.  Unfortunately, if you're more sensitive, even the lowest setting is likely to be too intense for you.  It would have been nice to see a wider range of intensity levels, rather than starting out so powerful.
With power, comes noise.  While it won't wake the neighbors, it's easily heard through a closed door, especially during use.  The PulsePlate gets very loud when it comes in contact with anything.  It plainly states not to press on it, but even through normal use it's loud.
-Packaging-
The Pulse arrives in a thin cardboard box that has a lot of information and images on the outside.  It's not discreet since it's obvious what it contains, but it's done in a tasteful and attractive way.  Inside the box, your Pulse is cradled in a plastic tray, preventing it from moving around during shipping.  There's also an instruction booklet that contains the basic information in several different languages.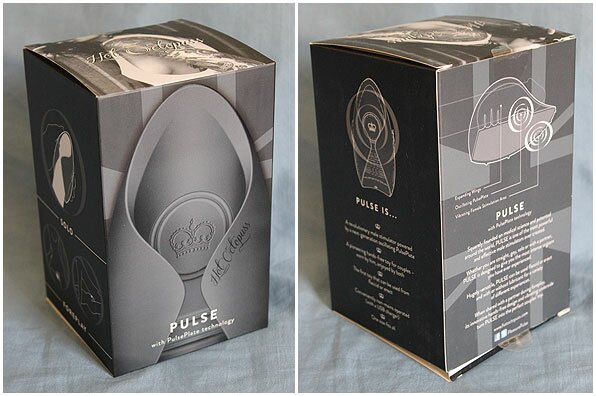 -Experience-
When I first heard about the Pulse, I was so intrigued.  I love trying out new things with my husband, and immediately imagined the fun we would have with this toy.  My husband doesn't jack off alone (ah, to be lazy), so I knew I was going to be the one using this on him; to say I was excited would be an understatement!
After taking photos and charging, I checked out the power of the toy on my own.  I was instantly impressed (and wished I could feel that PulsePlate on me!).  All I could think about was how much my husband was going to enjoy this.  When he came home and checked it out, he wasn't so sure about it.  I told him it would be great, so we set it aside for later.
Once we got settled into bed and ready for action, I reached for the toy while he grabbed the lube, and we got started.  The second the PulsePlate touched his penis, he was uncomfortable.  He made a horrible face, was squirming, making noises and nothing I did was helping.  I handed it over so he could use it on his own, hoping he could find a comfortable position that I couldn't.
He tried a few different things and experienced the same issues.  Despite his efforts, the toy was a total boner killer..literally.  He lost his erection while trying to test it out, and said he never wanted to see the thing again.
It's simply too intense for men who aren't used to that type of stimulation.
My husband and I have a very active sex life, but having that direct sensation on one of the most sensitive areas of his body didn't bring him the pleasure we were hoping for.  If the company had started the intensity at a lower level, maybe we could have build up to that, but it was just too much for him.
If you enjoy vibrations and are looking for something new and different, the Pulse might be the right toy for you.  However, if you're very sensitive and aren't used to vibrations or anything like them, this will likely be too much for you.  The design was great, shape was wonderful, but the intensity wasn't right, in our opinion.
In other words, Hot Octopuss, pretty, pretty please make a women's toy that's this powerful, and a male toy that starts off at a lower intensity?
If you're interested in purchasing a Pulse of your own, you can find them for sale at SheVibe by clicking the banner below.
Pulse was provided to me free of charge in exchange for an unbiased review.  This is in compliance with FTC guidelines.