Ida from LELO
Pros:
- Made from silicone
- Rechargeable (the vibrator itself)
- Designed for couples
- Variety in function
Cons:
- Anatomy specific
- Can cause discomfort during use
- Average vibrations/rotations
- Remote can be challenging
- Expensive
Overall: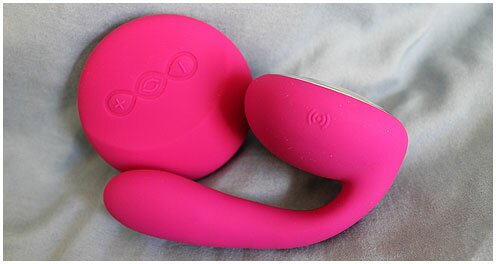 -Intro/Use-
Ida, from the Insignia line by LELO, is a couples' product that's designed to be worn during intercourse.  There are several other products that are designed to be worn the same way, but this one is a little different.  Rather than just vibrating, Ida vibrates and rotates.
The probe is roughly the size of a finger and is where you experience the rotation.  When inserted and turned on, it's supposed to provide a light rubbing motion as it sweeps against the G-spot and surrounding area, while also stimulating your partner's penis.  The external part of the toy is flat on top and has a rounded area that connects with your body.  This is where the vibrations come from.  Internal rotation, external vibration; sounds pretty awesome, right?  There's more.  The remote that comes with it also vibrates, letting your partner know exactly which setting they're on, and allowing them to take advantage of the vibrations on their own body as well.
The Ida can be used for hands free solo play since it doesn't need to be held in place, and remains secure when you use it with your partner.  The included remote makes it easier to change the settings during intercourse, but is a little tricky to figure out if you've never used a remote with SenseMotion technology (more on that later) before.
There are many different positions you can use the Ida in; Missionary, Cowgirl, Doggy Style, etc.  You have to figure out what works best for you and your partner since some positions might not be comfortable.  It's important to note that this product was designed to be used mostly by heterosexual couples during intercourse, but it can be used by homosexual couples as well.  It can safely be inserted anally and used for P-spot stimulation, and female partners can take advantage of the separate vibrating pieces (Ida itself and the remote).
Though the charging port is exposed, it's totally safe to use in and out of the water thanks to the design.  The port is sealed from the internal parts, so there's no way for water to leak inside your toy and cause damage.
-Material/Texture-
Ida is made from both ABS plastic and silicone.  It's body safe, non-porous, latex free, and phthalate free.  They're both really safe materials because they can be disinfected (through a 10% bleach solution) if sharing with others or switching orifices.  These materials are compatible with water-based lubricant only as other types could cause damage to the silicone surface.
The plastic makes up the top of Ida, the battery cap on the remote, and the internal parts.  They are gold colored and very shiny/reflective.  The vibe itself has 'LELO' on the top, and the remote also has the company name along with the insignia symbol and the dip that helps you remove the cap.
The silicone side of the remote has some texture to the surface for the buttons, but nothing apart from that.  The vibe itself is very smooth, having only some texture around the power button.  It doesn't come in contact with your body, so it shouldn't be an area of concern.
With velvety smooth silicone, Ida doesn't have an issue with drag.  You might feel the need to lubricate the rotating arm prior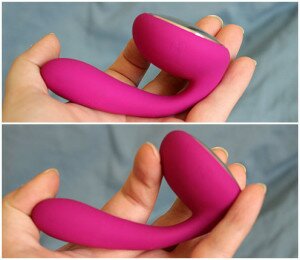 to inserting, but it doesn't require much and some might find it unnecessary.  Though it's silky smooth, it does still collect small particles and lint and will need to be wiped down before using.
Both the remote and vibrator are very firm since the silicone is more of a skin over the toy than anything.  It doesn't have any give, but has some flexibility to the rotating arm.  It should fit with just about anyone's anatomy, but whether or not it connects property with your pleasure spots is a totally different story.
-Design/Size-
Ida is available in three color options; Black, Cerise, and Deep Rose.  I'm not sure why they chose two colors that were so similar, but there is some variety, and has one option that isn't pink.
The overall design is familiar if you've seen couples' toys before, but the external portion of the product makes it quite unique.  Rather than having a similar shape to the insertable part, it's rounded and covers a broad area rather than focusing on the clitoris.  It's great if you prefer broad stimulation, but it doesn't connect well if your clitoris isn't easily exposed.
The rotating arm is quite round, and is a reasonable size.  The largest area is toward the tip, but thins out before connecting with the vibrating portion of the toy.  This is a great design because it's less likely to cause discomfort during use.  Even if you're partner is above average in girth, it's less likely to feel like an extreme squeeze since the thinnest part is toward the opening of the vagina.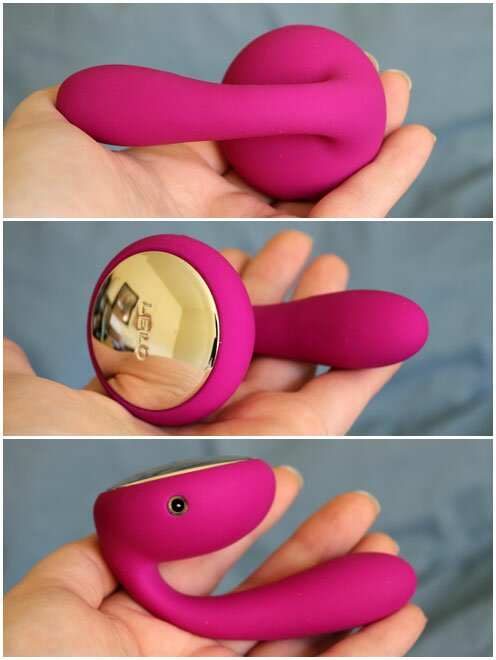 Ida is a great size when using with a partner, but might feel a little small when used for solo play.  The girth is very reasonable and should work for any experience level, though some might feel the addition of a couples' massager is too much when paired with a partner.  If you experience discomfort being penetrated by your partner in general, you might want to use it only for solo play.  The vibrating area is 2 1/4″ across, covering a wide area, and the rotating piece can be inserted up to 2 3/4″.  It ranges in girth from 15/16″ in diameter (the thickest point), to 9/16″ (the thinnest).  The remote is 2 1/2″ wide and approximately 3/4″ thick.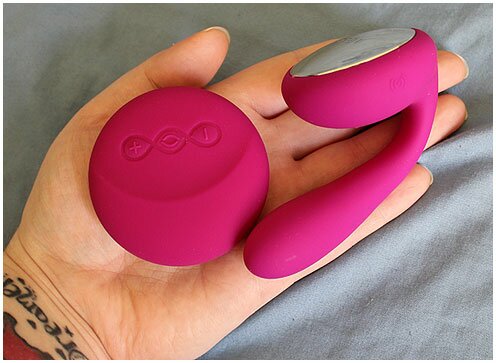 -Functions/Controls-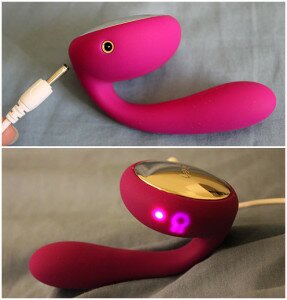 Ida is rechargeable using a wall adaptor, but the remote it comes with is powered by two AAA batteries that are included.  When it first arrives, you'll want to plug it in for approximately two hours to juice it up.  While it's charging, a light behind the power button and to the side of it flashes, and stops once fully charged.  The massager should last approximately 2 hours, but the battery powered remote can last up to 10 hours.  When Ida needs to be charged, the light will flash rapidly while it's on, letting you know the power is getting low.  It's a really neat feature that could potentially eliminate the frustration of the massager dying during use.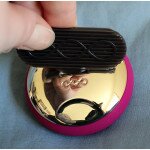 The back of the remote has a small dip in it that helps you open and close the battery cap.  When it first arrives, it's very easy to open, but you'll need to use the little tool provided in order to properly open/close it.  Using another object (such as a coin or screwdriver) could damage the surface of the plastic, so it's best to use what was provided.
Ida can be used on its own or with the SenseMotion remote.  When using it alone, you have to press the power button once to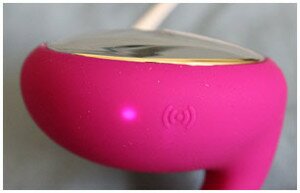 turn it on, and again to start the vibrations/rotation.  From there, you continue to press the button to cycle through the six pre-programmed patterns.  The intensity level will automatically be at its highest, but can be changed once the remote is turned on.  A little light next to the power button slowly flashes during use, but doesn't change according to the patterns.  When you're ready to turn it off, simply hold down the power button until the vibrations cease.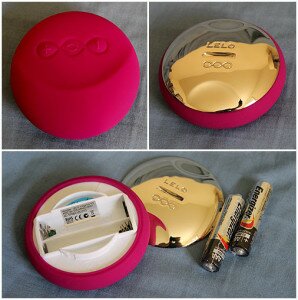 The SenseMotion remote isn't new to LELO and is seen with some of their other products as well.  That being said, it's totally new to me.  It's a round disc that features three buttons on the front, and a round, flat battery cap on the back.  It's easy to hold onto during use, is waterproof, and vibrates.  However, it's a little hard to figure out when you first receive it.  To turn it on, you have to first press the plus button which creates a wireless connection to the massager (which you'll also need to turn on).  There are three different modes you can use from here.
Mode One – Once turned on, you can control the intensity level by holding the remote flat, or tipping it sideways.  When flat, it's at 10% intensity and grows stronger as you turn it.  Once vertical, you've reached 100% intensity.  You can move the remote back and forth to vary the intensity, or hold it in a way that works best for you or your partner.  When you're in this mode you can choose to have the remote vibrate, or simply blink instead.  To turn off the vibrations in the remote, you hold down the center button for five sections.  The remote will still control Ida the same way, but your fingers won't get tingly if you don't need the vibrations.  If you decide you'd like them to be turned back on, you simply hold down the center button for five seconds and they'll start back up.  When you want to turn the remote off, you press the minus button and it will turn off the remote, but the massager remains on standby.  It doesn't vibrate (unless you press the button on the massager), but it will remain on for one hour after the remote has been turned off.
Mode Two – When you're already in the first mode, all you have to do is press the center button to change to mode two.  This mode is all about how fast you move the remote back and forth.  The faster the remote moves, the stronger and faster the massager is.  It's a little bit of an odd mode since you have move your hand back and forth in order to change the intensity, and I imagine it could potentially get either annoying or comical.  I guess it all depends on what works best for you.  To turn off this mode, you simply press the minus button just like when you're in the first mode.
Mode Three – A third press of the center button will bring you to this mode (a press for each mode).  This is the most basic of all three and allows you to simply use the pre-programmed vibration patterns.  Rather than moving the remote to increase or decrease the intensity, you use the plus and minus buttons like you would on regular remotes.  Each press of the center button will take you to the next pattern and will continue to cycle through them if you keep pressing it.  Holding the minus button down will turn the toy off.
The remote itself has a travel lock that can be activated by holding down both the plus and minus buttons at the same time.  The remote will light up while you're pressing down, and will turn off once the lock is on.  It's important to note that this only locks the remote, and not the massager.  To unlock it, you simply press and hold the same two buttons and the light will appear once unlocked.
Both the vibration intensity and the speed of the rotation are effected the same depending on what setting you have it on.  You can't have the rotation set to low while the vibrations are on high; they go together.  There are a variety of different patterns, but they only focus on the vibrations, the rotation stays the same no matter what setting you're on.
The six patterns are:
Steady
Pulse
Quick Pulse
Surging
Roller Coaster
Crazy Mix
Though many products LELO puts out are nice and rumbly (think Ina 2 and Mona 2), Ida just doesn't pack much of a punch.  Even on the highest setting the vibrations lean toward the buzzy side.  The rotation isn't felt as strongly as I had hoped, so it doesn't feel as different as the product claims to be.
The sound level is quite modest considering you have two separate vibrating parts and a rotating area, but it has a very mechanical sound to it.  It can be annoying, but shouldn't be loud enough that it will distract you.  You would be able to hear it if you were in the same room with someone (which means wearing it out wouldn't work well unless it was a very crowded place), but someone wouldn't be able to hear it through a closed door.
-Packaging-
LELO's packaging is always classy and luxurious.  The outside of the package has a thin cardboard sleeve that boldly shows off the product, information about it, and the company name.  This can easily be removed and discarded if you require privacy.  Once the sleeve is removed, you're met with a black box that simply has 'Lelo' on the top.  Nothing gives away what it contains unless you're familiar with this company.  Inside the box, your Ida is housed in black foam that's cut to perfectly cradle the massager and remote, preventing it from moving around inside the box.  There's a small flap at one end that lifts up to reveal the charger, storage pouch, batteries, instruction booklet, battery cap tool, lubricant sample, and authenticity card.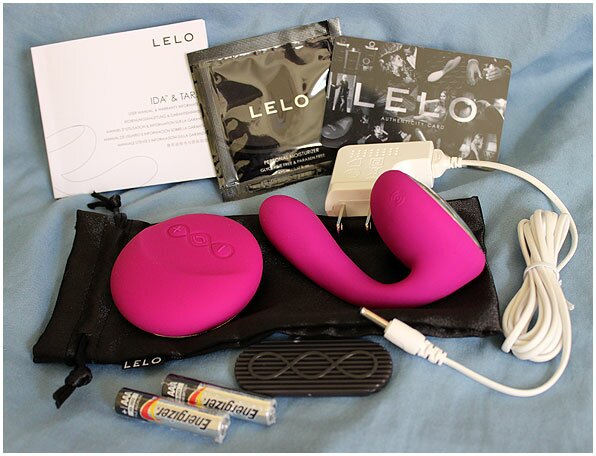 -Experience-
After trying out other vibrators designed for couples, I was really curious about how Ida would preform.  The rotating element was what drew me in most, and after trying rabbits that had rotating shafts, I wondered what it would be like to share that sensation with my husband.
Before testing it on my own, we decided to try it out together.  I put it in place and knew before even turning it on that it wasn't going to line up well for me.  The vibrating piece was too low for me.  Not only did it not come in contact with the area of my clit that needs stimulation, it didn't reach at all.  I know my clit is pretty high up, but there were other issues as well.  Being a larger woman, I have a pretty plump mound which makes it difficult for certain toys to properly reach my somewhat buried clit.  The rounded, flat design will work well if your clit is exposed, but it's a challenge if not. I thought maybe once it was turned on and we were getting hot and heavy that it would bump up higher and connect better; so much for wishful thinking.
My husband turned the toy on and we activated the remote.  I'm the reader between us, so I knew how to use it, he did not.  I tried to explain it to him, but he just didn't understand.  This really isn't a great toy to reach for the in the heat of the moment, not unless you both know how it works.  He was flinging his arm all over the place and I was doing everything I could not to laugh.  I had him hand me the remote, and he slipped inside of me.  The sensation did change once he penetrated me, but it wasn't for the better.
Having chubby lady parts isn't always a good thing.  In this case, I felt nothing but discomfort since the rotating probe had to be stretched far to work with my anatomy.  I felt like it was pinching me the whole time and it was bordering on painful.  I thought maybe it was the position we were in, so we switched it up; a few times.  No matter what position we were in, it just hurt.  Before stopping, I asked him how it felt to him and he just shrugged and said it wasn't anything special.  He could feel vibrations, but couldn't tell it was rotating even when he wasn't thrusting.  After hearing it wasn't doing anything for him, I felt relieved because I needed it out of me.  I've experienced discomfort from a toy before, but this was the first time I've experienced pain.
I set the toy aside after that night.  I knew I needed to test it on my own, but I was afraid of potentially experiencing the same discomfort.  A week went by and I decided I needed to put on my big girl panties (or take them off..) and try it again.  I prepared myself, was nice and warmed up, and inserted it.  This time I focused on adjusting it to see if I could get it to properly connect with my pleasure spots, and no matter what I tried I couldn't get it to work for me.  The rotation could hardly be felt and the vibrations weren't even close to my clit, so I gave up.
Ida, you have let me down.
I really wanted to say this was an amazing product that will change the way you and your partner have sex, but I can't say that in a positive way.  Yes, it might change the way you have sex, but only because you'll be so busy trying not to cringe that you can't focus on pleasure.
I know your individual experience will vary from mine, and I truly hope it does, but if you have a chubby mound like I do you might just run into the same issues.  You really need an exposed clit that's closer to your vaginal opening, a smaller mound, and some experience with the remote prior to actual use.
If you're interested in purchasing the Ida, you can by clicking the banner below.  If you think the remote won't get enough use, consider Tara which is the same product only without the SenseMotion remote with it.
Ida was provided to me free of charge in exchange for an unbiased review.  This is in compliance with FTC guidelines.