Luka from Bad Dragon
Pros:
- Fantasy themed
- Unique design
- Great shape
- Made from silicone
- Can be customized
Cons:
- Doesn't come with storage pouch
- Smallest size might be too large for some
- Base is a little heavy
Overall: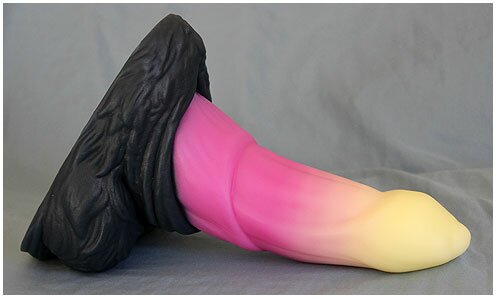 -Intro/Use-
Luka the Otter is yet another fantastic fantasy dildo from Bad Dragon.  While I'm unsure how realistic it is (having never seen an actual otter penis), the wonderful design and attention to detail make it both pleasurable to use and beautiful to view.
The soft curve and bulged head are wonderful for G-spot stimulation, and the subtle texture of the shaft keeps your focus where it matters most.  The base is wonderful for a few different reasons, but does have one flaw.  Having a flat bottom and being fairly heavy, it's really easy to place the dildo on a firm surface and ride it.  It's truly fantastic for that use, but when you're laying down and using the toy the hefty base makes thrusting a little tiring after a while.
Having a large base makes it safe for anal play as well since there's no way for the toy to get sucked up inside of you.  I would imagine the curve and shape of the head would work well for P-spot stimulation, but I can't say for sure since I don't have one.  I can say the smoother shaft would be wonderful for backdoor play since it shouldn't be too overwhelming as far as texture, but isn't for anal beginners.  Even the smallest size is quite large, so keep that in mind.
You could use this dildo with a partner, but it's not very harness friendly.  It would be challenging to find an o-ring that would be large enough, it's very heavy, and the base is very thick.
-Material/Texture-
Luka is made from silicone which is a fantastic material for a sex toy since it's body safe, latex free, non-porous, and phthalate free.  It can easily be washed with antibacterial soap and warm water for regular use (might need a soft bristled tooth brush for the base), and sterilized if you're switching orifices or sharing with someone else.  You can boil for three minutes, use a 10% bleach solution, or place it on the top rack of your dishwasher.  Silicone is most compatible with water-based lubricants since other types could cause the surface to degrade.  It's best to spot test a small area before using another type with the toy.
The surface of Luka is matte and attracts a fair amount of lint and hair.  Prior to use, you should rinse/wipe/wash the dildo to make sure it's totally clean.  Along with attracting lint, it requires lubricant in order to slide easily across the skin.  Because there's minimal surface texture (on the shaft), a little goes a long way and eliminates the dragging issue.
The texture is subtle on the shaft, having some vertical lines and a couple bulges, but it's the base that draws the eye.  The base has all the wavy lines that give it a fur-like appearance.  It easily stands out from the smooth shaft, yet they compliment each other so well.  If you don't care for a lot of texture, Luka will be a great fit for you.  It's enough to stimulate without being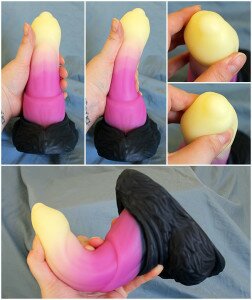 overwhelming, and has a base that's textured enough to make it a really interesting piece.
There are five options to choose from as far as firmness levels when purchasing your Luka; Soft, Medium, Firm, Split Firm, and Split Wide.  I chose firm for my Luka, and I'm really glad I did.  Normally when you think of a firm toy, you imagine it being quite rigid.  Not this silicone!  The firm still has a lot of give and flexibility to it.  When compared to my medium firmness Bad Dragon toys, you can tell the difference, but it's not drastic.  If you're not sure which firmness level would be best for you, you can always purchase a set of sample discs to see which one feels right for you.
-Design/Size-
Luka has all the familiar looking parts without being realistic.  It has the bulged head, girthy shaft, and a set of testicles on the base.  Bad Dragon did a fantastic job of making this one truly look like it hides within the furry base when flaccid, and extends from it once erect.

Though it doesn't resemble a human penis, it's quite obvious what it is and what it's used for.  If someone were to see it laying around it would be hard to pass it off as anything other than a sex toy.
All the dildos available from Bad Dragon can be customized in a variety of different ways; firmness, size, color, and more.  Luka has the option of adding a cum tube (for an additional charge of $20), but doesn't have the suction cup option that many of their other dildos have.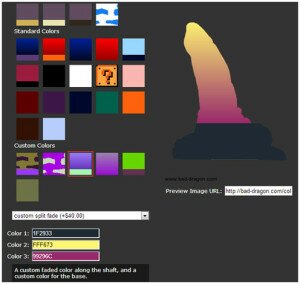 The color options available are nearly endless!  Some come with an additional charge, but are totally worth it when it comes to customizing your dildo to perfectly fit your tastes.  My Luka was done in a custom split fade which costs an additional $40, but it's totally worth it.  I put in the colors I wanted and was amazed at how perfectly they matched it!  Just look!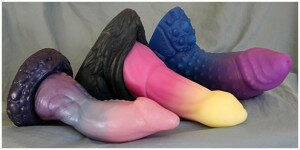 Luka is available in four sizes, most of which are suitable only for those that have the title of 'Size King' or 'Size Queen'.  Between the Small, Medium, Large, and Extra Large options, I chose Medium for mine.  Each dildo I have from Bad Dragon is in that size, but differ quite a bit.  Always make sure to check the measurements on the specific dildo you're purchasing since they vary.

Luka is true to size and is gloriously large for those of us who enjoy a stretched feeling from time to time.  If you're not used to penetration or prefer smaller toys in general, the small Luka might not even work out for you.  While it's great to work on building up to larger toys, don't push yourself.  Dildos like this are all about pleasure, and there's nothing good about hurting yourself by pushing your limit too far.  Always properly warm up and use plenty of lubrication.  If you experience discomfort, stop and try again another time.  Already having an orgasm often helps (both with relaxing and self lubricating), to give yourself a little bit of time if it's too much at first.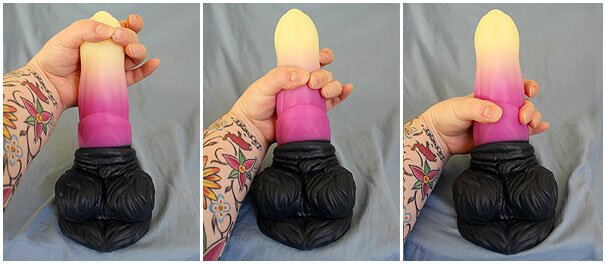 -Packaging-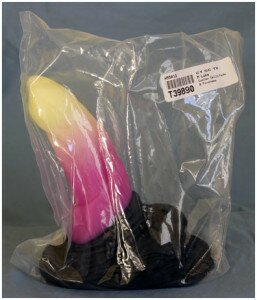 Luka arrives sealed in a clear plastic bag surrounded by tissue paper, inside a discreet brown box.  Nothing about the packaging gives away the fun it contains.  There's no paperwork included (apart from your order receipt), no storage pouch; just the dildo inside the bag.  You have to cut or tear the bag in order to remove your dildo, so it's important to find a storage pouch that will accommodate the size of your toy.  A gallon sized Ziploc bag works well, but Liberator has some great toy pouches that are large enough to fit two of my medium Bad Dragon dildos inside of it.
-Experience-
Bad Dragon has yet to let me down.  Their dildos are all beautifully made and excite the imagination.  When Luka was first added to the site I was so impressed by the detail of the base and couldn't get over how much it reminded me of actual fur.  The smoother shaft also grabbed my attention and I knew it had to be mine.  I was a little disappointed that I couldn't add a suction cup, but it was still worth adding to my collection.
Though I have reviewed two other Bad Dragon dildos (Crackers and Nox), this was my first time customizing the colors.  When my package arrived and I pulled the toy out, my jaw dropped.  I was stunned by how accurately they colored my toy.  I had no idea they were capable of getting it so close to my vision, and they've managed to blow me away (a little more) as a result.
When I want to focus on a stretching sensation, I reach for Luka.  The light texture enhances pleasure without being a distraction, and the solid base stays in place really well.  The only downfall was how heavy the toy feels after a few minutes of thrusting.  This is where a willing partner comes into play.  You can lay back and relax while they do all the work!
Out of the three dildos I've received from Bad Dragon, each one has been a total hit in their own way.  If Luka doesn't seem like a good fit for you, there are many other products that are likely to catch your eye.  Make sure you visit their site and shop around, you never know what amazing things you might find!
And be sure to check out my reviews for Crackers and Nox for more in depth information on the customizing options available.

Luka was provided to me free of charge in exchange for an unbiased review.  This is in compliance with FTC guidelines.