Evi from Aneros
Pros:
- Made from silicone
- Easy to clean and care for
- Helps strengthen PC muscles through Kegels
Cons:
- Not simulating
- Not designed to fit all women (as stated)
- Not likely to bring you to orgasm
- May cause discomfort
Overall: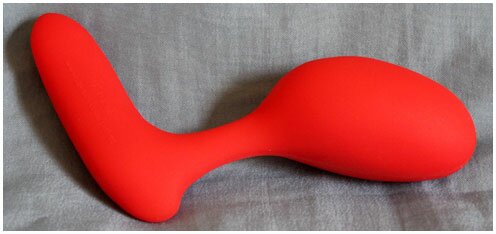 -Intro/Use-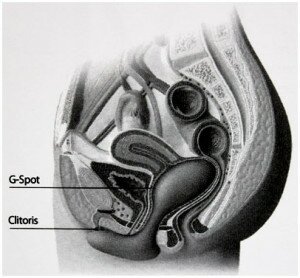 Aneros is most well known for their prostate products, but broadened their reach by creating Evi.  Evi is a female product designed to help strengthen the PC muscles through kegel exercises while providing hands free stimulation.  The egg shaped bulb is inserted into the vagina while the longer portion remains outside of the body, hopefully connecting with your clitoris.  Rather than vibrating, this product was designed to move with your body by clenching your muscles; no batteries or thrusting required.
Strengthening your PC (Pubococcygeus) muscles can help with urinary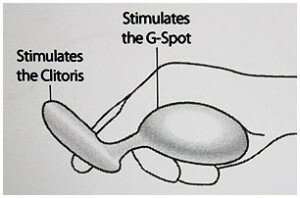 incontinence, provide stronger orgasms, and can even help with childbirth and after.  There are many products available that are marketed as Kegel tools, but Evi was designed to help you experience pleasure through working those muscles.  It has some pretty bold claims, saying it "guarantees users a sensual experience like no other" and "both the G-Spot and clitoris are perfectly stimulated in a toe curling rhythm".  What's crazier is their claim that it's "Designed to Fit ALL Women".  How Evi works for you will depend on your anatomy.  Not everyone will have the same experience or results while using this product.
Though this product is designed to be used vaginally, word on the street is that it works even better as a butt plug.  The design of the base prevents the toy from accidentally slipping inside of you, and the bulb may even connect with the prostate (and perineum) on male bodied individuals.  Aneros products are mostly focused on anal use, so it comes as no surprise that Evi would work well anally.
Evi can be used during specific periods of time, or can be worn for a while as you go about your day.  You might find it's not the most comfortable option to use while out and about, but your personal experience will vary.
-Material/Texture-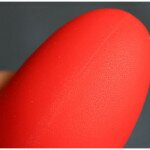 Evi is made from silicone which is a body safe, non-porous, latex free, and phthalate free material.  It's a really great material that's easy to clean and care for.  You can simply wash with warm water and antibacterial soap for regular use, or disinfect if you're switching orifices or sharing with someone else (boil for three minutes, clean with a 10% bleach solution, or place it on the top rack of your dishwasher).  Silicone is only compatible with water-based lubricant since other types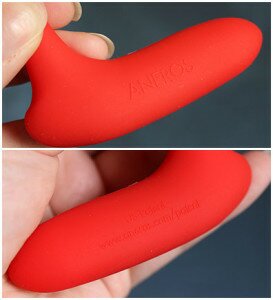 could cause the surface to degrade.  If you must use another type, make sure you spot test a small area to make sure your toy doesn't have a negative reaction.
The silicone Evi is made from has matte surface that's fairly smooth.  It doesn't pick up much lint and slides quite easily across the skin.  If you feel the need to use lubricant, a little goes a long way since it lacks texture.  There's only a light seam that can be seen in the middle of the toy, and the company name and website on either side of the external area.  They can't be felt during use, but are present.
There is a light squish to the surface, but it's very firm in general.  I'm told the first version of this product didn't have any flexibility to it at all, but the neck on the newer version can move back and forth without much force.  The firmness provides a lot of pressure, which will either be a good thing or bad thing depending on how the product works for you.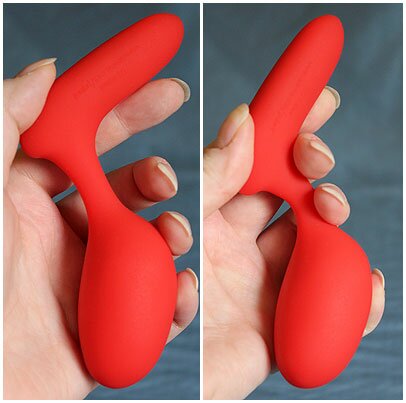 -Design/Size-
Evi was designed to fit well with your body.  The bulged area slips nicely into place and the small neck and thin base should help provide comfort.  The insertable portion of the product reminds me of an egg.  It's the right size and close enough to the same shape that it's understandable.  The base itself is longer on one end than the other, and there's an obvious reason for that.  When properly inserted, this base is supposed to stimulate both the G-spot and clitoris at the same time.  How effective that is will depend entirely on your anatomy.
If I had never heard of Aneros and wasn't an adult product reviewer, I wouldn't have guessed this was a sexual product based on the look.  I would have sooner guessed it was some weird looking ball for people to toss around outside (think Nerf products).  It's very discreet and isn't likely someone would assume it's a sexual product if they happened to see it in your home; though I guess that would also depend on where they found it!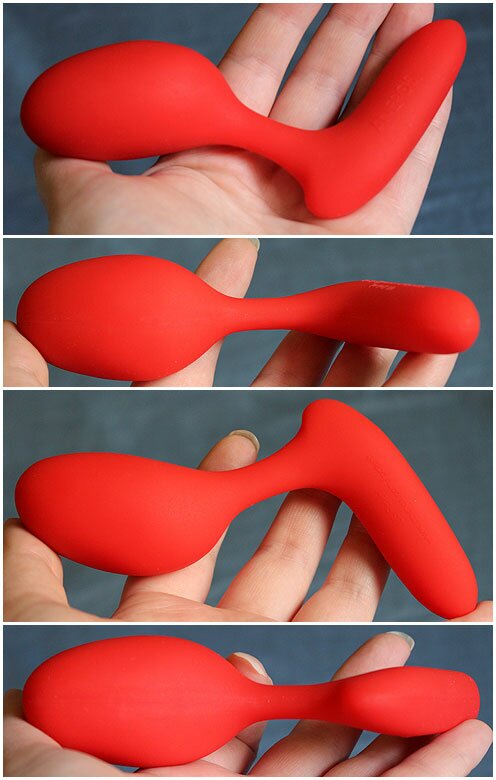 The size and shape should be suitable for just about any experience level, but those who aren't used to penetration might have some difficulty with it.  The tip is slightly more narrow and very easy to insert, so it shouldn't be a problem for most.  It doesn't take up much space, being only 5 1/2″ long (from tip of bulb to tip of base), so it's also travel friendly.  The bulb itself is 2 1/2″ long and 1 1/2″ in diameter.  The neck is 1/2″ wide and the base is 3 1/4″ long.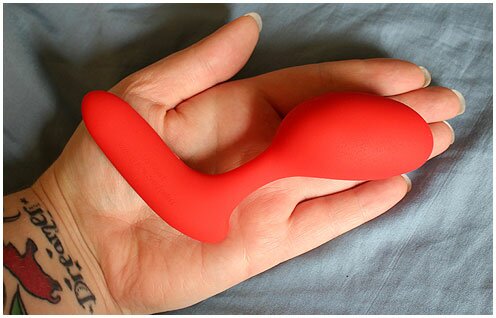 -Packaging-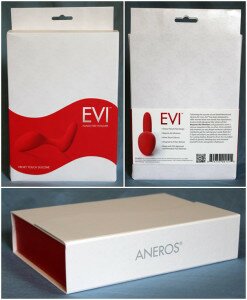 Aneros products always arrives in the nicest looking boxes.  The outside isn't entirely discreet since it has the name and image of the product on a partial sleeve, but that can be easily slipped off.  The white packaging then only has the company name on the top, making it very discreet unless you're familiar with the company.  When the thin cardboard box is opened, a much thicker and nicer box is revealed.  This one closes magnetically and is very attractively designed.
Once the internal box is open, the only paperwork included with the product is what you see first.  After removing that the toy is in full view.  It's housed in a thick plastic tray which prevents it from moving around inside the package.  It's a great box, but much larger than necessary to store your Evi.  A smaller toy pouch would work fine, but you'll want to find something to put it inside to prevent any kind of surface damage.  A plastic sandwich bag would even work in a pinch.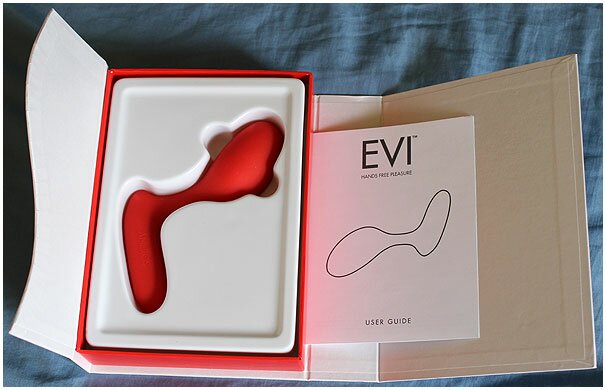 -Experience-
After snagging a few prostate toys that Aneros makes, I was really curious to see their take on a female kegel device.  As soon as this one was available, it had my interest.  I've primarily used kegel balls when working my PC muscles (or nothing at all), but knowing that this one was supposed to also stimulate my clitoris in the process?  Umm, yes please!
Unfortunately, that 'yes please' quickly turned into a great big 'thanks anyway'.
After washing and getting lubed up, I prepared myself for the amazing hands free stimulation I was about to experience.  Once in place, I was immediately met with discomfort.  I tried moving it around a little bit to see if it was the angle, but nothing I did stopped it.  I thought maybe once I started clenching my muscles and feeling the wonderful sensations I'd enjoy it more.
I was wrong.
It was easily moving with me as I clenched and released, but it didn't do much for me.  I was more aware of what I was feeling, but when half of that is discomfort, it's hard to feel the more positive points.  It didn't exactly connect with my clitoris, but I could feel some external stimulation from it.  The bulb within was what caused most of the problem.  It cause too much pressure in all the wrong places.  There's no way I could ever get off with this product, and after trying it out a few more times, there's no way I'll be keeping it on hand for exercise either.  This isn't a one size fits all product, and I'm highly disappointed that Aneros is making that claim.
How well it works for you will depend on your anatomy.  It didn't work out for me at all, but I know others have taken quite a liking to it.  For the right person, I'm sure this is a great product.  It's high quality, make from safe materials, and easy to use.  That being said, I'm not sure how highly I can recommend it since it doesn't fit what it claims.
If you're interested in purchasing an Evi of your own, another product from Aneros, or another exerciser, you can do so by clicking the banner below.

Evi was provided to me free of charge in exchange for an unbiased review.  This is in compliance with FTC guidelines.