Entice Olivia from Cal Exotics
Pros:
- Made from silicone
- Multiple settings
- Easy to use
- Flexible
Cons:
- Buzzy, weak vibrations
- High pitched hum on high settings
- Flexible (could be pro or con)
Overall:



Olivia is a vibrator from the Entice line by Cal Exotics.  This vibe has a firm tip for targeted pleasure, but a flexible shaft to prevent discomfort when thrust.
Beginner friendly and easy to use, Olivia is a pretty simple vibrator that would be a great upgrade from a traditional style vibe.  When inserted, the slightly curved shaft and rounded head help connect with the G-spot, providing decent pressure without causing discomfort.  Since the shaft is so flexible, it can only provide lighter clitoral pressure unless you hold the tip itself.
Without a flared base, this vibrator isn't anal safe.  There's nothing to prevent it from accidentally slipping inside of you, so it's best to keep it external if you're not going to use it vaginally.  It's not as versatile as a result, but you could certainly use it on your partner without using it anally.
When the battery cap is properly closed, it's totally safe to use Olivia both in and out of the tub or shower without worrying about anything leaking inside the battery compartment.  It's also helpful since it's so much easier to clean as a result.
-Material/Texture-
Olivia is made from silicone and ABS plastic.  Both materials are body safe, non-porous, latex free, and phthalate free.  It can easily be cleaned with antibacterial soap for regular use, but can be sterilized by cleaning with a 10% bleach solution if you're sharing with someone else.  Silicone is only compatible with water-based lubricants since other types could cause damage to the surface.  If you must use another type, make sure to spot test prior to slathering it on to make sure it doesn't cause a negative reaction.
The surface of the silicone is very silky smooth.  It doesn't drag across the skin, feels buttery smooth in your hands, and only picks up tiny particles that are easily wiped away.  If you feel like you need to use lubricant, a little goes a long way thanks to the already smooth surface.
The only texture on the toy is present on the end, the buttons, and the seam that runs the full length of both front and back of the vibe.  The seam isn't obvious during use, but can be felt with your hands.  The end isn't heavily textured, so it shouldn't be an issue for those who aren't crazy about texture, and the majority of the toy doesn't have much so it would work best for those who enjoy smooth toys.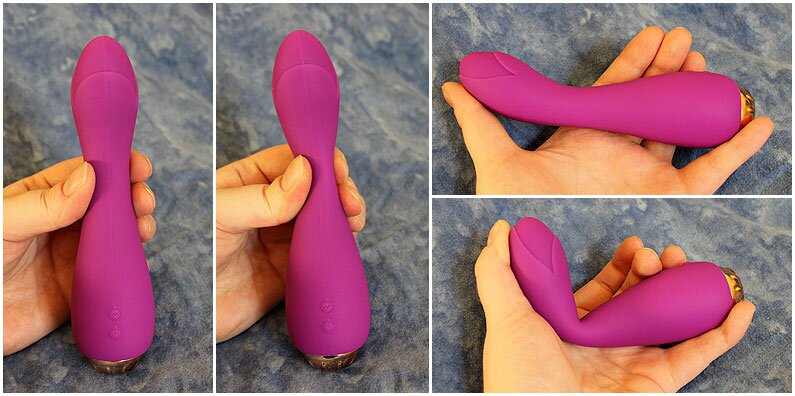 The end and base of the vibe are very firm, but the thinnest area of the shaft feels quite hollow and is easily manipulated.  It bends easily during use which is great because it's less likely to ram against your cervix, but it might not provide firm enough G-spot pressure.
-Design/Size-
The overall look of Olivia is quite simple but attractive.  The end looks like the bud of a flower just starting to open up.  It's a feminine design, that's for sure, especially when you consider the color options available are pink, raspberry, and purple.  Though it's cute to look at, it's not at all discreet.  I don't think you could pass this off as anything other than a vibrator.

The base of the toy has a gold colored battery cap, and just above that are the power buttons.  This is also the thickest area of the vibe, which is great because it's easy to hold onto during use.  The size decreases for the center of the toy and then bulges for the end.  Even with the end being thicker than the the center, it's still a reasonable size for most users.
The total length of the vibe is 6 1/2″, with 3 1/2″ of insertable length.  It's fairly compact in size and would be suitable to travel with.  The girth is 1 1/4″ at the tip, 7/8″ at the thinnest point (in the center), and 1 13/4″ in diameter for the base.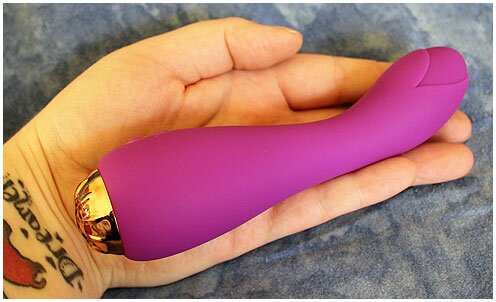 -Functions/Controls-
Olivia is powered by 2 AAA batteries which aren't included.  The cap easily twists off and a paper inside plainly marks how they should be inserted.  Once in place, you screw the cap back on, and you're ready to power up the toy.  There are two buttons, one that turns the toy on and off, and one that cycles through the patterns.  The buttons are raised from the toy and can easily be felt, but don't light up when turned on.

When you press the power button, you're immediately on the first of 8 settings.  When you want to change it, you then have to press the function button.  Each press will take you to the next setting and will continuously cycle through with every press.  When you're ready to turn the toy off, simply press the power button.
The 8 functions are:
Steady Low
Steady Medium
Steady High
Medium Pulse
Quick Pulse/Steady
Slow to Fast Pulsing
Various Pulsing
High Pulsing
The vibrations are more focused in the end of the toy, but can be felt throughout it.  They're quite buzzy and might cause a numbing sensation during or after use.  The highest setting is average as far as power, but the light buzzing sensation doesn't make it feel very strong.  If you're a power queen, this won't work for you at all.  At best this would work as a teasing toy.
The noise level is okay, but the highest setting is considerably louder than the rest.  It's a high pitched hum that's rather distracting.  If you're using it internally the sound is quite muffled, but is much louder when using on external areas of the body.  No one would be able to hear you through a closed door if you had some noise in the room, but it would be obvious if you were in the same room with someone else.
-Packaging-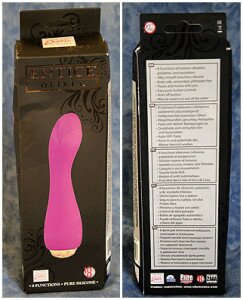 The packaging for Olivia is pretty common for Cal Exotics products.  It's a thin cardboard box that features an image of the product on the front, and information about it on the back and both sides.  It's not discreet, but it's more tasteful than most.  When you open the package, the vibrator is inside a little bag and can freely move around inside the packaging.  It doesn't include any information inside, so what's on the package is the only information that comes with it.  It's not great for storage since it's so thin and wouldn't hold up for long.  You can break it down and dispose of it as you normally would cardboard and store the vibrator in a small toy pouch.
-Experience-
When Olivia arrived at my door and I saw it took 2 AAA batteries, I immediately sighed, knowing it would probably be weak and buzzy.  It seems that AAA's and weak vibrations go hand in hand, but I was willing to give it a shot anyway.
I thought the design looked really nice.  It was feminine without being too girly, which I could appreciate, but there was just something about the way it felt that kind of put me off.  The hollow center is a bit odd, and sort of gives it a cheaper feeling as a result.  It doesn't really effect use, just bothers me.
When it came time to test the toy out, I couldn't really feel disappointed by it since it worked exactly how I thought it would.  It met my expectations for a vibrator like this that runs on small batteries.  Just because it met my expectations, doesn't mean I liked it.  I need deep, rumbly vibrations in order to climax, and this didn't do much more me.  I thought the shape was nice, but I couldn't apply enough pressure with it for me to fully enjoy.
Vibrations weren't strong enough, flexibility worked against me, it just wasn't the right product for me.  If you're more sensitive to vibrations and don't require a lot of pressure, this might work well for you.  Just because it didn't suit my needs doesn't mean it's a horrible product.  I think someone looking to transition from a basic, straight vibrator would find this to be a nice option, but only if lighter vibrations are enough.
Entice Olivia and other products from Cal Exotics are available at Pink Cherry.  Click the banner below to explore.


Entice Olivia was provided to me free of charge in exchange for an unbiased review through the Cal Exotics Sexpert Program.  This is in compliance with FTC guidelines.