Nox the Night Drake
Pros:
- Made from silicone
- Can be customized
- Unique design
- Stimulating shape
Cons:
- Doesn't come with storage
- Currently only available in one size
Overall:

-Intro/Use-
Nox the Night Drake from Bad Dragon is a unique and interesting fantasy dildo.  This particular dragon was designed by Hyena Queen (and 3D sculpted by Onissarle) and won the first Bad Dragon Labs contest.  The labs make it possible for anyone to create and submit a product design that they'd like to see created and sold by the company (more information on the labs can be found here).  It's a great way to get the community involved and spark new and interesting ideas; talk about an already amazing company proving itself to be even more impressive!
Nox is quite a versatile friend.  Like all Bad Dragon dildos, the base on this toy makes it safe to use both vaginally and anally, and has a great curve which helps with stimulating the G-spot and/or P-spot.  It also has a nicely prominent head which provides a great sensation without getting hung up on your pubic bone.  Your exact experience will vary depending on anatomy, but Nox seems like one that should work for most experienced users.
Though it has a nice base to it, it's really not designed to be a harness friendly toy.  It's really too large and awkward for it to work well.  That being said, because it can be customized you have the option of adding a suction cup base (more on this later).  The suction cup makes your play time a little more interesting since you can use it in a variety of ways.
-Material/Texture-
Made from premium silicone, Nox is phthalate free, latex free, and non-porous.  It's a wonderful material for an adult product because it's safe to use and can be fully sterilized.  This particular silicone has a shiny surface that attracts dust and lint, so make sure you rinse your toy off before each use.  Along with collecting fuzzies, it also has a fair amount of drag to it.  Add some water-based lubricant to the mix and you're good to go!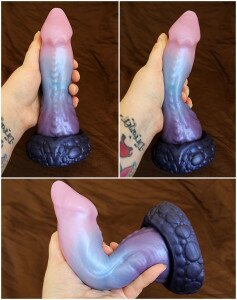 Nox is covered with a few different textures; at the base of the head, bumps along the top area of the shaft, what reminds me of muscle along the sides and bottom, and a rocky looking base.  It looks amazing, and is quite subtle during use.  If you're someone that doesn't care for much texture, this would be a good choice for you since it's so light and comfortable.  Apart from the head there aren't many areas where stuff could get trapped, making it a wonderful choice if you're considering purchasing this for anal use.
How squishy the material will feel all depends on which firmness you chose.  I'll be covering that more in the customize section, but will explain the medium (5) firmness here.  There's a lot of give and flexibility with the firmness (on this toy), which is both good and bad.  The give makes the material much easier to handle if you're not used to larger toys, but it also flexes a little bit easier than I had hoped.  The dildo tends to bend a little when you're inserting it, making it more difficult to use, especially when you're trying to ride it.
I did also notice that since it's so soft, it's easy to accidentally leave nail marks.  While I was cleaning Nox after a session, I saw that I had left a small impression in the side of the silicone and a few just underneath the head (from trying to insert it).  So you don't have to deal with this happening to you, make sure your nails are nicely trimmed before playing with your dragon.  Be impressed by it, don't leave impressions, it's heartbreaking.
-Design/Size-
Bad Dragon has some seriously amazing products, and it's hard not to want one of each in just about every size and color.  However, when I saw Nox I knew I had to claim it as my own.  The look was so interesting to me, from the muscular look to the rocky base, I was simply drawn to it!  The tip of the head has a small dimple resembling the urethral hole (which is also where your cum tube would fit if you chose that option), and the details of the shaft and base are truly impressive.  While it does have a phallic shape to it, it doesn't resemble a human penis in anyway.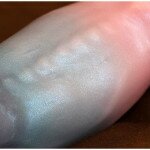 There are many different color options you can choose from, but I fell in love with the toy exclusive color.  The product page says it's "A light magenta tip faded to light purple with a dark purple base. Metallic throughout."
The metallic is no joke!  The shimmer and shine of the coloring is truly stunning and so gorgeous to look at!  It amazes me how the colors blend so beautifully and the shimmer adds even more to it!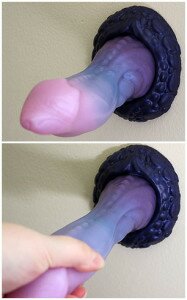 As mentioned earlier, one of the options you have is whether or not you want a suction cup base.  I opted to try one out since my last Bad Dragon dildo didn't have one.  I must say, I'm extremely impressed with how strong they are!  Every other dildo I've used with a suction cup base needed to be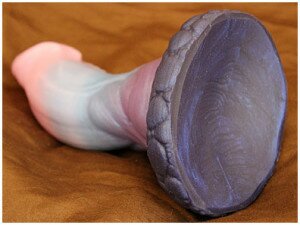 used on a chair or the shower wall.  The way this one is designed creates a strong enough suction that it will even hold on my bedroom wall!  Even tugging on it didn't make it budge, and yet, it's so simple to intentionally break the suction by lifting up part of the base.
Nox is currently only available in one size, but will feature three additional size options and become a mainline product if enough people show interest in it.  The one size available is medium which Bad Dragon considers
An intermediate size, suited for most people wanting something a little bit bigger than 'human sized'.

That description feels truly spot on for this toy.  It's fairly large in size, but is suitable for experienced users who prefer some girth and length.  After reviewing the medium Crackers, I'm surprised at how different this one is in size.  The Crackers felt very large to me, but this one is more suitable for regular use and feels more fitting for their description.  It just goes to show how different each design is and the importance of paying close attention to the measurements of each toy prior to purchasing.
-Customizing-
Once of the best things about ordering a toy from Bad Dragon, is how you're able to make it completely unique to fit your needs.  Nox is only available in one size for now, as I previously stated, but most of their dildos are available in three to four different sizes.  Other than that, you can fully customize your Nox like you can any other piece from Bad Dragon.
Firmness – There are a total of five firmness options to choose from.  The last two options (Split Firm and Split Wide) are available at an additional cost, but paying a little extra is worth it to get the feeling you're hoping for.  If you plan on getting a toy with a suction cup, I would highly recommend spending the extra to get a Split Firm.  If you're unsure which firmness is right for you, you can order a sample set that will gives you a good idea of what will work for you.
Soft (3) – which is best for the larger toys
Medium (5) – feels pretty realistic, great for small to medium sized toys
Firm (8) – will make the texture most obvious, also best for smaller toys
Split Firm – shaft of the toy in medium, base of the toy in firm
Split Wide – shaft of the toy in soft, base of the toy in firm
Cumtube – A cumtube is a silicone tube in the center of the toy that helps bring another realistic element to your dildo.  Using a syringe, you can make it look like you're dildo is ejaculating.  Grittywoman has a great example in her review of what you can expect if you order your Nox with this option.  If you choose the cumtube, there is an additional cost, but you also receive a bottle of their cumlube and a syringe.
Suction Cup – This option is also available for an additional charge but is well worth it!  Instead of the base being totally flat, it's formed into a super strong suction cup.  It doesn't extend from the dildo, but is in the base of it.  If you choose to get a cumtube, this option isn't available, you can only choose one or the other.
Colors - The color options are practically limitless!  There is one toy exclusive color option for Nox, but you can go pretty wild with choosing your own.  You can choose one solid color, split colors (base and shaft different colors), fades, split fades (solid colored base, faded shaft), marbled, etc.  The cost in this area of customizing will vary entirely on your color choices.  Getting a solid color is cheapest (free if you choose one available for Nox, $5 if you want a solid custom), and it goes up from there with the split fade being the most expensive at $40.
There's a disclaimer on the site that says:
Disclaimer: All custom colors will be attempted, but cannot be guaranteed due to the nature of the silicone. Orders cannot be changed after 24 hours from time of purchase. Those who wish to alter their order after the 24 hour period will be charged a 20% restocking fee.
Also keep in mind that because these toys are custom made, it takes longer than normal orders.  Vising this page will give you a good idea of the wait times.  While it's difficult to wait, it's well worth it when you're waiting on your customized dildo.
-Care-
Silicone is great because it's so easy to clean!  Nox can be washed with antibacterial soap and warm water or your favorite toy cleaner for regular use.  The base may need a little extra attention because of the detail, but it's not difficult to clean.  If you're planning on sharing with someone else or switching orifices, it's important to sterilize the toy.  No matter how you customized your toy, you can clean it the same way; a 10% bleach solution, boiling for three minutes, or placing it on the top rack of your dishwasher.
Water-based lube is your safest bet to use with this dildo.  Using a different type could potentially cause damage to the surface of your toy, so it's better to stick with what you know is safe.  Bad Dragon makes two different lubes (the white I linked to earlier and a clear option) that are totally safe and can be purchased along with your dildo.
Nox doesn't come with a storage box or bag, which is really too bad.  It will fit inside a gallon sized Ziploc or a large toy pouch, but it would be nice if they included pouches since some of their toys are so large.  Perhaps something they would consider for the future?
-Packaging-
Your Nox will arrive in a plain brown box that doesn't have anything on it to give away what it contains.  When you open it up, the toy is sealed in a plastic bag but isn't immediately in view because it's surrounded by tissue paper.  There's no paperwork included and nothing that can be used for storage.  The plastic bag doesn't reseal, so you can simply dispose of it.
-Experience-
Nox is my second Bad Dragon dildo and certainly won't be my last.  I was in love with the design from the moment I saw it and the feeling only intensified once it was in my hands.  The silicone feels amazing, the details are impressive, and the color is outstanding with the gorgeous metallic sheen to it.
The first thing I noticed was how much more reasonable the size was than Crackers.  Both are a size medium, but are shaped very differently.  Nox is one I can use anytime, it is larger than a lot of my other toys, but I was pleased to see it's something I can use more often than not.
The size and shape are truly amazing together!  The girth gives me a full and slightly stretched feeling without needing to warm up with other toys, and stimulates all the right areas.  I did find it to be a little too long when I fully inserted it, but that's easily fixed by not using the full length.  The texture wasn't very obvious to me, since I'm not very sensitive internally in general, and I actually liked it since I was able to truly appreciate the shape and stimulation it provided without being distracted by anything.
Most impressive to me is the suction cup and how amazingly strong it is!  It doesn't slip, it doesn't fall off, it remains in place as long as you want it to.  That being said, there were a couple little issues with the firmness of the material paired with the base.  In the medium firmness (5), it flexes really easily, so it was impossible for me to back up against the wall to use the toy.  The girth and the give don't work well together.  Riding it while it's on a flat surface worked really well, but I was a little disappointed that I couldn't back up against it like I hoped.  Next time, I'll be considering a Split Firmness and a suction cup to see if that makes a difference.
I love Nox, and I can't imagine anyone not enjoying this dildo.  Interested in purchasing your own?  Click the banner below.

Nox was kindly provided to be free of charge in exchange for an unbiased review.  This is in compliance with FTC guidelines.