Gigi 2 from Lelo
Pros:
- Rechargeable
- Waterproof
- Variety in function
- Beginner friendly
- Made from body safe materials
Cons:
- Could be more powerful
- Might be too small for some
Overall: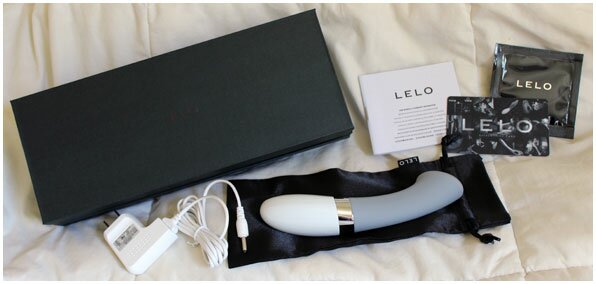 -Use-
Gigi 2 from Lelo is a rechargeable vibrator that's best used on the female anatomy.  The subtle curve and flat broad head help it connect with the G-spot but is also great for pleasuring the clitoris, nipples, and other erogenous areas of the body.  The size and shape keep the focus on your pleasure zones while inserted and are reasonable for all experience levels.
Being reasonably sized and easy to use, the controls can also be put in the hands of your partner; allowing your pleasure to be controlled by them.  The tip of the toy can easily be used on the male form as well, providing great vibrations to the penis, testicles, and perineum.  Anal insertion isn't safe because it doesn't have a flared base, but you can use it externally in that area.
Though it doesn't have a plug on the bottom, there's no concern about water leaking inside the charging port because of the way it's designed.  It makes me nervous just looking at it, but it's totally sealed and safe to use in the tub or shower without concern.
-Material/Texture-
Made from silicone and ABS plastic, Gigi 2 is completely body safe, non-porous, latex free, and phthalate free.  The base and internal parts are made from plastic and the silicone is only a coating over the insertable area of the toy.  Because of that, the whole toy is very firm and doesn't have any flexibility or give to it.
The surface is buttery smooth and glides easily along the skin but does pick up super fine lint.  Make sure you always rinse or wipe it clean before use since it does attract small particles.
There's no texture to the toy, instead the Gigi 2 is designed to keep your focus on targeted stimulation.  On either side of the base there's an obvious seam, and where the silver area connects can also be felt, but these aren't areas that will be inserted, so they're only felt with your hands.
-Design/Size-
The Gigi 2 is available in four great colors: Deep Rose, Turquoise Blue, Pink, and the new Cool Grey.  The colors are all pretty vibrant apart from the grey, but they're all fun and inviting.  The look of this toy is nice and simple, having the controls in a convenient location and being very straightforward in design.  It's quite small and very lightweight which is great for longer sessions, but sort of gives it a cheaper feeling when you're holding onto it.
The bottom of the toy has the charging port, the buttons are located on the plastic base of the toy, and the insertable silicone portion has a nice curve with a slightly hooked tip.  The end of the toy is where it will shine for most.  The broad flat end is a wonderful design because of how it connects with your body.  The curve just before the tip might get a little hung up on your pubic bone, but it's small enough that it shouldn't create too much of an issue.
Being pretty basic is really nice because it makes this a great step up from a traditional vibrator to something geared toward G-spot stimulation without having to worry about it being too girthy.  The total length is 6 1/2″ with 3 5/8″ being insertable.  It should be long enough to hit most G-spots without being so long it's uncomfortable.  The thickest area of the toy is around the tip where it's 3 3/4″ in circumference.  It's only 3″ around below the head and slowly increases to 3 1/4″ before coming in contact with the plastic base.  It's very reasonable in size for a newer toy user, but might feel a little small to someone who's more experienced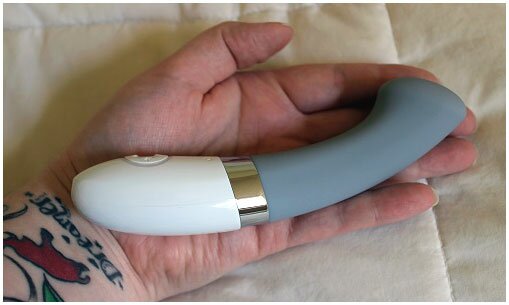 The tip of the toy is quite similar to Ella which is a silicone dildo from the same company.  It's no longer sold on the Lelo website, but can be found at a variety of adult retailers.  The head is a little stubbier on the Gigi 2 than the Ella, but they have a very similar design.  Below you will also see the Gigi 2 compared to the Mona 2, also available from Lelo.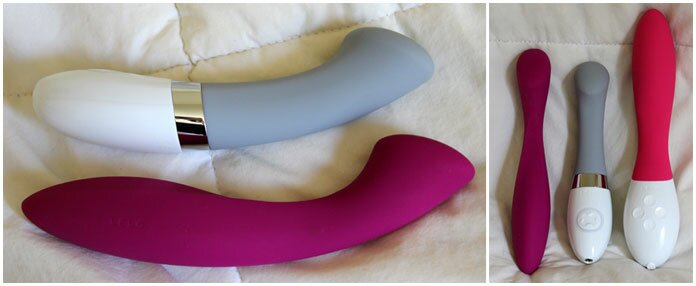 -Functions/Controls-
One of the first things I look for in a vibe is how it's powered, and rechargeable always beats the rest!  Gigi 2 has an exposed charging port in the base of the toy that connects to a wall adapter.  The vibe takes about two hours to charge and the circle surrounding the buttons will flash when it's plugged in and charging.  Once the charge is complete, you have up to two hours of playtime.  Though the port is open, it's totally safe to use in and around water.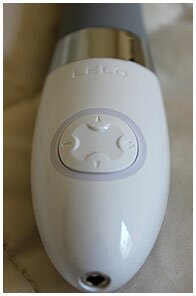 The buttons are a little funny to press, but aren't terribly difficult.  There are a total of four; two to control the intensity (and turn on and off) and two to cycle through the eight patterns.  To turn the toy on, you need to press and hold down the plus button.  Once it's turned on you can continue to hold down the plus button or press it to increase the level of intensity.  If you find it's too intense, you can press the minus button to bring it back down.  Continuing to hold the minus button down will keep decreasing the power and will eventually turn the toy off.
The up and down arrows control which pattern the toy is on.  There are a total of eight and provide a good variety.  Before you can start the different patterns, you first have to press the plus button to turn the toy on.  The toy turns on to the only steady vibration setting, and every press of the up arrow will bring you to the next pattern.  Once you've reached the eighth pattern, you have to press it back down if you want a different setting, you can't keep cycling through them.
Each time you press a button, the ring around it illuminates, but immediately turns off as soon as you let up on the button.  It doesn't glow while it's on or based on any of the settings, it only glows when a button is pressed down.
The eight patters are as follows:
Steady Vibrations
Slow Pulse
Medium Pulse
Fast Pulse
Surging
Short Roller Coaster
Long Roller Coaster
Crazy Mix Of Everything
The level of intensity varies.  The lowest setting is so low it might not be enough for even those who are extremely sensitive, and the highest setting is much more powerful, but might not quite be enough for the power queens.  The vibrations are deep and rumbly and don't make you feel numb while you're using it.  It travels well through the toy, but doesn't make your fingers tingle while you're holding it.
The sound level is also very modest.  On the lowest settings someone in the same room wouldn't even be able to hear you, but on the highest setting it's safe to say no one would hear you from outside a closed door.
-Care-
Being waterproof, you can easily wash your toy with antibacterial soap and warm water or your favorite sex toy cleaner.  If you're planning on sharing you can also clean it using a 10% bleach solution, but you need to avoid boiling or placing it in the dishwasher to sterilize because of the internal parts.
Since it's made from silicone, it's important to use only water-based lubricants with it and a little goes a long way since it's so nice and smooth.  Using a silicone-based lube could cause the surface of your toy to degrade, ruining the nice surface.
Storing the toy is simple since Lelo provides a lovely storage pouch along with your toy and has elegant packaging as well.  The pouch isn't padded, it only protects against surface damage, so make sure you keep it somewhere it won't likely fall.
-Packaging-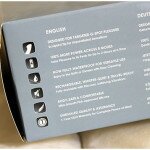 Lelo takes a lot of pride in providing nice packaging along with your toy.  Gigi 2 arrives in their regular fashion; thin cardboard sleeve containing some information and an image of the toy, and a sturdier black box inside that's much more discreet.  The top of the box has the company name on it, but apart from that nothing gives away what it contains.
Once the lid is removed from the box, Gigi 2 is in full view, nestled inside a foam bed that's designed to fit the toy perfectly.  At the base is a small flap that when lifted up, exposes the charger, storage pouch, lube sample, authenticity card, and generic instruction booklet.  The booklet only provides the most basic information but does mention their warranty terms and conditions and basic use of the toy.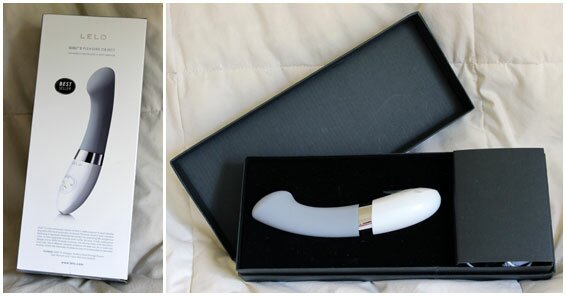 The included pouch makes it unnecessary to use the box itself for storage, though I always keep mine anyway.  The pouch closes with a drawstring and is silky to the touch.  It has a small tag on the side with the company name, but is quite discreet in general.
-Experience-
I never had a chance to grab Gigi, so when I heard they were coming out with an upgraded version of this highly rated toy, I was beyond thrilled to try it out.  The Gigi 2 has some great upgrades that include a softer silicone, 100% more power, and is now fully waterproof.  Now, I can't compare it to the first, but I can say that the silicone is nice and soft, and after testing it in the water I know that it's fully waterproof, but I have no way to compare the power level.  After having used the Ina 2 and Mona 2 I was expecting to be blown away, but it doesn't match the power of those.  Granted, the others are larger in size, so that might be part of it, but the Gigi 2 isn't too shabby.
When I first held it in my hands and turned it on, I didn't think it was going to work for me at all.  I'm a total power queen and I need my toys to be quite powerful in order to enjoy them.  I tried it out with doubt in my mind and wasn't at all surprised that it fell short of my hopes.  Disappointed, I waited another few days before trying it again.  This time, I decided to forget about the other Lelo products I have and just experience this one for exactly all that it is.
Surprisingly enough, my feelings changed.
I tried using it internally and while it did connect well with my G-spot, it did nothing but tease me.  When I switched it up and used it externally, that's when I was surprised.  I'm someone that enjoys really pin-point stimulation, so when I found myself enjoying this one, I was rather surprised.  I used the side of the broad head against the side of my clit and it was awesome!  It's not as powerful as I would like it to be, but it was almost more relaxing as a result.  I didn't feel like I was having to fly through my orgasms, I was allowing them to gradually build and were quite powerful as a result.
For me, internal stimulation was a no-go, but external stimulation was awesome, especially since there's a decent handle to this one that prevented my hand from cramping up during use.
I don't know how much better this one is compared to the first, but I'd say it's worth checking out.  The modest size, variety in function, and decent power all make it great for users of any experience level!
Interested in picking up your own Gigi 2?  Click the banner below to check out this vibe and others from Lelo.
Gigi 2 was provided to me free of charge in exchange for an unbiased review.  This is in compliance with FTC guidelines.