Cadet from Pleasure Works
Pros:
- Made from silicone
- Harness compatible
- Smooth surface
- Easy to use
Cons:
- Oddly realistic/unrealistic
- Doesn't come with storage
Overall: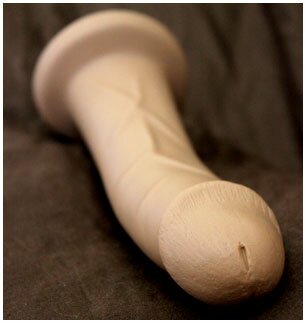 -Intro/Use-
Cadet from Pleasure Works is a realistic looking silicone dildo.  The slight curve and pronounced head connect to the G-spot with ease, providing a wonderful popping sensation without any discomfort.  Because the base is nice and wide, it's easy for you or your partner to hold it while thrusting, and the manageable length and softer material make it unlikely for the dildo to cause discomfort
Pretty straightforward and basic, Cadet has a wide, flat base that makes it both harness compatible and anal safe.  Whether you're in a same sex relationship or enjoy pegging, this dildo is a wonderful option to look into.  The silicone has a decent firmness to it that makes it easy to use while remaining soft enough to create a stimulating and comfortable experience to the receiver.  It's really too firm to be used as a packer if you want to be modest about it, but works well for gender play in general.
The bottom doesn't have a bullet hole or suction cup, so it's pretty standard as far as dildos go.  You could easily add a vibrating cock ring to the base if you're interested in having it vibrate, but otherwise the stimulation is provided through thrusting the toy.
-Material/Texture-
Cadet is made from silicone which is a body safe material that's non-porous, latex free, and phthalate free.  It's a super safe material to use because it can be fully sterilized if sharing with another person or switching between orifices.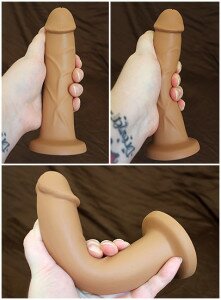 The surface of the Cadet is really interesting and I've never felt silicone quite like it.  It has this odd smoothness to it, almost buttery smooth while also having a drag to it.  I've been sitting here for a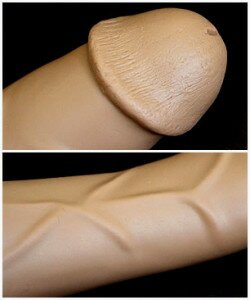 few minutes trying to figure out what I can compare it to, but I'm having trouble.  The important thing you need to know is that it does pick up lint, but is also feels nice and smooth too.
The texture of this toy is quite reasonable, having a pretty pronounced head with some light texture, and prominent veins going along only the top area of the shaft.  It's not so much that it's going to be too overwhelming for someone that doesn't care for textures, but is a nice added touch.
The flexibility to this toy is quite nice, having some give but remaining firm enough to apply pressure where it's needed most.  It's a little more firm than I expected considering Good Vibrations mentions that this can be used as a pack-and-play item, but in my opinion it's simply not soft enough to be used in that way.
-Design/Size-
Cadet has some awesome features and was obviously designed to have a realistic look to it, however, it seems like a lot of time and effort was put into the head being detailed, and they just gave up on the shaft.  It really has this odd pieced together look because of it.  As soon as I pulled the toy out of the box I felt like the head and shaft didn't match up and was rather confused by it.  That being said, the look of the toy certainly doesn't change the way it feels, and was something I was able to overlook.
My Cadet is the caramel (medium) coloring, but there are two other options; vanilla (light tone), and coffee (dark tone).  It's only available in flesh tones, no fun and funky colors.
The tip of the toy features the prominent head which is quite detailed, having a urethral hole and all the great vertical lines and wrinkles that are often present on an erect penis.  The shaft is plain apart from the unrealistic looking veins along the top of it, and the base is flat and wide at the bottom.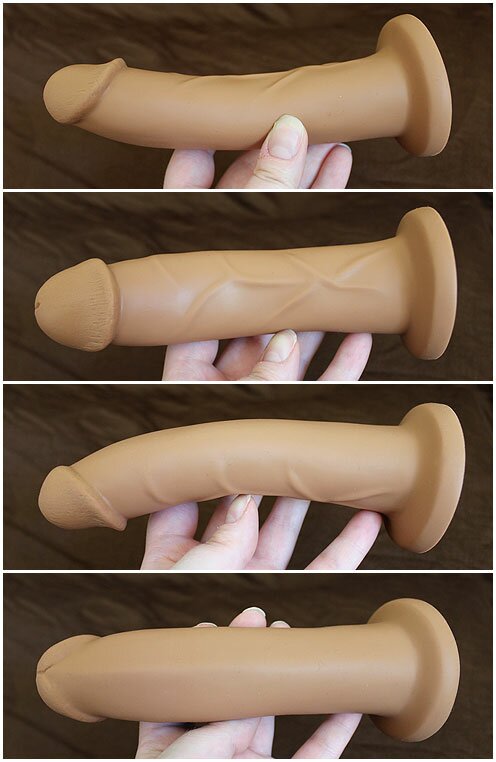 Cadet is a little above average in size, but someone who isn't used to penetration would probably feel that it's just too large.  There are other dildos available from Pleasure Works that would be more suited for a beginner, so make sure you check those out if this one isn't sized right for you.  The full length of my dildo is 7 1/4″ with 6 1/2″ being insertable.  I found the length was quite reasonable and didn't disturb my cervix like some longer toys do.  The girth around the head of the toy is 4 1/2″ in circumference, is 5″ halfway down the shaft, and is 5 1/2″ at the base.
-Care-
Cadet can be washed with antibacterial soap and warm water or your favorite sex toy cleaner for regular use.  You do need to pay attention to the small crevasses in the head of the toy since stuff can get trapped there; using a soft bristled toothbrush is your best option.  As I mentioned above, it can also be sterilized using any of the following options; you can clean it with a 10% bleach solution, boil it for three minutes, or place it on the top rack of your dishwasher.
Silicone toys are only compatible with water-based lubricants.  Others could potentially break down the surface of your toy, ruining the smooth feel of it.  As long as you stick with water-based, you have nothing to worry about.
This dildo doesn't come with storage and the packaging isn't suitable for long term use.  It's best to use a plastic Ziploc bag, or a medium to large sized toy pouch; it's important to keep your toy protected so nothing harms the surface.
-Packaging-
Cadet will arrive in a cardboard box that features images of the toy on the outside and gives some information about the dildo and company.  It's not discreet, but it's tasteful considering the nature of this product.  Inside the box, Cadet is sealed in a plastic bag, nothing else is inside of it.  The only information is on the outside, but there really isn't much to learn from it.  The cardboard is very thin and isn't great for storage.  You can break it down and dispose of it as you wish.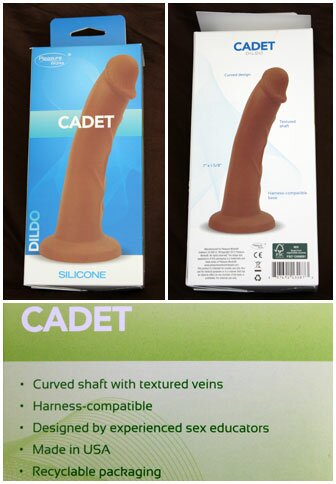 -Experience-
As soon as I saw the Pleasure Works dildos I was interested in them.  The images on the Good Vibes' website looked awesome and I couldn't wait to get my hands on one!  When it arrived and I got to see it up close and in person, I was really confused about the overall look; is it super realistic or not?  I was a little put off by the very detailed head paired with the seemingly unfinished shaft.  I left it for a couple of days, not wanting my opinion to be influenced by the odd look.
The moment I inserted the dildo I was immediately surprised by the feel of it.  It was simply perfect for me!  The level of firmness, how effortlessly it slipped in and out of me; when I closed my eyes it felt exactly like the real thing!  I immediately got over the look of it and couldn't stop focusing on the realistic feeling it provided.  It gave me that great popping sensation, nuzzled up to my G-spot, and when paired with my go-to clitoral vibe, gave me intensely powerful orgasms.
Just wow!
If you can get past the super realistic to semi-realistic look of this toy, it's beyond worth it!  The feeling paired with the variety of uses; you can't go wrong!  If you're interested in purchasing a Cadet of your own (or one of the other awesome Pleasure Works products) you can click the banner below.

Cadet was provided to me free of charge in exchange for an unbiased review.  This is in compliance with FTC guidelines.