Double Pop from G-Spot Lollipop
Pros:
- Made from safe materials
- Double ended
- Easy to use
- Fairly discreet looking
- Totally smooth
Cons:
- Might be too basic for some
- No curve/Might not work for everyone
Overall:


-Intro/Use-
The Double Pop from G-spot Lollipop is a fun and interesting toy designed to provide broad G-spot stimulation.  This non-threatening product is double ended with one side being larger/smaller than the other.  It's super easy to use and is great for both solo and couples play.  The length makes it comfortable to use on yourself, and the ball at the opposite end is easy to get a good grip on.  If you're using this on your partner, do be careful not to thrust too hard.  Since the material is so rigid and is fairly long, it wouldn't be difficult to accidentally cause your partner discomfort.
Apart from G-spot stimulation, the Double Pop can also be used while you're doing your Kegel exercises.  It's a great tool to help strengthen your pelvic floor muscles.  The smaller the Pop, the harder your muscles will work, so if you're looking into getting this primarily for exercise, consider getting the smallest size.
Though you might think vaginal use is the only way the Double Pop can be used, it's actually anal safe as well.  Because there's so much length between the two balls, it couldn't accidentally slip all the way inside of you.  That's right, the Pop is useful no matter your anatomy is!
No matter where you enjoy using your toys, the Double Pop is a great option.  It can easily be used in the tub or shower and is super easy to clean.  If you're looking for a travel companion, this particular toy is a little long.  G-Spot Lollipop does have a travel friendly option, providing you with the same stimulation but with a more reasonable length, the only downside is that it's not double sided.
-Material/Texture-
Each product that comes from G-Spot Lollipop is made from two different body safe materials; acrylic for the balls on each end and stainless steel for the rod in the center.  Both materials are non-porous, phthalate free, and latex free.
The rod in the center is totally straight and no part of the toy has movement to it.  Because there isn't any movement, it's easy to apply firm pressure to your G-spot and other pleasure zones.  The balls on either side are very firm and are solidly in place.  Stimulation comes solely from how you move the toy and how your muscles clench around it.
The rod and balls are both completely smooth and have no texture to them, making them move easily inside of you.  This truly keeps your focus on the pressure and prevents you from becoming distracted by anything else.
-Design/Size-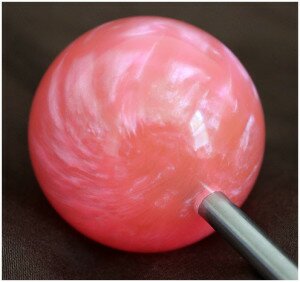 Designed to be non-threatening and discreet, this G-spot toy looks similar to a lollipop; bulbous end(s) attached to a stick.  Available in four different flavors colors, there's a little something to suit just about anyone; Orange Crem'e, Purple Passion, Wild Apple, and Pink Passion.  Each color has a beautiful iridescent marbled look to it, which really makes it more attractive as a result.  It's far from being plain and simple and each one is unique because of it.  I have the Pink Passion and though it's a little more dull looking in person than on the product page, it's still super beautiful because of the marbled effect.
The design is pretty straightforward and quite simple when you look at it.  Each end of the toy has a ball on it; one is larger than the other.  Having two different size options is wonderful in many different ways; it gives you a side to warm up with and a side to get off with, gives you two sizes to use as your pelvic floor muscles get stronger through Kegels, gives you a larger end for vaginal use and a smaller side for anal use (depending on your experience level), etc.  The double ended design is truly useful in so many different ways!
There are three size options to choose from (and each option has two different sizes) when picking out your Double Pop; small (1.5″/1.75″), medium (1.75″/2″), and large (2″/2.5″).  I'm a bit of a size queen and am reviewing the medium size.  The design paired with the material makes the toy feel larger when inserted because it has no give to it, and I'm glad I didn't go larger as a result.  The larger end of the medium (being 2″ in diameter) was a great option for me, it made me feel full and stimulated without being uncomfortable to remove.  The website has a page dedicated to removal, which I admit, thought was a little odd at first.  After using the toy, I fully understand and recommend making sure you read the page in order to prevent discomfort.
The full length of the toy seems really long when you first look at it.  From one tip of the toy to the other is 11″ long, 7 1/4″  make up the exposed rod itself (which is only 1/4″ in diameter).  How far you're able to insert it all depends on your comfort zone, but I don't see many being able to reach the second ball because of cervical discomfort.

-Care-
The Double Pop can easily be cleaned with antibacterial soap and warm water or your favorite sex toy cleaner before and after each use.  If you're planning on sharing, you can sterilize it by using a 10% bleach solution or by wiping it down with isopropyl alcohol.  Because of the material, you can't boil or put it in the dishwasher since acrylic shouldn't be exposed to high heat.
With the surface being so smooth, a little lubricant goes a long way and there's no need to be concerned about compatibility.  No matter what type, your favorite lubricant can be used with your Double Pop.
-Packaging-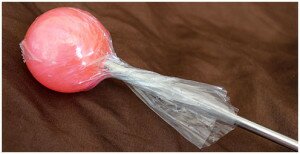 Though it doesn't come in a box or bag, the Double Pop arrives in the most adorable way.  The larger end of the pop is covered with plastic that's twisted at the base of the ball just like a real lollipop would be.  This added touch is so simple, but is fitting and adorable!  Around the base you'll also find a small card that gives you a little information about the company and product.
-Experience-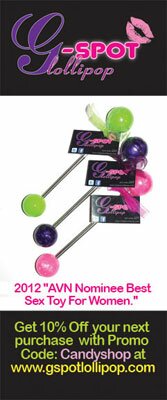 When I first saw the Double Pop and other products available from G-Spot Lollipop, I was skeptical.  The design was just so simple it was hard to believe that it could really be that stimulating.  Still, since I had never tried anything like it before, I was interested in seeing if it actually lived up to the hype.
I was recently contacted about reviewing a Pink Passion Double Pop and was thrilled to hear the company will be donating a portion of their sales to breast cancer awareness for the month of October.  It always impresses me when companies give back like that, and I was thrilled to have the chance to promote it.
When my Double Pop arrived I was initially quite surprised by the size.  While it's obvious through images online, it's always a reality check when something is actually in your hands.  The size of the balls seemed reasonable to me, but the length was surprising.  Before testing it out, I immediately assumed that the length was unnecessary and didn't understand why they felt the need to make it so long.  Then I used it, and totally understood!
The length of the toy makes it so comfortable and easy to use on yourself!  It keeps you in a relaxed position and makes your movements very effortless and natural.  The length can be a little much for a partner to use on you, just make sure you're vocal about what you're feeling because it's easy to accidentally thrust too deeply.
I'm not overly sensitive when it comes to insertable toys.  I enjoy how things feel, but it's not often something will actually stimulate the way I need, and I know a part of that is figuring out what works for my body.  Though simple in design, the Double Pop is far from feeling simple during use.  The smooth pressure it provides feels amazing and natural, and easy to achieve.  While I can't orgasm from internal stimulation alone, the intense pleasure I felt when I paired it with my go-to clitoral toy was impressive.
The Double Pop is a great choice if you're looking for your G-spot and can't seem to find it, and provides G-spot pros the stimulation they crave.  I'm so impressed with this seemingly simply toy, and hope to try out the others in the future!
During the month of October, G-spot Lollipop is offering 10% off your purchase when you use code 'Candyshop' at check out.  Be sure to head over to their shop and check out all three of their fantastic G-spot products!

Double Pop was provided to me free of charge in exchange for an unbiased review.  This is in compliance with FTC guidelines.