Karma from Blush Novelties
Pros:
- Made from silicone
- Super smooth surface
- Modest size
- Variety of speeds/patterns
Cons:
- Weak
- Buzzy/numbing
- Waterproof but can't be submerged?
- Doesn't come with storage
Overall:


-Intro/Use-
Karma from the OHM line by Blush Novelties is a compact vibrator with a twist, quite literally!  This twisted vibe is great for those that prefer a toy that provides a bumpy type of stimulation, and is short enough that it shouldn't be uncomfortable to use.
Best for the ladies, Karma can be used internally or externally.  The rounded tip works great for broad clitoral stimulation, nipple play, and can be used on other erogenous areas of the body.  When it comes to penetration it's very stimulating despite the fact this toy isn't curved in any way.  While it doesn't target your G-spot, it provides great sensations thanks to the wonderful design.  There isn't a flared base on the bottom, so Karma isn't anal safe, but can be used externally in that area.
The shorter length and ease of use make it a great item to use along with your partner.  Though the material is a little on the firm side, it's very unlikely that you or your partner could bump your cervix and cause discomfort.
The packaging stats that the toy is waterproof, but in the fine print says that it shouldn't be submerged.  It's best to treat this toy like it's splash proof; safe for the shower and running it under water to clean, but shouldn't be used in the tub or left to soak.
-Material/Texture-
Made from silicone and ABS plastic, Karma is body safe, latex free, non-porous, and phthalate free.  They're both super safe materials that are great choices in adult products.  The battery compartment and internal parts are made from plastic while the insertable area of the toy is made from silicone.
The silicone it's made from is buttery smooth to the touch and glides over the skin easily.  While you can't bend it, you can very lightly squish it.  It's not just a layer over the plastic, there's actually some padding there.  It does feel pretty firm during use, but in your hands the give is more obvious.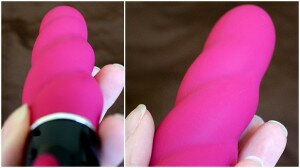 There's no texture to the surface itself, the texture comes from the shape of the toy.  The thick twists provide a bumpy sensation that makes the toy feel more unbalanced than it looks.  While the twists are very tidy looking, the sensation is very different (though quite stimulating) when you're thrusting it inside of you.  Twisting it feels more natural, but your experience may be different than mine.
The button itself is made from the same silicone as the rest of the toy, but is on the plastic battery cap and has a small nub that stick up from it.  Because of this it's easy to find the button even when you aren't looking at the vibe or it's too dark to see.
-Design/Size-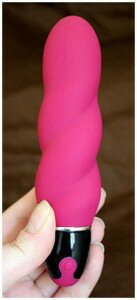 Karma is pretty interesting to look at.  It's available in both Mint and Berry and has a really interesting shape.  The twists give it a really unique look and the stimulation that comes from them is pretty unusual as well.  I've tried a lot of toys that have a twisted shape to them, but they're much thicker on Karma and feel different than what I've experienced before.
The tip of the toy is nice and rounded, the shaft is covered with the twisted pattern, and the base of the toy is the button/battery cap.  The fun colors, the interesting design, and the ease of use are all great for most, it's the texture/girth that might steer some beginners away from this product.   While the length is very reasonable, the girth might be too much for some (and not enough for others) and the texture won't be for everyone.
The size makes it a good choice if your'e looking for a travel friendly toy.  Being a total of 6″ in length, it wouldn't take up too much room in most purses, backpacks, etc. but it might be obvious that it's a vibe should someone catch sight of it.  The insertable length is 4 3/4″ and the largest area is 4 1/2″ in circumference.  The tip is slightly smaller being 4″ around because it doesn't have the twists on it.  It's a very reasonable size, but the texture makes it feel a little larger and more awkward than a standard vibe would (to a beginner or someone who doesn't care for texture).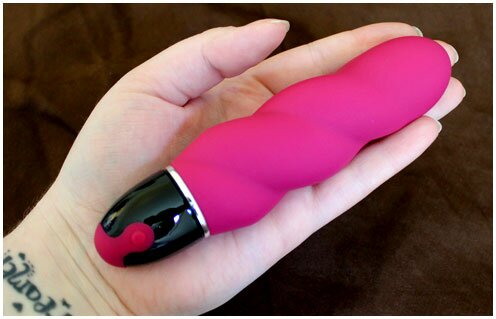 -Functions/Controls-
Karma is powered by two AAA batteries which aren't included.  The base of the battery cap twists off and inside is a thin plastic piece that surrounds the compartment.  It shows you exactly how the batteries should be inserted.  It's important to keep the plastic piece in place at all times, including when the batteries are inside.  You'll also see the black rubber ring around the base of the battery cap, this prevents water from accidentally leaking into the toy when you're washing or using it in the shower.  Though it's in place, the packaging clearly states that the toy should never be submerged.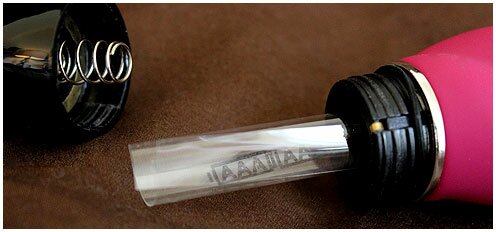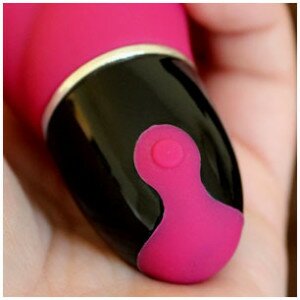 Once the cap is back in place, Karma can be turned on.  There is only one button and it controls turning it on, changing the setting, and turning the toy off.  Pressing the raised button once will turn it on to the first setting.  Each click after that will bring you to a different setting and when you're ready to turn the toy off, you can cycle through all the patterns or hold it down for a few seconds until it powers off.  No matter what setting you were on when you turned the toy off, it will always take you back to the first function when you turn it back on.
Karma features 5 different intensity levels that range from extremely low to high (which feels more like a medium to me), and includes 5 different patterns.  The power behind the patterns can't be increased or lowered, what you feel when you click it is what you get.  The first five settings are the power levels, the sixth click of the button will bring you to your first pattern.  They are as follows:
Low, Medium, High Steps
Increasing Pulse
Quick Pulse
Slow Pulse, Quick Pulse
Varied Pulse
Though there is some variety in the patterns, they are all pretty similar.  There wasn't a roller coaster setting or escalation; it's mostly just different pulses.  That's a little disappointing, but I don't normal focus on the patterns a toy has in general.
The power behind the toy is pretty lacking.  The highest setting is hardly a medium, in my opinion, and is very light and buzzy.  It's more numbing than satisfying and won't work for those of us that require powerful, rumbly vibrations.  If you're super sensitive and like a lighter touch, you might enjoy this, but even the semi-sensitive toy user might be let down.
The power does travel well through the toy, but that also means your fingers will get a little numb as well.  There's really no way to avoid this other than to get someone else to use it on you, so it can also be a little bothersome.
The sound level is pretty modest.  On the highest setting you can hear it if you're in the same room with someone, but even a little white noise would cover that up.  From outside of a closed door, no one would know what you're doing.
-Care-
Karma is pretty easy to care for in general.  It can be cleaned before and after use with antibacterial soap and warm water or your favorite sex toy cleaner.  Because the twists are pretty wide and rather shallow, there aren't little areas where stuff could get trapped, so it's very easy to clean.  If you're sharing with someone else you can also sterilize it by cleaning it with a 10% bleach solution, but because of the internal parts, you can't boil it or place it in your dishwasher like you can silicone dildos.
Lube is pretty straightforward, you want to make sure you use a water-based only because the material could react to other types.  Because the surface is nice and silky feeling, a little goes a long way.
To prevent anything from happening to the surface of your toy, you'll want to find a storage pouch for it since it doesn't come with one.  A medium sized pouch would work best, or something similar.  Always make sure the batteries are removed before storing to prevent your batteries from becoming drained.
-Packaging-
Karma comes in an attractive and tasteful looking box that features a little peeking hole on the front and a flap that will expose the toy without having to open the box.  It's okay for short term storage, but won't last forever.  The only information included with the toy is on the outside, and is very basic.  There's no additional information within the packaging.  The vibe is housed in a plastic tray with a cover that's formed to fit the toy perfectly, preventing it from bouncing around inside the package.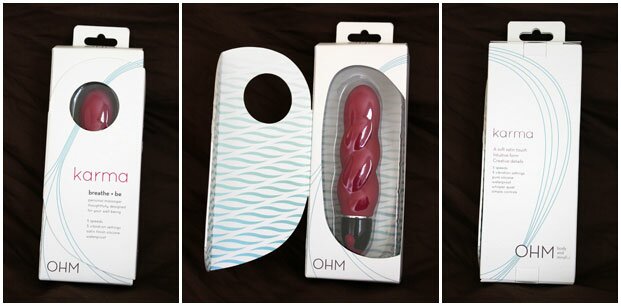 (the product looks much darker inside the packaging, my other photos are true what the berry coloring looks like)
-Experience-
After having recently reviewed a few twisted toys, I was asked if I had interest in Karma.  The shape looked really interesting to me, so I figured it was worth a shot and would sort of go along with what I had recently been reviewing.
I was immediately impressed with the silky smooth surface, and very curious about what the wide twists were going to feel like during use, but once I inserted the batteries, I was immediately disappointed.  I can't get off from buzzy vibrations, no matter how I use a toy, but knew it was a gamble considering it's powered by AAA batteries.
I tried to forget out how it felt in my hands and I put it to use.  The vibrations did nothing but frustrate me and made it harder to climax from because it had numbed my clit.  I ended up turning the toy off and just using it like a dildo.  This felt surprisingly good to me.  I was a little surprised that it didn't feel more ribbed and had a strange bumpy feeling to it, but I thought it was alright.
Now, that being said, you never want to purchase a vibrator only to end up using it like a dildo 'cause the vibrations are such a let down.  I don't see this working for most, but if you're very sensitive to vibrations and prefer a buzzy feeling to a rumbly one, this might be worth looking into.  Other than that, I would pass and get something better from Blush Novelties, like Beau.
If you're interested in purchasing your own Karma, you can by clicking this link.  If you're interested in seeing what else Blush Novelties has to offer, click the banner below.

Karma was provided to me free of charge in exchange for an unbiased review.  This is in compliance with FTC guidelines.