Fifty Shades "The Pinch" Nipple Clamps
Pros:
- Attractive
- Simple design
- Easy to figure out
- Adjustable
- Tag can be removed
- Nice weight
Cons:
- Not made for larger nipples
- A little hard to adjust
Overall: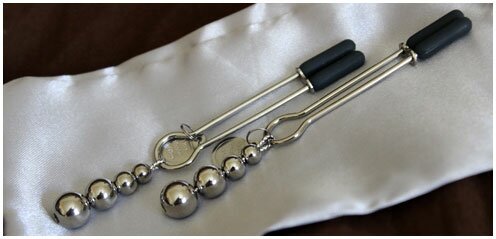 -Intro/Use-
Fifty Shades "The Pinch" are adjustable nipple clamps from the official Fifty Shades of Grey collection.  This particular design is often referred to as 'tweezer clamps' because they're attached together on one end, and pinch together on the opposite end; much like a regular pair of tweezers.
The Pinch comes as a set and includes two individual clamps; one for each breast.  Pinching the two sides together is a little slider, when the slider is at the bottom, the tips are at their widest.  You place each tip of the clamps on either side of your nipple and slide the metal piece toward the top.  The higher the bar, the tighter the clamps will pinch.  The size of your nipple will also play a factor in how these clamps work for you.  If you have larger nipples, the clamps will be naturally tight from the start, but those will smaller nipples will need to raise the slider in order for them to clamp down.
The color and design makes these mostly gender neutral, though some might feel they have a more feminine look to them because of the weighted beads on the bottom.  Either way, no matter what gender you are, these nipple clamps are suitable for use.  If nipple clamps aren't your thing, you could easily use one as a clit clamp, or get creative and find your own use for them.  They're only as intense as you allow them to be.
Surprising even to me, The Pinch clamps feel very well made.  While they might not provide an extreme feeling that certain people enjoy, the intensity is suitable for those that like a decent pinch without experiencing actual pain.  However, it wouldn't be difficult for these to cause some, especially if you yank them off.  Make sure you hold the tips in place while you move the slider down before taking them off to prevent discomfort.
-Material/Texture-
The Pinch clamps are made from a few different materials and the packaging is rather vague, stating that they're made from metal, silicone, and beading.  It doesn't specify what type of metal so if you have metal allergies, use these with caution.  Though the silicone is what comes in direct contact with your nipples, the metal from the rest of the clamps could irritate your skin.  The beads are also held on by a thin silver cord.  This isn't metal, but there's no information on what it is exactly.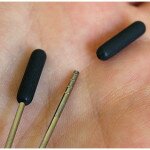 The metal isn't painted, which I was very pleased to see.  It's polished and totally smooth to the touch.  Since they aren't painted, the slider doesn't cause any type of chipping or scratching.  The silicone tips have seams that run along either side but can't be felt during use.  They can be removed to clean, but should always be in place when you're wearing them.  Once removed, they expose little impressions in the metal that help keep the tips on the clamps.  They're easy to intentionally remove, but don't fall off on their own.
-Design/Size-
The Pinch clamps are pretty straightforward and easy to understand.  They're basic, but sometimes using a design that works well is better than trying to create something totally new and different.  The tips are covered to protect your nipples from the metal, and each side is straight and held together by a metal piece that resembles an 8.  The base is curved, creating an open circular design where the weighted beads and tag rest.  There are four beads on each clamp and go from smallest to largest in size.  The largest is the final bead and is open on the bottom.  Inside, you can see where the cord it attached to the bottom, preventing the beads from becoming loose and falling off.  The little tag attached has the words, 'Fifty Shades of Grey' imprinted on them.  These are attached using small metal rings that resemble key rings and can easily be removed.  So even if you're not a big fan of Fifty Shades, you can still use and enjoy these clamps.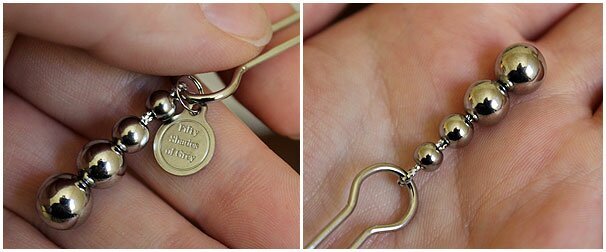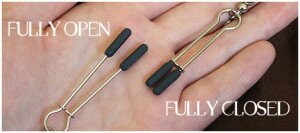 The weight and size are both very reasonable, though won't work for everyone.  The weight gives them a presence without making you feel like they're dragging your nipples down to the floor.  While I can totally appreciate the fact that they're modestly sized and adjustable, they don't open very wide and aren't suited to accommodate larger nipples without potentially causing some discomfort.  It might seem like that wouldn't be an issue, but you shouldn't be feeling discomfort as you're putting them in place.  At their widest, The Pinch clamps open 1/4″ and at their tightest, just under 1/16″.
The full length of the clamps is 3 1/2″; 5/8″ for the tips, 1 5/8″ for the bare metal, and 1 1/4″ for the beads and cord on the bottom.  These are easy to conceal and travel with, fitting easily inside a purse, suitcase, etc. and would probably blend in pretty well if you were to store them in a jewelry box.  Though they aren't totally discreet, they certainly don't scream 'sex toy' unless someone who's familiar with products like this were to see them.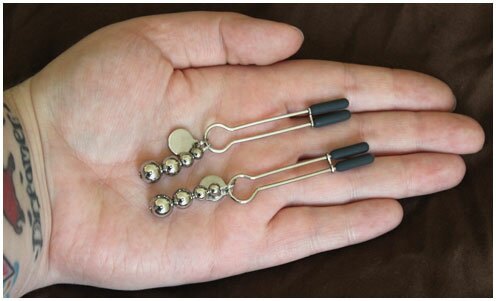 -Care-
Care is pretty basic for The Pinch clamps.  You can remove the tips and soak them in a 10% bleach solution, and wipe down the metal with a disinfecting wipe for cleaning.  Because it's not obvious what the cording is, try to avoid getting bodily fluids on that area.  If you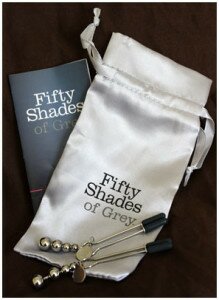 use one or both of these as a clit clamp, make sure they're thoroughly cleaned, and always make sure the metal is dried after washing.
There's no need to concern yourself with intentionally using lube with these clamps, but try to avoid getting a silicone-based lube near the tips.  Because they're also made from silicone they could react to each other, possibly making them unusable.
Included along with your clamps is a grey pouch that keeps them together, making it harder for one or both to get lost.  The pouch closes using a drawstring and has 'Fifty Shades of Grey' printed on one side.  It's not totally discreet because of that, but because of how small these are, you could easily tuck them in a small area, away from curious eyes.
-Packaging-
The Pinch clamps come in a thin, shiny, cardboard box that looks like it should contain a cologne rather than nipple clamps.  The front of the box only has text apart from a small image of a grey tie toward the top, but the back shows an illustration of what the clamps look like.  The back also gives a quote from the Fifty Shades of Grey novel and gives you a brief look at what the clamps are all about.
Once the box is opened, you'll see the clamps attached to another piece of cardboard that's folded into a triangle.  They're clamped to it and also taped down, preventing them from coming undone during storage and shipment, but are simple to remove.  Inside the box you'll also find a small paper that has a little information about how to use the clamps and is written in a few different languages.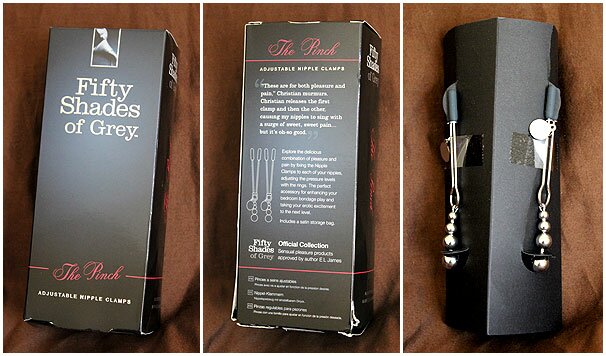 -Experience-
So, I admit it, I've read Fifty Shades of Grey.  After all the publicity, how couldn't I?  It was actually the first published piece of erotica I ever read and I felt shy letting my husband know I was interested in them.  Ah, how the times have changed!  I didn't get sucked into the books like some did, but I didn't completely hate them like others.  My interest in these clamps have nothing to do with my feelings toward the books.  I didn't go nuts over these because they were Fifty Shades of anything.  I really liked the look and design of them, and was interested in seeing how they would work for me.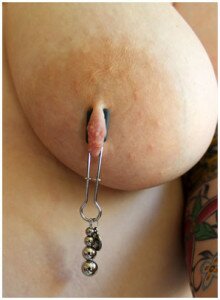 When I opened the packaging, I was immediately surprised by the weight of them.  I was honestly expecting something super cheap and tacky; light weight plastic beads, thin metal that easily bent, and rubber tips; but was greeted with good quality clamps.  I was super excited to try them out!  I lowered the slider to the bottom and I immediately knew these weren't going to work well for me.  I have pretty thick nipples, approximately 1/2″ across, and I could tell these weren't going to be easy to put on.
I tried carefully pulling the sides apart a little bit to help, but the metal is quite firmly in place and really didn't give me much wiggle room.  I tried sliding them onto my nipples and felt uncomfortable the whole time.  Even without using the slider at all they were pinching quite firmly.  I managed to get them on and even tightened them, but they just didn't feel right to me.  The weight was awesome, and the pressure was okay, but being unable to put them on comfortably was a big negative to me.
These are best used by someone with smaller nipples than mine, so make sure you measure yours before purchasing.  While you do want there to be a good pinch to them, they shouldn't be causing discomfort before you've even slid the bar up.  These didn't work for me only because my nipples are thick.  I'm so sad because I love the look, the weight, and the overall idea, but they weren't sized right for me.
Fifty Shades "The Pinch" nipple clamps and other items from the official Fifty Shades of Grey collection are available at TabuToys.  Click the banner below to discover more.

Fifty Shades "The Pinch" nipples clamps were provided to me free of charge in exchange for an unbiased review.  This is in compliance with FTC guidelines.