Grim Reaper from Divine Interventions
Pros:
- Made from silicone
- Unique design
- High quality
- Interesting Texture
Cons:
- Small areas to clean
- Doesn't come with a storage pouch
Overall: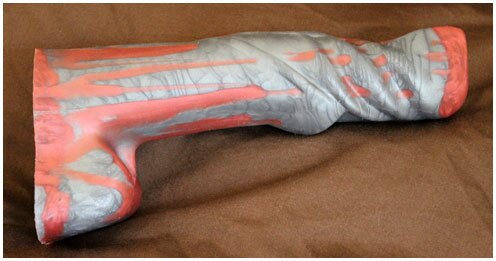 -Intro/Use-
The Grim Reaper from Divine Interventions is a unique silicone dildo that creates a far more positive experience than what you normally associate with the face of death.  Super detailed and covered in texture, this bad boy was designed to please!  Whether you plan on purchasing as a conversation piece, or plan to tuck it away in your bedroom for private use, the Grim Reaper is a great choice.
Though there isn't a specific G-spot curve, this toy has a lot of good things going for it.  The texture is obvious and while the dildo may not connect with your G-spot, certainly stimulates during use.  The base of the toy is nice and large, making it easy to grip while you're thrusting it.  It's totally flat on the bottom; it doesn't have a suction cup or a bullet hole, though you can easily make it vibrate by placing a vibrating cock ring on the base of the shaft.
Since the base of the toy is nice and large, it's also totally anal safe.  There's no way for this toy to get sucked up inside of you, but you might want to consider something else for backdoor play.  The details in the face hold onto bodily fluids and can be a little more challenging to clean as a result.  If you don't mind the extra cleanup, it's certainly safe enough to use it that way.
The Grim Reaper can be used with a partner as well, but it's important to not thrust too hard since it could cause some discomfort.  Though the material is mostly soft, it's long enough to irritated the cervix if used aggressively.  The dildo is sized well, but doesn't work great in a harness.  It tends to sag since there's nothing to really keep the top back and hold it properly in place.
-Material/Texture-
Made from silicone, the Grim Reaper is non-porous, latex free, phthalate free, and completely body safe.  It's a great material for a sex toy because it can be fully sterilized and safely shared for that reason (sterilizing between uses).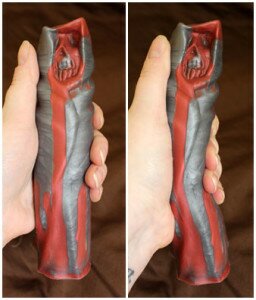 This particular silicone has some drag to it, but is fairly smooth in general.  It's not buttery smooth, but doesn't feel sticky or tacky.  A small amount of lube is all you need to help it glide smoothly.  The surface will pick up small lint particles, but is very reasonable.  Just make sure you rinse/wash it off before use.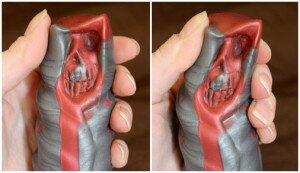 The firmness level would be about a medium, it can be bent easily and squished with a little force, but it's not something I would consider soft.  It provides great pressure to the areas that matter most, but isn't hard enough to cause discomfort (as long as the size is something you're accustomed to).
Much of the dildo is totally smooth, but the Grim Reaper isn't without texture!  The end of the toy is where you'll experience it most, between the hooded face, the scythe, and the rippled texture behind the head, but you can also feel it down the front of the shaft because of the cape.  The ripples behind the head are most obvious and provide a ribbed sensation thanks to the design.  The face really isn't felt, but the whole head is very stimulating.  If you prefer smoother toys in general, this might be a bit much because of how obvious the texture is behind the head, but it should be great for those that like their toys to have texture to them.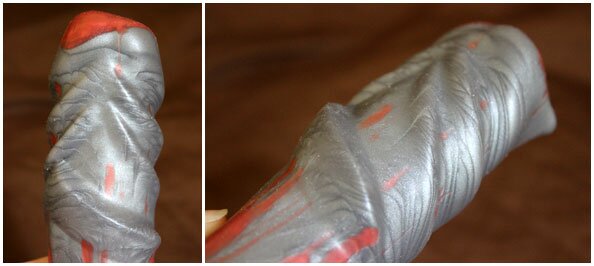 -Design/Size-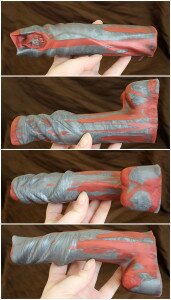 Divine Interventions makes some of the most interesting and controversial toys I've ever seen; the Grim Reaper isn't the exception!  Phallic in design, the dildo features testicles at the base, an obvious shaft, and textured head.  The website itself calls it the "large, black, uncut cock", but is also available in Steel which is a gorgeous marbled grey that has a beautiful metallic shimmer.  Because it's marbled, no two will be exactly the same, but they're all equally gorgeous!  Mine also features some of their deep red which really gives my Grim Reaper a deathly appearance on top of the overall design.  I was told he was sending me a custom color, but didn't request it, so I'm not sure if you're able to customize the coloring in general.  It never hurts to contact the company directly and ask.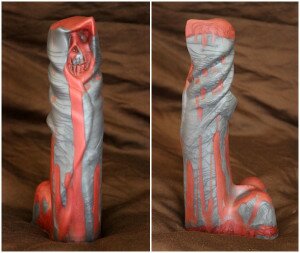 The most detailed area of this toy is obviously the face.  It has a very creepy skeletal appearance which is set in slightly from the rest of the toy.  The texture can't be felt during use, but this area creates quite a pocket for bodily fluids to collect in.  As long as the site of your own stuff doesn't bother you, it's really not a big deal, just make sure you wash it directly after.
Because the base is flat, you can set it on a table, nightstand, shelf, etc. without having to worry about it tipping over thanks to the balls.
The size isn't beginner friendly and isn't the best travel companion.  It's not a super large toy, but it's not small by any means.  The average user would find it quite girthy, but a size queen would probably feel like it's on the smaller end of what they normally enjoy.  The obvious texture does make it feel a little larger than if the dildo was the same size and totally smooth, which might pose an issue for some.  Bottom line, unless you're used to girthy toys, this will probably be a little too large for you.
The full length is 7 3/4″ long, 6″ of that being insertable.  The end of the toy is 5 1/4″ in circumference, and varies slightly down the shaft because of the texture changes.  At the thickest (where the scythe is) is 5 3/4″, but narrows back down to 5 1/4″ near the base.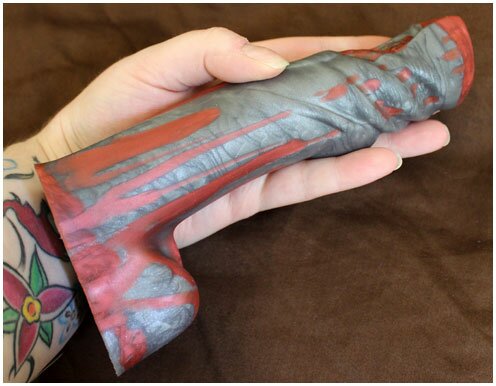 -Care-
One of my favorite things about silicone dildos is how easy they are to clean!  For regular use, you can clean with antibacterial soap and warm water or your favorite toy cleaner.  Because of the facial detailing, you will want to use a soft bristled tooth brush to get into all the small areas, it's not difficult, but it is another step you need to take.  If you're sharing with someone else or switching orifices, you'll want to sterilize it.  You can boil it for three minutes, or clean it with a 10% bleach solution.  Divine Interventions recommends not using the dishwasher to clean your Grim Reaper.
The safest option for lubricant is using a water-based type.  Sometimes silicone lubricants can cause the surface of your silicone toys to degrade, so it's best not to mix them.  If you just can't help but use a silicone-based lube, make sure you first spot test to make sure it doesn't react.  While you're shopping at Divine Interventions, you can pick up a bottle of their Holy Water Lube which is completely safe to use with your silicone toys.  If you're interested in snagging one for free, check out my giveaway for a change to win your own bottle.
The Grim Reaper doesn't come with any type of storage, so you'll need to put it inside a plastic Ziploc bag or a large storage pouch.  When it arrives, it's only sealed in a plastic bag that needs to be torn/cut in order to remove the toy, so it can't really be reused.  Keeping your dildo inside of a bag or pouch is important since it will protect the surface from potential damage.
-Experience-
Every dildo available from Divine Interventions appeals to me for one reason or another.  Their products are so unique and interesting that I would love to get my hands on each of them!  The Grim Reaper seemed like the obvious choice for this time of year because it screamed 'Halloween!' to me.
It's always a gamble whether or not such an interesting toy will actually be stimulating or if the appeal is solely in how it looks.  The Grim Reaper actually surprised me!  I usually prefer a softer feeling silicone, but the firmness was actually really nice thanks to the great texture.  I don't orgasm from internal stimulation alone, so I pared it up with my go-to external vibe and found it to be really pleasurable.  The ribbed feeling was so nice and while I didn't really feel it connecting with my G-spot, the texture still intensified my pleasure.
I used the dildo for about twenty minutes, and when I pulled it out, the face acted like a bowl for my bodily fluids.  It's easy to clean, but you'll want to be careful when you pull it out that you don't make a larger mess.  Might sound a little gross, but I'm totally comfortable with what comes from my body, just be prepared that it may also happen to you.
Overall, I'm impressed that this dildo is a lot more than something cool to look at.  It's just as great in use as it in in appearance, and I can see this appealing most to advanced toy users who prefer some girth and texture.
Make sure you check out the awesome products available from Divine Interventions.  The Grim Reaper and The Devil would both be a wonderful treat to buy for Halloween!

The Grim Reaper was provided to me free of charge in exchange for an unbiased review.  This is in compliance with FTC guidelines.