SPUNK Lube Pink
Pros:
- Glycerin free
- Long lasting
- Safe for all toy materials
- Doesn't stain
- Doesn't get sticky
- Feels 'natural'
- Fun color (could be a con)
Cons:
- Smell/taste
- Contains parabens
Overall:


-Intro/Use-
SPUNK Lube Pink is a fun colored lubricant that's designed to make your playtime nice and smooth!  This lube is considered a hybrid formula, creating a product that blends both silicone and water into a long lasting and toy safe lubricant.  Often times you hear 'silicone-based' and immediately shield your silicone toys; desperate to make sure nothing causes damage to your precious friends..eh..toys, but not this lube!  If it makes you more comfortable, you can spot test on an area of your toy that isn't insertable, but I haven't had any issues with it!
Whether you're using the lube for toy use or intercourse (it's latex friendly and safe to use with condoms), it lasts a surprisingly long time and works extremely well.  I don't normally need lubricant during vaginal sex, but do for larger toys and was very impressed by how well SPUNK Lube Pink did the job.  Even more impressive is how well it works for anal activities.  Though you need to use a little more when you're engaging in backdoor play, there's little need to reapply, no matter how long you're going at it.
Though this particular lube from SPUNK Lube seems to be marketed more toward females, anyone can use it.  The long lasting formula not only works well for penetrative practices, but can also be used for jacking off.  It remains slick and shouldn't need to be reapplied.  If you're planning on starting off with hands and moving to oral sex, make sure you wipe it off first.  It's not flavored and wasn't made as an oral enhancer so the taste and smell might be a turn off to the giver.
The ingredients list is pretty short with this lube, it does contain parabens (which some like to avoid), but is glycerin free.  Nothing immediately jumps out to me as an allergy concern, but you'll want to check the list before purchasing.
Ingredients:
Water, Cyclopentasiloxane, Cyclohexasiloxane, Dimethicone, Dimethiconol, Propylene Glycol, Hydroxymethylcellulose, Methylparaben, FD & C Red 40

-Texture/Thickness-
SPUNK Lube Pink doesn't have any kind of special texture to it, it's simply smooth and makes everything very slick.  What I really like about this particular lube is that it's not super thick, but isn't thin either.  It's really the 'just right' kind; you have enough time to apply before it runs, but it spreads very easily.  Nearly everything about the consistency reminds me of their Hybrid formula which is their 'cum lube', so if you've had contact with cum, you'll know how it feels.
The biggest difference with this lube and cum, is that it doesn't get sticky.  I have serious issues with things feeling sticky, and so I always clean up immediately after my husband and I have played together.  This lube is super easy to clean off your skin and leaves it feeling soft and smooth after you've wiped it away.
It's impressive how long this lubricant lasts and it's more likely you'll need to wipe it away when you're finished than need to reapply during your session.  A simple wipe or cloth works fine, you don't need to use soap and water unless you'd like to.
The image below will give you a little idea on how thick the lubricant is.  The photo on the bottom is when it was first applied, the image to the right is after I held my hand up for 10 seconds, and the photo on the top was taken five seconds after holding my hand upside down.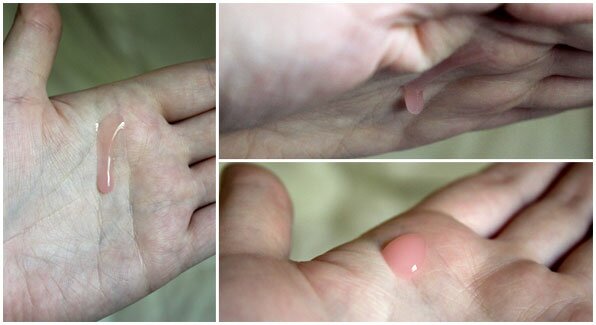 -Taste/Smell-
SPUNK Lube Pink has a sort of soapy smell and taste to it.  It's not overwhelming and shouldn't bother someone in general, it's mostly obvious when your face is close to the area where it's applied.  Once you've cleaned up, your skin doesn't hold onto the scent, so even if you really don't care for it, it doesn't linger.  The same goes for the taste, once you've cleaned the area, the taste is eliminated.
-Packaging-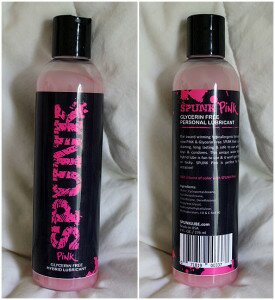 SPUNK Lube Pink is only available in 8 oz bottles.  These bottles are made from a clear plastic that's soft enough to squeeze, which is what you'll need to do in order to dispense the lube.  The black top is pop style, you press one side and the opposite pops up.  When it arrives, there's a plastic seal around the cover, but mine ended up leaking in the package.  Make sure it's always standing up to avoid the bottle leaking.
The label has a black background and some of the text is pink to go along with this colored lube.  It gives you the ingredients and a little information about the product, but all in all it's pretty basic.  The text does give away the fact that this is a personal lubricant, but the label can easily be peeled off, making it look more like a lotion or hair product through the clear bottle.
-Experience-
After reviewing SPUNK Lube Hybrid and SPUNK Lube Pure Silicone, SPUNK Lube Pink was the final lube for me to review.  I loved Hybrid and liked Pure Silicone, so I was curious to see if Pink would meet my expectations.
Honestly, apart from the smell and color being different, I had exactly the same experience with Pink that I did with the Hybrid.  I don't have sensitivities to glycerin, so I didn't personally experience a difference between the two.  My husband didn't love the color of this one, but it worked exactly the same and I was just as impressed by it!
I was both pleased and surprised that the pink coloring didn't cause clothing or sheets to stain or discolor, and think colored lube is pretty fun and interesting to use.  Perhaps another color will come out eventually?
Go, buy yourself some SPUNK Lube Pink, Hybrid, or Pure Silicone.  They're all great lubes and are worth trying out!  Pink is currently on sale, so make sure you check it out before they're back to being full price!

SPUNK Lube Pink was provided to me free of charge in exchange for an unbiased review.  This is in compliance with FTC guidelines.