SPUNK Lube Pure Silicone
Pros:
- Long lasting
- Glycerin and paraben free
- Never gets sticky
- No smell/taste
- Doesn't stain
- Safe to use with all materials
Cons:
- A little too thin
- Hard to clean off skin
Overall: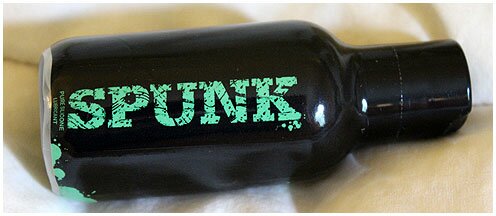 -Use-
Spunk Lube Pure Silicone is a multipurpose lubricant that's sure to add that all important element of comfort to your playtime.  Being silicone-based, it never gets sticky and doesn't dry out; two of the most important things we look for in a lube.  Nothing is more frustrating than needing to reapply mid-session, especially when you start to feel friction because the lube has become sticky or tacky.
Looking for the perfect lube for hand jobs and jerk off sessions?  This is the one to reach for!  It's incredibly slick and will last as long as you can.  Ladies, never fear, Pure Silicone will work for you as well!  One of the amazing things about this particular silicone lube, is that it's compatible with all toy material; even silicone toys.  Always test a small area prior to use, but there's little need to be concerned.
Solo play is great, but this lube can also be used during intercourse and is safe to use with condoms.  The biggest reason we love silicone lube is because of how great it is for anal sex.  I don't love being on the receiving end when it comes to back door play, but Pure Silicone makes it a much more pleasant experience for me.
The ingredients list is super short for this lube, and doesn't contain glycerin or parabens.  It seems unlikely that you would have a reaction to it, but if you do, thoroughly clean the area and discontinue use.
Ingredients: Dimethicone, Dimethiconol, Cylopentasiloxane, Cyclohexasiloxane
-Texture/Thickness-
Pure Silicone is completely smooth and very slick.  It doesn't feel greasy or oily on the skin, and doesn't have a heavy feeling to it.  That being said, it also doesn't absorb into the skin very easily.  Before you think that's a bad thing, keep in mind that if it absorbed easily you'd have to constantly reapply it to get the desired effect.  Having your skin coated with a layer of slippery liquid doesn't feel very natural, but works extremely well.  It's truly impressive how long this product lasts!
Unlike the Spunk Lube Hybrid, this one is totally clear and very thin which is a huge plus if you don't like the idea of your lube looking similar to cum.  It's obviously thicker than water, but it doesn't take long to run if you don't immediately rub it into place.  The image below shows how quickly it runs.  The photo on the right was taken only seconds after the one on the left; my camera wasn't focusing fast enough to capture it before it started running.

I prefer thicker lubes in general because it gives me more of a chance to rub it in, but it's a small thing for me to complain about considering how awesome this lube is in general.
When it comes time to clean up, it's going to take more than a dirty sock (guys, you know you've done it!) laying on your floor to totally remove it.  Using a wipe is helpful, but even that leaves your skin feeling a little less than normal.  Cleaning with soap and water works best, but it depends on your comfort level.  If you don't totally clean it off it doesn't get sticky, it just feels slick which can be a little odd (especially between your butt cheeks!).
Once cleaned it off, I've noticed that my skin feels really soft after.  I'm not sure if this is normal for a product like this, but it's another thing I enjoy about using this lube.  It never feels sticky, and doesn't dry out my skin.
-Taste/Smell-
Nothing distracts me more than a super loud toy and an odd smelling lubricant.  Fortunately, Pure Silicone has absolutely no smell to it.  Truly, nothing at all.  I think water has more of a smell than this lube!  I really love that about this product!  No smell also equals no taste.  If you happen to go down on your partner after you've used the lube, you'll only be tasting them!  I wouldn't recommend using this lube intentionally during oral play, but if you've used it and cleaned up, it certainly won't do any harm.
-Packaging-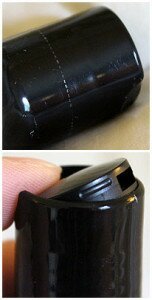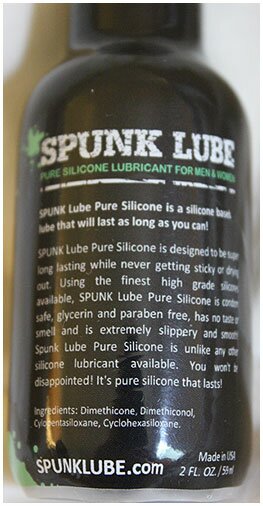 Pure Silicone is available in 2 oz and 8 oz bottles; giving you the choice of quantity or convenience.  When the 2 oz bottle arrives it's inside a plastic bag and has a seal that extends from the label and covers part of the cap.  There is a perforated line that goes around the cap, making the top part easy to remove.  Once you've removed this area, you'll see the cover.  It's black and is your basic press style cap.  It's very easy to use, even one handed.
The bottle itself is clear and is made from a soft plastic.  It's very easy to squeeze, so dispensing your lube isn't an issue, even if your hands are already slick from it.  When the cap is opened and the bottle is tipped upside done, a small amount will seep out of it.  It's important to keep the cap closed and bottle upright to make sure it doesn't leak.
The label on the bottle gives you the basic rundown of what the lube is and some of the great qualities it boasts and lists the ingredients.  If you need your bottle to be more discreet for whatever reason, the label can be removed, exposing only the clear plastic.
-Experience-
Whenever my husband sees silicone lube laying around he knows it means one thing, anal play.  I don't typical need lube during vaginal sex, and have a favorite go-to water-based for toy use.  Silicone in our house equals butt sex, plain and simple.
As stated before, anal sex is not my favorite sexual activity to participate in.  It's something I treat my husband to from time to time because it's never been enjoyable for me, and often times can be quite uncomfortable.  I've learned to relax more and am starting to embrace it, but that wouldn't be possible with the use of a good lube.  We started off our anal adventures with a water-based product because it was what we had on hand.  It never felt slick enough for me and I would end up hating every second of sex.  I read about others using silicone lube for anal play and decided to try it out.  This was a long time ago, and was with a different product, but I definitely noticed a difference with the experience.
Fast forward to little over a month ago.  I won a bottle of Spunk Lube Hybrid and fell in love with it!  I was so impressed with how it looked and felt and couldn't wait to try one of their other lubes.  I was offered the Pure Silicone and let my husband know he would get a treat to help me test out the lube, needless to say he was excited.
After playing together for a little while, we decided we were warmed up and ready to go.  He hadn't checked out the lube yet, and instantly mentioned how thin it was.  We are both used to thicker lubes, so it was a big difference for him.  Once we were covered in lube, he slipped inside of me.  I was really impressed with how smooth each thrust was.  Anal sex was comfortable to me which isn't something I normally feel.
We tried the lube in the shower and also had great results!  Even with water running onto us, the lube stayed right where it was supposed to and was a great experience.
I used this lube in a variety of other ways, but because of the slight hassle surrounding clean up, I prefer it solely for anal play.  I don't want to feel like I have to shower after every time I masturbate (I think we would probably run out of water…).  If it weren't so hard to clean off, I would use it far more often because of how long it lasts and how well it stays put.
Interesting in purchasing your own bottle of Pure Silicone?  You can by clicking the banner below!

SPUNK Lube was kind enough to provide me with this bottle of lube free of charge in exchange for an unbiased review.  This is in compliance with FTC guidelines.