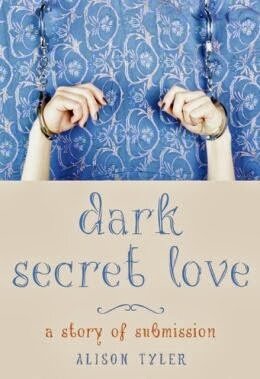 I have a confession to make, the first time I read an erotic novel was about a year ago.  Though my husband knows I'm a sexual person, and though we have a whole slew of sex toys, admitting that I was interested in reading erotica was something I almost felt ashamed about.  I'm not sure exactly what it was about it that made me feel so shy and nervous, but it took a lot of courage to tell my husband that I was interested in purchasing some.
Not knowing where to start, I went with what was in the spotlight at the moment; the Fifty Shades of Grey trilogy.  I flew through the first book, passed quickly through the second, and just couldn't stay interested in the third.  After all the hype, I figured I would be super impressed with it, but it lacked something and I couldn't quite put my finger on it.
After the disappointment surrounding them, I didn't touch another one until recently.  Cleis Press sent me The Ultimate Guide To Prostate Pleasure and included a catalog along with it so I could choose a few other books.  I was also asked if I had interest in reading Dark Secret Love, and to be honest, after reading what it was about, I wasn't totally sure it was right for me.  Fifty Shades kind of left a bad taste in my mouth and I was worried this book would as well, especially since I can't personally relate to a BDSM lifestyle.  I hadn't read anything from Alison Tyler before, but after seeing how many books she already had published, I figured it was worth a shot, especially since one of the key points was how much of her own story can be found with its page.
From the first sentence of the Introduction, I could tell this wasn't going to be like anything I'd read before.
Welcome to my world.  Have a seat.  Make yourself at home.
I'm about to tell you a story.
The introduction goes on to express that this novel is her story, "How much of my tale is real?  As much as I was able to give", that statement alone piqued my interest and I knew immediately that this book was going to be very different.
The more I read the more I felt like we were in some dimly lit corner of a cafe, comfortably sitting back, sipping my coffee and listening to her intimate experiences; totally unaware of our surroundings.  Might seem a little extreme, but I truly felt I was learning about her life, spoken from one friend to another.
Dark Secret Love is the story of Samantha, a young woman with a passion for writing and a sexual desire to match.  The character takes on a raw and real appearance, being easy to relate to even without having the same kinky desires.  From the start it's obvious what Sam needs, and while some men were able to immediately understand, others weren't so intuitive.  After leaving an oppressive three year relationship, you really start to see her blossom.  She's discovering herself, owning her pleasure, and freeing herself through the discipline she craves.  Sam encounters a few men who help her on along the journey, but it's someone unexpected who ends up understanding her best and is always a few steps ahead of her.
Alison Tyler keeps you interested, always wondering what might happen next.  The scenes are sexy, well written, and provide the reader with the perfect amount of detail to allow the story to come to life.  Whether you're in a Dom/Sub relationship, have fantasies about being in one, or simply appreciate well written erotica, Dark Secret Love is an excellent read!
As I watched the final pages thin, I couldn't understand how the story could end here; and it doesn't.  The Delicious Torment will be the next book in this series, and an excerpt is provided.  I was left wanting, and was pleased to see there will be other delicious pages to follow.
A little about the author:
Alison Tyler, "mistress of literary erotica," has mined her memoirs, spinning a kinky fairy tale with a happily-ever-after ending. Dark Secret Love is a modern-day Story of O, a 9 1/2 Weeks-style journey fueled by lust, longing and the search for true love. Inspired by her BDSM lifestyle and based on her private diaries, Tyler draws on her twenty-five years' experience penning sultry stories to create a scorchingly hot work of autobiographical fiction, a meta-novel with reality at the core.

Take a deep breath and get your safe word handy. Alison Tyler will push your boundaries to their limits—and have you begging for more.
Dark Secret Love is available for purchase through Cleis Press, and is also available on Amazon.com in Paperback, Kindle, and Audible editions.
Or, you could enter to win a paperback copy in my latest giveaway!
a Rafflecopter giveaway

Giveaway is open from Oct. 17 @ 12 am through Oct. 31 @ 12 am
This giveaway is open world wide and is sponsored by Cleis Press
Cleis Press is responsible for shipping the book once the winner is chosen
The winner will be emailed once the giveaway has ended and will have one week to respond before another is chosen
HUGE thank you to Cleis Press for sponsoring this giveaway!  Make sure you check out their website to see other books available.