My breasts have never been attractive to me.
When I was six years old I received my first training bra.  Being a chubby child and living in a home that required excessive modesty, my mother felt it necessary.  I remember it in detail, being white and having an illustrated hippo lifting weights on the front.  I only realize now how wrong that image was.
Once I hit puberty, my breasts started to truly develop.  Still, I was ashamed.  I watched my older sister fill out and blossom, while my breasts developed into different sizes.  No one ever discussed what was normal or not and I felt embarrassed by their lopsided appearance; just another part of my body to be insecure about.
At the age of 16, my first boyfriend fondled my breasts.  It was the first time anyone had touched me there apart from myself, and even then I avoided it apart from washing in the shower.  I felt guilty because of my beliefs at the time, and it took a long time for me to forgive myself for allowing it to happen.
My ex husband was the first man to see my bare breasts, and they never interested him much.  He made me feel as though he disapproved since he lacked any desire for them, and I was too young and shy to discuss it with him.  We were together for four years, and he only touched me there on a few occasions.
On October 19th, 2005 I found out I was pregnant with my first child.  As the months progressed I watched as my areolae changed from a soft pink to a darker brown and nearly doubled in size.  I was embarrassed by this change, and though I knew it was normal, I felt they were even uglier.  They no longer looked sweet and youthful, I felt like they were somehow tainted.  I tried to embrace this new development, tried to take it as another mark of motherhood, but it killed the little confidence I did have.
Around seven months into my pregnancy I started producing colostrum.  Watching this thick, yellow fluid leaking from my nipples was surprising, but gave me a sense of peace.  I had always planned on breastfeeding my baby and this was proof that my body had set the gears in motion to produce the milk my infant would be nourished by.
My daughter was a natural at nursing, and I found immense comfort in knowing my breasts were able to supply everything she needed for the first few months of her life.  I went on to nurse my first for 20 months, my second daughter for 18 months, and my third daughter for 11 months.  Being able to nurse my children was extremely important to me, and no matter how ugly I felt they were, I took immeasurable pride in knowing their nourishment was coming from me.
The color of my areolae did lighten up, and leveled into a light tan color once I was finished nursing, but having babies did a number to their shape.  How much my breasts sag bothers me all the time.  They're not large, they aren't weighed down, they're just exhausted and limp.  It often pains me to see them, wishing so badly my husband would be able to enjoy full, perky breasts, but I know that thought is just my insecurities shining through.
My husband does enjoy them, and since we've been together I've realized how much I enjoy nipple stimulation and the feel of his hands caressing them.  It's something I never knew before because I was too ashamed to explore and worse, to ask my ex husband to touch me there.
I've always had a negative view of how my breasts look, but the idea of losing them is terrifying.  I'll take my saggy, lopsided breasts and learn to love them, appreciate them, and work hard at letting go of the insecurities I have surrounding them.  Breast cancer is serious, and having a mastectomy is the smallest concern to someone battling breast cancer.  I admire the courage of those fighting, those who have lost their breast(s), and the loved ones who've watched this evil disease end the life of someone they cherished.
My breasts are far from perfect looking, but they're healthy, they're mine, and have served an amazing purpose.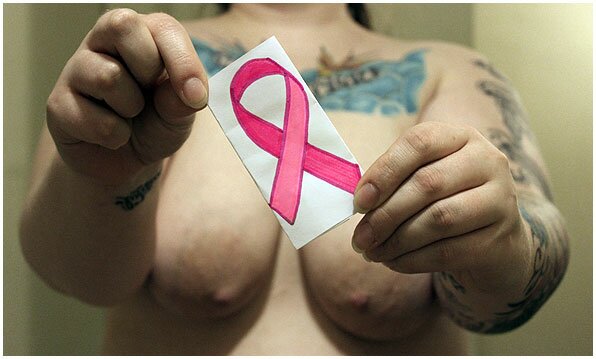 Whether you have a family history of breast cancer or not, make sure to get properly screened.  Early detection is key, and men aren't exempt.  To learn more about what breast cancer is, how it can be treated, or to donate to breast health services for women in need, visit the National Breast Cancer Foundation website.