Flash Mini Rabbit from Lovehoney
Pros:
- USB rechargeable
- Compact
- Discreet
- Waterproof
Cons:
- Weak
- Buzzy/numbing vibrations
- Uncomfortable 'ears' (in my experience)
- No travel lock
Overall: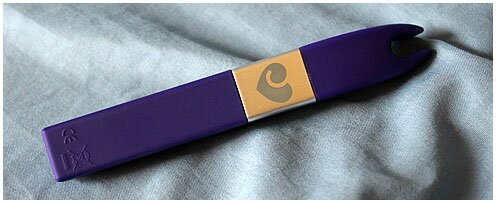 -Intro/Use-
The Flash Mini Rabbit from Lovehoney is a USB rechargeable vibrator.  This compact vibe looks totally innocent, making it a great choice for someone that requires discretion as well as a suitable travel companion for those that like taking a little 'friend' with them on the go.
The best quality of this toy has to be the overall design.  It's a great non-threatening toy for a beginner or a new partner, and is really simple to operate.  It can easily be used on your own, but becomes a great teasing toy in the hands of your partner.  The small tip works well at tickling the nipples, stimulating the clitoris, and teasing other erogenous areas of the body.  It's not limited to the female anatomy and could easily be used to stimulate male bodied individuals as well.
External stimulation is the name of the game when it comes to this vibrator.  Vaginal stimulation would be highly lacking because it's so small, and anal insertion would be dangerous since the toy could get easily lost inside your body.  There are plenty of other products that would better suit those activities, just keep this one outside of your body and you'll be all set.
Strange as it may sound considering the way this product recharges, this vibrator is waterproof.  There's a small rubber ring around the base of the USB area that prevents water from leaking inside the toy as long as the sides are properly connected.  This makes it not only simple to clean, but opens up even more opportunities in which it can be used.
-Material/Texture-
The Flash Mini Rabbit is made from ABS plastic and silicone.  Both materials are body safe, latex free, phthalate free, and non-porous.  The area that comes in contact with your body most is silicone, the internal parts and silver area are made from plastic.
The surface has no obvious texture, and really doesn't have much reason to.  The tip of the toy is where it goes against your body, and probably would have been a little uncomfortable had it been textured.  The silicone is matte and has a smoother feeling to it; sort of silky but still having a small amount of drag and a tendency to collect tiny duct particles.  There's an obvious seam that runs along both sides of the top and into the dip between the ears, but can't be felt during use.
The majority of the vibe is quite firm since the silicone area is more of a skin around the inner parts.  The ears at the top are the exception.  They have some flexibility to them, making it possible to surround your clit or nipples to provide vibrations from two sides, but are also firm enough to apply some pressure.

-Design/Size-
I had to laugh when I removed the Flash Mini Rabbit from it's package because it immediately reminded me of a faceless bunny rabbit.  It has the individual ears at the top, a straight body, and I couldn't help but see the power button as the little cotton tail.  Active imagination?  Perhaps, but that's all I can see when I look at it.
The silicone areas of the toy are all a deep purple, and the plastic band just above the center is silver and features the heart from the Lovehoney logo.  It's cute looking and certainly isn't immediately obvious that's it's a vibe.  With all the interesting flash drives available now, it could easily be mistake for one by almost anyone.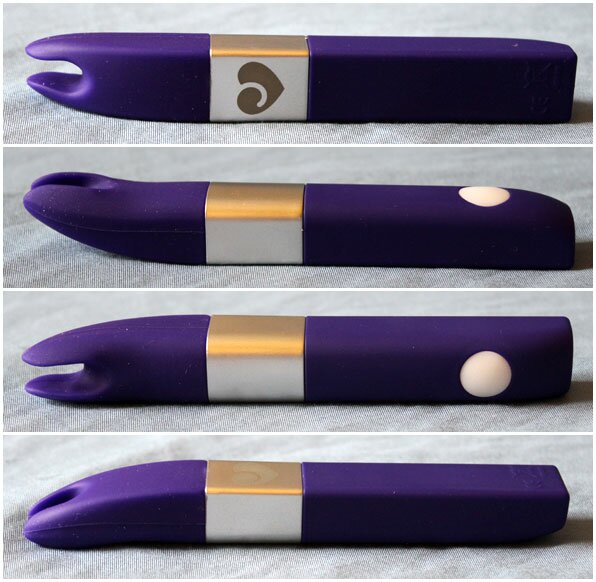 The small size makes this vibe easy to stash just about anywhere and will blend in easily with almost anything.  It wouldn't look out of place in a purse or makeup bag, and would fit in well with other flash drives right at your desk.  It's very unassuming and makes a great option for someone that requires discreet toys.  The full length is 4 3/4″ with the ears themselves being only 1/2″ in length.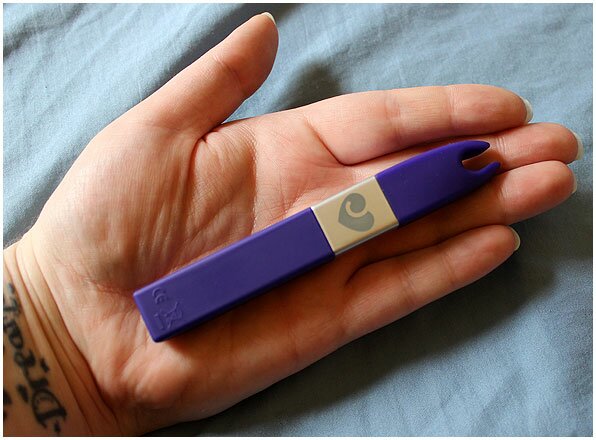 -Functions/Controls-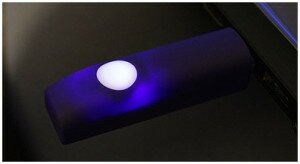 The Flash Mini Rabbit is USB rechargeable.  Rather than dealing with tangled cords, charging ports, or magnetic strength; the top of the vibes comes off and you simply stick the bottom directly into your USB port on your computer or wall charger.  When it first arrives it has a partial charge, but you'll want to plug it in and fully juice it up so it doesn't die in the middle of your first use.  When it's charging, a light will flash from behind the power button and when it stops, you know your vibe is fully charged.

The power button is located near the bottom on the back of the vibrator.  This button turns the toy on, changes the functions, and turns the toy off.  Each time you press it, you'll hear a little click and the button will illuminate for a moment.  After turning the toy on, you have six functions to cycle through; three steady speeds, and three patterns.  When you're ready to turn the toy off, you have to hold down the button for a few seconds.  When you turn the toy back on, it will start off on the last vibration pattern you were on prior to turning it off.
The patterns are:
Steady Low
Steady Medium
Steady High
Roller Coaster
Pulse
Three Quick Pulses, One Longer Pulse (repeat)
The vibrations are very buzzy and aren't very strong, which is always a bit of a let down for me.  While you'd assume the power would be centered in the tip of the vibe, it travels well through the whole toy, causing numb fingers as a result.  For this reason I say it's best used as a teasing toy, and not one you expect to easily get off with.
Though the type of vibration is a bit of a let down, the sound level is great.  With a little white noise you could probably use it in the same room as someone else without them even knowing, and no one from behind a close door would be able to hear you.  In this case, I would have preferred it to be a little louder if that meant the vibrations were stronger, but no such luck.
When fully charged you can expect to use the toy for up to 3 hours according to the paperwork.  I don't know anyone that would be able to do that, but it's good to know it will last through more than one session.  When the charge is getting low, a red light will flash behind the power button, letting you know it needs to be recharged.  I really appreciated this feature since it's always disappointing when a vibe dies while you're using it.
-Care-
Cleaning and caring for the vibe is really quite easy.  You should wipe it off before use (to remove any accumulated particles) and clean with antibacterial soap and warm water or your favorite sex toy cleaner after use.  Just make sure both sides of the vibe are properly in place to ensure no water gets inside the toy.  If you're sharing with someone else, you can sterilize the toy with a 10% bleach solution only.  Boiling it and placing in the dishwasher won't work since there are internal working parts.
It's recommended that you only use a water-based lubricant with this vibe since some silicone toys and silicone-based lubricants have a bad reaction to each other, potentially damaging the surface of the vibe.  Stick with water-based and you'll have nothing to worry about.
The Flash Mini Rabbit doesn't come with a storage pouch and the package wasn't made for long term use.  You could use a small toy pouch for storage or simply slip it into your purse or underwear drawer for safe keeping.
-Packaging-
Though it's not discreet, Lovehoney has some pretty cute packaging for their products.  The Flash Mini Rabbit arrives in a thin cardboard box that features a full colored image of the toy on the front and provides a good amount of information on the box itself.  Inside, the vibe is sealed inside a plastic bag and a small instruction paper is included that covers everything you need to know about the toy.  The box can be broken down and disposed of since it's not necessary to keep.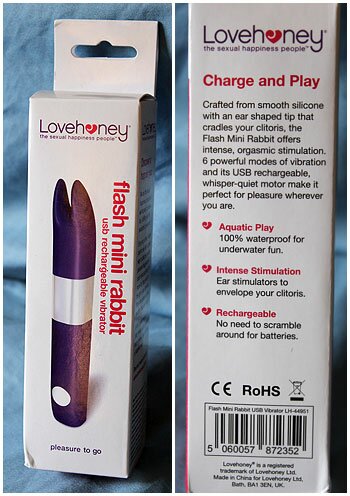 -Experience-
What interested me most about this vibe, were the little ears at the top and I was curious how they would work on either side of my clitoris.  My clit happens to be rather picky about the type of pleasure it receives and favors stimulation on one side and not the other.  I'm trying hard to change its mind and thought this little vibe would lend a helping hand.
I was quite surprised when I removed it from the package and saw just how small it really was.  I immediately thought it would be a great vibe to have on the go, tucked inside a purse or backpack for pleasure while you're outside the house, but wasn't so sure once I turned the toy on to test it out.
The vibrations are extremely buzzy and even holding onto it for a short time caused my fingers to tingle and go numb.  It's not a pleasant feeling and is one I'd rather avoid.  After fooling around with it a little bit, I decided it was time to truly test its worth.
When I placed it against my clit I immediately pulled it away, not realizing how firm those little ears really are.  I kept feeling like the ends were stabbing into me, even when I was trying to prevent them to, but it may have been my over sensitivity in that moment.  The tickle the vibrations provided felt nice for a moment, but was more of a tease than anything and left me wanting.  The only problem was, my clit was so numb I had a hard time getting off after using it.
I'd say this is a super cute little vibe for someone that's looking for a teasing toy, or is extremely sensitive to vibrations.  Everyone else is going to be let down by the weak power and buzzy sensations.  I loved the concept, appreciated the discreet design, but the power level isn't enough for me to use on a regular basis.
If you're interested in purchasing this the Flash Mini Rabbit or another product from Lovehoney, you can by clicking the banner below.

Flash Mini Rabbit was provided to me free of charge in exchange for an unbiased review.  This is in compliance with FTC guidelines.