The Hooded Nun from Fucking Sculptures
Pros:
- Handcrafted
- Unique design
- Color/size options
- High quality
- Excellent warranty
Cons:
- Slightly differs from product images (might bother some)
Overall: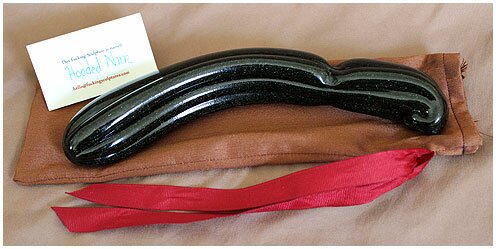 -Overview-
Fucking Sculptures is a fantastic company that hand-sculpts beautiful works of art for your sexual pleasure.  With over 20 years of glass blowing experience, it's no wonder every piece created is high quality and totally unique.  Lee, with the help of Maria, has created five incredible pleasure pieces; the Corkscrew, the G-Spoon, the Pussywillow, the Two-Cumber, and the Hooded Nun.  Most recently they've released a sixth dildo, Double Trouble, which famous porn star Courtney Trouble helped design.  Each piece created provides users with a unique experience, from smooth curves to amazing textures; there's a little something for almost everyone.
The Hooded Nun has a great shape that naturally stimulates while being comfortable to hold and easy to use.  Because each piece is made by hand, they all differ slightly; being similar to the product photo, but not an exact replica.  This truly makes your dildo a one of a kind piece of art.  The Hooded Nun, and all their products, are available in a variety of color and size options, providing each customer the opportunity to select something that's unique to their specific tastes.
-Intro/Use-
The Hooded Nun from Fucking Sculptures is a beautifully formed glass dildo.  Everything about it screams luxury; from the ergonomic shape to the amazing colors, this is truly a high quality work of art.
Best used vaginally, the design allows it to work with the shape of your body.  The elegant curves naturally connect with the G-spot while thrusting, and the firm material allows you to apply as little or as much pressure as you'd like.  Thrusting is comfortable since the piece fits so naturally in your hand during use, which makes your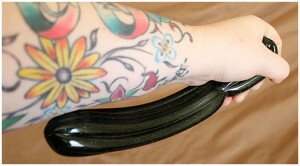 pleasure experience that much more enjoyable.  Each end of the dildo can be used for insertion which gives you two different ways to experience this piece.  Since they differ so much from each other, it's almost like having two dildos in one.  Your personal experience of this product will vary depending on anatomy and the specific shape of your Hooded Nun.
Like any glass toy, this one can be heated up or cooled down for temperature play.  To do this, gently place the piece in a bowl of warm or cold water for a few minutes.  You don't want to freeze the toy or put it in boiling water since this type of glass doesn't respond well to extreme temperature changes and you don't want to harm yourself.  As long as the change is gradual, you won't run into any problems.  Always test the glass on the inside of your wrist to make sure the temperature isn't too extreme.
Solo pleasure isn't the only way this dildo can be used.  Though it's not suitable for anal play (since it lacks a flared base) it can still be used by any gender.  If you're not using it on your partner vaginally (or having them use it on you), you can use it as a massage aid.  The glass glides easily when paired with massage oil and really helps relax sore and tight muscles.
-Material/Texture-
The Hooded Nun is made from soda-lime glass which many bottles and jars are made from.  It's a fantastic material because it can be softened or melted many times and is recyclable.  It's non-porous, body safe, latex free, and phthalate free; just like all glass.  Unlike borosilicate glass (which many adult products are made of), soda-lime glass doesn't handle extreme temperature change well, so keep that in mind if you're used to other glass dildos.  You can't boil to sterilize, but the website says you can safely clean it in your dishwasher.  For regular cleaning you can use warm water and soap or your favorite toy cleaner, and you can also use a 10% bleach solution to sterilize.  I need to pay extra attention when cleaning my dildo because the texture allows places for lube and bodily fluids to hide.  Using a soft bristled tooth brush helps get into any small areas your dildo might have.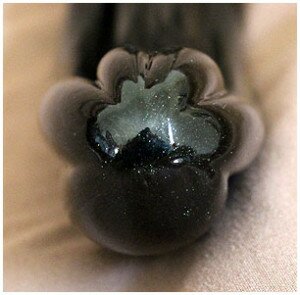 The surface of the glass is really smooth and glides easily across the skin.  All lube is compatible with this material and a little goes a long way.  Be careful handling if you've gotten lube on your hands because it becomes very slick and could slip from your grasp.
Though the surface is smooth, the overall design is not.  My Hooded Nun features one large bulge that makes up the back of the piece, and four that make up the front.  These bulges go up the full length of the dildo.  The texture isn't at all extreme, it's enough to be noticed, but subtle enough that it shouldn't bother those that are opposed to texture.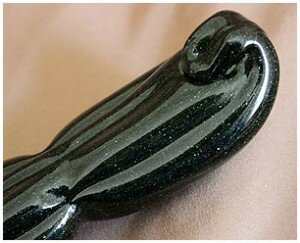 The opposite end has a different texture thanks to the way the piece was formed.  This end offers an extra nub that might help connect better with the G-spot during use.  Your piece might not have the same folded tip mine does, in fact, the product images on the website show it sticking out rather than being pressed down.  I found the texture of this side to be far more obvious when inserted.  I think it would work really well for those that like more targeted G-spot stimulation, but I preferred the simplicity of the opposite end.
-Design/Size-
The Hooded Nun is available in five color options (White, Black, Red, Gold, and Green) and is available in sizes Small, Medium, and Large.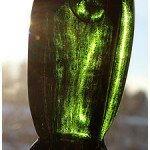 When my Fucking Sculpture arrived I was in total awe.  Green is my favorite color and this piece totally exceeded my expectations.  The green is deep and dark and has this amazing glitter-like shimmer within it.  The light picks up every little sparkle, making it look magical and eye catching.  But when you hold it up to the light, it takes on a whole new appearance.  The glitter fades away and it looks like the glass has been delicately painted using short brush strokes.  This is art, plain and simple.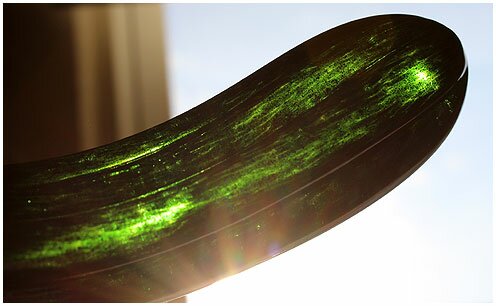 The design of the dildo was obviously created with pleasure in mind.  The curved shaft and gentle texture are evidence of that fact.  My Hooded Nun features a pinched area about 3″ from the end.  This acts as the perfect handle, making pleasure effortless despite the weight of the glass.  The bottom half of the dildo actually has a similar appearance to zucchini as far as the shape goes, though I don't believe that was the intention (perhaps the color adds to that look).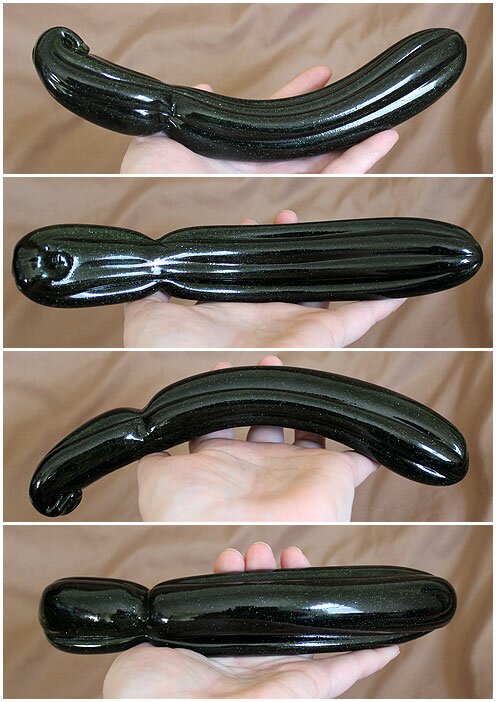 With three different size options available, the Hooded Nun should be suitable for most experience levels and preferences.  The website itself says:
"Length is most important to our lovely customers with larger bodies. The longer handles will make your experience easier and more pleasurable. For our more petite customers the choice is yours- the smaller ones will probably provide enough handle and enough length to still fully enjoy yourself. However, feel free to select a longer model as well. Your body will accept as much as it wants to. You'll know what feels good."
Being a larger bodied person, I really appreciated that this was considered.  Too many companies don't seem to consider how important length is in order for a larger person to comfortably pleasure themselves.  That being said, you also need to take into consideration the girth.  Here's what they have to say about it:
"Here is where we will remind you of the stability and hardness of glass. Don't go too big! Too big = no fun. That said we have found that widths of 2-2.5" are totally manageable for those folks with smaller vaginal entrances. So don't be too nervous about this aspect, just be aware of the realities of dense matter."
Naturally, I chose the largest size because I require length and enjoy toys that are on the girthy side.  I was really impressed with how easy it was to use the dildo while laying on my back.  I was totally comfortable, didn't have to lay in an uncomfortable position, and my arm didn't even get tired.  The shape and size of the dildo were made for me, and I couldn't be more pleased with my experience.
No matter which size you choose, there will be some minor differences.  My large is 9 1/2″ across (tip to tip, not along the curve).  The thickest area is 5 1/2″ in circumference and the thinnest (apart from the pinched area) is 4 1/4″ around.  Expect some difference with each piece.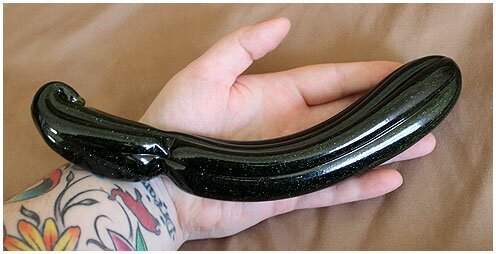 -Packaging-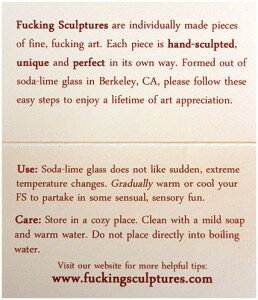 The Hooded Nun, and all Fucking Sculptures, arrive inside a handmade pouch that fits your toy perfectly.  It's not padded in any way, so you'll still need to use caution when storing the toy, but the surface is protected against scratches and other surface damage.  Along with it is a care and use card that gives you the basic rundown of the product and provides their website at the bottom.  Though it's not stated on the card itself, the website has an amazing Lifetime Warranty for your Fucking Sculpture.  Should you break your piece or consider it unsafe to use, they'll replace it with a similar piece for free (apart from shipping).  This is a one time offer, but is huge!  How many companies offer that kind of warranty?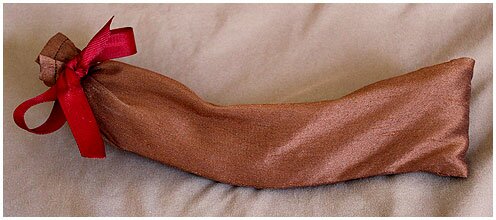 -Experience-
Being a creative person, I see artisan companies and am immediately drawn to them.  There's just something about knowing every piece is made by hand and is entirely unique that piques my interest.  The time, skill, creativity, and passion that gets put into every piece sculpted is truly impressive and Fucking Sculptures has completely earned my respect as a result.
The Hooded Nun exceeded my expectations in every way possible.  From the shape to the color to the way it preforms, I couldn't be more impressed.  I've never held a dildo that fit so naturally in my hand and with my body.  That tends to be a challenge for me because I'm a larger woman, but Fucking Sculptures took care of me in that way.
If you're looking for a unique product that you can customize to fit your needs and tastes, chances are Fucking Sculptures has something for you.  If the Hooded Nun doesn't look like the right product for you, there are five other options to choose from.
Once you've held one of their gorgeous dildos, you'll understand why hand-sculpted pieces are worth the investment!

The Hooded Nun was provided to me free of charge in exchange for an unbiased review.  This is in compliance with FTC guidelines.