Beaded Tweezer Clit Clamp by Spartacus
Pros:
- Attractive
- Discreet/Compact
- Adjustable
- Color options
Cons:
- Difficult to clamp on your own
- OUCH (could be a pro)
- Gets in the way during certain activities
Overall: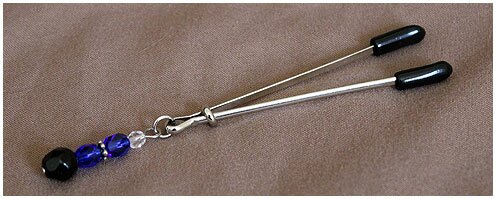 -Overview-
This clit clamp is quite simple, but absolutely beautiful thanks to the faceted beads that dangle from the bottom.  Being fully adjustable, it works well for a variety of clit sizes, and can fit your specific mood.  Whether you're looking for a simple decoration, interested in gaining sensitivity, or you're disparate for a powerful bite, this clamp does it all.  That being said, it's far from being perfect.  The biggest issue is how challenging it can be to get it in place using only two hands.  With a partner, it's easy, but sliding the bar while you're trying not to clamp it too tight can be a painful and frustrating experience.  If you expect to typically have a hand getting it in place, this is an excellent piece, but if you expect to use it on your own, be prepared for a challenge.
-Intro/Use-
Beaded Tweezer Clit Clamp from Spartacus is designed to pinch or clamp down on your clit and other sensitive areas of your body.  Some will experience heightened sensitivity as a result, and that's the primary goal of this clamp, but others might be looking for a more extreme sensation.  The bite is definitely worse than its bark when it comes to this piece, and it's sure to satisfy those who need something more intense.
While the primary use for the clamp is on the clitoris, you can also use it on other areas of the body; the labia,

scrotum, nipples, etc.  It's small so works best on smaller areas, but use your imagination.
The sensation isn't the only reason you can use this piece.  It's can also be used to entice your partner.  While it doesn't work well underneath clothing for long periods of time (due to the length), you could easily slip on some lingerie and the clamp, treating it like an accessory to your outfit.
In order to keep it in place, you have to adjust the clamp so that it's fairly tight.  If the idea of discomfort to your clit sounds unappealing, this might not be the right product for you.  It can feel intense pretty fast if you're not used to this kind of sensation.  It's inexpensive enough that an adventurous beginner shouldn't hold themselves back, but if you don't like the idea of anything pinching your clit, you might want to find an alternative use or avoid it altogether.
-Material/Texture-
The Beaded Tweezer Clit Clamp is made from three different materials; rubber tips, metal tweezers, and plastic beads.  The website doesn't specify what type of metal is used, so if you have certain sensitivities, make sure to discontinue use should an issue arise.  Each element is easy to clean and can be washed in warm water with antibacterial soap and towel dried.  To prevent the metal from rusting, make sure you thoroughly dry it after cleaning.  The rubber tips are removable, but since the material is porous, there isn't a safe way to sterilize them for sharing.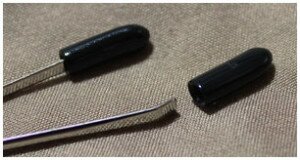 The surface of both the rubber tips and metal tweezers aren't textured.  The rubber does have some drag to it which is great in this case because it stays in place more easily and does offer some cushion, which is a good thing because the tip of the tweezers would be very extreme without it.  The beads themselves are faceted, but their texture doesn't really effect how the product is used.
The design of the tweezers makes them easily pinch together and open up without worrying about the metal bending or anything getting damaged.  The flexibility and range of sizes makes it work for the majority of users.
-Design/Size-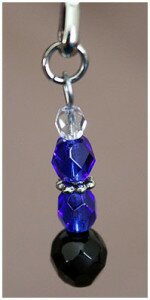 The Beaded Tweezer Clit Clamp is available in five color options (for the beads) and at least one should appeal to just about anyone.   The colors are red, pink, purple, blue, and black.  The metal is silver for each, other than the black beaded one which also has black painted metal.  There are a total of five beads on each clamp; a small clear one, two medium sized colored ones, a thin silver bead that separates the colored ones, and a black bead at the base.  The only change in the other options available are the colored ones themselves.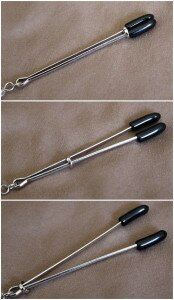 The way this clamp was designed makes it a one size fits most item.  Surrounding both sides of the tweezers is a little metal ring that slides toward the tip to clamp them down, and toward the bottom to open them up.  You can have it as tight as you'd like, but will fall off if you don't have it tight enough.  When in your hands it's quite simple to move the ring up and down, but can be a challenge when you're trying to carefully clamp it onto your clitoris or other sensitive area of the body.  It's much easier with a second set of hands, but is possible without them.
The overall look of the clamp isn't aggressive.  It's pretty cute and would easily blend in with other jewelry.  Not only that, but it's super small so it doesn't require much space and can easily be tucked away and out of sight.  It doesn't come with storage apart from the package, but it's not really necessary either.  Just store it in an area where it won't be exposed to moisture or be roughed around or lost.
The full length of the piece is 4″, 2 3/4″ of that make up the tweezers alone.  The rubber tips cover 1/2″ of the metal and should be a comfortable length for most.  The clamp can be opened to 1/2″ which might not seem like a lot, but should accommodate most sizes, whether you're already engorged or not.  It will close completely when the ring is pulled to the end.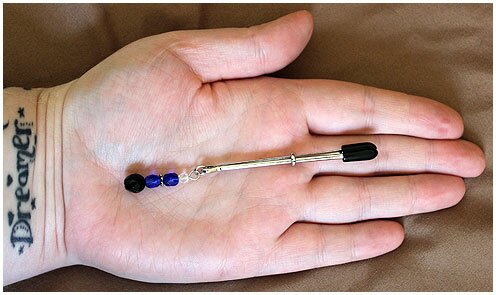 -Packaging-
The Beaded Tweezer Clit Clamp arrives in a package that immediately gives away what it contains.  The front has a clear plastic window which displays the clamp within, and the text boldly states what it is.  When you open the box, a cardboard piece slides out.  The clamp is attached to a tab that extends from it simply by being clamped to it.  This should give you an idea of how tight it really can get.  The packaging doesn't contain much information and none is included within, but it's pretty self explanatory.  They did state on the package that the beads are glass, but that's false.  Beautiful as they are, they're clearly plastic.  The package isn't great for long term storage, so you can break it down an dispose of it.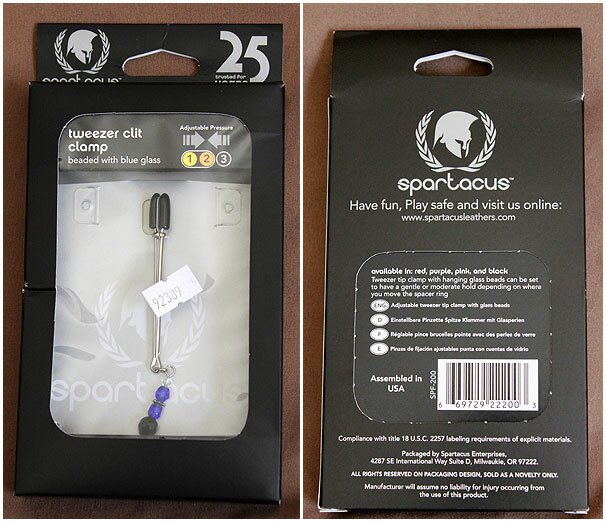 -Experience-
I've used a variety of nipple clamps and while they can also be used elsewhere, it's something I've just never done. I'm not even sure why because I had a lot of interest in this clamp as soon as I saw it.  It was cute, I loved the faceted beads, and I was sure it would be really fun to use.
Well, I can say that they're beautiful, but fun to use?  Not as much.
The first time I tried putting this on, I hurt myself.  I was trying to spread my labia to get to my clit, tried sliding the adjustable ring, things were slippery, and as you can imagine the results were not favorable.  When I finally had it in place, I was so uncomfortable I wanted to throw it across the room.  I knew it was my own fault, but how was I supposed to show off to my husband if I couldn't put the darn thing on myself?
Having a hand does make it easier, but if your partner is the one adjusting it for you, don't be surprised if they make it too loose/tight too.  If possible, have them spread your labia for you while you do the adjusting, everyone will be much happier that way.
When I was finally able to put it in place without wanting to throw the darn thing away, I wasn't overly exciting about the sensation.  Clamping my clit is just not my thing.  I felt like it got in the way, didn't heighten my sensitivity like I had hoped (could just be because I was a little scared after my first experience), and just wasn't what I had hoped it would be.
It's a fun little piece, but you have to be careful when you're adjusting it.  If you're experiencing pain (that you're not trying for), stop using it.  Pay attention to the way your body is reacting and follow how you feel.  I was a total beginner with clit clamping and didn't have the best experience, but yours may be different.  I think if I hadn't hurt myself in the first place I would have ended up enjoying it more.  However, since my clit goes into hiding like a turtle in its shell when I even think about how this felt for me the first time, I won't be using it again.  Use caution, if your clit isn't easily exposed, get your partner to help you out.  It's worth having the extra hands!
The Beaded Tweezer Clit Clamp and other clamps can be found at UberKinky by clicking the banner below.

The Beaded Tweezer Clit Clamp was provided to be free of charge in exchange for an unbiased review.  This is in compliance with FTC guidelines.