Enchanted Thrusting Ellie by Cal Exotics
Pros:
- Cute design
- Multi-function
- Easy to use/understand
- Waterproof
Cons:
- Big rotation issues
- Somewhat porous material
- Doesn't thrust well
- Expensive
Overall:



-Intro/Use-
Enchanted Thrusting Ellie from the Enchanted line by Cal Exotics is a dual stimulating vibrator, often referred to as a 'rabbit' vibe.  This type of toy is primarily designed for women to use for simultaneous stimulation of both internal and external pleasure zones, without needing to use two separate toys.
For solo use, this vibrator style is wonderful since you don't need to exhaust both your arms, and can even use it hands free by inserting the shaft, and holding your legs together.  The straightforward controls keep it easy to use and understand which makes it simple for a partner to use on you as well.  Though the material has some give to it, be careful with thrusting with it since the clitoral arm could hit hard and cause some discomfort.
The clitoral arm acts as a base and is safe to be used anally, but isn't a great option for a few reasons.  The material itself is somewhat porous, so you would need to use a condom over the insertable portion of the toy since it can't be fully sterilized.  The other reason is the way the clitoral arm is designed.  It might cause discomfort to the perineum since it doesn't have a lot of flex to it.  There are many other, safe options for anal use if that's what you're interested in.
Thanks to a rubber o-ring around the base of the battery compartment, you can take the vibe with you into the tub or shower, and it makes cleaning the toy much easier.  Just make sure the cap is properly closed and no water will leak inside the toy.
-Material/Texture-
The Enchanted Thrusting Ellie is made from  TPE, ABS plastic, and Stainless Steel beads.  TPE is the clear material that covers the areas of the vibe that comes in contact with your body most.  It's not a non-porous material, but it's much safer than jelly which many rabbit vibes are made from, and is latex free and phthalate free.  It's important to always use a condom if you plan on sharing with someone else, since there's no way to sterilize the material.
The surface of the toy feels very rubbery, which is common considering the material type.  It doesn't glide smoothly across the skin, but has a lot drag and also picks up a lot of small dust and lint particles.  A little lubricant applied to both the clitoral arm and shaft with help it slide in nice and smoothly.
The TPE has some give to it which is most obvious in the 'head' of the toy, and provides a little cushion around the hard internal parts.   The clitoral arm is very soft and pliable, but still provides nice pressure where you need it most.  It does flex upward, helping it fit better, and doesn't clamp down when everything is lined up.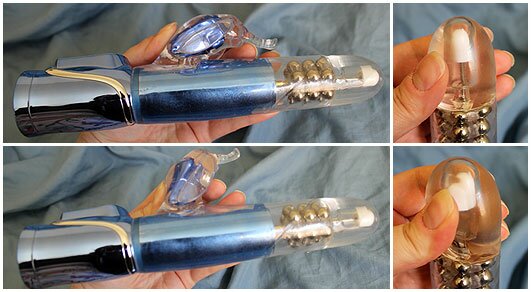 -Design/Size-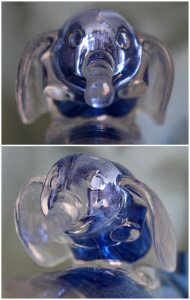 The Enchanted Thrusting Ellie has very familiar features to it if you've ever seen a rabbit vibrator before; having a partially clear shaft with beads underneath, a clitoral arm, and a plastic base where the battery compartment and buttons are located.  The shaft itself is somewhat phallic in shape, but isn't overly realistic in general.  
The external stimulator is unlike any I've ever seen before.  It is animal shaped, but rather than being a rabbit like you'd typically see, this one features a cute little elephant.  It's angled upward, standing on its back legs only, almost looking like it's lunging forward.  The attention to detail is amazing, the trunk wrinkles and face, ears, and even the front set of legs underneath.  It's a nice change from the common animals you see, and is pretty adorable, which might bother some that don't care for 'animal' shaped toys.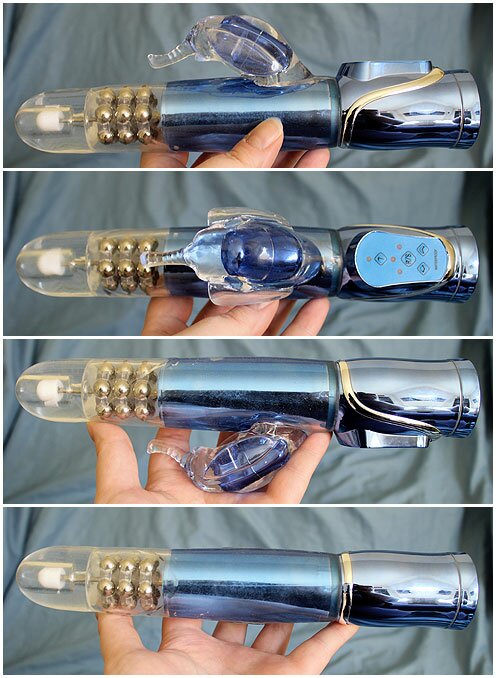 The size immediately looks intimidating, but a good portion is because the battery compartment makes up so much of the length.  The full size is 10 1/4″ long, but only 5″ is insertable.  The elephant, measuring from where it's connected to the shaft to the tip of the trunk, is 2 1/4″ long and should be suitable for most users.  The girth is a bit much for a beginner or someone that prefers smaller toys.  It's 5 1/8″ in circumference at the widest point, but is only 4 1/2″ at the tip.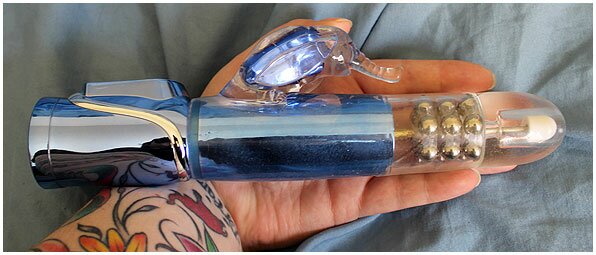 -Functions/Controls-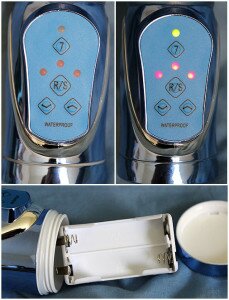 The Enchanted Thrusting Ellie requires four AA batteries in order to function.  The base of the toy unscrews and a white tray slides out.  It's properly marked to show exactly how the batteries should be inserted and is very easy to understand.  Make sure the metal pieces on the bottom of the tray match up with the metal pieces inside the battery compartment and you're good to go!  Make sure you screw the cap on well and you're ready to turn the toy on.
Inside the toy are two motors, one that controls the rotation, and one that controls the vibration.  They are totally separate which means the vibrations can only be felt in the clitoral arm and the rotation/thrusting can only be felt in the shaft.
There are a total of four buttons on the toy, and four light indicators.  One controls the vibrations of the clitoral arm (the 7 and light above it), and three that work with the rotation of the shaft.  The internal and external stimulators are controlled separately, meaning you can have only external stimulation, only internal, or both at the same time.
The rotation:
To turn on the rotation, you have to press the up arrow which brings you to your first rotation speed.  There are a total of three speeds and continuing to press the up arrow will make it go faster.  The (R/S) button changes the rotational direction; it will pause for a brief moment, and then spin the opposite way.  If the rotation is too fast, you press the down arrow, and turn it off my pressing down until the lights turn off and the rotation stops.
Along with the rotation is a slight thrusting action.  Now, before you think this is similar in anyway to the Fun Factory Stronic line, think again.  The white plastic piece inside the shaft lightly moves up and down against the tip as the three rows of beads also move up and down in sync.  The action can hardly be felt in your hands, it lacks that much.
The rotation isn't very fast, even on the highest setting, and there really isn't a lot of difference between the three speeds.  The sound level is a little annoying and might be a distraction during use.  With the door closed, the rotation might be heard if there's no other sound in the house, but adding some white noise would cover it up fairly well.
The vibration:
When you press the 7 button once, you turn on the first vibration setting of the clitoral arm.  Naturally, there are a total of seven patterns (which is obvious based on the button being labeled '7′), and the light indicator changes color and switches from steady to blinking depending on the setting.  When you're ready to turn it off, hold the button down for a few seconds, continuing to press it will only result in cycling through the patterns again.
The vibration patterns are:
Steady Low
Steady Medium
Steady High
Escalating Pulse
Pulse
Quick Pulse
Three Quick Pulse to Steady (repeat)
There's some variety, but they mostly stuck with either steady or pulsing patterns which might seem lacking to some.  The vibrations are decent, but are on the buzzy side, which is always disappointing for those of us that crave deep, rumbly vibes.  It should work for those that are a little more sensitive, because there's some power there, but power queens will feel let down by it.
Even on the highest setting, the noise level is quite modest.  While someone in the same room with you would be able to hear it (without any other noise), no one outside of your closed door would know what you're doing.  It's totally safe to use the vibrations with someone else in your home, but you might want to wait on the rotation for when you're totally alone.
-Care-
Before and after each use, the Enchanted Thrusting Ellie should be cleaned.  You can easily wash it in the sink with antibacterial soap and warm water, or your favorite sex toy cleaner.  There's no way to sterilize this particular material, so it's important to use a condom if you must share with someone else, but is smarter to keep this one to yourself.
Both water-based and silicone-based lubes are safe to use with this toy, and a little goes a long way.  If you plan on using other toys during the same session, pay attention to material differences since silicone toys don't always get along with silicone-based lubes.
The only storage option with this toy is the cheap plastic packaging.  In order to avoid potential surface damage, it's important to keep it away from other toys and inside a bag or pouch.  A gallon sized Ziploc works well if you have nothing else.
-Packaging-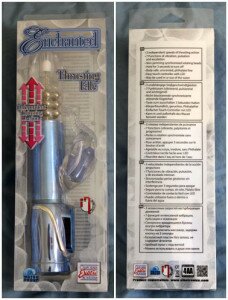 Your 'rabbit' will arrive in a thin plastic package that proudly displays the product through a clear window on the front and one side.  It has a bunch of scattered information on the front, sides, and bottom, but the back features the key points in five different languages.  It's not discreet, and though there's no nudity on it, isn't very tasteful either.
The top easily opens and a thin plastic tray slides out that contains the toy.  It's not at all important to keep the package and it wasn't made to last anyway.  If it does happen to break on you (like mine did) be very careful because the plastic is quite sharp and could cut you or your toy.  As long as you have another storage option for the toy, you can dispose of it as you normally would plastic items.
-Experience-
The Enchanted Thrusting Ellie had me curious because I had never used a rabbit that could rotate and thrust, so I was anxious to give this one a try.  I thought the blue coloring was a nice change, as was the elephant shaped stimulator, though I would prefer my vibes not having an animal shape in general, and was anxious to put it to use.
It felt good and solid in my hands, and knowing it ran on four AA batteries gave me the impression that it would be nice and powerful.  When I popped the batteries in and tested it out, I was immediately surprised that the vibrations were decent (though buzzy), and couldn't wait to try out the rotation and thrusting action.  In my hands it seemed okay, but I was ready to really see what it was all about.
I often have issues with clitoral arms on rabbits not reaching my clit properly because it's a little far away, but the trunk reached without an issue.  I started with the vibrations and while they felt good, it was more of a tease than anything.  After cycling through the vibrations, I decided to try out the internal functions.
Or at least, I thought I would.
I turned on the rotation and nothing happened so I pulled it out and pressed the button before inserting it.  The rotation was going, but only when it was outside of my body.  I upped the power and the second setting wouldn't work either.  On the final setting, the rotation would work, but even the tiniest squeeze of my muscles would make them stop.  I contract those muscles while I'm masturbating a lot because it feels good, so this wasn't going to work for me at all.
If the rotation had more power behind it, this wouldn't have necessarily been an issue, but as it stands, I couldn't even test out how it was internally because it wouldn't work inside my body.  I was extremely disappointed in this toy as a result.  What good is a rabbit vibe if the internal portion is useless to me?
Your experience with this toy might be different than mine, but as it stands, I can't recommend spending the money on this one.  It's expensive for the lack of power and anyone who has strong muscles will run into the same problem I did.  If you're still interested in purchasing this toy, you can find it at amazon.com by clicking the banner below.


Enchanted Thrusting Ellie was provided to me free of charge in exchange for an unbiased review through the Cal Exotics Sexpert Program.  This is in compliance with FTC guidelines.