Bnaughty Deluxe from B Swish
Pros:
- Made from safe materials
- Variety in function
- Easy to use
- Quiet
- Compact
- Comes with storage
Cons:
- Buzzy/Could be stronger
- Corded (which isn't a huge deal)
- A bit pricey
Overall:



-Intro/Use-
Bnaughty Deluxe from B Swish is a corded classic bullet style vibrator that's designed for external pleasure.  This straightforward vibrator is both comfortable and easy to use, making it a great non-threatening choice for a beginner or to introduce toys to a new partner.
Solo play is simple because the bullet tucks easily against your clitoris, providing a mostly hands free session, or you can hold the end as you run it across other erogenous areas of your body (nipples, penis, testicles, perineum, etc.).  The lighter vibrations are excellent for teasing and can be used on any gender, in any situation.  The cord is a great length whether you're playing on your own or with a partner.  It's long enough to get the job done, without being so long you get tangled up in it.
Corded vibes like this aren't meant for internal use.  The cord isn't designed to withstand abuse (through being tugged on), and you could potentially cause the vibrator to no longer function.  Both vaginal and anal insertion is off limits, especially when you take into consideration that the bullet could potentially become lost inside your body if it becomes detached during anal play.  Keep it external and you'll have nothing to worry about.
Thanks to the battery cap design, you can use this toy in and out of the tub or shower without worrying about water leaking inside the toy.  It also makes cleanup a breeze since there's no need to use caution when you're washing it as long as the cap is properly in place.
-Material/Texture-
Bnaughty Deluxe is made from ABS plastic (for the controller) and silicone (for the external area of the bullet and cord).  Both materials are non-porous, latex free, phthalate free, and totally body safe.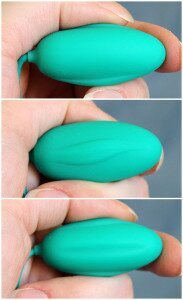 The controller itself has a shiny top, and a matte bottom, making it attractive to look at while remaining easy to hold.  The power button is silky smooth and is slightly raised, making it easy to locate even when it's dark.  The cord is on the shiny side and has a light drag to it, but it's not something that poses a problem during use, and doesn't attract any dust or lint.  The business end of the vibe, the bullet, is silky smooth feeling, glides easily across the skin (even without any lubricant), and doesn't attract any particles.
The bullet itself is firm and has a few areas of texture that provide a little variety during use.  One area is totally smooth, the opposite side has a little dip about 1 1/4″ long, and the two other areas have a raised swirl pattern to them.  While it might not seem like much, the variety of texture can be a nice touch during your play time.
-Design/Size-
Available in Black, Deep Rose, and Emerald, Bnaughy Deluxe has great color options that just about anyone should find appealing.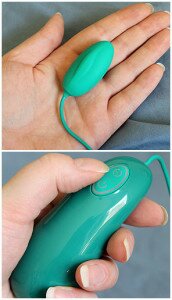 The design of the Bnaughty Deluxe must have been seriously planned out.  The ergonomic shape of the controller makes it comfortable and easy to hold, no matter how long your session lasts, and the texture of the bullet makes it easy to grip, even after applying lube.
The controller itself reminds me of a stretched out computer mouse, having a rounded bottom that would rest in the bottom on your palm, and the power and function buttons right at your fingertips.  The cord comes out from the smaller end of the controller and goes into one end of the bullet.  The bullet itself has an oval appearance and is much smaller than your standard egg style vibrator.
The controller is 4″ long and 1 3/4″ at the widest point.  The shape narrows to a smaller area which is part of the reason it fits so nicely in your hand.  The cord length is 22″ which might seem like a lot, but it's a great length that allows you to be comfortable during use without having to worry about your positions due to the cord.  The bullet itself is 2″ long and 7/8″ in diameter.  The sleek design makes it great for more targeted areas.

-Controls/Functions-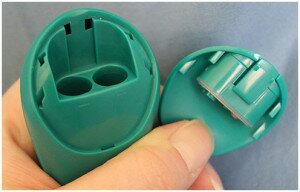 Bnaughty Deluxe is powered by two AAA batteries which aren't included.  The battery compartment is designed a little differently than some.  You have to lift the little tab, and then slide the cap off.  The inside is clearly marked, showing you which way to insert the batteries.  Once they're in place, slide the cap back on and when you hear a little click, you know it's properly closed.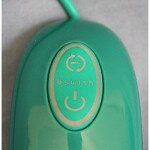 The power and function button are both located on the top of the controller in an oval shaped area.  Though it looks like one button because of the design, it actually has two distinct sides; the bottom is the power button, and the top controls the functions of the toy.  Between the two sides is the company name, and each button is plainly marked so there's no confusion.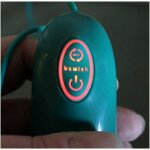 When you're ready to turn the toy on, you must press the power button first.  If you press the function button first, nothing will happen.  Once turned on, the buttons are back lit with a red light.  It lights up so bright you can easily see each button in a totally dark room.  The vibrations don't start just because it's on, you have to then press the function button in order to start the vibration settings.
There are a total of six different vibration settings.  One press of the function button will bring you to the first, and each press after that will take you to the next.  Since there's a separate power button, you'll just continue cycling through the patterns.  You have to press the power button in order to turn it off.
The vibration patterns are:
Steady Low
Steady Medium
Steady High
Escalating Pulse to Steady
Pulse
Quick Pulse
The best thing about having a corded bullet is the fact that the controller doesn't vibrate, and won't numb your hand.  The vibrations are solely in the bullet and don't travel into the cord or anywhere else.  Your fingers might feel a little numb after holding onto the bullet as it vibrates, but it's not too bad.
The vibrations are on the buzzy side, but are a little deeper than some.  It's not so buzzy that it numbs you, but it turns it into more of a teasing toy than one to use for the main event, though that will vary depending on how sensitive you are.
The noise level is super modest, making it a wonderful choice if you have roommates or need toys to be sound discreet.  On the highest setting, you wouldn't be able to hear it through a closed door, but might if you were in the same room with someone else.  A little white noise would easily eliminate that.
-Care-
For regular use, Bnaughty Deluxe can be cleaned using antibacterial soap and warm water or your favorite sex toy cleaner.  Because it's waterproof, you can easily clean your toy without worrying about water leaking inside of it.  If you're sharing with someone else or want to sterilize it for any reason, you can clean it using a 10% bleach solution.  Though it's silicone, you can't boil it or put it inside the dishwasher because of the internal parts.
Being made from silicone, it's best to use only a water-based lubricant with the toy, if you even find it necessary.  Other types could potentially cause the surface to degrade, making your toy unusable.
When you're ready to store the toy, make sure you remove the batteries first.  There's no way to lock the buttons, so it could accidentally turn on if the batteries are left inside.  Included with your Bnaughty Deluxe, is a black storage pouch.  It comfortably holds the toy inside, protecting it from surface damage.

-Packaging-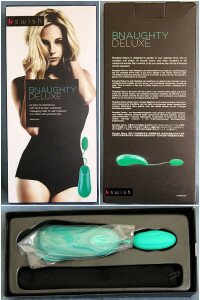 The Bnaughty Deluxe arrives in a thin cardboard box that has an image of a woman on the front along with a smaller image of the toy and some information about the product.  There's no nudity, but the woman is featured in a seductive way.  The back of the package has a little more information about the toy and is stated in several different languages.  When you open the top of the package, you pull out a small plastic tray where the toy and pouch are resting.  The tray is molded so the toy can't fall out of it, not that there would be room in the packaging to do so anyway.
Since  the toy comes with a pouch and an instruction booklet is included, it's really not necessary to hold onto the box.  It can be broken down and disposed of as you normally would cardboard and plastic items.
-Experience-
I've had my eye on many of the B Swish products, but this is the first vibe I've had the chance to test out.  When it arrived, I was immediately impressed with the quality of the toy.  The controller feels a little cheap (which is common with plastic), but everything else seemed really nice.
Knowing this toy takes AAA batteries, I didn't have high hopes that it would blow me away, even though their website boasts about how powerful it is.  Once the batteries were inserted, I turned the toy on to feel the vibrations with my hands alone.  I could tell the vibrations were buzzy, and though it was a little more powerful than I was expecting, it certainly doesn't live up to what the website states.
In use, I thought it was an excellent teasing toy.  It provides a great warm up before using more powerful toys, and makes a great choice for couples looking for a good vibrator to use during foreplay.
I'm a power queen, I need something with a good amount of power in order to orgasm from, otherwise it's just too much work.  I decided to push for an orgasm, rubbing hard while it was vibrating.  While I did climax, it was weak and took quite a while.  Not the right toy for me to regularly use for solo sessions, but love how it works for teasing nipples and other sensitive areas of the body.
The Bnaughty Deluxe is great if you're looking for a teasing toy or are more sensitive to vibrations.  If you're looking for the perfect clitoral vibe for solo time, this might not be right for you depending on your individual needs.  Just because it wasn't powerful enough for my specific needs, doesn't mean it wouldn't be a nice toy for the right person.
If you're interested in picking up your own Bnaughty Deluxe or another product from B Swish, you can click the banner below.

Bnaughty Deluxe was provided to me free of charge in exchange for an unbiased review.  This is in compliance with FTC guidelines.