Icicles No. 40 from Pipedream
Pros:
- Reasonable size
- Easy to clean and care for
- Nice texture
- Can be heated/cooled
- Somewhat realistic
Cons:
- Ring at base of head can cause discomfort
- Doesn't come with storage pouch
Overall: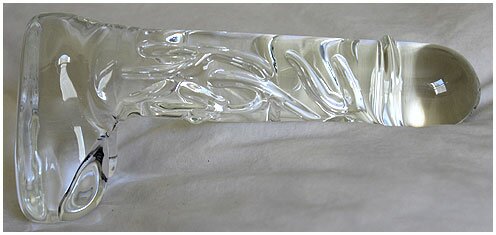 -Intro/Use-
Icicles No. 40 from Pipedream is a glass dildo that has a phallic shape with abstract features.  Both beautiful to look at and stimulating during use, the raised 'veins' give it a more artistic look than other penis shaped toys by being more uniform in appearance.
The overall design makes No. 40 a really versatile dildo that can be used by any gender.  The base at the bottom is great to hold onto while you're thrusting (either during solo play or using it with your partner) but also makes it anal safe and harness compatible.  When thrusting, be careful not to get too aggressive with it.  Since it's such a solid material it's not difficult to accidentally cause discomfort.
Being that the shaft is straight and doesn't have a specific G-spot or P-spot curve to it, it may or may not work with your anatomy.  The raised texture around the head does stimulate, but your personal experience will vary.
One of the coolest things about glass toys is their ability to hold temperature.  If you've never experienced temperature play, you truly don't know what you're missing!  It's easy to either heat up or cool down your glass toy, but you want to follow some instruction to make sure you don't harm yourself or your toy in the process.
To cool off:
If you plan ahead, you can easily put your dildo in the fridge for a few hours to give it a nice, cool feeling.  If you think of it last minute, fill a bowl or sink with cold water (adding ice is great too) and allowing your toy to be submerged in the water for 10-15 minutes.  Though the packaging itself mentions placing it in the freezer, it's not a great idea since your delicate skin could potentially stick to the dildo and cause discomfort.
To heat up:
You can use the same method as cooling it down, by placing it in a bowl or sink of warm water.  Before using it, test the temperature by placing the dildo against your wrist.  If it's too warm for your liking, set it aside for a few minutes and test it again.  Never place the dildo into boiling water or in the oven, and though the packaging (again) states you can put it in the microwave, that's also not a good idea since it could heat unevenly, potentially burning your skin.
-Material/Texture-
Icicles No. 40 is made from Borosilicate glass, which you may already have in your kitchen.  The brand name is Pyrex and it's a very strong glass that's able to withstand drastic temperature changes which is why they use it for bakeware.  It's a non-porous, latex free, phthalate free material that's much less likely to break than other glass types.
The surface of the glass itself is totally smooth and gets very slippery when wet.  Use caution and if you happen to drop it, make sure you fully inspect it before using again and discontinue use if it's damaged.
Though the glass surface is smooth, the dildo itself has a decent amount of texture to it.  At the base of the head is a raised ring that's very obvious during use.  Though the head itself isn't bulbous, this area does create a slight popping sensation that can be either stimulating or uncomfortable depending on various factors.  The top of the shaft is totally smooth after this ring (as is the bottom), but either side is covered in an abstract texture that's meant to represent veins.  They look more like tree branches or some type of plant, and slightly differ from one side to the next.  They're great for those that enjoy texture, but would be too much for anyone that prefers smoother toys in general.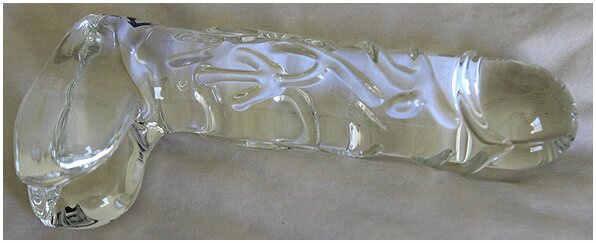 -Design/Size-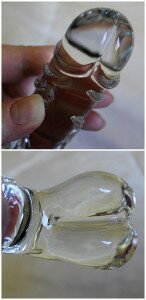 Icicles No. 4o was designed to look artistically realistic; having all the right parts without truly looking like the real deal.  The glass isn't colored in any way, it's simply clear which is another element that prevents it from being overly realistic (can you imagine flesh colored glass?  Bizarre!).  There's no denying the overall design is supposed to look like an actual penis, but could pass for a decorative item depending on what else you have in your home.  
The tip of the toy is rounded and has a groove in the bottom that meets the raised ring around the base of the head.  After that you have the shaft (which is textured on both sides, but smooth on the top and bottom), and at the base of the dildo is set of testicles that have a deeper groove in them, showing the separation of the two.  The bottom of the base is flat, and while it does stand on its own, it's a little wobbly (on mine at least), so be careful that it doesn't accidentally tip over while standing.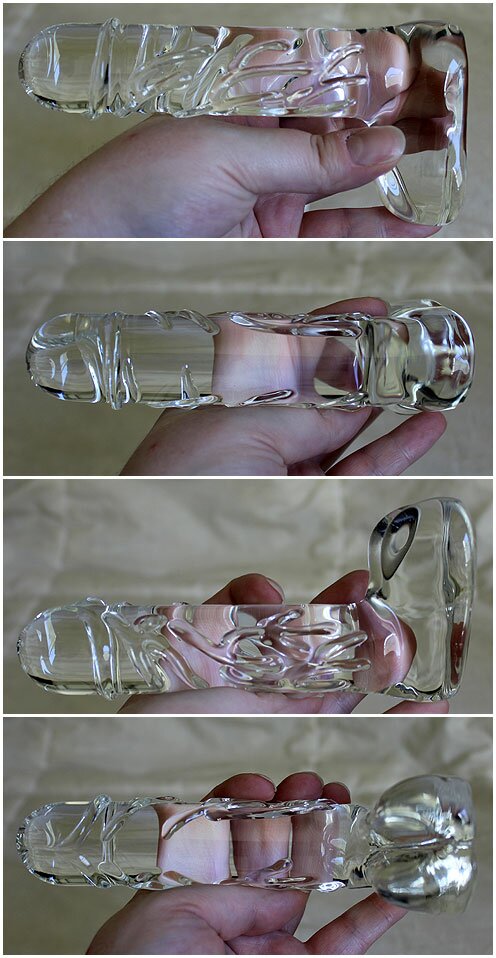 The length of the toy is really reasonable, especially given how firm the toy is.  Being 6 3/8″ in total length and having only 5″ of that being insertable, makes it less likely for it to accidentally bump your cervix and cause discomfort.  The girth is also pretty manageable being 4 1/4″ around the head, and varying slightly in size along the shaft (approximately 4 1/2″ in circumference).  It feels a little larger than the measurements because of the obvious texture, so beginners might find this toy is a little too large for them, but it's great for the average user.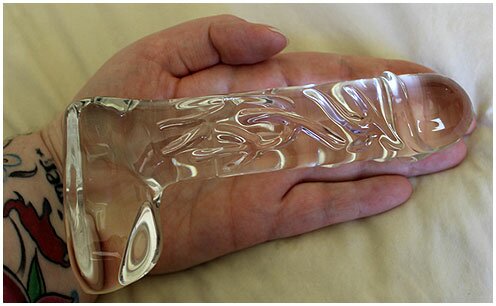 -Care-
Icicles No. 40 is easy to clean and care for.  For regular use, you can wash with antibacterial soap and warm water or your favorite sex toy cleaner.  If you're sharing with a partner or switching orifices, you can clean it with a 10% bleach solution or by putting it on the top rack of your dishwasher.  Many people consider it totally safe to boil the glass (because of the type), but with the other options, I don't feel it's necessary to risk something happening to the toy.
Being made from glass makes it safe to use with any lubricant type, and a little goes a long way.  Make sure you're extra careful handling the toy after applying lube because it gets extremely slippery.  The textured sides do help some, but caution is still needed.
Though this glass is less likely to chip, shatter, and break than other types, it's still important to protect it during storage.  The packaging is a great option, but it's much larger than necessary.  You could easily purchase a padded toy pouch (since this doesn't come with one), but should at least put it inside of something to prevent the surface from accidentally being scratched.  Anything, even a thin pouch, would be better than nothing if you'd rather not use the packaging.
-Packaging-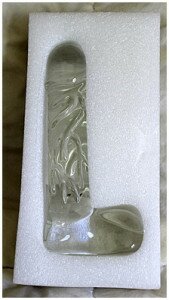 The packaging for the Icicles line is so elegant and beautiful.  Though it's not discreet, it's very tasteful looking.  Each side of the box has an image of the toy on it, but the front has a special flap that opens, revealing the toy behind a layer of plastic.  It gives you the chance to check it out without having to open it up.  The back of the box has the only information included with the toy.  Most of it is pretty basic, but watch out for the temperature instructions since they mention ways that aren't safe to heat/cool your dildo.
When you open the top, you have to pull out a foam tray to get to the dildo.  The foam is cut perfectly to cradle the toy inside, making you feel secure that your dildo has been stored safely upon arrival.  It's a great option to keep the dildo in during storage at your home as well, but as stated earlier, is a little large if you have a big collection of toys.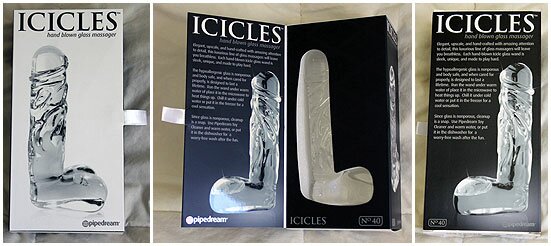 -Experience-
Icicles No. 40 isn't my first glass dildo from Pipedream's Icicle line, but it is my first semi-realistic looking one.  Enjoying textured glass and having a deep love for male parts, I knew I had to get my hands on this piece.  The details, the size, the shape; everything about it appealed to me.
In my hands, I knew I was going to enjoy this one.  The texture looked a little different than the images I had seen online, but the reasonable length sold me even before the pants came off.
When I inserted the cool dildo, I was immediately struck with slight discomfort.  I wasn't expecting it at all, so it was rather surprising.  I thrust gently a few times to figure out what exactly what I was feeling, and realized the raised ring around the base of the head was the culprit.  Once I angled the toy differently the discomfort was eliminated, but I wasn't expecting it to feel that way.  Though it's not raised much from the toy, it feels very obvious during use.
After getting around that minor issue, I started to really enjoy it.  I found flipping the dildo around with the testicles facing up made it super easy to hold onto and gave me the most stimulating sensations (and helped with the discomfort issue), but was nice no matter how I angled it.
I think Icicles No. 40 is a great dildo all the way around.  It's realistic without being odd, has stimulating texture, and is a reasonable size.  Pipedream always impresses me with the quality of their glass dildos, and this one isn't the exception!
You can purchase this, and other Icicles by clicking the banner below.

Icicles No. 40 was provided to me (by Pipedream)  free of charge in exchange for an unbiased review.  This is in compliance with FTC guidelines.