Entice Lillian by California Exotic Novelties
Pros:
- Made from silicone
- Compact
- Multi-function
- Waterproof
- Easy to use
Cons:
- Dual motors can't be operated separately
- Won't fit everyone's anatomy
Overall:



-Intro/Use-
Lillian from the Entice line by Cal Exotics is a dual stimulating vibrator; which is often called a rabbit.  This type of vibrator is designed to stimulate both internal pleasure zones through the insertable shaft, and externally through the clitoral arm.  It gives you both internal and external pleasure without needing to occupy both your hands.
Lillian is great for both solo use and couples play.  Its compact and non-threatening design make it a great option for someone looking to introduce toys to a new partner, or to purchase their first rabbit style vibrator.  Basic and easy to use, you won't find it difficult to understand how to operate this vibe, even if you have no prior experience, and regular toy users will also appreciate the ease of use.
Though safe for anal play, this vibe wasn't designed to be inserted anally.  If you decide that's how you want to use it, be sure to sterilize when you switch orifices to prevent the spread of bacteria.
Being so compact makes it a wonderful travel companion and is safe to use in any environment.  Since it has an o-ring surrounding the base of the battery compartment, you can safely take it into the shower or tub without worrying about water leaking inside of it.
-Material/Texture-
Made from silicone and ABS plastic, Lillian is body safe, non-porous, latex free, and phthalate free.  Both of these materials are extremely safe for a sex toy since they don't harbor bacteria and are easy to clean and care for.

The inside of the toy and the battery compartment are made from plastic and the shaft and clitoral arm are covered in the silicone.  Because the internal parts are plastic, the shaft doesn't have any flexibility to it and only a small amount of give.  The clitoral arm has three little feelers that are very flexible and are designed to connect with and stimulate your clitoris and other external pleasure zones.
The surface of the silicone is matte looking and doesn't feel tacky or sticky.  It does collect a small amount of lint, but it's manageable, and does create drag.  Adding some water-based lubricant will help the toy slide easier on and inside your body.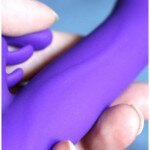 On either side of the shaft you'll see a slightly raised swirl.  This is the only real texture to the toy, and it's very minimal.  Those that prefer texture would probably be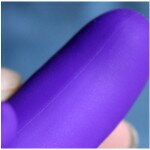 disappointed by it, but those that enjoy smoother toys probably wouldn't mind since it's not prominent.
Along both the front and back in the center of the shaft is an obvious seam.  You can easily see it, but you can only lightly feel it with your hands.  I couldn't feel it at all during use, but someone who's much more sensitive might be able to.
-Design/Size-
Like most dual stimulating vibrators, Lillian has both an internal and external area of the toy.  Though most have a clitoral arm in the shape of an animal or insect, this one doesn't have either.  I'm honestly not sure what they were aiming for as far as the design, but it almost reminds me of some sort of featureless creature or strange vegetation.  Perhaps that's my imagination running away with me, but I have no idea how else to describe the overall look of it.
This vibrator is available in both purple and raspberry, so if you're not into girly colored toys, there isn't another option for you.
The tip of the shaft has a very slight curve to it, and then you come to the textured sides.  The clitoral arm is toward the base of the shaft, and just beyond that is a gold colored plastic ring where the silicone and plastic meet.  The shiny plastic cap has the power button on the bottom.

The size is really surprising with this toy.  Most rabbit vibrators are longer, thicker, and have more features.  It's actually a welcomed difference and one I think a lot of newer toy users can appreciate.  The thickest area of the toy is only 1″ in diameter, making it a comfortable size that should work even for those that aren't used to penetration.  The full length of the toy is 6″, 3 1/4″ of that being insertable.  If you know you have a deeper G-spot, this might not be the right vibe for you.  The tip of the clitoral arm is 1 1/2″ from the shaft.  If your clitoris is closer than that, it's likely one of the other stimulators will connect well, but if you have a higher clitoris you might not be able to reach both your clit and G-spot at the same time.

Dual stimulating toys don't work for everyone.  They are pretty anatomy specific.  It's hard to know what to choose for your first, but gets easier as you try different products.  If this one doesn't fit your body properly, don't give up on finding the right one for you.  Use your experience with this product to judge what needs to be different about your next purchase.
-Functions/Controls-
Lillian is powered by 2 AAA batteries that aren't included with the toy.  The cap at the bottom of the toy twists off and a plastic tray gets removed for battery insertion.  The tray is properly marked so that there's no confusion with how to insert them.  Once the tray has been replaced and the cap is back in place, you're ready to power up your toy!

Many dual stimulators have the ability to work individually.  Lillian only has one button, so you can't separately control the shaft and clitoral arm.  If the toy is turned on, both are powered at the same time.  This toy only vibrates, it doesn't have a rotating or thrusting shaft like other rabbit vibes have; making it really easy to understand and use, but a little plain to someone who's used to having all the bells and whistles.
There are a total of 7 different function modes, giving you a variety to suit your changing needs.  One press of the button on the bottom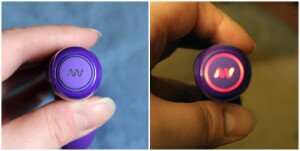 will bring you to your first vibration setting.  The button will illuminate with a red light when the toy is on, and simply glows steady.  Each press of the button will bring you to the next setting and will continuously cycle through.  When you're ready to turn the toy off, you need to press and hold down the button for a few seconds.  The vibrations will cease and the light will turn off.
The vibration settings are as follows:
Steady Low
Steady Medium
Steady High
Escalation
Pulse
Quick Pulse
Three Short Pulses, One Long (repeat)
Considering Lillian is powered by AAA batteries, it's fairly powerful.  It's between being rumbly and buzzy, and should suit the average user.  If you've been cursed with a clit of steel, you might not be able to orgasm while using this toy, but it should still be a nice warm up for other things.  Since it's not light and buzzy, it shouldn't numb you and make it impossible for you to climax after as a result.
There are two motors in this vibe, one in the clitoral arm and one in the shaft.  Because the toy is so compact, the vibrations travel really well throughout the toy; being equally powerful in both areas.  It does travel into the battery cap so you might get slightly tingly fingers after use.
The sound level is fairly discreet.  If you had someone in the same room with you they would be able to hear it, but with some white noise in the room and a closed door, no one would know what you were doing from outside the room.
-Care-
Lillian can be cleaned using antibacterial soap and warm water or your favorite sex toy cleaner.  If you share with someone else or happen to use it for anal and vaginal use, be sure to sterilize in between.  Since there are internal working parts you can't boil it or place it in the dishwasher like you can silicone dildos, but you can clean it with a 10% bleach solution.
It's always recommended that you use a water-based lubricant with your silicone toys since some other types could potentially cause the surface to degrade.  It's always best to stick with what's safe and go with a water-based option.
Unfortunately, Lillian doesn't come with a storage pouch.  It's always best to find something to house your vibe in so that the surface is protected from possible damage.  A smaller toy pouch would work, but a small plastic Ziploc would be better than nothing.  The packaging isn't great for long term storage, so it's important to find a different option.
-Packaging-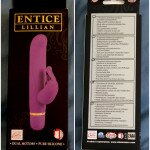 The cardboard box Lillian arrives in isn't discreet, but it is tasteful.  The front and one side of the box have colored images of the toy it contains and the other side and back feature the product information.  There's no additional information inside, so what you see on the box is what you get.  It's really not important to keep unless you like holding on to things like that, and it can be broken down and disposed of as you normally would cardboard items.  Inside the box, the vibe is simply inside a bag, mostly loose within the package.
-Experience-
I always have a difficult time getting dual stimulating vibrators to work properly with my anatomy.  My clitoris is pretty high up and most clitoral arms fall short.  When I first saw Lillian I thought the external stimulator looked really interesting and hoped it would work out for me.
Well, it did…and it didn't.
With the shaft fully inserted, the tip of the arm didn't quite reach.  I tried a few different things and discovered if I only inserted part of the shaft and focused on connecting properly externally, it felt pretty nice.  I found myself moving the toy back and forth so I was being stimulated through the vibrations and the movement paired together.  The issue with focusing externally was that the toy wasn't connecting properly with my G-spot.  It's really such a hit or miss with toys like this, but as long as your clitoris isn't far away like mine, I think it would work really well.
Being the power queen that I am, I was impressed overall and could have climaxed from it, but it would have taken a lot more effort than I wanted to put into it.  It's a nice vibe that seems well made, has nice variety in function, and decent power.
Entice Lillian is available for sale at Pink Cherry, click the banner below to check it out.


Entice Lillian was provided to me free of charge in exchange for an unbiased review through the Cal Exotics Sexpert Program.  This is in compliance with FTC guidelines.