Hippocampus from Exotic-Erotics
Pros:
- Unique design
- Can be customized
- Made from silicone
- Wonderful texture
- Comes with storage pouch
Cons:
- None
Overall: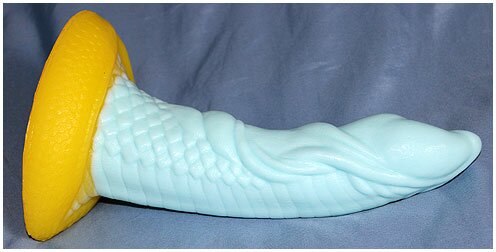 -Intro/Use-
A Hippocampus is a mythological creature that's a cross between a horse and a sea monster, and thanks to Exotic-Erotics, you have the opportunity to experience what this sexy beast has to offer!
Covered in texture and curved to please, this dildo was designed to caress and awaken your inner pleasure spots.  The tip of the toy is easy to insert and the bulged area at the bottom of the head does an amazing job of connecting with the G-spot.  Since the base is nice and large, it eliminates any concern about the toy getting lost inside of you, making it suitable for anal play as well.  How well this dildo connects with your G-spot or P-spot will depend entirely on your own anatomy, but the texture is pretty amazing even if it doesn't.
The base makes it comfortable to hold and easy to use, but isn't the most harness friendly dildo because of the girth.  The smallest size would be much more reasonable, but the other two would be harder to find an o-ring large enough.  That being said, one of the customizing options is to have a suction cup base.  The base makes it easier to use the dildo in the shower, on the floor, and even on regular walls.
-Material/Texture-
The Hippocampus is made from silicone which is a body safe, non-porous, latex free, and phthalate free material.  It's a fantastic material for sex toys because it's easy to clean and care for and can be made in a wide range of firmness levels.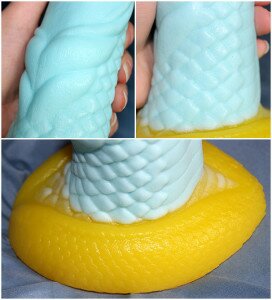 The surface of this dildo is matte to the touch but has a light shine to it.  It does attract lint and hairs, but the drag is easy to manage and takes only a small amount of lubricant to help it glide easily.  This has to be one of the best feeling silicone toys I've ever touched!
The textured details are truly impressive!  There are scales toward the bottom of the shaft and on the base, very light ribs along the bottom of the shaft, and puffy swirled areas along the top and sides.  It's truly stunning to look at, and feels even more amazing in use!
The firmness level will all depend on what you select when making your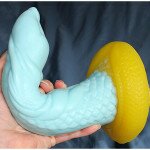 purchase.  For mine, I chose a Medium Shaft/Hard Base split.  I absolutely love how squishy the shaft is, and literally wish I would walk around holding it all day.  Stress balls need to be made from this silicone, because it just feels that amazing!  I can only slightly feel the difference between the shaft and base when in my hands, but would imagine the difference helps when utilizing the suction cup (which you'll learn more about in the Customizing section).  The material easily flexes and gives, while remaining solid enough to easily thrust with.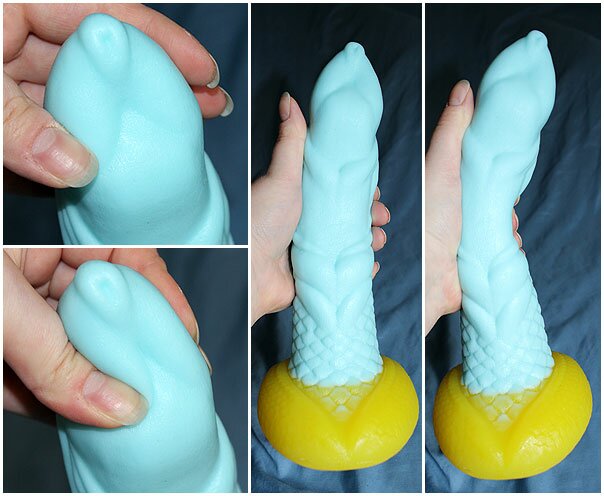 -Design/Size-
The Hippocampus is one gorgeous dildo!  It has some familiar elements to it, but is mostly unlike anything you've ever seen before.  The tip of the head comes to a soft point and has a small impression in it that resembles a urethral opening, but the rest of the head is a unique shape; having a dip in the center and bulging again before connecting with the shaft.  It's not so prominent it causes a popping sensation during use, but the shaft is sure to make up for that.  As soon as you insert the toy, you're met with delicious texture which covers the entire length, even the top of the base.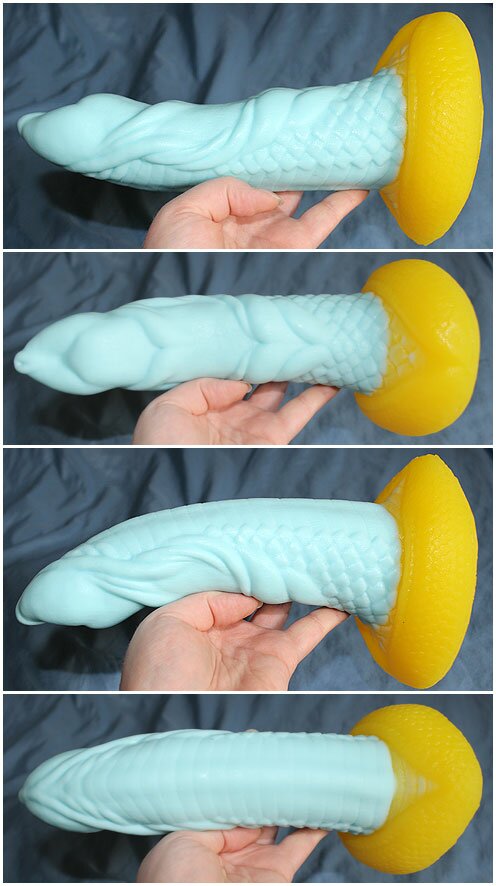 Each area of texture comes together to form a really stimulating experience.  How obvious the texture feels will depend on the firmness level you chose; it's prominent enough without being irritating in the medium firmness, but would probably still be way too much for someone that prefers smoother toys.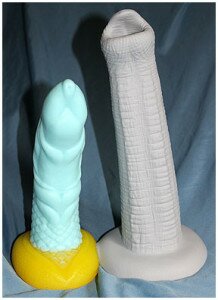 My dildo is a size medium and isn't suitable for beginners and those that can only use slender toys.  Even the small Hippocampus is larger than average; making this toy wonderful for the size kings and queens, but too large for many.  It's very important to check the exact measurements to see which size will be suitable for you.  Mine is 10 1/2″ in total length, with 8 1/2″ being insertable.  If you decide to have yours made with a suction cup (which I highly recommend), this length is reasonable, though a bit on the long side when you use the full length.  Just use caution since it can uncomfortable bump the cervix.  The girth of the medium ranges from a very reasonable 5″ around the tip, and varies through the shaft because of the texture.  Midshaft is 7″ and the widest area (at the base of the shaft)  is 8″ in circumference.  Also keep in mind, just because one dildo is a size medium, doesn't mean every dildo in a medium is the same size.  See both my medium Elephant Trunk and medium Hippocampus for example.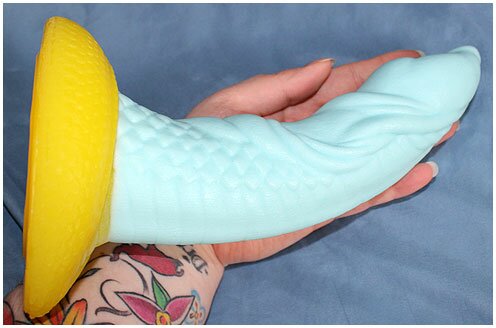 -Customizing-
One of the great things about Exotic-Erotics, is that they offer a variety of sizes, firmness levels, color options, and on some, suction cups.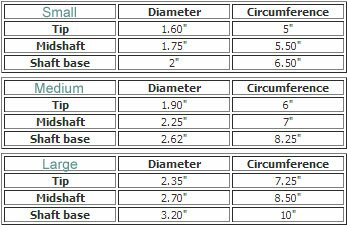 -Sizes – There are three sizes available for the Hippocampus; small, medium, and large.  I chose the medium because I often enjoy a fuller feeling when using dildos.  The size difference between each of them is quite different.  If the small seems too small for you, the medium may be too large.  Make sure you take a good look at the measurements provided on the site before making your choice.
-Firmness - Deciding on size and firmness sort of go hand in hand.  The larger the toy, the softer you probably want it to be.  You have six options to choose from.
Soft
Medium
Hard
Medium Shaft/Hard Base (+$10)
Soft Shaft/Hard Base (+$10)
Soft Shaft/Medium Base (+$10)
If you're unsure about which firmness is right for you, Exotic-Erotics offers a $5 sample set that will give you the best idea before making your purchase.  If you choose to try out the sample set first and end up making a purchase, they'll take the $5 you spent and put it toward the purchase you make.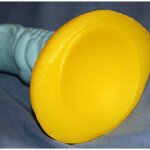 -Suction Cup - Not all products from Exotic-Erotics have this as an option, but the Hippocampus does.  For an additional charge of $5 you can have a suction cup put in the base of your toy.  It's not extended from the bottom like on some dildos, but is a hollowed out circle in the center.  If you've ever used a Bad Dragon toy with a suction cup, it's similar to that, but doesn't make up the whole base like they do.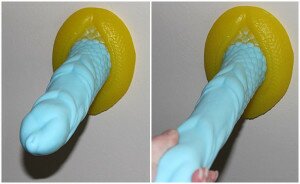 The suction cup is extremely strong and works well on any flat surface.  Normally I've found dildos with suction cups primarily work in the shower and only a few other surfaces.  I tried the Hippocampus on many different areas and was extremely impressed with the result.  It stays solidly in place for extended periods of time and holds strong during use.
-Color Options – There's a wide range of color options available for your Hippocampus, especially when you consider the fact you have both a shaft color and a base color to decide.  It can be a little overwhelming, but fun experience to choose your colors.  I chose the Seafoam Green shaft with a Yellow base, but you can let your imagination run wild.
Shaft colors:
Natural Markings (seafoam green/grey) (+$10)
Custom (no fades) (+$5)
Florescent Blue
Florescent Green
Florescent Orange
Florescent Red
Florescent Yellow
Green Glow-in-the-Dark (+$15)
Grey
kth-dragon Edition (F. Red Shaft, Goldenrod Base) (+$10)
Light Blue
Light Brown 
Pink
Swirl (two of the offered colors) (+$15)
Fleshy Pink
White 
Black 
Blue
Brown 
Green
Red 
Yellow
Base colors:
Black (+$10)
Blue (+$10)
Brown (+$10)
Custom (Leave in Comments, no Fades) (+$10)
Fleshy Pink (+$10)
Florescent Blue (+$10)
Florescent Green (+$10)
Florescent Orange (+$10)
Florescent Red (+$10)
Florescent Yellow (+$10)
Green (+$10)
Green Glow-in-the-Dark (+$15)
Grey (+$10)
Light Blue (+$10)
Light Brown (+$10)
None (Primary Color Only or Natural Markings)
Pink (+$10)
Red (+$10)
White (+$10)
Yellow (+$10)
-Care-
Included in your package is a card that gives you the run down on how to care for your dildo and is sent with every box you receive from Exotic-Erotics.  Though there's a lot of texture to the surface of the Hippocampus, it's easy to clean and was made to last a long time if you follow the care instructions.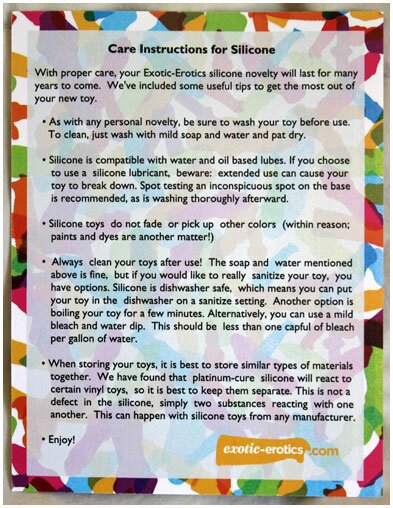 -Packaging-
When you're customizing your dildo, there's a box you can check to receive a free storage pouch that's handmade to fit the size and shape of the dildo you purchased.  The pouches are nicely made and have a drawstring closure.  You don't get to choose the color or anything like that, but it's a wise choice since it's difficult to find a pouch that will fit some of the larger sized dildos.
Your Exotic-Erotics dildo will arrive in a plain brown box that doesn't reveal the awesomeness it contains.  When you open it up, your dildo will be sealed in a plastic bag and inside the storage pouch if you checked the appropriate box.  Prior to opening the plastic packaging, make sure you check that you received the correct item, since you can't exchange or return it once opened.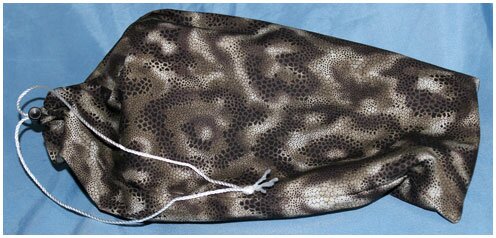 -Experience-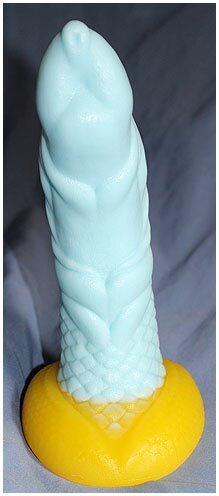 The first dildo that caught my attention from Exotic-Erotics was the Hippocampus.  There was just something about the flowing texture and wonderful shape that made me lust over it, quite literally.  I loved the beautiful Seafoam Green coloring of the shaft, but wanted to give it a lighter colored base and chose the Yellow for that.  Being able to choose the coloring, firmness, etc. truly makes every dildo unique and able to fit your specific needs.
When my Hippocampus arrived, I couldn't wait to open it up and check it out!  It felt so amazing in my hands; the perfect firmness for my tastes, and a great size to fit the days I want a really full feeling.  I could tell it was going to impress me from the second I touched it!
When I was testing it out, I tried using the suction cup on a variety of surfaces and was shocked at how strongly it held, even on regular walls, and decided that was the first way I would test it out.  I pressed it down against by bedroom wall, applied some lube, and backed up against it.  It took a little figuring out to get things lined up, but once I did, WOW!  Feeling the unique texture, being insanely full, thrusting myself against the wall; I was overwhelmed with pleasure!  I added my go-to clit vibe and had such a powerful orgasm I had a hard time keeping the dildo inside while my muscles clenched down around it.
Laying on my back during use was equally pleasurable, but my hands and arms got a little tired after a while since the dildo is fairly heavy due to its weight.  The suction cup on the base is a life saver and is more than worth spending the extra $5 on.
Without question, this is in my top 10 favorite toys I've ever used.  It's worth looking into, especially if you like larger toys that are full of interesting texture!  Exotic-Erotics got it spot on with this one!!
If you're interested in customizing your own Hippocampus, you can do so by clicking the banner below.

The Hippocampus was provided to me free of charge in exchange for an unbiased review.  This is in compliance with FTC guidelines.