The Big Book of Orgasms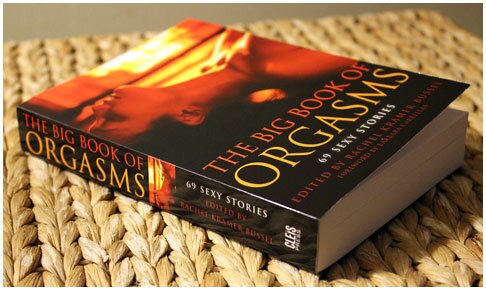 -The Facts-
Title: The Big Book of Orgasms – 69 Sexy Stories
Authors: Various (Edited by Rachael Kramer Bussel)
Publishing Company: Cleis Press
Trade Paper
ISBN 978-1-57344-963-2
5 x 7, 384 pages
2013
The Big Book of Orgasms is a sexy anthology overflowing with short stories that focus entirely on one thing; orgasm.  We all climax in different ways, and achieve that glorious peak differently each time the desire arises.  This book reflects hugely on that, featuring stories that are as unique as your own pleasure and your own way of building up to it.
When I first received the book, I wondered how each story could truly be different from the next since there's only one topic.  I guess when you compile 69 stories from 69 individuals it brings quite a variety of tastes to the table.  Each story is about five pages long and only takes a few minutes to read.  It's easy to tell yourself you'll read just one story and end up blowing through five of them!   They're all to the point, but easily draw you in.
No matter what kind of relationship you have or if you're even in one, there's at least a handful of stories in this book that will spark your interest.  Many of the stories will probably resemble your own fantasies (that you may or may not ever act upon), but some might also inspire new desires within yourself.  The variety is refreshing; having stories centered around solo climax, public orgasms, sweet and sensual experiences, dark and fierce, and many more.  
What surprised me most about this book was how well written every story is.  Nothing turns me off more than a steamy story turning corny because of the way it's worded.  This book was proof that well written erotic anthologies exist, and are worth investing time into reading them.  Some of the stories are fairly predictable, many will surprise you, but all of them are sure to heat things up and help you create a story of your own.
I highly recommend checking out The Big Book of Orgasms because it's easy to read, is super sexy, and can be worked into anyone's time schedule.  Whether you read it alone or read it aloud to help spice up foreplay, it's the perfect bedside companion!
About the Editor:
RACHEL KRAMER BUSSEL regularly writes for and appears in Salon, Jezebel, Bust, Cosmopolitan, The Huffington Post, The Daily Beast, and more. Based in New York City, she is a prolific erotica author and editor, and her titles include Serving Him, Twice the Pleasure, Cheeky Spanking Stories, and Fast Girls. Visit her at rachelkramerbussel.com and lustylady.blogspot.com.
The Big Book of Orgasms – 69 Sexy Stories is available directly from Cleis Press in Paperback form, and is available on Amazon.com in both Paperback and Kindle editions.

The Big Book of Orgasms was provided to me free of charge in exchange for an unbiased review.  This is in compliance with FTC guidelines.