The Amazing Web Shooter from Doc Johnson
Pros:
- Made from silicone
- Unique and fun design
- Appeals to a different audience
Cons:
- Extreme texture could cause discomfort
- Minor surface issues from mold
- Doesn't come with storage
Overall: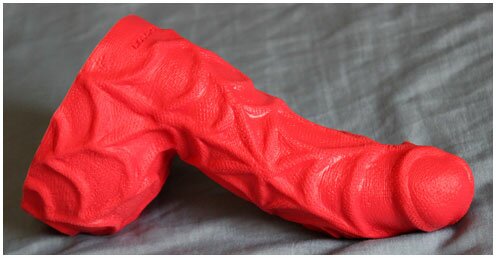 -Intro/Use-
The Amazing Web Shooter from the Super Hung Heroes line by Doc Johnson looks like it could be the shaft of Spiderman himself!  Covered in an amazing pattern, this dildo is not only interesting to look at, but the prominent webs fulfill a texture lover's cravings.
Though the color isn't flesh tone and the surface is highly textured, the shape itself is quite familiar.  The shaft has a wonderful curve that helps it connect with the G-spot or P-spot and the large base at the bottom makes it harness compatible and anal safe.  It doesn't matter what gender you are or what your sexual orientation is, this dildo has a use for just about anyone.
The bottom is totally flat and has neither a suction cup or bullet hole.  If you want to make this dildo vibrate, you could simply place a vibrating cock ring at the base of the shaft and use it as you normally would.  And since there are no internal working parts, you can take it with you into the tub or shower without worrying about any water leaking inside of it.
-Material/Texture-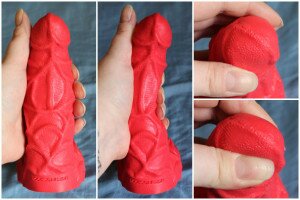 The Amazing Web Shooter is made from silicone which is a great material for a sex toy because it's non-porous, latex free, phthalate free, and easy to clean and care for.  Silicone toys are available in a wide range of firmness levels as well, which means they can be very squishy or quite hard.  This particular dildo is a medium firmness, having a fair amount of give while remaining easy to thrust with.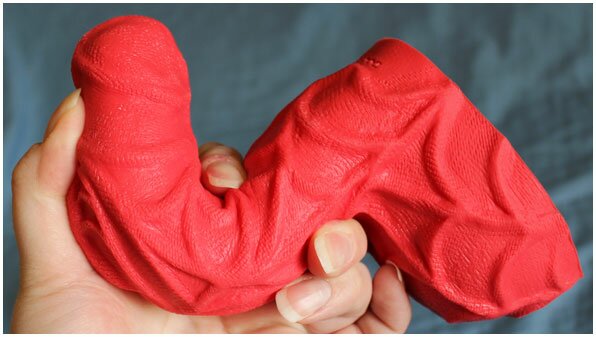 The surface is matte and covered in a texture that reminds me of canvas.  It has a rough look to it, but doesn't feel rough against your skin.  It does have drag (which causes it to pick up some lint as well) and requires a lot of lubricant, but is smoother to the touch than it looks.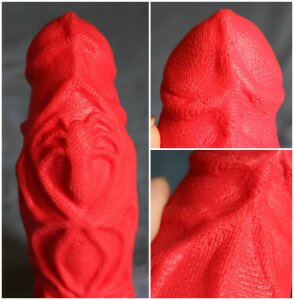 Along with that surface texture, is a very prominent web-like design.  This creates a very extreme texture that isn't for the faint of heart.  Every line is exaggerated and can be felt during use.  This will either be a positive thing (if you're a texture lover) or a negative (if you prefer smoother toys).  The bottom side of the shaft (toward the top) has a spider within the web that's puffed out a little more than the rest of the texture.  It has an interesting look and really ties the whole theme together.
I did notice a couple small areas of the toy where the mold wasn't perfect.  They are very small and don't effect use, but can be seen.  A couple areas look like the surface was flattened, and there are a few tiny places where it look like chunks were taken out (about the size of a pencil tip).
-Design/Size-
The design of The Amazing Web Shooter is where it really shines.  The whole Super Hung Heroes line features dildos based on comic book characters, how cool is that?  This particular one is obviously based on Spiderman.  Its vibrant red color and web pattern really pop and make it stand out from the rest.
The base of the dildo features a large mound which represents the testicles, and the tip has a great curve to it.  The texture covers the entire toy, tip to base, which is fairly unique.  Though the color and texture aren't realistic, the shape definitely is.  There's no denying this is a dildo.
The length of the dildo is really reasonable and isn't likely to cause discomfort when thrusting, but the girth isn't beginner friendly.  Though it's not a huge toy, the texture makes it feel much larger than it is.  It's 7″ long with an insertable length of 5 1/4″ and ranges in girth from 4 3/4″ at the thinnest to 6″ at the thickest point.
It's a fairly heavy dildo which is both a positive and a negative.  You can set it down on a flat surface and ride it pretty easily without having to hold it in place since it has such a large base, but your arms might also get tired more easily when you thrust it.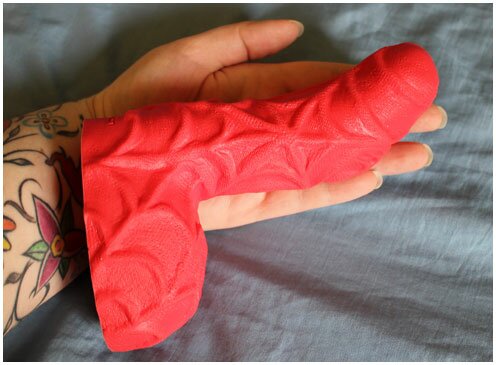 -Care-
Caring for The Amazing Web Shooter is pretty basic considering it's made from silicone.  You can easily clean it with antibacterial soap and warm water or your favorite sex toy cleaner after use.  When you remove the toy, you'll likely see stuff pooled inside the webbed areas, so be prepared for that.  If you clean it right away it's really easy, but if you wait you'll need to use a soft bristled tooth brush to get into all the small areas.  If you're sharing with a partner or switching orifices, it's important to sterilize the dildo between use.  You can do so by boiling for three minutes, cleaning it with a 10% bleach solution, or placing it on the top rack of your dishwasher.
Being made from silicone, it's important to use only a water-based lubricant with the toy.  Other types could cause the surface to have a negative reaction, so it's best to stick with what you know is safe to use.
The toy doesn't come with storage apart from the actual package itself, so unless you're going to put it on display, you might want to find something else.  A large storage pouch or a plastic Ziploc would work fine.
-Packaging-
The Amazing Web Shooter arrives in a thin cardboard box.  It's not discreet thanks to the wording and images on it, but the design looks like it was taken straight from a naughty comic book.  It has all the information you need to know about the product and has the company name boldly on it.  There's no additional information inside the package, and your Web Shooter is simply inside a plastic bag.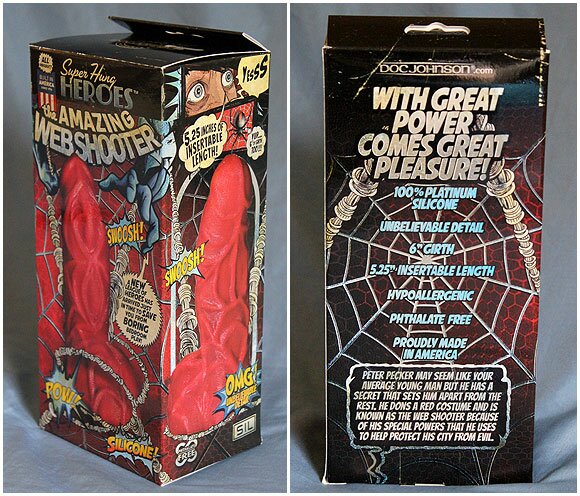 -Experience-
When I first saw the Super Hung Heroes line I thought it was really creative and filled a void in the sex toy world.  I'm not a big comic book fan myself, but I can see this line being something of interest to a variety of people.  The Amazing Web Shooter was too cool looking NOT to try it out, and loving texture I thought it would be a great fit for me.
Did I say I love texture?  Now I'm wondering how true that is.
The first time I used the dildo, I only applied a little lube and tried to insert it without any success.  I had to add way more than normal just to get it in, and once it was I experienced nothing but discomfort and had to stop.  Okay, so I have some days where my body just isn't into texture.  Or at least that's what I thought.
The next time I tried it, I made sure I was nicely warmed up and really into it.  I made sure I applied plenty of lube and tried to push my first experience out of my mind.  No matter how I used it, how much lube I applied, or how ready I was, it caused discomfort.  I tried to press through it to see if I just needed to get used to it first, but I only ended up in pain as a result.  The material has a lot of give to it, but the texture is just too much for me.  I felt sore for hours after using it, and have no intentions on trying again.
If you truly love texture or think this is just a neat novelty item, I'd say it's worth checking out.  But if you like smooth toys or light texture, this will likely be too much for you.  Just because it didn't work for me, doesn't mean you'll have the same result.  Pay attention to the measurements, and know your body.  If you crave texture, this might be just what you're looking for.
Interested in purchasing The Amazing Web Shooter or another dildo from the Super Hung Heroes line?  You can by visiting NiteTime Toys.


The Amazing Web Shooter was provided to me free of charge in exchange for an unbiased review.  This is in compliance with FTC guidelines.