Deluxe Leather Queen of Spades Spanking Paddle
Pros:
- Lightweight
- Cute/sexy design
- Easy to use
- Beginner to intermediate friendly
- Makes an impression (literally)
- Has a wrist strap
Cons:
- Not durable enough for heavy play
- Advanced players will find it lacking
- Not vegan friendly
Overall: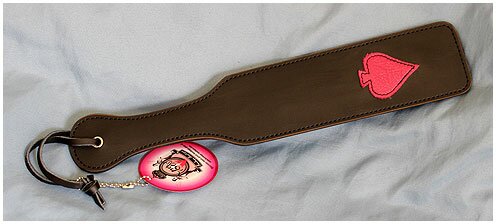 -Intro/Use-
The Deluxe Leather Queen of Spades Spanking Paddle from Bondage Boutique is a paddle designed to leave an impression, quite literally!  This attractive paddle is best for those just starting out in impact play and those who prefer to keep things lighter in general.  While it does provide a solid slap, it's probably not intense enough for advanced users, but would be a suitable warm up.
The great design makes it suitable for any gender, in any type of relationship.  It's not too girly, but isn't overly masculine looking either so the overall look should appeal to most.  Best used with a partner, the spanking paddle can be used on any area of the body, whether you're into BDSM or just dipping your toes into spanking play.
As with any impact tool, the harder you hit, the more obvious the mark.  Even with firm blows, it takes a moment for the area to turn a soft red, but doesn't cause extreme pain and doesn't last long.  Within an hour, the red will have completely faded, though your individual experience may vary slightly.
-Material/Texture-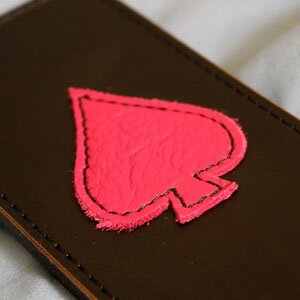 The Queen of Spades Spanking Paddle is primarily made from leather, but does have plastic between the two sides to make it a little more sturdy.  Both sides are stitched together and cleanly finished, giving it a nearly seamless appearance.  The only other material in this paddle is a small metal piece in the handle that creates a small opening for the wrist strap to go through.
One side of the paddle is totally smooth; the leather feels silky, and there are no raised areas that would create a specific design following impact.  The opposite side has a red spade that is slightly raised from the smooth leather.  It has a wrinkled or weathered appearance to it, but this texture doesn't show up on the skin.
The paddle isn't solid, but does have a bit of flexibility to it.  It won't fold in half, not even close, but does bend a little with slight pressure.  Had it been totally solid, it would have provided a more intense sensation when slapped.
-Design/Size-
The look of this paddle is truly something different.  The Queen of Spades Spanking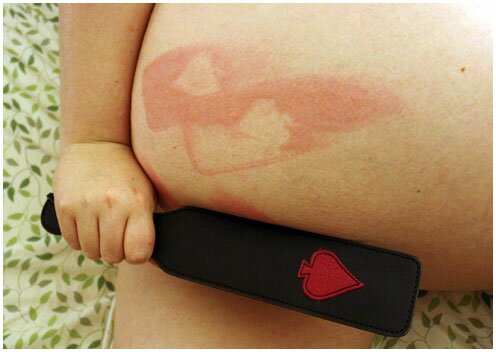 Paddle doesn't feature a crude word, isn't a cutesy heart, flower, or star; it's a cool looking spade.  Often times these 'impression' type paddles claim they will leave a design wherever it's slapped, but not many of them work as they should.  This one surprised me.  While you may immediately assume the spade would cause a red mark, it's actually quite the opposite.  The area surrounding the spade turns red, while the spade itself remains your regular skin tone.
While the marks it produces might look painful, the sting doesn't last long, even with someone trying to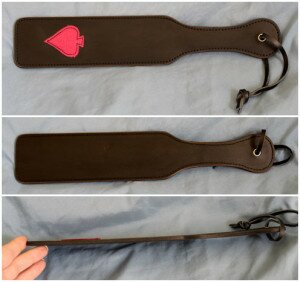 hit you as hard as they can.  Though I definitely felt every blow, the sensation fades almost as quickly as it starts and you won't find yourself having an issue with sitting down or any lasting discomfort.
Non-threatening and reasonable in size, this spanking paddle is a great option for someone new to this form of play.  Thanks to the wrist strap at the base and the thinner handle, it's comfortable to hold and easy to use.  Always make sure you start softer and build your way up since everyone experiences pain and discomfort differently and you don't want to overwhelm your partner when they aren't ready for you.
The full length is 13 1/8″ long and is 2 1/2″ wide at the business end of the paddle.  The handle itself thins to 1 1/8″ before increasing in size at the rounded base where the wrist cord is.  The cord should fit most wrist sizes, but you could easily untie it to replace with something longer, or to make the leather cord opening smaller.  Being only 1/4″ thick, it's designed to be tucked away in a dresser drawer, nightstand, or something similar, and would easily be concealed by packing it between folded clothes in your luggage when traveling.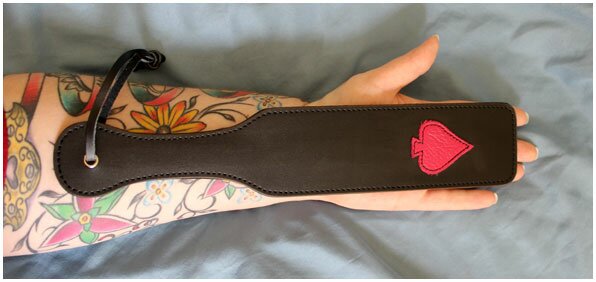 -Care-
Should something get on the surface of your paddle, make sure you wipe it with a damp cloth and don't allow any liquids or bodily fluids to be left without cleaning.  While most paddles are made from furniture grade leather and are sealed well, it's best not to chance something happening to the surface.
There are no specific concerns about how to store your paddle, just make sure it's in a safe area where nothing with scratch or puncture the leather.
-Packaging-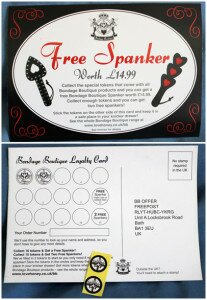 Your Queen of Spades Spanking Paddle arrives in a sealed plastic bag with a tag attached to the wrist cord.  The tag has the company information on it, but isn't overly informative apart from that.  It's easily removed and can be saved or discarded as you wish.
Inside the package you'll find something super awesome from Bondage Boutique.  With every Bondage Boutique item you purchase you'll receive a loyalty card and sticker(s).  The more items you buy, the more stickers you'll receive, and you'll build up to getting one or two paddles for free depending on how long you save.  It's a great way for them to attract business, and reward their loyal customers!  Talk about incentive!
Once your card is full with either 10 spots filled for one spanker, or 15 spots for two, you simply send the card in and they'll send out your reward.  If you're in the UK you don't need to do anything but place it in the mail, but if you're in the US you'll need to add a stamp.
-Experience-
The Queen of Spades Spanking Paddle isn't the first impact toy I've used, and isn't the first that claimed it would leave a cool design on my warmed skin.  After being disappointed by the others I'd tried out, I didn't have a lot of hope in this one.  What drew me to this particular paddle was the fact it wasn't some girly design, and was something I knew my husband would like the look of, whether it left the right impression or not.
I was pretty impressed with the quality of the paddle.  The spade itself looked a little frayed on the  side, but isn't bad, and the stitching is very well done.  I knew it wasn't going to be an intense paddle just by holding it in my hands, but my husband thought he could prove otherwise.
When we were both ready, he put his hand back and landed the first blow to my right cheek (butt of course!).  I closed my eyes, knowing he was going to hit me as hard as he could, but was surprised when the sting only lasted a few seconds.  He laughed at me and told me he could do better, and though he tried, it never got so intense that I couldn't handle it.  It turned into a sort of challenge for him, and one he wasn't able to win.
While it didn't cause me much discomfort, I was actually really pleased by it.  I could feel totally secure that my husband wouldn't push my limits too hard, while still being able to enjoy a little sting thrown in the mix.  We were both pleased and surprised by how well the spade shows up, and think this is a wonderful paddle for beginners and intermediate users alike.
Interested in purchasing your own Queen of Spades Spanking Paddle or another Bondage Boutique item, you can find them by clicking the banner below.

Deluxe Leather Queen of Spades Spanking Paddle was provided to me free of charge in exchange for an unbiased review.  This is in compliance with FTC guidelines.