Echo Handle from Tantus
Pros:
- Made from silicone
- Comfortable to use
- Great length
- Easy to clean and care for
- Stimulating texture (might be too much for some)
Cons:
- Isn't harness compatible/doesn't vibrate (check out Echo Vibrator)
- Limited color options
Overall:


-Intro/Use-
The Echo Handle from Tantus is a dildo that boasts an impressive length.  Designed more like a dildo-on-a-stick, the base of the toy acts as a handle, making it easy to hold onto while you're thrusting.  The overall size makes it comfortable to use on yourself or to place your pleasure in the hands of your partner.
Great for vaginal use, the Echo Handle has a wonderful texture that ignites the senses.  Though it doesn't have a specific G-spot curve, the slight bulge at the end of the toy caresses your sweet spot with every thrust.  The length is wonderful as far as comfort during solo use, but be careful if you're using on a partner, or vocal if your partner is using it on you.  It's not difficult to thrust too hard and cause internal discomfort.
Without a flared base, you might immediately assume this toy isn't safe for anal use, but the length makes it a much more reasonable option than many dildos.  It's very unlikely this toy would slip inside of you accidentally, and yet again, the length makes it much easier to reach around and use it on yourself.  Just keep in mind the dildo is quite textured.
Apart from the size, it's pretty straightforward as far as dildos go.  There are no vibrating parts to this toy, no bullet holes, and it isn't harness compatible.  If you like the look of the texture but want something shorter, containing a bullet hole, and harness friendly, check out the Echo Vibrator from Tantus.
-Material/Texture-
The Echo Handle is made from Tantus' 100% Ultra Premium Silicone.  Silicone is totally body safe, latex free, non-porous, and phthalate free.  It's a great choice for a sex toy material because it's so safe to use and easy to sterilize.
This particular silicone has a shiny surface for the insertable portion and is a little more matte looking for the handle.  The surface itself is without texture, but the smooth silicone picks up hair and lint and has a lot of drag to it.  A little lubricant is all you need to get it to glide across your skin easily since the surface isn't matte.
Though it's made from silicone, the Echo Handle is very firm.  It doesn't really give when you squeeze it and will only bend with force on the actual dildo area; the handle bends a little more easily but doesn't really affect use.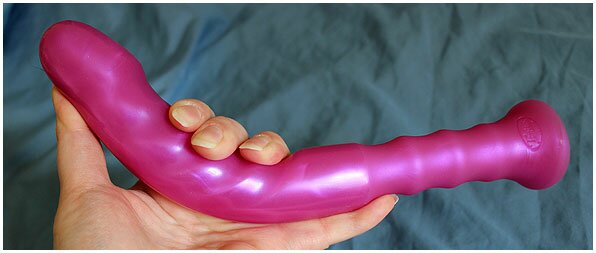 The texture of this toy isn't extreme, but it might be a bit too much for someone that prefers smooth toys in general.  After the slightly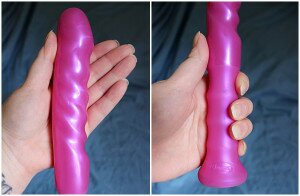 bulged head, the Echo Handle features four rows of ridges or ripples along the top of the dildo.  The bottom and part of the sides are smooth, keeping your focus on a targeted area.  It has a ribbed feeling to it during use which will either highly stimulate those that enjoy texture, or slightly bother those who don't.  The ridges aren't deep, so they shouldn't cause discomfort, and are also easy to clean.  The handle itself is also detailed well, making it easy to grip with your hand during use since your fingers practically fall into place.
-Design/Size-
The design of this toy is where it really shines!  Rather than being shaped like a typical dildo, Tantus made the Echo Handle nice and long, making it so much easier to use on yourself.  If you've ever become uncomfortable trying to lean far forward to thrust a shorter toy, this will bring you relief!  You don't have to put yourself in an uncomfortable position while you're using this toy, and that alone makes it, and other handles available from Tantus, totally worth purchasing!
The overall look isn't overly phallic, but isn't the most discreet looking toy you've ever seen.  If someone were to see it, it would be pretty obvious what it is and what it's used for; not many self defense weapons are nicely marbled looking and gently textured!  The bulged end could sort of resemble the head of a penis, but is different enough that it shouldn't bother anyone who has an aversion to realistic looking toys.  There aren't any testicles, veins, urethral hole, or anything else that would make it look realistic, not to mention the coloring.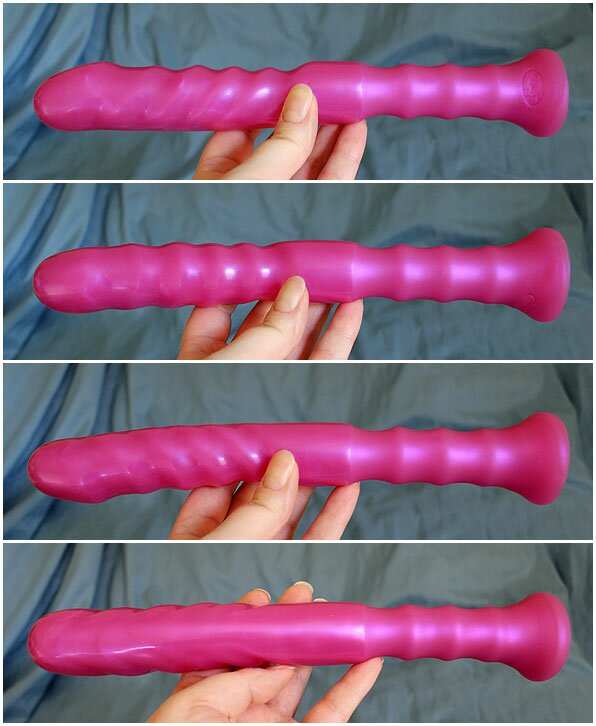 The size might be intimidating when you first look at it, but keep in mind that only a portion of the toy is meant to be inserted.  The full length of the toy is 11″, with 7″ making up the insertable portion of the toy.  The thickest area is the ridge near the tip of the toy which is 4 3/4″ in circumference, reasonable for many average users.  The thickness along the shaft varies because of the texture, but is approximately 4 1/2″ give or take.  It will probably look quite small to most size queens, but the texture gives it something extra and should still be suitable.  If you're a total beginner, you might want to consider something a little less textured.  Tantus has a large variety of silicone dildos that will work for anyone.
There are only two color options available for the Echo Handle; Midnight Purple and Strawberry.  If those colors don't appeal to you, you can always try your luck at getting a different or unique color by snagging the Grab Bag Echo Handle.  Tantus can't guarantee your grab bag item will be strikingly different, but you might end up with a color that appeals to you more.
-Care-
Being made from such high quality silicone makes it super easy to clean and care for.  Before each use, make sure that your dildo is free of lint by washing it off or wiping it down.  After each use you can easily clean with antibacterial soap and warm water, or your favorite sex toy cleaner.  If you're sharing with someone else or switching between orifices, it's important to sterilize to prevent the spread of bacteria.  You can clean it with a 10% bleach solution, place it on the top rack of your dishwasher, or boil it for three minutes.  Because of the length, you'll want to just hold the insertable area of the dildo into the boiling water since you don't want the toy to be directly against the side of your pot.
Water-based lubricant is always the safest option to use with your silicone toys, because often times the material reacts poorly to silicone-based lube.  If water-based isn't your cup of tea, make sure you spot test before slathering another type all over your dildo.
The Echo Handle doesn't come with a pouch and the packaging isn't suitable for long term storage.  The length makes it difficult to find something that will work for it, so just make sure there's nothing that would damage your dildo wherever you decide to store it.  It wouldn't take much for something small and sharp to puncture the surface or cut into the silicone.
-Echo Handle and Echo Vibrator comparison-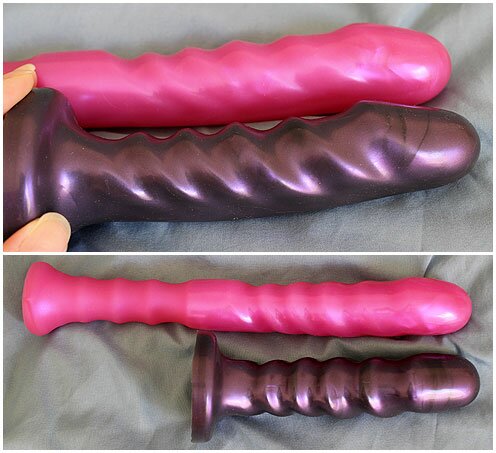 Long vs. short
More subtle texture vs. more intense texture
Handle vs. bullet hole
Not harness compatible vs. harness friendly 
-Experience-
The Echo Handle is something I've had my eye on for some time now.  The idea of it having such a convenient handle really caught my eye and I just had to see if it worked as well as I had imagined.
I wasn't disappointed.
I normally lay on my back during my playtime, and sometimes have to stop using my insertable toys because it's not always comfortable being a plus sized woman, leaning forward and pounding away (sorry, it happens).  With the Echo Handle, I was shocked.  I laid back and basked in the comfortable pleasure I was receiving.  I was able to use my go-to clitoral vibe and this dildo at the same time without needing to stop and readjust to get more comfortable.
Apart from my full body comfort, I was impressed by how effortlessly this dildo found and stimulated my G-spot.  I've never been able to orgasm from internal stimulation alone, but the intense pleasure I received from the Echo Handle was both welcome and surprising considering there isn't an obvious curve to it.
I tend to be a size queen, and though this toy is smaller than what I normally use, it's every bit as amazing because of the texture and overall design.  I suggest everyone look into getting a handle of your own, whether it's the Echo Handle, the Goddess Handle, Anaconda, or the G-Force; there should be a little something for everyone.

The Echo Handle was provided to me free of charge in exchange for an unbiased review.  This is in compliance with FTC guidelines.