Revel Body Attachments

Finding the right product to suit your changing sexual needs isn't always easy.  Certain areas of your body might respond better to pin-point stimulation while others are stimulated by more coverage. Your partner might enjoy texture, and you might prefer smoother surfaces.  And there might even be some days you just want something different.  It can be a tug of war when selecting the right toy, especially with how expensive many adult toys are.  That's why products like this shine.  The Revel Body was designed to help fit your tastes, no matter how simple or complex they are.  Along with the attachment included with your unit, four additional attachments can be purchased, providing options and a way to make this toy work with your tastes.
The five attachments each offer something different during use, and are wonderful as a set if your needs are changing or you're using it along with a partner.
Each of the attachments are made from the same materials and are each the same color.  The part that goes inside the unit is a dark grey color and is made from plastic.  It has a shine to it and is totally smooth and firm.  The tips are each made from pink silicone, but the texture and give varies between them.  The silicone has a smoothness to it that prevents it from dragging across the skin, but it does pick up small particles.  They can each be cleaned using soap and water, your favorite toy cleaner, or a 10% bleach solution to sterilize.  How difficult the attachment is to clean depends on the specific design and I'll cover that as I go over each one.  Be sure to only use a water-based lubricant with the attachments since other types could cause the silicone surface to degrade.
The additional attachments (the ones you have to purchase separately) arrive in their own boxes.  The front displays an image of the attachment within, and the text on the box gives away what it contains.  It's not discreet, but it's tastefully done.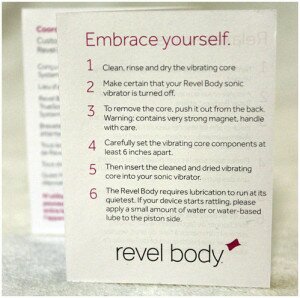 The top of the box pulls up and off the same way the Revel Body box does, only the tips are set inside a cardboard base that holds them in place fairly well.  It's very attractive and well made, though larger than necessary for the product.  Since they each contain strong magnets, it's important that they're stored apart, which makes the original packaging work best for storage.  Within each attachment box is a little paper that gives you the basic rundown of cleaning and caring for the product.  There isn't much information on the outside of the boxes, but it's not really necessary since your Revel Body instruction booklet will have provided the most information, and the attachments are useless without the unit.
The Original
The original attachment arrives with the unit and is included in the purchase price of the Revel Body.  If you've seen the Revel Body, you already know what this attachment looks like and I covered much of the information in my last review.
This attachment is extremely easy to clean because the surface is smooth and there's nowhere for bodily fluids or lubricant to get trapped.  A little lube goes a long way since the silicone is so smooth, and glides easily along the skin even without using any.

Size: 1 7/8″ in length
Where it shines:
Broad stimulation
For those that prefer smooth toys
For use on nipples, penis, vulva, clitoris (if yours is exposed), and all over body massage
Easy to clean
Where is lacks:
Pin-point stimulation
For those that need texture
For use on buried clitorises (or innies)
Ever

Ever has an interesting tip because of the design.  Rather than being flush on the top, it features four rings that gradually sink into the center of the piece.  It creates a small impression that makes it most stimulating to use on areas that extend slightly from the body.  The rings are all raised from the piece and offer some texture during use.  The texture is reasonable and should only bother those who have extreme sensitivities to texture.  One of the downsides to the rings is that you do need to pay a little more attention when you're cleaning it.  Using a soft bristled tooth brush will help get in between all the lines, though a cotton swab would also work well if you clean it promptly after use.  The silicone has a little more give on this piece than the original because of the design, which prevents it from causing discomfort during use.

Size: 2″ in length
Where it shines:
Broad stimulation
Light texture
Teasing
For use on nipples, and clitorises that are easy to access
Where it lacks:
Pin-point stimulation
For those that prefer smooth toys
Areas of the body that aren't extended (shaft of the penis, etc.)
Requires extra attention when cleaning
Fawn

Fawn is the most textured attachment out of them all and features 26 little feelers that create a delightful sensation.  This one stands out to me as the couples' attachment because it works best for teasing.  Since it doesn't dip in the center like Ever does, it works well on any surface of the body.  The silicone on this tip has a lot of give to it, and creates a light tickling sensation during use.  This is the attachment for fun, not for business.  Cleaning is a little trickier with this tip because you need to get in between all the little nubs to do a good job.  A soft bristled toothbrush works well on textured items like this one.

Size: 2 1/4″ in length
Where it shines:
For use with a partner/for teasing
For broader stimulation
For those that enjoy texture
Works well on nearly any area of the body
Where it lacks:
Pin-point stimulation
For those who prefer smoother toys
For the big finale (climaxing)
Requires extra attention when cleaning
Cona

Cona literally looks like the tip of Niko (the next tip I'm about to go over) was cut off and the center was hollowed out.  It has the exact same shape apart from the end, but provides a totally different sensation.  The base of it starts off wider and tapers near the tip, leaving an opening that's 3/8″ in diameter.  This tip is the least versatile in my opinion.  The end works well to cup very small areas, but is too odd to work well on other areas of the body.  The silicone is very flexible on this tip, so it's soft and comfortable, but won't work for just anyone.  Since the inside is hollow, you also need to pay extra attention when cleaning.  Cotton swaps work best to get inside the small area.

Size: 2 3/8″ in length
Where it shines:
For cupping sensation of small areas
For a somewhat pin-point stimulation
Works best on small nipples and the tip of the clitoris
Where it lacks:
Limited uses
Doesn't work for broad stimulation
Requires extra attention when cleaning
Might me too soft for the big finish (climax)
Niko

If you're only planning on purchasing only one tip,  Niko takes the cake!  It's the tip that extends the furthest from the unit and works well just about anywhere.  It provides a more pin-point stimulation and reaches your pleasure zones the easiest.  The silicone on this one doesn't have any texture to it, and only has a slight give.  You can squeeze it between your fingers and feel it, but it's not noticeable from sight alone.  If you need pressure, this is the best option for the way Revel Body works.  It doesn't require a lot of lube, and is super easy to clean thanks to the smooth surface.

Size: 2 1/2″ in length
Where it shines:
Pin-point stimulation
For those that prefer smoother toys
Easy to clean
Firm for better pressure
For use on any area of the body (clitoris, nipples, penis, etc.)
Where it lacks:
Broad stimulation
For those that prefer textured toys
The following images give you an idea on how far they extend from the Revel Body.  While I provided the measurements, I think the side by side comparison gives you a better idea on what they each look like and what will work best for your specific needs.

Travel Kit


Though the package for the Revel Body is suitable for storage, the travel kit is really a must have.  Even though it's designed for travel and works well for that purpose, it's awesome for simply storing your unit at home as well.
Externally it's a pretty gender neutral color and design, and is very unassuming.  It looks like it could be a small makeup bag or camera case and features a little loop on the back which could easily be hooked onto something to prevent it from rolling around.  The material is very durable and is easy to wipe clean should something get on it.  When you unzip it, however, you're met with a very pink and silky fabric.  Like the attachment tips, it would have been nice to see a neutral color inside as well, but it's purely cosmetic.

One side of the travel bag is empty and ready for your Revel Body to be placed inside.  The opposite side has a drawstring that contains some extra goodies that are perfect for on the go.  Leave your charging base at home without worry, because the travel kit includes its own USB charger and wall adapter.  The charger connects to the unit magnetically, but they aren't strong and you need to set it up carefully to prevent accidental disconnection.  The cord on the charger appears to be very heavy duty and seems like it was designed to hold up well over time.

The bag measures 5″ tall and is 10″ around.  It easily holds the charging cord, adapter, Revel Body, and whatever attachment you choose to place inside of it.  While another attachment might fit inside the enclosed area with the charger, I'm not sure if that's the best idea due to the magnets inside of them.  So, pick your favorite when you leave home, or use another bag to carry a separate attachment.
In Closing
If you have the Revel Body, chances are at least one of the attachments could benefit you.  The original is totally smooth and flat and remains close to the unit because of the length.  In my opinion, Niko is the best choice if you're interested in only purchasing one additional attachment.  The only one that was really useless for me was the Cona because it simply didn't work with my anatomy.  I hope my break down helps you decide what will work best for you.
Whether you're thinking about purchasing an attachment or not, I think the travel kit should be on your purchase list.  It gives you a great storage bag for then you're at home, and provides you with another charging source.  Surprise trip?  Grab it and go!
If you haven't already, be sure to check out my review of the Revel Body Sonic Vibrator.
Each attachment and the travel kit can be purchased by clicking the banner below.
All attachments and travel kit were provided to me free of charge in exchange for an unbiased review.  This is in compliance with FTC guidelines.