Have you seen the images yet?  I've been a big fan of the company since 2010 when my husband and I purchased the We-Vibe II.  We didn't fall in love with that version, but I've since tried many of the other items available and haven't been disappointed yet!  Most recently we tested out the We-Vibe 3 and were both really impressed with it, I can't wait to see how we enjoy We-Vibe 4!  Check out the images and information they recently released: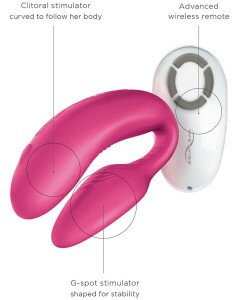 We-Vibe 4 takes couples to new heights of intimate pleasure. The world's number 1 couples vibrator, completely redesigned for better fit, heightened intensity and more control. She wears it during sex for extra stimulation to her clitoris and G-spot. Together they both share the vibe.
Extensive product research and testing with consumers, retailers, sexologists, relationship counsellors, OB/GYNs and sex researchers has led to the most advanced We-Vibe to date.
We-Vibe 4 is shaped for even greater pleasure. Its new compact form hugs the body to deliver stronger, more intense vibrations. The curved clitoral stimulator follows the curve of her body and gently rests between the labia, while the stiff mid-section ensures a snug fit. The redesigned G-spot stimulator sits in place behind the pelvic bone, increasing stability and comfort for both partners.

It's one wild vibe. Made with silky-soft medical- grade silicone*, We-Vibe 4 is body-safe and 100% waterproof for fun in the shower and easy cleaning. The simple control button, at the top of the clitoral stimulator, cycles through 6 vibration modes. Or the remote control allows for fine-tuning of the stimulation. Use the up/down buttons to step through 10 levels of intensity or press and hold the up button to soar to max right away. Use the left/right buttons to go backward or forward through the modes — including the new Echo vibe, which alternates between G-spot and clitoral vibration.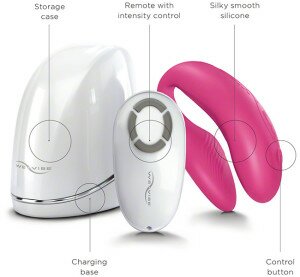 Feature summary
Wireless remote with intensity control
Silky-smooth and soft medical-grade siliconeis ultra comfortable
Compact, body-hugging form stays inplace and fits all body types
Stiff mid-section for snug fit — makes a great panty vibe
Two powerful yet whisper-quiet motors provide intense stimulation
6 vibration modes, including new Echo vibe
100% waterproof
Eco-friendly1 rechargeable battery with USB connection
6-hour charge delivers up to 3 hours of play
Discreet carry case for charging and travel
1-year warranty
Easy soap-and-water clean-up
Remote has replaceable lithium cell battery (CR2032)
Use only with water-based lubricants
1 Carbon-neutral manufacturing, a rechargeable battery and recyclable packaging and materials make the We-Vibe 4 an eco-friendly choice.
*hopefully this means it's doesn't attract lint like the others!
Do you think the changes will be satisfying to more users?  What do you think of the updates?  Is this something you'd be interested in purchasing?