Comfort Position Strap from Bondage Boutique
Pros:
- Easy to use
- Adjustable Straps
- Well Made
- Discreet
- Easy to clean and care for
Cons:
- Padded section could be longer (not plus size friendly)
- Nylon straps can irritate
Overall: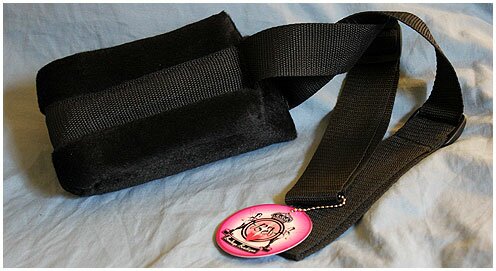 -Intro/Use-
The Comfort Position Strap from Bondage Boutique is a position aid that helps one or both partners feel more comfortable in certain sex positions. It's a very basic item which can easily be used by any couple looking for a little something to add to their lovemaking.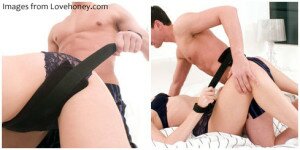 There are two common positions this strap can be used in (doggy style and missionary), but it's not difficult to get creative and find other uses for it. The concept is simple, you slide your hand through one adjustable strap, place the center around the back or front of your partner, and insert your hand into the hole on the other side.
The purpose of this strap isn't just to help with comfort, but to increase your pleasure. Depending on how you're using it, the Comfort Position Strap can help provide deeper or more focused penetration.
When the strap is used on your body, it takes away some of the discomfort you might feel from being in that particular position. It leaves the rhythm in your partner's hands, allowing you to relax and simply enjoy. When you're using the strap on your partner, you have the control! You can pull your partner closer to you to help provide deeper sensations, and set the pace.
-Material/Feel/Care-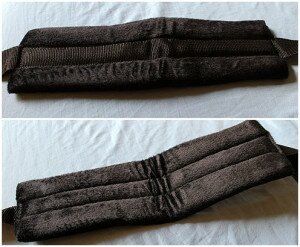 The exact material of the Comfort Position Strap isn't specified, but it's not at all unfamiliar. The straps themselves are made from nylon and have plastic strap adjusters on them. The padded section seems to be made from some type of faux fur which surrounds the 5/8″ thick foam inside. You can smoothly run your hand in one direction, but it's not as smooth when you run it back. Both sides have the faux fur, but the nylon strap runs the full length of only one side. This is obviously not the side you want directly against your body.
The surface is soft enough to be comfortable during use, but isn't something I have to force myself to stop touching. The padding is reasonable and gives just the right amount of cushion so you can't feel the strap through it. The straps themselves are really nice on one hand, and not great on the other. If you're the one holding the straps, it's easy to adjust them as needed while also providing a little something to grip, which is great. But when the strap is being used on you, it can be a different story. If you're on the larger side of the scale you might find the center piece isn't long enough, allowing the straps to rub against your skin. This can be rather irritating during use (literally), especially when your partner is being a little more aggressive.
No care or washing instructions were included, and the strap itself doesn't have a tag on it. You can spot wash as needed, or can toss in your washing machine on the delicate cycle. I don't think it's dryer friendly, so just air dry once it's clean. Unless you were really sweaty or got bodily fluids (or lubricant) on the piece, you can use it a few times without worrying about cleaning it.
-Design/Size-
The design of the Comfort Position Strap is great, especially because it's adjustable and easy to understand and use. The center portion of the strap goes against the back or abdomen (or somewhere else if you've gotten creative) with the nylon straps going around either side of the body and into the hands of you or your partner. The strap is one full piece, but the length can be adjusted to suit your needs.
Nothing about this product immediately gives away the fact that it's a sex position aid. It easily folds up and can be tucked into a drawer for storage, is discreet enough you could travel with it without concern, and is all around pretty basic looking.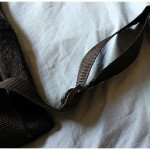 The ends of each side are sewn around a plastic adjuster piece so you can decide how short or long the strap needs to be. It forms a circle that your hands go through, so even when you're the one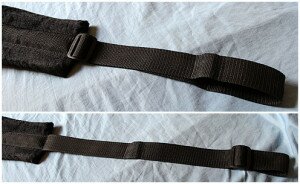 holding the strap, you don't have to worry about keeping a tight grip on it the whole time. It's also a nice change from products with wrist straps that can't be adjusted, because no matter how large your wrists are, there won't be a size issue because of them.
The piece measures from 37 1/2″ (when the adjuster is the closest to the padded section) to 56″ in full length, but you wouldn't be able to slip your hands through at that point. The nylon straps themselves are 1 1/2″ wide and the padded section is 14″ long and 4″ wide. It doesn't mention anything about a weight limit (not that you'll be putting all your weight on it), but I don't see anyone having a concern there. I'm over 250 lbs and it held up fine to my husband using it to pull me against him.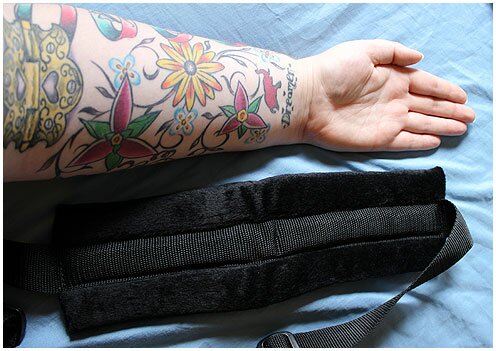 -Packaging-
The Comfort Position Strap arrives in a clear plastic bag that has a Ziploc like closure on it. You can easily keep this on hand to store the strap in since it prevents anything from spilling on it during storage. Inside, the strap is folded up and has a small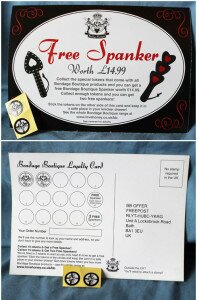 tag on it that only has the company name, logo, and website on it. No information on use, care, or cleaning is included, but it does come with a Bondage Boutique Loyalty card and two stickers. Every time you purchase a product from Bondage Boutique, you receive one of these cards and stickers. The more items you buy, the more stickers you'll receive, and you'll build up to getting one or two paddles for free depending on how long you save.
10 stickers will get you one free spanker, but 15 stickers will get you two. Once your card is filled up, you place it in the mail and wait for your spanker(s) to arrive. If you live in the UK you can just drop it in the mail, but if you're in the US you'll need to add a stamp.
-Experience-
The Comfort Position Strap isn't a new design. It's something I've seen many companies make, but this is the first one we've tried. I've always gone back and forth on whether I wanted to get one or not, but decided it was time to try one out.
My husband took one look at the strap and scrunched up his face. "What is that?", he asked in a curiously annoyed voice. I explained to him what it was for and how we could use it and he remained less than interested in trying it out.
About a week went by and I suggested we give it a try. He's pretty open about trying new things (which I certainly appreciate), and agreed to test it out with me. It was obvious his expectations weren't high (and to be honest, mine weren't either), but we gave it a shot.
The first time we tried it I was on my hands and knees. This isn't a position we go to all the time since we prefer more face-to-face type of positions (I know, aren't we sweet!), but we switch it up every now and then. The strap was resting against my abdomen and I was shocked at how much power it gave him. He immediately pulled me back toward him which made every thrust controlled. After the first few thrusts I could feel my sides starting to get irritated by the nylon straps. He was going pretty fast and hard and all I could focus on were how annoying the straps felt as they rubbed against my skin. I don't see this being an issue if you're thin, but the padded section really isn't plus size friendly.
While I was feeling annoyed by the straps, my husband was in his own little world. He started going faster and I knew he was getting closer to orgasm. When he was finished, I looked back at him and he had the hugest dopey smile on his face. He tossed the strap on the bed, pointed to it and said, "Now that is something we're keeping handy!".
It's not often my husband is highly impressed by something, but despite his initial reaction, this was a winner in his book. If they made the strap about three inches wider on each side, I would have felt exactly the same way. That being said, I can overlook a little annoyance knowing my husband is receiving so much pleasure from it. I enjoyed knowing he loved it, even if it didn't work out how I hoped it would.
All in all, it's a well made product that's quite effective. If you're plus size you might run into the same problem I did, but wearing some lingerie will prevent any irritation from occurring. I think it's a fantastic product that could be slightly tweaked, but is totally worth checking out!
If you're interesting in purchasing your own Comfort Position Strap or another product from Bondage Boutique, you can find them at Lovehoney by clicking the banner below.

The Comfort Position Strap was provided to me free of charge in exchange for an unbiased review. This is in compliance with FTC guidelines.