Recently I had the pleasure of receiving and reviewing Alison Tyler's latest book, Dark Secret Love: A Story of Submission.  From page one I was hooked, learning about Alison Tyler through her memoir inspired novel, and traveling with Samantha on her journey of self discovery and acceptance.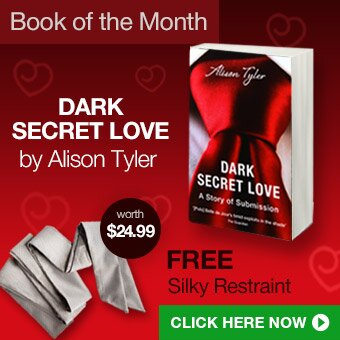 It comes as no surprise to me that Lovehoney has chosen this as their Book of the Month.  I'm far from being the only reader raving about this well written novel, and now is the best time to purchase it (if you haven't already!).
By you purchasing Dark Secret Love: A Story of Submission from Lovehoney, you'll receive a Silver Collection Silky Bondage Restraint absolutely free!
When you add the book to your cart the restraint will automatically be added, and as always, you get totally free shipping!
Don't miss your chance to read the book everyone is raving about, AND receive a fun new bedroom accessory!