Rudy from Exotic-Erotics
Pros:
– Made from silicone
– Very detailed
– Can be customized
– Pretty average in size
– Reasonably priced
– Pouch included (make sure to check the box)
Cons:
– Some small issues with the mold (see images below)
– Doesn't work well in a harness
Overall:


-Use-
Rudy from Exotic-Erotics is a silicone dildo that was life-cast; meaning a man's erect penis was used to make the mold for this toy rather than the company forming one.  Life-cast toys pick up incredible details that are otherwise lost in molds that are created in other ways.
Great for solo and couple use, Rudy feels a lot like a real penis which isn't a surprise considering all the details.  The size is quite average which should work for a variety of experience levels and the large base makes it safe to use both vaginally and anally.  It's pretty straightforward as far as dildos go.  It doesn't have a suction cup bottom, doesn't have a bullet hole, and isn't easily used in a harness.  You can, however, make things more interesting by placing a vibrating cock ring at the base of the toy, or can stick with simple thrusting.
Since there are no internal parts, you can easily enjoy a bath or shower with Rudy as your companion.  It's safe to use just about anywhere and is compact enough that traveling with it shouldn't be much of an issue (at least not compared to some of the other toys offered by Exotic-Erotics!).
-Material/Texture-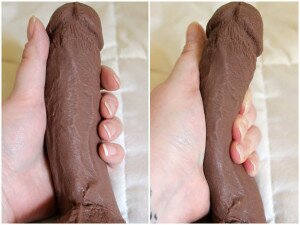 Rudy is made from silicone which is a fantastic material because it's non-porous, body safe, latex and phthalate free.  This particular silicone has a matte surface which only has a small amount of drag to it and does collect lint.  It's surprisingly smooth considering it has some drag to it, and feels really nice.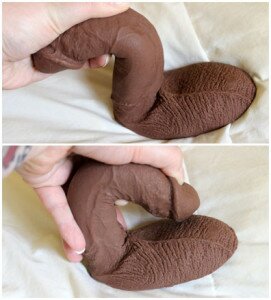 When purchasing your Rudy, you have the option of choosing which firmness you'd like (I'll cover that more in the customize section) for your toy.  Mine is a medium and has a somewhat realistic feel to it, having a good amount of squish, while still being firm enough to easily thrust with.  The firm would probably feel most like an actual penis, but I like having toys that are a little more squishy.
On top of being fairly squishy, it's also has a lot of flexibility to it.  Often times there's a concern about the discomfort that comes from ramming a dildo into your cervix, but because this is a softer material and can flex so easily, it's less likely to be an issue.  It might be a little more difficult for some to insert (especially anally), but I didn't have an issue with it.
The surface of the toy is quite textured, having a prominent head, vein covered shaft, and puckered testicles.  The testicles are obviously not felt during penetration, but they do help you get a good grip on the toy.  The other texture isn't overwhelming, but is there.  The head is, though prominent, doesn't create much of a popping sensation because of the soft material.

-Design/Size-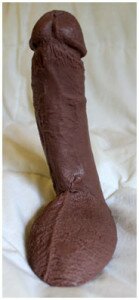 Molded from a real penis, Rudy is extremely detailed, proudly showing off every little vein and crease it has to offer.  There's nothing overly unique about the shape of it, which is surprising considering it comes from Exotic-Erotics, where they specialize in animal and fantasy toys in general, but it's great for what it is.
Though available in a wide range of colors, I chose the Fleshy Brown because it's a new option and I wanted to showcase it.  It's a very milk chocolate like color that almost makes me wish I could take a bite right out of it!  I normally gravitate toward flesh tones that are closer to my husband's coloring (more of a caramel), but this option is great for those that prefer darker skin tones.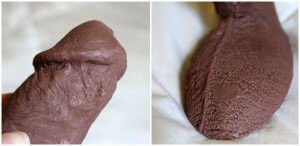 With any life-cast toy there will likely be some slight issues with the mold.  On this dildo, there are a few obvious flat spots on the testicles, some bubbling on the tip (where the urethral hole should be), and a few areas that look a little less than perfect.  It doesn't effect the feel of the toy, but does effect the overall look.
The size is very reasonable, especially considering how large some of their other products run, and I would say it's average (maybe just slightly above average) as far as dildos/penises go.  The total length is 7″ with an insertable length of 6″.  The head starts out being 4 3/4″ in circumference and the widest area (mid-shaft) is 5 1/4″ around.  It might be a little girthy for someone who's never been penetrated before, but should feel very normal for someone used to having sex.

-Customizing-
Exotic-Erotics is great about trying to create that toy that best fits your taste and comfort levels.  Many of their toys are available in a variety of sizes, but Rudy doesn't give you that option.  This toy is only available in one size (see measurements above), but you can perfect other elements of the toy.
–Firmness – Choosing how firm your toy should be is very important.  You don't want it to be too floppy to use and you don't want the toy to be uncomfortably firm.  There are three option for Rudy:
If you're not sure which firmness is right for you, Exotic-Erotics offers a $5 sample set that includes each of the firmness levels, helping you choose what's right for you.  If you decide to try the set first and end up making a purchase later on, they'll take the $5 you spent and put it toward the purchase you make.  In the end if you make a purchase, it's like you got the sample set for free and were able to choose the level that was right for you.
–Color Options – There's no need to go basic when it comes to the color of your toy!  With wide options available, your Rudy can be as unique as you are.  If skin tones bother you, there are all kinds of funky colors, and at least one should fit your tastes.
Black
Blue
Brown
Custom (Leave in Comments; No Fades)(+$5)
Fleshy Brown
Fleshy Pink
Florescent Blue
Florescent Green
Florescent Orange
Florescent Red
Florescent Yellow
Green
Green Glow-in-the-Dark (+$15)
Light Blue
Light Brown
Pink
Red
White
Yellow
-Care-
When your toy arrives it comes with a little card that tells you everything you need to know about caring for and cleaning your toy.  It's a generic card that they include with all purchases, but pertains to anything you'd purchase from their site.  Rudy in particular is quite easy to clean, but you will need to pay attention to the little creases.  Using a soft bristled tooth brush will be your best bet to get into all the small areas where lubricant and bodily fluids could be left behind.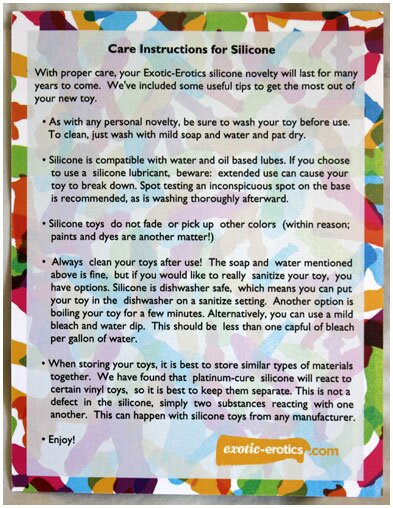 -Packaging-
As you're making your purchase, there will be an option to include a pouch with your toy.  Make sure you check this box because they'll send you a custom made pouch that will fit your toy perfectly, at no additional charge.

Rudy arrives in a plain brown box with not obvious markings on it, making it totally discreet.  When you open the box, your toy will be inside a sealed plastic bag, and if you checked the Free Storage Bag option, will also be inside the pouch.  If for some reason the toy you received is the wrong firmness or color don't open the plastic bag!  If your toy is still sealed in the bag, you'll be able to return it or exchange it for the right thing.
-A Little Comparison-
Prior to Rudy, the most realistic looking (and feeling) dildo in my collection was Johnny Vixskin from Vixen Creations.  The details on that toy really surprised me, but when I put Rudy next to it, I was shocked at the difference.  While Johnny feels more like the real thing (thanks to the dual density silicone), you can tell it wasn't life-cast like Rudy.  Johnny has the appropriate features that make it a realistic dildo, but lacks the small details that show up on Rudy.


-Final Thoughts-
When I first saw Rudy on the Exotic-Erotics website I can honestly say I wasn't drawn to it.  With many other whimsical and unique toys I couldn't imagine someone choosing such a normal looking dildo.  What I did appreciate about it, was the fact that it was life-cast.  There are many dildos made from porn stars, but I liked the fact that this one came from a regular guy, not some big shot.
It's not perfect looking, which might bother some, but I think it just shows that much more how real it is.  My husband and I once tried a Clone A Willy Kit without any success at all, but I imagine it would have come out similar to this and I would have been happy with it.  I want to say I think it's an attractive looking toy, but the long, awkward testicles prevent me from lusting over it.
Now, before you think I hate this toy, I don't.  Just because the look of it wasn't appealing to me, doesn't mean it was bad in general.  I tend to be a bit of a size queen, but do enjoy using more average sized toys as well.  Rudy was a surprise to me.  I honestly thought I wasn't going to like it because I wasn't attracted to it, but found it quite enjoyable.  It feels a lot like the real thing during use and makes a great go-to when your man isn't available for play.  I don't ever orgasm from insertable toys alone, but I did find it to be quite stimulating and appreciate the fact that it didn't cause any discomfort when I was thrusting.
If you're looking for an affordable and realistic option, you might just find it in the most seemingly unlikely of places.  Exotic-Erotics carries two realistic dildos; Rudy and Shane.  When you're checking them out, don't forget to shop the other amazing dildos available!

Rudy was provided to me free of charge (excluding shipping) in exchanged for an unbiased review.  This is in compliance with FTC guidelines.