Sumo from Blush Novelties
Pros:
- Dual density silicone
- Suction cup base
- Easy to use
- Harness compatible
- Comes with storage pouch
Cons:
- Sticky surface
- Marks easily
- Odd realistic/unrealistic appearance
Overall:


-Intro/Use-
Sumo from the Real Nude line by Blush Novelties is a dual density silicone dildo.  Dual density means there are two levels of softness; a firm inner core, and a plush outer layer which help the dildo feel more realistic.
The soft bulged head does a great job of stimulating the G-spot and creates and amazing popping sensation when thrust.  Because the base is nice and large, you have a great area to hold onto, or you can utilize the suction cup on the bottom while in the tub or shower for some hands free stimulation.
Thanks to the flared base, Sumo is also safe to use anally since there's no way for it to go past the point of no return.  The base is wonderful for many reasons and makes it safe to use in a wide variety of ways, including using it in a harness.  Just make sure you use a condom and/or fully sterilize when switching between orifices to prevent the spread of bacteria.
-Material/Texture-
Sumo is made from silicone which is a body safe, non-porous, latex free, and phthalate free material.  This particular silicone has a shiny surface which picks up lint and hair like crazy.  It's important to wash/rinse the toy prior to each use to eliminate any particles that they toy may have picked up since you last used and cleaned it, and always wash it once you're finished.  Being shiny, this dildo also has a lot of drag to it.  It's important to use a good water-based lubricant to help it glide across the skin more easily.
Blush Novelties calls this Sensa Feel dual density, the inner layer is firm while the outer layer is nice and plush.  It gives it a much more realistic feel as a result, being rigid enough to thrust with, while being soft enough that it won't cause any discomfort.  This isn't a new concept, both Vixen Creations and Tantus have dual density dildos, but it's ways nice to see another company join in since they're all slightly different.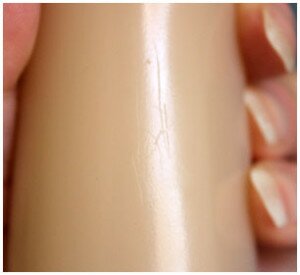 The surface itself doesn't have any texture apart from the exaggerated head, but has a lot of give and flexibility to it.  It bends easily with your hands, but remains stiff enough that it's easy to use.  The head itself has the most give to it since the firm inner core doesn't begin until just below the head.  It might be a little bit of a challenge to insert as a result, but it shouldn't be difficult to most.
With the outer layer being so soft, you have to be careful not to accidentally mark it with your finger nails, rings, or other firm or sharp objects.  It gets marks on it easily, which seems to be a trend with me since my nails are almost always long.
-Design/Size-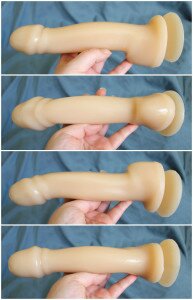 The whole Real Nude line from Blush Novelties features abstract looking dildos.  They are phallic in shape, but are very different than what you typically find when you look for realistic options; Sumo isn't the exception.  Sumo features an exaggerated head (with a dimple in the tip to represent the urethral opening), a thinner, smooth shaft, and one mound at the bottom to represent the testicles.  Just below the testicles is a suction cup that extends from the bottom.  It's not discreet in any way, but might make some feel more comfortable that it doesn't look exactly like the real thing.  It would be nice to see these available in a variety of fun colors, but they are currently only available in two different flesh tones; Almond (vanilla in coloring, the color I own) and Toffee (a little darker).
Sumo is the largest dildo from the Real Nude line, but don't let it intimidate you!  The girth might seem large coming it at 5 3/4″ at the widest and 5 1/4″ in circumference at the thinnest, but keep in mind the outer layer is plush, so it doesn't feel quite as thick as it might seem.  The full length is 10 1/4″ including suction cup, with 7 1/4″ being insertable.  It's on the longer side, but works in your favor when you take advantage of the suction cup.  It's not beginner friendly, but many regular toy users should enjoy the size.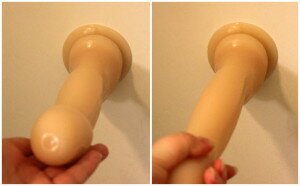 The suction cup on this piece works surprisingly well.  Though it works best on clean, smooth surfaces (like the tub or shower wall) it also works quite well on most walls, floors, doors, etc.  It doesn't come off easily when you tug on it, but sliding your finger underneath the cup itself easily breaks the suction.  This is also where the length comes in handy.  It's simple to back yourself up against it or even face the wall while you trust your hips.
-Care-
Sumo is easy to clean and care for because of the awesome material.  For regular use, you can simply wash with antibacterial soap and warm water or your favorite sex toy cleaner.  If you're sharing with a partner or switching between orifices, you can easily sterilize the dildo by cleaning it with a 10% bleach solution, boiling it for three minutes, or placing it on the top rack of your dishwasher.
Being made from silicone, it's best to use only a water-based lubricant with this toy.  Other types might degrade the surface of your toy, making it unusable, so it's always smart to stick with what you know is safe.
Along with your Sumo, comes a microfiber storage pouch that fits your toy perfectly; protecting it from lint and dust as well as surface damage.
-Packaging-
Sumo arrives in a plastic package that proudly displays the dildo through the mostly clear sides.  The outside contains the only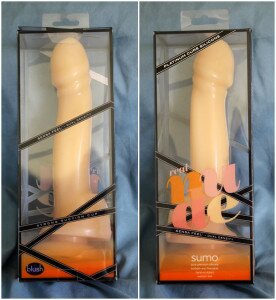 information included with the product, but it's all pretty basic and straightforward.  Once you open the top of the package, you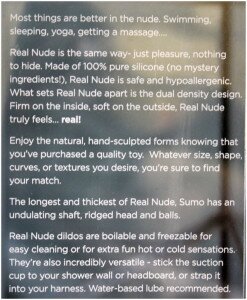 need to remove a small plastic piece that protects the top of the toy, but then the dildo is easily removed.  Beneath the dildo is a specially folded, thin cardboard box containing the included storage pouch.  The packaging isn't important to keep, you can easily break it down and recycle it.
-Experience-
When I first saw the Real Nude line I wasn't sure what I thought about them.  I thought they looked interesting in one sense, but didn't really understand the abstract shape to them.  Still, the idea of trying out a dildo from a new line of dual density toys held my interest pretty strong.  I've loved all the cored dildos I've used before, so I figured it was worth a shot.
When I first pulled Sumo out of the packaging, I was surprised by how it looked and felt.  It was a lot lighter than I was expecting for the size, but I loved the squishy material.  Not too firm, not too soft, truly just right.  I took my photos and set off to test it.  The first thing I tried out was the suction cup.  It wouldn't stay suctioned to the wall in by bedroom, so I tried the shower wall, hoping it would work there.  I was extremely disappointed when it immediately fell from the wall.  I had heard from others that the suction cup was nice and strong, so I wasn't sure what was going on.  After contacting the company we realized that the first cup was defective, so they quickly sent me a new one.
As soon as I pressed the new one against the wall I was amazed at how well it stayed put.  I left it on the shower wall while I went around and did some other things, and after 10 minutes the dildo was still firmly in place.  Score!  I could hardly wait to try it out!  That night I brought Sumo and my go-to clitoral vibe into the shower with me for a little bit of relaxing fun.
Instantly I fell in love!
The length paired with the suction cup was perfect!  I faced the shower wall as I used it and was amazed at how well it stimulated my G-spot, and how quickly it sent me over the edge.  Sumo and I are now shower BFFs!  And hopefully will be for a long time to come!
Interested in purchasing your own Sumo or another of the amazing Real Nude dildos?  Click the link below.

Sumo was provided to me free of charge in exchange for an unbiased review.  This is in compliance with FTC guidelines.