Rock Out Corset Set from Pipedream
Pros:
- Available in regular and plus sizes
- Full outfit
- Easy to put on
- True to size
Cons:
- Expensive
- Quality issues
- Fabric isn't flattering
- Odd shaped pasties
Overall:


-Overview-
When I saw that Pipedream carried lingerie sets in plus sizes, I was thrilled.  It was refreshing to see the variety of sizes available since many companies only make lingerie for thinner women.  The Rock Out Corset Set has everything you need to complete an outfit (apart from shoes), but some of the pieces are odd and won't work for everyone.  The material doesn't help suck everything in like you'd expect from a corset.  Instead, it seems to just lay over your flawed areas, almost making them more obvious.  The laces themselves have some quality issues, looking like they were coming apart in some areas.  Considering the cost of this set, that's not acceptable.  Overall I was pleased that my size was available, but highly disappointed in the set.  Hopefully the other plus sized Fetish Fantasy Lingerie sets are better.
-What's Included-
Included in the Rock Out Corset Set are six pieces; a waist cincher, thong, collar, pasties (and adhesive tape), stockings, and four removable garter straps.  The set is primarily black but the waist cincher, thong, and collar each have silver laces that accent them.
The Collar: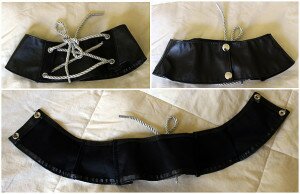 The Collar attaches using two silver snaps that are located on the back.  The front has four loops that hold the laces in place.  The material goes behind them as well, so your neck isn't exposed through this area.  The design allows it to be slightly adjustable, allowing you to tighten the laces to provide a better fit.  It's 2 3/4″ tall and ranges from 14 1/2″ to 19 1/2″ wide.  The shape is curved which allows it to naturally fit around your neck.
The Pasties: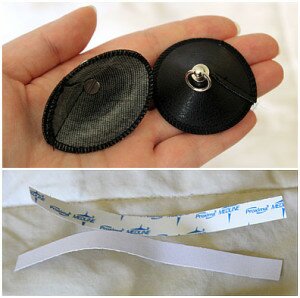 The pasties are a cone shape and feature a little metal ring on the tip of each.  They come with two strips of double-sided adhesive tape that you use to hold them in place.  There are no directions on how to apply them, and you'll need to cut the tape yourself.  The shape of the pasties will work best for those who have perky breasts.  The size of your breasts doesn't matter, but if you have flatter breasts like I do, these will only look awkward on you.  They also only measure 2″ across, which doesn't even come close to covering my areolea which are approximately 4″ wide.  It would have been nice to see pasties that were more naturally shaped.
The Waist Cincher: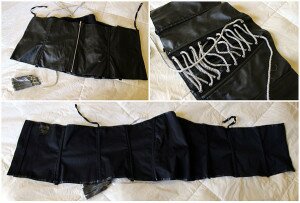 The waist cincher features a laced front and a zippered back.  The zipper makes it much easier to put on by yourself, especially compared to a long row of hooks.  Since it laces in the front, it's also much easier to tighten it as needed, which allows you to accentuate your curves.  Like the collar, there's fabric behind the laces, so your belly can't be seen through them.  There are eight rows of plastic boning which is extremely flexible.  Great for comfort, but doesn't help the cincher hold its shape.  The laces allow the cincher to range from 40″ to 45″ in length, helping it work for a variety of body types and sizes.  The height of the sides and back are 9″, but the center is a little taller and comes in at 11 1/2″.  Along the top are two ribbons which make it easy to hang it up, and the bottom features four small loops that the garter straps slip into.
The Thong: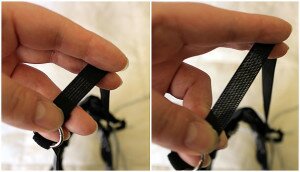 The thong is a little different than what normally comes in lingerie sets.  It doesn't have the thin string in the back and won't wedge itself between your cheeks.  The laces seen in the other pieces are used for the thong as well.  The band at the top is stretchy and surrounds the entire piece, only separating for two metal rings.  Other than the band at the top, the only thing holding the sides together is the silver lace.  When you make the laces loose, the thong becomes crotchless for easy access.  There's no liner inside, so you can feel the lace directly against your body when you're wearing them.  They measure 18″ across the band when laid flat, the front is 5 1/2″ wide, and the back is 9 1/4″ at the widest points.  Directly at the crotch it's 2 1/5″ wide.

The Garter Straps: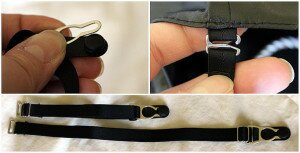 Included with the set are four garter straps that can be hooked into the waist cincher to help hold up the stockings.  They are very common in the way they function, featuring a small hook on one end, and a special closure on the opposite side that prevents your stockings from slipping down without damaging them.  They are fully adjustable using a small metal loop.  They range from 6 3/4″ long to 10″ long, making them work for a variety of different heights.  They have some elasticity to them as well, so it's easy to move around while wearing them since they'll work with your movements rather than against them.
The Stockings: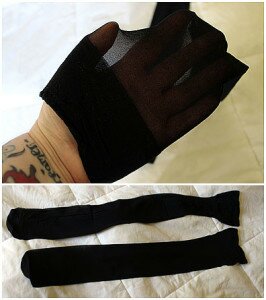 The stockings included with this set are your basic black and don't have a fancy pattern to them.  The toes are closed, but aren't reinforced, so don't expect these to last very long (mine had runs in them the first time I put them on).  They each have a band on the top that's approximately 2 1/4″ wide that help keep them in place and make it less likely for the garter straps to damage them.  They're very cheap feeling (and easily run), but aren't scratchy or uncomfortable to wear.  These are designed to reach about the middle of your thigh, but your specific height will make that vary.  They're very stretchy when it comes to the length, but are less forgiving at the top.  My thighs are 24″ around where they rest and it felt fitted, but not too tight.
-Size-
The pieces in this set can be worn together or separately.  I chose a 4x because the size chart showed it would fit my body measurements best.
My measurements are:
Size: 22
Cup: D
Bust: 48″
Waist: 40″
Hip: 52″
Weight: 280 lbs
Size Chart:

-Material/Care-
The collar, cincher, and thong are all made from 33% Polyurethane and 67% Polyester, excluding the trim and laces.  When it comes to cleaning, the tag says to hand wash in cold water and lay flat to dry.  The cincher and collar won't need to be washed every time you use it, but the thong should be.  As long as you follow the care instructions you shouldn't run into a problem.
-Quality/Feel-
The material of these pieces feels pretty cheap.  It doesn't seem like it would take much to accidentally tear it or stretch it too far.  The outside almost has a wet look to it and seems that it would repel liquids.  The back side (where it touches your body) doesn't have the same shiny look to it and is a little softer.  The material looks like it would be breathable, but only ends up making you sweat.
The laces are a pretty color, but they look more like twisted rope than laces.  This might appeal to some, but not everyone will like it.  Though it's not rough, it does tend to feel scratchy against the lady parts, which can be annoying when you're trying to fool around.
There were a couple areas on my cincher where the stitching isn't perfect, but it was well done in general.  The laces, however, have several areas where thread it sticking out from it.  It gives it a cheap and tacky feeling.  If they had actually used some sort of lace instead of this weird rope stuff, that wouldn't have been an issue.  If you really wanted to, you could re-lace each of the pieces with something more suitable.
-Packaging-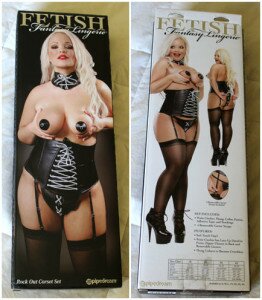 The Rock Out Corset Set comes in a tall cardboard box that features a large image of a model on the front wearing the set.  The top boldly says what lines it's from and the bottom provides the product name.  Each side was designed to look like tattered fishnets and is made from black velvet (like the posters you can color).  It's cute looking, but black fuzz ends up everywhere.  The back of the package has two more images of the model, showing both the front and back of the piece on her body.  On both the cover and one of the images on the back, she's having to hold her breasts up, this should prove how the pasties don't really work the way they should.  The bottom tells you what the package contains and provides the size chart.  It's not at all discreet, but can be broken down and recycled.
-Experience-
The waist cincher was what appealed to me most when I saw this set.  Like many women, I'm rather self conscious about my belly and thought this piece would help me feel more relaxed when spending some sexy time with my man.  It didn't work well for me at all.  Every bulge, every roll, everything I hate about my belly, was just as obvious with this cincher on.  Not only that, but because it's not as tall as a corset, my back boobies were spilling over the top (not because it was too tight, but because of where it rests).  Can someone say boner killer?
It fit me fine, as did the thong, but it didn't actually cinch anything.  The laces were uncomfortable against my crotch, which is a shame because the thong looked okay on me.  My neck is too short for the collar, but I already knew that when I chose this set, but the pasties are useless for me because of my breast shape.  I was so excited to receive a plus sized set like this, and was just as immediately disappointed.
Your personal experience will vary, different body types look different in lingerie, but for me, this just wasn't the right set.  If you're interested in buying this set, it's on an awesome sale over at Pink Cherry.  If you don't purchase it there, it's far more expensive than it should be, and I can't recommend even trying it when considering the price point.


The Rock Out Corset Set was provided to me free of charge from Pipedream in exchange for an unbiased review.  This is in compliance with FTC guidelines.