Best Lesbian Erotica 2014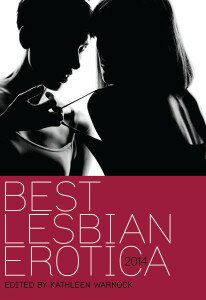 Title: Best Lesbian Erotica 2014
Author: Various – Edited by Kathleen Warnock
Publishing Company: Cleis Press
Trade Paper
ISBN 978-1-62778-002-5
5 1/2 x 8, 264 pages
Taken from Cleis Press:
Hailed as "mesmerizing," Best Lesbian Erotica 2014 is as smart as it is sensual. Goldie-nominated editor Kathleen Warnock has collected stories from around the globe, giving this year's edition many refreshing points of view. Sabina dives into bed with just the wrong person for an encounter that feels so right in Diana Cage's story, "Hey, Stranger." The red-hot romance in "Stitch and Bitch," by A. L. Simonds, starts with a meet-cute at a crochet basics class. A femme offers sweet treats and a private after-party to the "Birthday Butch" in Teresa Noelle Roberts's tease. The women in this volume are so realistic you can almost feel the warmth of their bodies in your hands. Evocative and erotic, this commanding collection will hold you right to the very last page.
With stories by: Anamika, Amal Arabi, Cheyenne Blue, Diana Cage, Cheryl Dunye, Nairne Holtz, Cheryl Jimmerson, D. L. King, Catherine Lundoff, Teresa Noelle Roberts, Sarah Schulman, Sinclair Sexsmith, A. L. Simonds, Sam Tweed, Dolar Vasani, Sharon Wachsler, Lucien C. West, Xan West
Nairne Holtz, excerpt from "Call for Submission" in Best Lesbian Erotica 2014
At home, I emailed Cyn, but she didn't reply. A month later, she invited me to be her Facebook friend, and I checked out her profile. I discovered she was "in a relationship" and had about four hundred friends. I wasn't going to be some cheap Facebook conquest—I ignored her invitation. Then the email came, asking me to submit a sexual fantasy to her anthology, and I reconsidered the Facebook invite. Did I want to miss future calls for submission? As I clicked on accept, I told myself I was joining her network for what were strictly professional reasons. But when I saw her relationship status had changed to "in an open relationship," I felt an unbidden thrill.
I began writing a sexual fantasy for her. Writing and rewriting it put me into a sexual fever, my thoughts a non-stop erotic cabaret, blinking lights, on, on, on. Cyn was my muse, even though a chubby black stud hardly fit the traditional image of a Grecian goddess. Sometimes, after writing for an hour I would lie down and finger myself to a climax, a wisp of an orgasm because I was so excited.
I sent my story to Cyn, who sent me a reply the next day: I want this story!
But did she want me? And if so, how available was she? I emailed her to say the story was hers if she sent me a contract, and got a response with an attachment. I expected it to be a contract, but instead she had sent me a story. Since I was a freelance editor, she wondered, would I be kind enough to give her some constructive criticism?
I printed her story and settled onto my couch to read it. Bombs detonate, superpowers fall, the human genome is nothing but a toy for scientists now, but Vegas is still the place to gamble and get laid. The government hasn't really cleaned up Nevada since the last nuclear attack. To go to the desert you have to be genetically modified to withstand cancer (who would have thought nuclear war would be what taught us to cure cancer?), but for a cyborg like me whose body is part machine, it's not a problem.
I read on. The cyborg had been hired to track down a stripper in Las Vegas. To get close to her, the cyborg paid for a lap dance, and then handcuffed her quarry. Ostensibly, the cyborg was in charge, but the dancer's resistance made their roles jump like summer lightning—moving, glowing electrons. It was obvious to me that Cyn, like me, enjoyed a good power struggle.
It felt like Cyn was talking to me through her story, using it as a way to flirt, but I wasn't sure if we were compatible. In both the story she sent and her story in Dyke Dimensions, her butch protagonists were tops who didn't come. Did Cyn always have to be in control? Was she a stone butch? When I sent her my editing suggestions, I couldn't resist adding a postscript: "Do your butch characters ever get done?"
Cyn thanked me for my comments on her story and ignored the postscript. I had to have an answer, if only to improve my fantasy life, so I went to a gay bookstore and pawed through Cyn's work, looking for a scene where a femme makes love to a butch…but couldn't find one.
Instead, I spotted Cyn on the cover of a lesbian magazine holding hands with a woman I recognized, Vixen Swift, the illustrious lesbian romance author. Vixen's red hair had been tucked into a classic chignon, and she was wearing one of her signature corsets with her large breasts on full display. The article described Cyn and Vixen as a "celesbian" couple. Appar- ently, they had been hand-fasted for a number of years. With a shudder, I dropped the magazine onto the rack. Vixen and I had been introduced on at least three occasions, and each time she had to be reminded of who I was.
I went over to another section and picked up Vixen's latest release, and brought it to the counter along with Chrome Stud, the first book in Cyn's cyberpunk series.
At home, I began to read Vixen's novel, Soul Mate, which featured a "playa" who meets "a titian-haired queen with piercing blue eyes." (Nouns in Vixen's novel were always accompanied by a convoy of adjectives.) When I finished the book, I felt like throwing it across the room. The story was so formulaic: a bad boi, who is afraid of intimacy because she was once fucked over by a heartless bitch, is saved by the love of a good femme.
Since when were lesbians afraid of intimacy anyway? I wished there were women my age—midthirties—who didn't carry any more baggage than one bad relationship, whose only reason for not having a partner was fear of being hurt and not fear of responsibility.
I also wondered why Vixen, if she was in an open relation- ship, wrote such sappy, moralistic books. I had to give her some credit: the sex scenes, with which her novel brimmed, were spicy and accomplished. Especially the ones where the queen made love to her boi by going down on her while fucking her with three fingers, a scenario that sounded vaguely familiar.
I plucked Dyke Dimensions from my bookshelf and reread Vixen's sex scene between a vampire and a werewolf. The vampire licked the werewolf and penetrated her with three fingers.
Was this how Cyn liked to be done? Reality often squirms beneath the stories writers choose to tell, and we give it away when we repeat ourselves.
Nairne Holtz is the author of This One's Going to Last Forever (Insomniac, 2009), a Lambda Literary Award Finalist, and The Skin Beneath (Insomniac, 2007), which was shortlisted for Quebec's McAuslan Prize. Currently, she lives in Toronto with her lover, works as a librarian and is writing another novel.
Best Lesbian Erotica is available now from Cleis Press in paperback for $15.95 (if you spend $25 or more you get free shipping!) and in Kindle edition on Amazon for $9.99 (on sale now).